El próximo jueves 29 de agosto a las 18:00 horas en en Mónaco se empezará a escribir el destino de una nueva edición de la Champions League. El sorteo de la fase de grupos empezará a entrelazar el futuro de los equipos europeos en la competición. Una aficionada, Mark Cilia Vincenti, ha realizado 50 millones de simulaciones del sorteo para dilucidar cuáles son las opciones más probables.
We've simulated the 2019-20 #UCLdraw for the group stage, assuming Ajax make it through, for 50 million times, and here are the probabilities for the matches between the teams in pot 1 and the ones in pot 2. pic.twitter.com/nCUnAvCWAo

— BayernForum.com (@BayernForumCom) August 25, 2019
Las simulaciones realizadas intentan medir el grado de probabilidad de los equipos del bombo 1 y del bombo 2 de cruzarse. En el bombo 1, Liverpool, Chelsea, FC Barcelona, Manchester City, Juventus, Bayern de Múnich, Paris Saint-Germain y Zenit esperan ver sus posibles rivales en el bombo 2, conformado por Real Madrid, Atlético de Madrid, Borussia de Dortmund, Nápoles, Shakhtar Donetsk, Tottenham, Ajax y Benfica.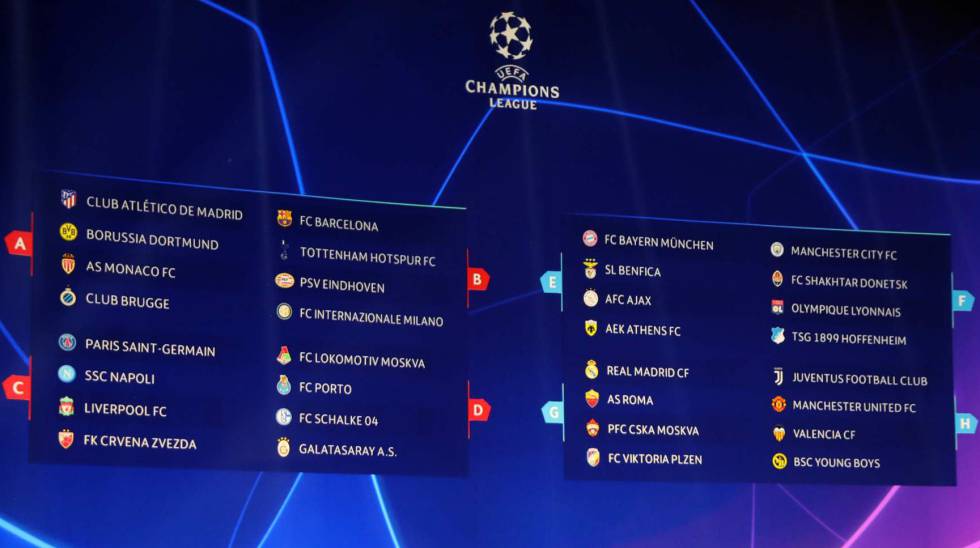 En este sentido, los resultado arrojan algunas posibilidades interesantes. El Tottenham, vigente subcampeón, podría caer en el grupo del FC Barcelona otra edición más en un 21,56% de probabilidad, aunque también podría hacerlo en el del Zenit (21,05%) o PSG (19,33%). Por su parte, el Real Madrid, campeón cuatro veces en las últimas seis ediciones, tendría varias opciones de caer en el grupo del Zenit (15,28%) o del Chelsea (14,79%).

El campeón defensor, el Liverpool de Jürgen Klopp, podría emparejarse en el mismo grupo que el Atlético de Madrid (16,08%) o Shakhtar Donetsk. El equipo del Cholo Simeone también tendría varias opciones de recalar en el grupo del Manchester City (16,13%) o del Chelsea (15,61%).
Aunque se trata de una simulación, es útil para conocer cuáles podrían ser las opciones más probables en relación a los emparejamientos de los equipo de los dos principales bombos de la competición más prestigiosa a nivel de clubes en el viejo continente.
¡No te olvides de seguirnos también en nuestra cuenta de Instagram, 90min_es, y nuestra cuenta de Twitter, @90minespanol!