All eyes on Djokovic, Nadal at French Open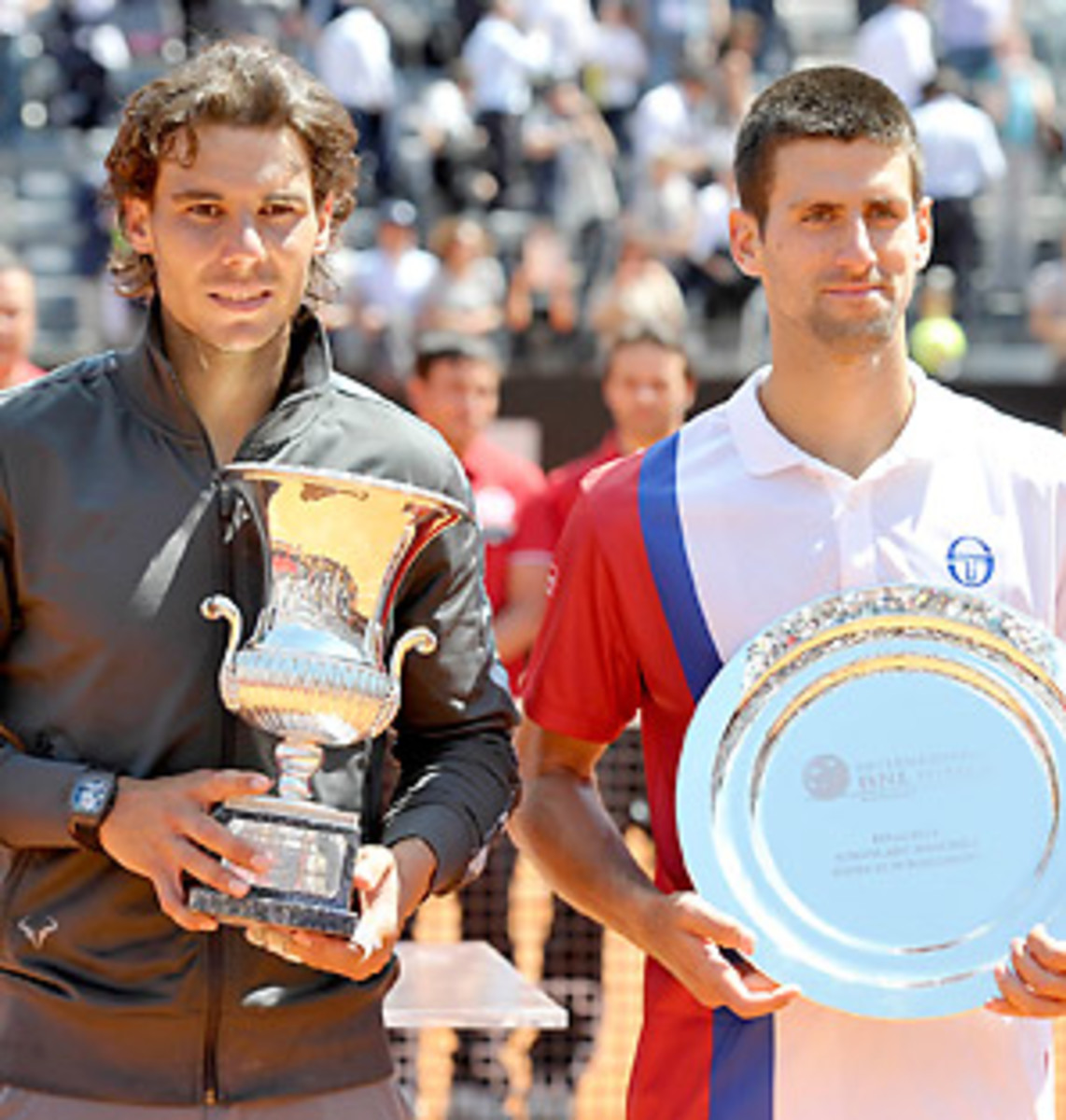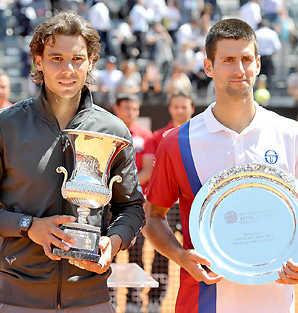 PARIS (AP) -- Rafael Nadal's white T-shirt carried specks of rust-colored clay and his white socks were smothered with the stuff during a practice session on Court Philippe Chatrier in the steamy early afternoon Thursday.
As Nadal slid across his favorite surface, in his favorite stadium, at his favorite tournament, a picture of a shiny French Open trophy rotated on a video board overhead. Under the close watch of his coach, and fully focused on the work at hand, Nadal never stole a glance at that photo. No need: He ought to have every feature of that prize memorized by now.
When the draw for the year's second Grand Slam tournament is revealed Friday, much of the attention will be on the paths presented to two men: Nadal, who is bidding for a record seventh French Open championship; and Novak Djokovic, who will be trying to become only the third man in history to win four consecutive major tennis tournaments.
With the seedings based on rankings, Nadal will be No. 2, and Djokovic will be No. 1. They can meet each other only in the final June 10, and that is what many expect to happen.
By winning their two recent matchups in clay-court finals, Nadal stopped a seven-match losing streak against the Serb - including in the past three Grand Slam title matches - and reasserted himself on the surface he's dominated since 2005.
"He is always the favorite, even if I win against him seven times,'' Djokovic explained after losing to Nadal at the Italian Open on Monday. "He is the best player in the world on this surface.''
Among active players, that's absolutely indisputable.
And Nadal might very well be the best in history on clay: Since 2005, he is 220-9, a .961 winning percentage. That includes not only his six championships at Roland Garros, a mark matched only by Bjorn Borg, but also six titles at the Italian Open, seven at the Barcelona Open, and eight at the Monte Carlo Masters.
"Hopefully I will keep playing like this,'' Nadal said after his 7-5, 6-3 victory over Djokovic in Rome.
"When you lose,'' Nadal acknowledged, referencing his problems against Djokovic, "you play with doubts.''
But that shouldn't be an issue when play begins in Paris on Sunday.
Nadal is as comfortable as can be on red clay - nothing like his trouble with the footing on the blue clay at the Madrid Open this month, when he was upset by Fernando Verdasco in his second match.
"I am trying to play more aggressive,'' Nadal said.
In Thursday's training session, he carved up the clay, leaving skid marks when sliding into shots. He spent a lot of time working on his serve, which once was a liability but increasingly is becoming an asset. So far this season, Nadal is fifth on the ATP World Tour, winning 88 percent of his service games. The four men ahead of him? Roger Federer, owner of a record 16 Grand Slam titles, and three of the biggest hitters out there: Milos Raonic, Juan Martin del Potro and John Isner.
That success with the serve helps Nadal get that extra point - or easy game - here and there, making it all the more difficult for opponents who already needed to deal with the Spaniard's terrific return game, relentless retrieving and defense-to-offense excellence at the baseline.
"To me, he's the greatest clay-courter ever - already. To me, what he's chasing is trying to chase down Roger, and get into the conversation of being the greatest of all time, and the greatest of this era,'' former U.S. Davis Cup captain and ESPN analyst Patrick McEnroe said. "And if it wasn't for a guy named Djokovic, he might be knocking on the door of doing that.''
Clearly, Nadal is superb no matter what kind of court he's playing on. He owns a total of 10 major titles and, like Federer, is one of only seven men with a career Grand Slam.
Djokovic can join that elite club in a little more than two weeks. While not as perfect as he was at the start of 2011, when he was 41-0 before losing to Federer in the French Open semifinals, Djokovic has been good enough to stay atop the rankings.
He's 30-5 with two titles, including his nearly six-hour victory over Nadal in the Australian Open final. Djokovic never has been beyond the semis at Roland Garros, but if he can manage to win seven matches in Paris, he'll be the first man since Rod Laver pulled off a true Grand Slam in 1969 (the Australian did it in 1962, too) to take four major championships in a row.
Djokovic doesn't sound as if he finds the pursuit too daunting.
"Expectations and pressure are part of the professional sport and this is something that you get used to,'' Djokovic said, "but I think I have enough experience to know how to approach a Grand Slam.''