Ferrer outlasts, outplays Tipsarevic in best match of U.S. Open so far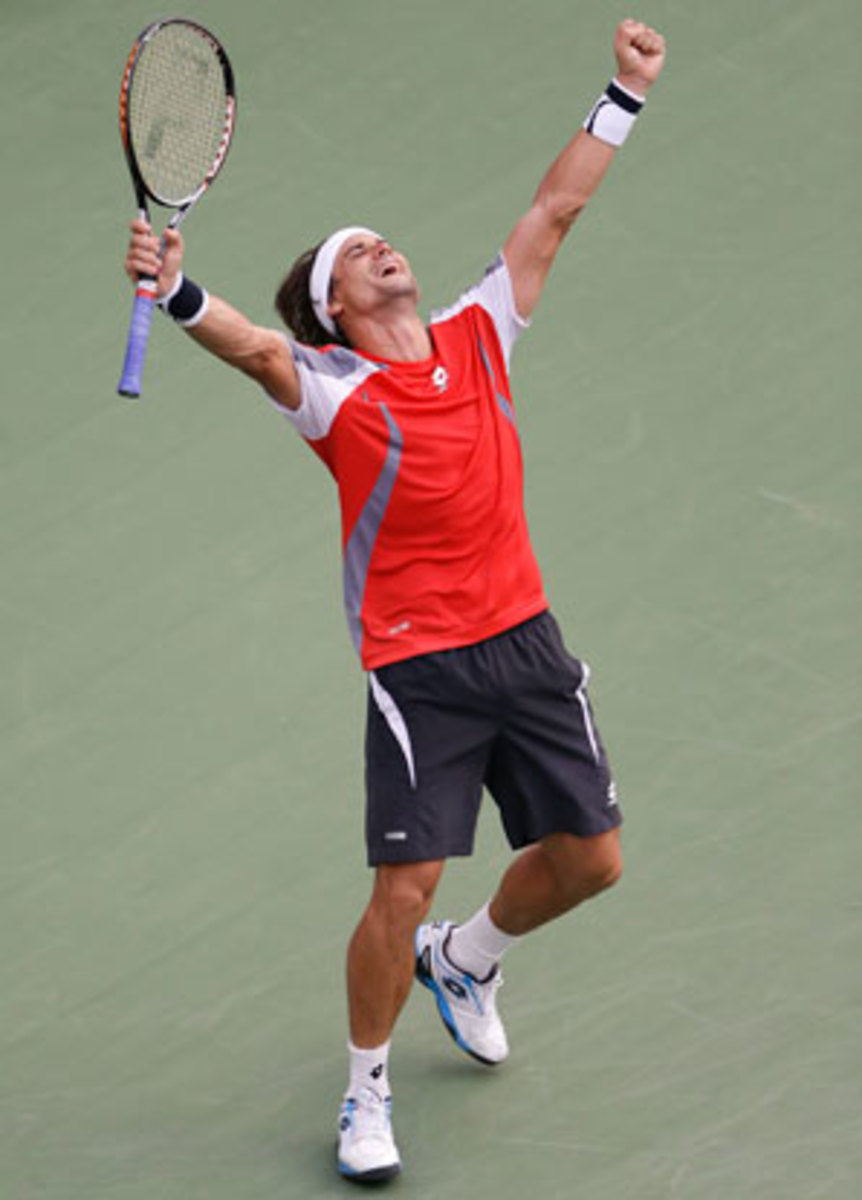 NEW YORK -- Three thoughts after David Ferrer's 6-3, 6-7 (5), 2-6, 6-3, 7-6 (4) win over Janko Tipsarevic in the quarterfinals of the U.S. Open:
1. The no-names stole the show.
It took a bit for the crowd to get into it -- the loudest cheers over the first two sets came when Sean Connery's face appeared on the JumboTron accompanied by the James Bond theme -- but Tipsarevic's shot-making and Ferrer's will won over the crowd. What the two lacked in star power -- SI.com's Jon Wertheim tweeted during the match that he feared the ratings for a Ferrer-Tipsarevic matchup might rival a weather test pattern -- they made up for with thrilling and physically taxing tennis. The match took four hours and 31 minutes, with both players delivering blow after blow. It felt more like a prize fight than tennis (Ferrer compared it to a Davis Cup match in his press conference) and it was exhausting to watch, although it was undoubtedly the match of the tournament so far. The appreciative crowd gave the players a standing ovation prior to the start of the fifth-set tiebreak. "You know, it's not maybe a quarterfinal which they wanted to see without Rafa (Nadal) being there or whatever, but I think David and me - and not trying to over-exaggerate anything - played, until now at least, the best match of the tournament," Tipsarevic said.
Players on Tour refer to Ferrer as "Little Beast," for his all-court and all-surface relentlessness, but it was Tipsarvic who kept Ferrer on a string for much of the first four sets. The Serb showed the crowd everything in his tool box: drop shots with more spin than a political operative, an exploding forehand that painted lines, and a series of crushing backhands that did the same. He finished with more winners than Ferrer (60 to 49) and would have beaten most players with what he brought, but it wasn't enough. Richard Gasquet, who lost to Ferrer in straight sets in Round of 16, said Ferrer "makes you suffer" on the court with his endless pursuit of balls in play, and Ferrer never stopped chasing Tipsarevic. The fifth set had everything. Tipsarevic jumped out to a 3-0 lead before taking a spill at 4-1 on a drop shot. That appeared to change the momentum and Tipsarevic hurt his left hip on the fall, but afterward he refused to blame injury for the loss. Ferrer broke back but Tipsarevic stayed firm. With the players tied at 4-4, Tipsarevic held serve in the ninth game despite being down 15-40 and fighting painful cramping. For a moment you thought that it would be the Serb's day but Ferrer continued to defend all across the court, and he was steel in the tiebreak. He is an impressive 17-9 for his career in five-set matches and this was his fourth consecutive win in a five-set match. "I don't think that there was any other part of the match where either of us played really bad," Tipsarevic said. "I think it was high, intense match, something which I predicted. I said after my last match both of us are baseline players, both of us are big fighters on court, so something like this was only expected."
2. Is this David Ferrer's moment?
The 30-year-old is having by his own admission his best season on Tour, winning five titles (second only to Federer) in 2012. His 58 wins (against 11 losses) is the third highest match-wins total among all players this year. This is Ferrer's fourth semifinals appearance at a major including this year's French where he lost to Nadal. His match on Saturday will be his second U.S. Open semifinal. (In 2007 he lost to Novak Djokovic in straight sets.). Can he advance to his first Grand Slam final? Well, he has a 5-8 lifetime record against Djokovic including a straight set win last year on a hardcourt at the ATP World Tour Finals in England. It comes down to belief. Following a quarterfinal loss Djokovic at the Australian Open, Ferrer offered insight into how he sees his place in the game. Asked if the gap could be closed between he and the Big Four of Roger Federer, Nadal, Djokovic and Andy Murray, he simply said, "No, I don't think so...I think the top four, it's another level." Eight months later, after beating Tipsarevic, Ferrer said he did not look at the semifinals as a now-or-never moment. "I am focused only in my next match," Ferrer said. "I don't think I have my last chance or my last opportunity for win the Grand Slam. "I am in semifinal and I am enjoying this moment."
3. Let's all take a moment to praise Tipsarevic.
The 28-year-old hit a career-high No. 8 earlier this year and played with smarts and guts Thursday night. His pre-match strategy was to stay close to the baseline and go for winners. His biggest regret, he said afterward, was that he didn't make Ferrer play enough balls in the fifth set tiebreak. The game is better when Tipsarevic sticks around deep in tournament because he's a thoughtful interview and an interesting guy. He reads Nietzsche and Dostoyevsky for pleasure and his body is a road map of his electric interests. He has a Dostoyevsky quote "Beauty will save the world" tattooed in Japanese on his left arm; a Japanese tattoo on his right arm (with the first two letters of the names of all of his family members); a tattoo of his astrological sign Cancer on his back, and another tattoo one inspired by German philosopher Arthur Schopenhauer's book. His Twitter feed is arguably the best in the sport. It's worth the follow if you are on the social media service.