Murray fights off demons, Djokovic to win historic U.S. Open title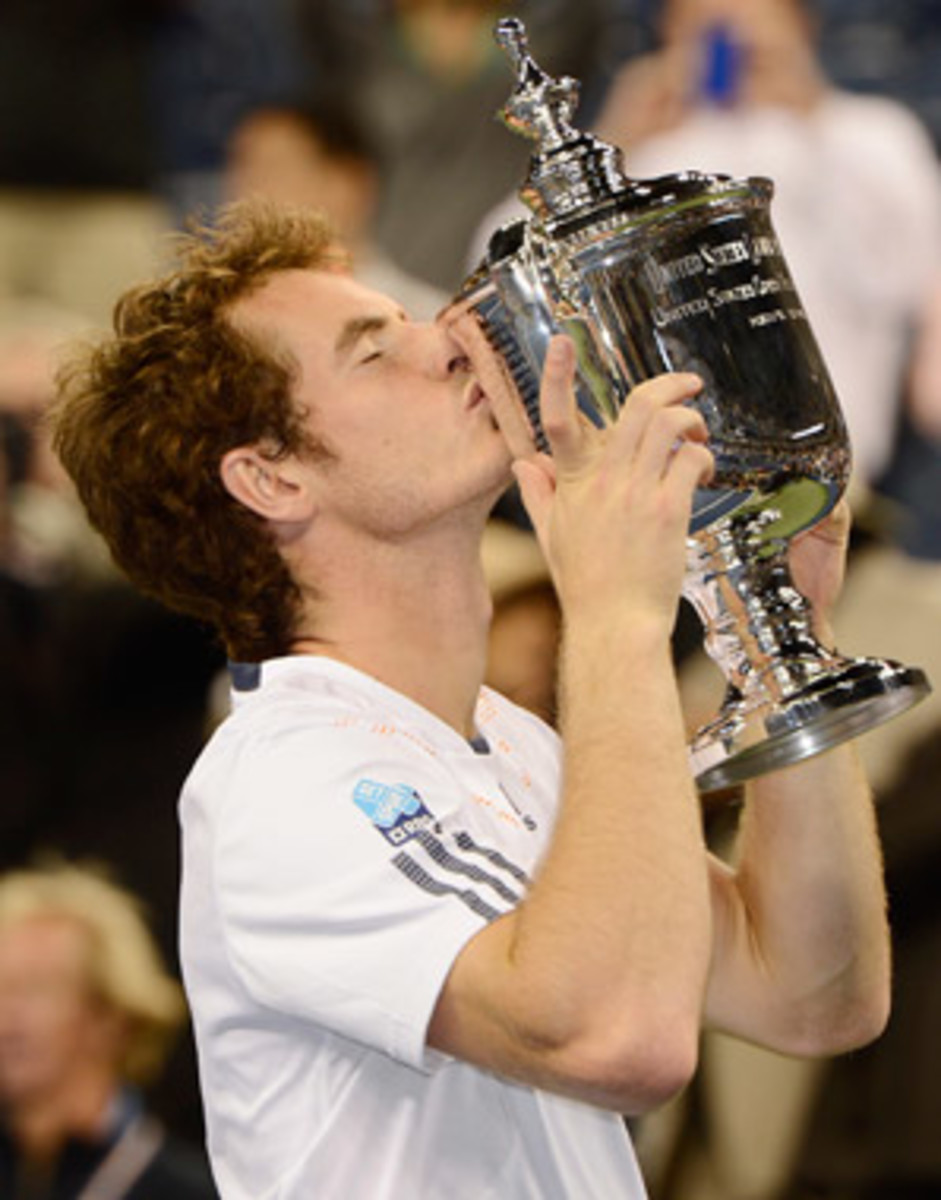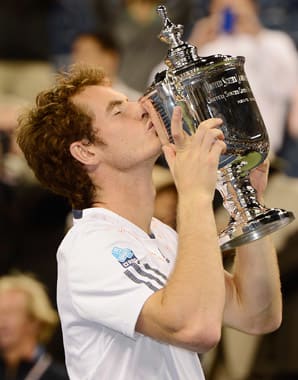 NEW YORK -- For years, Andy Murray had been the best of the rest.
For years, he'd borne the weight of a nation's expectations, only to buckle time and time again. Who can imagine the black visions, the self-doubt the Scotland native must have fought off after enduring pounding after pounding when the lights shined brightest?
No longer.
Murray beat it all back Monday to become the first man from Great Britain in 76 years to win a Grand Slam singles title, working through blustery conditions and an unbending opponent to win the U.S. Open championship with a 7-6(10), 7-5, 2-6, 3-6, 6-2 victory over Novak Djokovic before 25,101 fans at Arthur Ashe Stadium.
Prior to Murray's cathartic breakthrough, the triumvirate of Djokovic, Roger Federer and Rafael Nadal had won 29 of the past 30 Grand Slam titles, leaving the Scot pressed beneath the glass ceiling of the sport's elite class. Talent was never the question. He had all the shots. He could attack, he could defend. "I think if you gave me his game, I would be sick if I didn't win a Slam," Andre Agassi had said before last year's Wimbledon. "I just really would."
Now the 25-year-old Murray is no longer a symbol of unfulfilled potential.
"'Relief' is probably the best word I would use to describe how I'm feeling just now," said Murray following the four-hour, 54-minute match, which equaled the longest final in U.S. Open history. "You're in a little bit of disbelief because when I have been in that position many times before and not won, you do think, 'Is it ever going to happen?'"
It's long been observed that when Murray wins he's British, but when he loses he's Scottish. Knocked as a "drama queen" by Virginia Wade before this year's Wimbledon, many English supporters have never figured out how to support/embrace/understand Murray, thrown off by his aloof presence and a dour on-court manner that at times personified P.G. Wodehouse's claim that it's never difficult to distinguish between a Scotsman with a grievance and a ray of sunshine.
For years that may have been the case. But after Djokovic pushed a forehand past the baseline on match point to end one of the most mythical droughts in all of sports, surely Murray's identity crisis will be resolved for good.
WERTHEIM: 50 parting shots from U.S. Open
"He deserved to win this Grand Slam more than anybody," Djokovic said, "because over the years he's been a top player. He's been so close. Lost four finals. Now he has won it, so I would like to congratulate him."
It wasn't easy. Why would it have been? The second-seeded Djokovic was playing in his third straight U.S. Open final and going for his second consecutive title. Hadn't lost a match at a hard-court major since 2010, a streak of 27 victories. Hadn't lost to a lower ranked player at Flushing Meadows in 36 career matches. He'd stormed into the final dropping just one set along the way, while the third-seeded Murray had twice flirted with elimination in his past two matches.
History may have weighed down on Murray, but present circumstances played in his favor. Murray had finished his semifinal victory over Tomas Berdych on Saturday less than an hour-and-a-half before the tornado that forced the postponement of the men's final to Monday for a fifth straight year. Djokovic was forced to resume his semifinal Sunday, gifting Murray a precious additional day of rest.
Murray's choice to return after winning the toss proved foretelling, as Djokovic sprayed four unforced forehand errors to be broken at love. Djokovic managed to break back in the subsequent game, as gusts blowing from the east forced the players to recalibrate on the fly. A string of holds gave way to an epic tiebreaker, where Murray needed five set points to prevail 12-10 after Djokovic pushed a return past the baseline and handed the 87-minute set to the Scot.
Two old friends, born seven days apart, were trading hell -- as they'd done more than half their lives through various levels of the game -- alternating staccato exchanges with hyperkinetic rallies that flouted the laws of space-time.
GALLERY: Best shots from the 2012 U.S. Open
Deflated and clearly out of sorts, Djokovic was broken at love to open the second set, complaining with increased frequency to his box. Murray used his variety to alter the rhythm of the points, confounding Djokovic's ability to transition from offense to defense. The gusty conditions didn't help. The Serb's frustration was compounded when Murray's flat, educated groundstrokes forced more error-prone tennis -- and a second break of serve -- to wedge open a 4-0 lead. At that point, many in the crowd thought Murray might run away with the match.
"We had to try to stay in there and stay focused and be in a good balance," Djokovic said. "The wind was doing everything to keep us out from balance."
Djokovic pulled one break back to close Murray's lead to 4-1 and continued to apply pressure. Although Murray survived the set, it was clear Djokovic had turned the corner, hitting the ball cleaner and generating more power and penetration.
Murray fell behind 15-40 in opening game of the third set, but saved a pair of set points before crunching with a 132-mph ace out wide for the hold -- just his second of the match.
Djokovic then followed up a service hold with a break -- on a pulverizing backhand -- after Murray double-faulted to fall behind 15-40. "My legs feel like jelly right now!" shouted Murray toward his box after Djokovic held for a 4-2 lead. The Serb continued to attack the Scot's forehand, breaking for a 5-2 lead in the next game and holding to take the set.
The flow of play clearly on his side, Djokovic seemed more than capable of becoming the first player to win from two sets down in a U.S. Open final since 1949.
As the match crossed the four-hour mark, Djokovic rallied from a 40-15 hole on Murray's serve to break the Scot and force a fifth set. At that point, Djokovic seemed to be the fresher and fitter of the two, no small consideration given Murray's additional recovery time and the Serb's history of respiratory problems.
That's when Murray, for the first time in what seemed like a lifetime, held his nerve.
Murray ran Djokovic ragged through an extended rally, passing him with a forehand to earn a break point, then converting it immediately with backhand slice that graced the net cord. He then went up a second break, prompting an uproar from everyone in his box -- save, of course, stoic coach Ivan Lendl.
"A little bit of a slow start of the fifth cost me the victory today," Djokovic lamented.
With a history-making victory within touching distance, Murray offered one of his meekest service games of the match to allow Djokovic a window of hope. But he followed it up with a hold at love, moving ahead 4-2 and tightening the pressure on the Serb, who was running out of points.
That's when Murray delivered the decisive blow: a break to move ahead 5-2 assisted by four more unforced errors from the Serb. By then Djokovic's body was rebelling, his legs screaming with pain. The crowd booed his medical timeout, with Djokovic sarcastically clapping and offering the thumbs-up sign as a trainer furiously rubbed his legs. Whether legitimate or dubious, the tactic only delayed the inevitable.
Murray wasted little time with destiny afoot, sprinting ahead 40-0 to take hold of three championship points. Djokovic saved the first, but then pushed a forehand long as the misty-eyed Scot crumpled onto the concrete. He'd later admit to losing a toenail during the grueling decider.
It marked the final chapter of Murray's transformative 2012 season, which opened with the addition of Lendl as coach in January. The 52-year-old Czech had overcome similar early-career hardships -- Murray and Lendl remain the only players to lose their first four Grand Slam finals -- to ultimately win eight major championships. The Australian Open may have come too soon for the full dividends of the partnership, yet Murray still advanced to the semifinals before showing unprecedented focus in a five-set loss to Djokovic.
Murray's hardened mindset under Lendl was on full view during his inspired run to the Wimbledon final, which ended with an ennobling loss to Roger Federer. He rebounded for Olympic gold less than a month later -- "a Slam in the locker room," as John McEnroe called it this week -- and entered the U.S. Open with peaking confidence.
"The Olympics, it was obviously huge for me, the biggest week of my life," said Murray, whose $1.9 million payout for Monday's win lifts him past Boris Becker for fifth on the all-time earnings list. "But still today, before the match, when I was sitting in the locker room beforehand, there are still doubts. You're still thinking, 'If I lose this one, you know, no one's ever lost their first five finals.'
"I just didn't really want to be that person."
Those doubts might have compromised a younger Murray. Not on Monday, the night when the so-called Big Four of men's tennis blossomed in full, with Murray, Federer, Nadal and Djokovic now each holding one of the four major championships.
In the 15 major tournaments since Murray made his first Grand Slam final here in 2008, he'd reached three finals, six semifinals and a pair of quarterfinals. That kind of consistency, even without taking the final step, was remarkable. Even at a relative middle age, Murray had been widely regarded as the Best Player Never to Win a Grand Slam.
No longer.
"I have been in this position many times and not managed to get through," Murray said. "I am just so relieved, like I said, to finally have got through and can put this one behind me and hopefully win more."