The best of the NCAA tournament by decade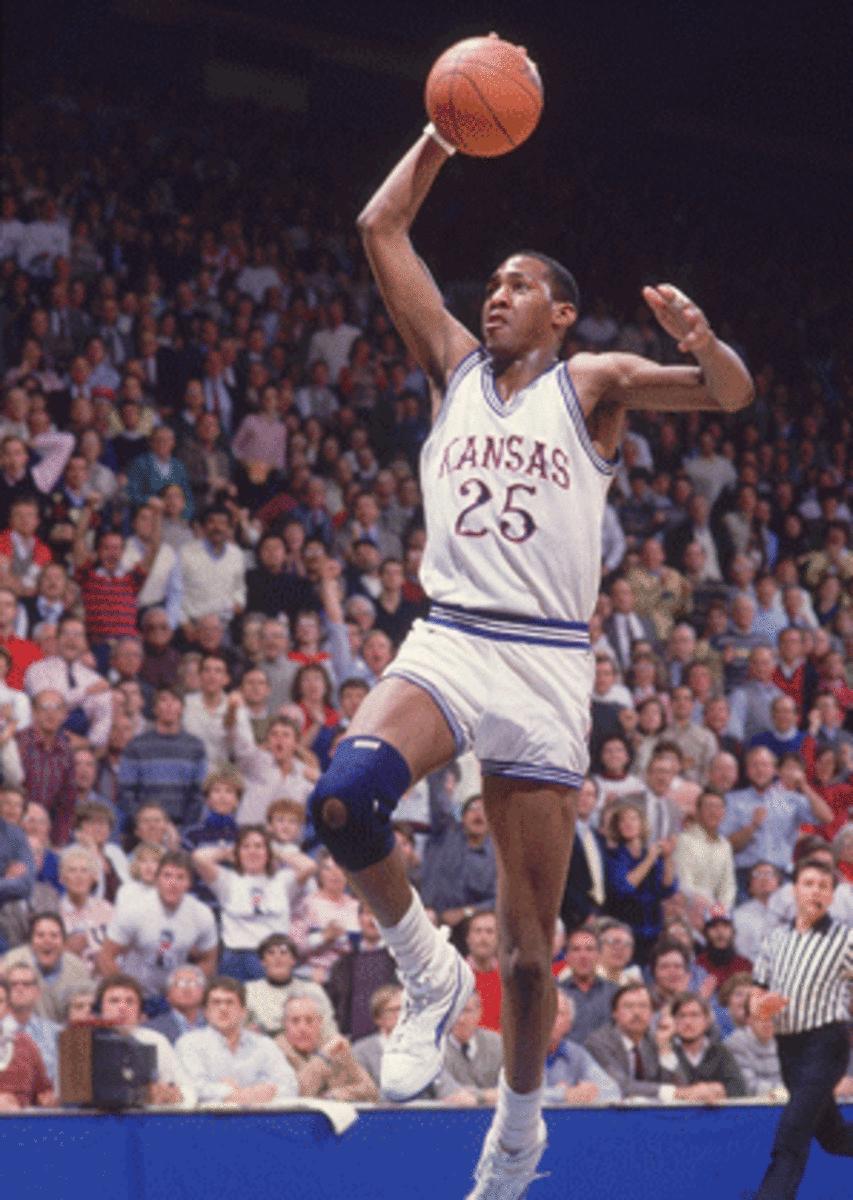 Choosing the best from the NCAA tournament for each decade is challenging for any fan. After all, there's 74 years of history. For this exercise the main qualification is contributions to a school's success in the tournament -- particularly multiple tournaments -- not the regular season. Future achievements in the NBA are not part of the discussion.
Kentucky's Jack "Goose" Givens gets the nod over Indiana State's Larry Bird on the NCAA tournament Team of the 1970s not because he was a better player but because he played better over three tournaments and scored 41 points in the Wildcats' 1978 championship victory over Duke. Bird, who played in only one NCAA tournament, suffered an off-night in Indiana State's '79 title match with Michigan State.
In other words, being very good for many games over multiple tournaments rates higher than being great for one year -- especially if that season didn't end with a championship.
Each decade showcased its own personality, memories and quirks, and helped set the stage for the mega-event that the NCAA tournament has become.
1940s
Best team: Kentucky (36-3), 1948 Best tournament player: Bob Kurland, Oklahoma A&M Best tournament coach: Adolph Rupp, Kentucky Best NCAA game: 1944 final, Utah 42, Dartmouth 40 (OT). Surprise champion: Utah, 1944 All-Decade tournament team: Kenny Sailors, Wyoming; Arnie Ferrin, Utah; Bob Kurland; George Kaftan, Holy Cross; Alex Groza, Kentucky. Highlights:1942: The last -- and only -- coach never to lose an NCAA game, Stanford's Everett Dean went 3-0 in his one tournament appearance. 1942-44: Dartmouth's short reign as an NCAA basketball power resulted in finals appearances in '42 and '44. The secret: The presence of a U.S. Navy training base in Hanover, N.H., which helped the Big Green attract All-America George Munroe and Aud Brindley and former St. John's star Dick McGuire. 1944: Wyoming was the last NCAA champ not to defend its title. After winning the crown in 1943, jump shot pioneer Kenny Sailors and many of his Cowboys teammates left for wartime military service. Wyoming didn't field a team for the 1943-44 season. Neither did Georgetown, the '43 runner-up. 1945: The last game between NCAA and NIT champs. NCAA king Oklahoma A&M (later Oklahoma State) topped NIT winner DePaul 52-44 in the third and final Red Cross benefit game at Madison Square Garden. In a battle of big men, A&M's 7-footer Bob Kurland got the best of DePaul's 6-foot-9 George Mikan. 1946: Oklahoma A&M became the first repeat champion as Kurkland leads A&M past North Carolina. Kurland punctuated his final college game vs. the Tar Heels with two dunks, a shot rarely used in that era. 1949: Kentucky defended its NCAA title but only after first falling in the NIT quarterfinals to Loyola of Chicago. Two years later three Wildcats players, including two-time NCAA Outstanding Player Alex Groza, admitted to taking bribes to throw the NIT game. Postscript: World War II, the prestige of the NIT and an eight-team field limited the growth of the NCAA tournament through the 1940s. Utah, with sharpshooting swingman Arnie Ferrin, landed in the '44 tourney only because it lost a quarter-final game in the NIT but was invited to the NCAA after Arkansas withdrew when two Razorbacks players were seriously hurt in an auto accident. And Utah provided the decade's most exciting final, a 42-40 overtime win over Dartmouth, a game that had six lead changes in the final two minutes of regulation.
1950s
Best team: San Francisco (29-0) 1956 Best tournament player: Bill Russell, San Francisco Best tournament coach: Phil Woolpert, San Francisco Best NCAA game: 1957 final; North Carolina 54, Kansas 53 (3OT) Surprise champion: CCNY 1950 All-Decade tournament team: Clyde Lovellette, Kansas; Tom Gola, La Salle; Bill Russell, San Francisco; Jerry West, West Virginia; Oscar Robertson, Cincinnati.
Highlights:1950:City College of New York became the only team to win the NCAA and NIT in one year as the Beavers topped Bradley in the finals of both tournaments. But the Cinderella story turned ugly a year later when several CCNY players were found guilty of point shaving. The school eventually fell to Division III.
It was also the last NCAA title game in New York's Madison Square Garden. Point shaving scandals involving CCNY as well as the players on the '49 Kentucky champs created the image of New York as a den of inequity. The NIT remained in Gotham but the NCAA moved its championship final out of New York and out of the Northeast entirely until 1966. 1951: The first 16-team tournament field as 10 conference champions receive automatic berths.
1952: The first championship final on the West Coast (Seattle) and the first real Final Four as four schools advanced to the national semifinals. Clyde Lovellette, the nation's leading scorer, had 33 points and 17 rebounds to lead Kansas to its first NCAA crown with a 80-63 victory over St. John's. Lovellette later was part of the gold-medal-winning team at the 1952 Helsinki Olympics. 1953: The first NCAA field with more than 20 teams as the brackets expand to 22. The field grew to as many as 25 schools through the '74 season. 1954: The first NCAA tournament on national television. 1956: San Francisco center Bill Russell concluded his brilliant college career by setting a still-standing record of 27 rebounds in a title game as the Dons beat Iowa 83-71 for their second straight championship. 1958: The first Final Four in the South (Louisville), where home state favorite Kentucky topped Seattle and Elgin Baylor, giving the Wildcats their fourth national championship and coach Adolph Rupp. 1959: The last all-white champion as California edged West Virginia and Jerry West, 71-70 in the title game. Postscript: More than 30 players from seven schools were found guilty of gambling and point shaving. Yet by decade's end the NCAA tournament began to be known more for drama and outstanding basketball and less for corruption. Three national title games were decided by one point, including North Carolina's classic triple-overtime thriller over Kansas and Wilt Chamberlain in 1957.
1960s
Best team: UCLA (29-1) 1968 Best tournament player: Lew Alcindor (later Kareem Abdul-Jabbar), UCLA Best tournament coach: John Wooden, UCLA Best tournament game: 1963 final; Loyola Chicago 60, Cincinnati 58 (OT) Surprise champion: Texas Western, 1966 All-Decade tournament team: Jerry Lucas, Ohio State; Gail Goodrich, UCLA; Bill Bradley, Princeton; Lew Alcindor; Elvin Hayes, Houston. Highlights:1960: The last appearance by NYU in the Final Four. The Violets, led future Celtics star Satch Sanders, dropped basketball in 1971 before returning in the '80s as a Division III program. 1961: The first team to have its Final Four finish vacated. St. Joseph, coached by Jack Ramsay, had its third-place finish stripped after three players were involved in point shaving. 1962: UCLA and coach John Wooden compete in their first Final Four. The Bruins finished fourth. 1963: Loyola's four African-American starters and Cincinnati's three marked the first championship game where more than half the starters were black. The combination produced a classic. The Ramblers rallied from 15 points down to force overtime and won 60-58 on Vic Rouse's buzzer-beater. 1964: UCLA and Duke appeared in their first NCAA final. The Bruins rode a 2-2-1 zone press and fast break to a 98-83 victory, part of a UCLA's record 38-game NCAA winning streak. The two schools went on to combine for 15 NCAA titles. 1966: Texas Western started the first all-black lineup in a championship game against Kentucky, the last all-white team to start a title game. David "Big Daddy" Lattin and guard Bobby Joe Hill led the Miners to a historic 72-65 victory in College Park, Md. It was the last Final Four appearance for Kentucky coach Adolph Rupp, who retired in 1971. 1969: The future Kareem Abdul-Jabbar concluded a sterling college career by becoming the only three-time Most Outstanding Player. He led UCLA to an unprecedented third straight title and finished his three-year college career with a 88-2 record. He finished with a flourish, scoring 37 points and grabbing 20 rebounds in the Bruins' 92-72 title game win over Purdue. Postscript: On the down side, point shaving lingered into the early '60s. On the positive side, integration helped make all-white basketball a relic from another era. UCLA gave the NCAA tournament its greatest dynasty. John Wooden called the '68 Bruins his finest team, particularly after they avenged their only defeat, a two-point loss to Houston and All-America Elvin Hayes. UCLA routed the Cougars 101-69 in the NCAA semifinals before thrashing North Carolina 78-55 for the title. UNC coach Dean Smith said he has never seen a better team.
1970s
Best team: UCLA (30-0) 1972 Best tournament player: Bill Walton, UCLA Best tournament coach: John Wooden, UCLA Best tournament game: 1974 NCAA semifinal; North Carolina State 80, UCLA 77 (2OT). Surprise champion: Marquette, 1977 All-Decade tournament team: Bill Walton; Keith Wilkes UCLA; David Thompson, North Carolina State; Jack Givens, Kentucky; Magic Johnson, Michigan State. Highlights:1970: Marquette coach Al McGuire, angered that the NCAA had sent the 22-3 Warriors to the Midwest Regional in Texas rather than its usual Mideast berth, chose to place in the NIT instead of the NCAAs. The Warriors won the NIT title, attracting larger crowds to Madison Square Garden than the Final Four drew in College Park, Md. 1971: The first Final Four to be played in an indoor stadium, the Astrodome in Houston, but it was not without controversy. Runner-up Villanova and third-place Western Kentucky had their appearances vacated after each school had players who signed pro contracts before the tournament. 1973: The first championship game played on a Monday night as the NCAA switched the Final Four to the current Saturday-Monday format. In the final, UCLA center Bill Walton had a night for the ages, scoring a record 44 points on 21-for-22 shooting to lead the Bruins to their seventh straight NCAA title with a 87-66 rout of Memphis. 1974: North Carolina State was the last NCAA champion to play all its tournament games in its home state. The Wolfpack never crossed state lines and won their first national title in Greensboro behind the high-flying skills of David Thompson. 1975: The last NCAA appearance by UCLA coach John Wooden. The Bruins sent Wooden out a winner with a 92-85 win over Kentucky, the coach's 10th NCAA crown in 12 years. It is the first tournament with 32 teams as conference runner-ups join the field. 1976: Indiana (32-0) was the last unbeaten champion. Led by All-Americas Kent Benson and Scott May, the Hoosiers won their final two games by an average of 16 points. It was also the last NCAA tournament with no dunking. 1977: Marquette made Al McGuire's final game one to remember as the Warriors became the first seven-loss team to win an NCAA crown. 1979: The first tournament to invite 40 teams and include seeding. It also marked the last time and Ivy League school reached the Final Four. Penn is routed by Michigan State, 101-67 as Magic Johnson registered a triple-double -- 29 points, 10 rebounds and 10 assists. Two nights later the Spartans' championship win over Indiana State and Larry Bird drew a record 24.1 rating, still the highest-rated final in history. Postscript: The end of the UCLA dynasty created a more competitive tournament and by decade's end the NCAA had grown to a seeded competition with 40 schools. After nearly two decades of playing the championship on a Saturday, the NCAA moved to primetime on Monday night. The '79 Magic-Bird final demonstrated the full drawing power of the NCAA's most popular tournament.
1980s
Best team: North Carolina (32-2) 1982 Best tournament player: Patrick Ewing, Georgetown Best tournament coach: Bob Knight, Indiana Best tournament game: 1987 final, Indiana 74, Syracuse 73 Surprise champion: North Carolina State, 1983 All-Decade tournament team: Darrell Griffith, Louisville; Patrick Ewing; Hakeem Olajuwon, Houston; Danny Manning, Kansas; Glen Rice, Michigan. Highlights:1980: The tournament expanded to 48 teams with 24 conference champions and 24 at-large schools. New sports cable network ESPN began televising the early-round games. 1981: The last Final Four to feature the popular NBC broadcasting team of Dick Enberg, Billy Packer and Al McGuire. Packer moved to CBS the following year when the network acquired the rights to the tournament. The title game telecast was overshadowed by an assassination attempt on President Ronald Reagan earlier in the day. 1982: The first live televised tournament selection show. CBS studio host Brent Musburger, perhaps recalling his newspaper days in Chicago, referred to the tournament as "March Madness," the longtime nickname of the Illinois state high school basketball tourney. 1983: The tournament grew to 52 teams and ended in spectacular fashion when North Carolina State's Lorenzo Charles dunked an errant shot at the buzzer to stun Houston, 54-52. The Wolfpack were the first 10-loss NCAA champion. 1984: Georgetown's John Thompson became the first African-American coach to win an NCAA title. Led by center Patrick Ewing and forward Reggie Williams, the Hoyas beat Houston and Hakeem Olajuwon, 84-75. 1985: The first 64-team tournament. Teams are seeded 1-16 in each of the four regions. No. 8 seed Villanova became the lowest seeded NCAA champion, shooting a final game record 78.6 percent to stun defending champion Georgetown 66-64. It was the last Final Four held in a college town, Rupp Arena in Lexington, Ky. 1986: The last tournament without a three-point shot or shot clock was also the first of 11 Final Four appearances for Duke coach Mike Krzyzewski. The Blue Devils fell to Louisville 72-69 in the title game. 1988: Led by the sensational Danny Manning (31 points, 18 rebounds), Kansas topped Oklahoma 83-79 and became the first 11-loss national champion. Postscript: The '80s were the only decade in tournament history without a repeat champion. Working against potential dynasties is that more top-shelf players began leaving early for the NBA. North Carolina's Michael Jordan and Houston's Hakeem Olajuwon and Clyde Drexler skipped their senior seasons. Isiah Thomas, the star of Indiana's 1981 national title team, left after only two years of college.
But even the departure of All-America talent can't halt the tournament's popularity. Millions of basketball fans begin filling out NCAA "brackets" in office pools, a practice that ultimately will reach the White House.
1990s
Top team: Kentucky (34-2) 1996 Top tournament player: Christian Laettner, Duke Top tournament coach: Mike Krzyzewski, Duke Best NCAA game: 1992 Eastern Regional final; Duke 104, Kentucky 103 (OT). Surprise champion: Arizona 1997 All-Decade tournament team: Christian Laettner; Larry Johnson, UNLV; Corliss Williamson, Arkansas; Tony Delk, Kentucky; Richard Hamilton, Connecticut. Highlights:
1991: Richmond became the first No. 15 seed to win a tournament game, taking down No. 2 Syracuse 73-69 behind 18 points from Curtis Blair. 1992: Minneapolis' Metrodome is the first stadium to host the World Series, Super Bowl and Final Four -- all within six months. Duke became the first team since Wooden's UCLA Bruins to repeat as national champion with a 71-51 trouncing of Michigan's Fab Five freshmen. But the Blue Devils really won the title nine days earlier when Christian Laettner's 17-foot jump shot at the buzzer beat Kentucky 104-103 in the East Regional final, one of the greatest games in NCAA history. 1993: North Carolina coach Dean Smith won his second national title with a 77-71 win over Michigan as Chris Webber infamously called a timeout in the final seconds when the Wolverines had none left. 1994: Bill Clinton is the first sitting president to attend a championship game. He joined the crowd in Charlotte, N.C., to watch his home state Arkansas Razorbacks edge Duke 76-72 for their first basketball title behind 23 points from Corliss Williamson. 1995: Ed O'Bannon (30 points, 17 rebounds) led UCLA to a record 11th NCAA title and its first since 1973. It was the last Final Four played on the West coast. 1996: Coach Rick Pitino's powerful Kentucky Wildcats dominated the tournament, winning their six games by an average of 21.5 points. Tony Delk's 24 points paced a 76-67 win over Syracuse in the title game. Final Four participant Massachusetts is one of a record six teams to have their tournament appearances vacated due to NCAA violations. Twelve years later UMass coach John Calipari will have a second Final Four appearance vacated at Memphis. 1997: The last NCAA appearance by legendary North Carolina coach Dean Smith as the Tar Heels fell in the national semifinals to eventual champion Arizona, 66-58. Smith won two national titles at UNC and reached 11 Final Fours. No. 4 seed Arizona became the first team to defeat three No. 1 seeds. Postscript: Duke and coach Mike Krzyzewski became the NCAA tournament's closest replica of the UCLA dynasty, appearing in five championship games during the 1990s and winning back-to-back titles in 1991-92. Between 1986 and 2001 the Blue Devils played in nine Final Fours.
After 1996, the Final Four moved permanently into indoor stadiums. This leaves the Northeast and West Coast out of the Final Four rotation because neither region has an indoor facility that large.
2000s
Top team: North Carolina (34-4) 2009 Top tournament player: Tyler Hansbrough, North Carolina Top tournament coach: Roy Williams, Kansas, North Carolina Best NCAA game: 2008 final; Kansas 75, Memphis 68 (OT) Surprise champion: Syracuse 2003 All-Decade tournament team: Shane Battier, Duke; Juan Dixon, Maryland; Carmelo Anthony, Syracuse; Emeka Okafor, Connecticut; Tyler Hansbrough. Highlights:2001: The tournament grew to 65 teams as a "play-in" game was added in Dayton, Ohio, between the schools seeded 64 and 65. Northwestern State of Louisiana beat Winthrop 71-67 and then got clobbered 96-54 by top-seed Illinois. 2002: North Carolina missed the NCAA after a record 27 straight appearances. 2004: Connecticut became the first school to win the NCAA men's and women's basketball titles the same year. Most Outstanding Player Emeka Okafor averaged 21 points and 10.5 rebounds in Final Four wins over Duke and Georgia Tech for Ji Calhoun's Huskies. 2005: Rick Pitino became the first coach to lead three different teams to the Final Four: Providence, Kentucky and Louisville. The Cardinals fell to Illinois 72-57 in the national semifinals. 2006: In the first Final Four without a No. 1 seed, Florida beat No. 2 UCLA 73-57 for the championship as Joakim Noah had 16 points, nine rebounds and a title game-record six blocks. 2007: Not only did Florida become the first repeat NCAA champion since Duke in 1991-92, it also became the first school to win national championships in football and basketball during the same academic year. Georgetown's John Thompson III joined his father as the only father-son combination to lead teams to the Final Four. Bob Knight made a record 28th coaching appearance in the tournament (with Texas Tech -- and his last. 2008: In,the first Final Four with all four No. 1 seeds, Kansas won an overtime victory over Memphis after Jayhawks guard Mario Chalmers hit a three-point shot with 2.1 seconds left to send the game into overtime. Memphis' season was later vacated after the NCAA found multiple violations involving star guard Derrick Rose. 2009: Barack Obama was the first president to fill out his NCAA bracket on national TV. He correctly picked North Carolina as the eventual champion. Led by four-time All-America Tyler Hansbrough, the Tar Heels defeated their six opponents by an average of 20.2 points. Postscript: Even though only four of the NCAA finals between 2000 and 2012 were decided by five or fewer points or in overtime, the tournament remains one of the nation's most popular sporting events.
High school players can no longer jump directly to the NBA but one-and-done stars such as Syracuse's Carmelo Anthony in 2003 and most of Kentucky's starting lineup in 2012 prevent teams from developing the cohesion that marked the great champions of the past. Four more teams were added in 2011, increasing the field to 68.