SEC spring football primer: Burning questions for each team
The SEC had its national title streak snapped at seven years when Florida State came back to beat Auburn in January's BCS championship game. But with the four-team playoff coming, the league that dominated the BCS era isn't quite ready to cede superiority to another conference. Still, the SEC will be in flux again this season.
In 2013, a massive defensive talent drain to the NFL draft plus a surplus of quality veteran quarterbacks led to some high scores. Expect that trend to reverse this fall as offenses attempt to find their way and young defensive stars such as Alabama's A'Shawn Robinson, Auburn's Carl Lawson and Mississippi State's Chris Jones develop into household names. This spring, expect most of the drama to be on the offensive side of the ball as coordinators try to settle on starting quarterbacks while tweaking their schemes.
• Alabama: Is the Crimson Tide's starting quarterback on campus yet?
Maybe not. Lane Kiffin's first spring practice as Alabama's offensive coordinator might go by with nary a snap given to the guy who will lead the offense in the season opener against West Virginia on Aug. 30. Transfer Jacob Coker must finish his bachelor's degree at Florida State before he can enroll at Alabama and be eligible to play in 2014. That leaves five quarterbacks hoping to impress Kiffin enough this spring to get consideration for the job after Coker arrives. The most experienced of the group on campus is senior Blake Sims, who backed up AJ McCarron in each of the past two seasons. Sims' athleticism is unquestioned, and if he has made strides as a passer, he should have a chance to land the starting job. Redshirt sophomore Alec Morris and redshirt freshmen Cooper Bateman and Parker McLeod will also compete with Sims for reps. Early enrollee David Cornwell will be in the mix as well, but Cornwell suffered a knee injury as a high school senior. Also, every one of Nick Saban's quarterback signees at Alabama has redshirted. Of course, given the unusual circumstances this year, Saban may want all of his options available. An offensive subplot to watch is the development of early enrollee Cameron Robinson. Not many offensive tackles can jump directly into the starting lineup, but the 6-foot-5, 330-pound West Monroe, La., native might have the physical tools to do it. The question is whether he can learn the offense quickly enough.
STAPLES: My top five college football food locales
• Arkansas: Will the Razorbacks bounce back from their 0-8 record in SEC play?
The SEC team that failed to win a conference game in 2012 (Auburn) wound up winning the league and playing for the national title in '13. Can Arkansas do the same this year? Probably not, but a closer look at the way the Razorbacks finished last season suggests that coach Bret Bielema's team isn't far from being competitive. Arkansas should have beaten Mississippi State and LSU in its final two games, and a relatively young Razorbacks team that took its lumps should emerge stronger from the experience. Tailback Alex Collins was as good as advertised, averaging 5.4 yards a carry as a freshman even though defenses knew he was Arkansas' only effective weapon. Look for tight end Hunter Henry, who averaged 14.6 yards a catch as a freshman, to become an even more integral part of the offense. Bielema has gotten crushed this offseason for his support of a now-tabled rule change designed to slow down hurry-up offenses. But with Collins and Henry, he has two very important pieces for his preferred smashmouth offense. (The trick will be replacing fullback Kiero Small and center Travis Swanson, who helped open a lot of holes for Collins.) Brandon Allen returns as the No. 1 quarterback, but he could be pushed this spring by early enrollee Rafe Peavey. On defense, new coordinator Robb Smith will have to shore up a unit that allowed an average of 6.1 yards a play last season. Smith came in promising a more aggressive style, which is what pretty much all new defensive coordinators promise. What Smith brings is a scheme that should make the Razorbacks' coverage options a little more flexible. That's critical, because defenses in the SEC West must be able to play against both ends of the offensive spectrum.
MANDEL: Explaining Arkansas' Bret Bielema's fall from coaching grace
• Auburn: After suffering some key losses, can Gus Malzahn's team defend its conference crown?
After Malzahn took the Tigers from a 3-9 mark to the national title game, it seems silly to doubt him. But consider these departures: Offensive tackle Greg Robinson, tailback Tre Mason, defensive end Dee Ford, fullback Jay Prosch, cornerback Chris Davis and defensive tackle Nosa Eguae. That's a ton of talent -- and quite a few soul-of-the-team type players -- gone from a squad that, while excellent, also needed some unusually good fortune to help it get to Pasadena. For Auburn to hope to replicate last season's success, new leaders will have to emerge. This spring, quarterback Nick Marshall will have a chance to truly take command of the offense. He arrived last summer and had to compete for the job. Now, he has an entire offseason as the starter. Malzahn and offensive coordinator Rhett Lashlee built their run-heavy scheme on the fly last year. This time, they'll build around Marshall. That should help. Meanwhile, defensive end Carl Lawson will have to prove he can take over for Ford as the Tigers' top pass-rusher. He certainly has the physical gifts.
• Florida: Can coordinator Kurt Roper's new offense save Will Muschamp's job?
Perhaps no coordinator in the nation will face more scrutiny than Roper. Maybe Doug Nussmeier, who faces a nearly identical situation after leaving Alabama for Michigan, but it's probably a tie. Pete Thamel and Thayer Evans included a Q&A with Roper in their most recent Inside Read. Roper didn't really acknowledge the pachyderm in the room, but everyone knows what he's up against. If the Gators don't improve, a coaching change will be made. Roper described his offense as a spread run game with a pro-style pass game. That sounds an awful lot like how Florida looked when Urban Meyer inherited Chris Leak as his quarterback. Such an offense can be devastating (the Gators' BCS title game win over Ohio State) or maddening (the first six games of Florida's 2005 season). Roper faces the inverse of that situation. He inherits a quarterback, Jeff Driskel, who is built to run the spread. Driskel is 6-4, 237 pounds and fast. If he is a threat to run, defenses have a lot more to worry about. Before he broke his fibula against Tennessee last September and was sidelined for the remainder of season, Driskel was not a threat to run; the Gators lacked depth behind him and coaches feared an injury. (He wound up getting hurt after throwing a pass.) That should change this year with early enrollee Will Grier on campus. Still, Roper will have to find playmakers for the offense to have a chance. The last Florida player to surpass 570 receiving yards in a season was Aaron Hernandez (850) in '09. Roper had a 1,000-yard receiver in four of his six seasons at Duke, and he'll need to recreate that magic in Gainesville. The Gators haven't stretched defenses with their passing game, and defenses have solved their fairly easily absent a big-play threat. Whether it's Demarcus Robinson, Ahmad Fulwood, Chris Thompson or someone else, one of Florida's receivers is going to have to figure out how to get open.
• Georgia: Can Jeremy Pruitt give the Bulldogs' defense more bite?
Former Georgia defensive coordinator Todd Grantham's job was probably safe, but there weren't a lot of tears flowing in Athens when he opted to leave for Louisville. Enter Pruitt, who in one year at Florida State married a lot of the concepts he learned under Saban at Alabama with some specific schematic requests from Seminoles coach Jimbo Fisher. The result? The nation's stingiest scoring defense and a national title. Since Grantham also came from the same Bill Belichick-Saban coaching tree as Pruitt, Bulldogs players should be quite familiar with most of the concepts that Pruitt will teach. Georgia won't need any buffer time to recruit to this defense, because it already has personnel that fits. The challenge for Pruitt will be to get more out of this group than Grantham did. The good news is that the Bulldogs bring back nine defensive starters, including standout linebackers Amarlo Herrera and Ramik Wilson. Linebacker Christian Jones blossomed at Florida State in a hybrid role in Pruitt's scheme. At Georgia, Jordan Jenkins is a better natural pass rusher than Jones, and he could improve upon a season in which he led the Bulldogs in tackles for loss (12). The dismissal of safety Josh Harvey-Clemons could solve a potential issue for Pruitt. Damian Swann was better at Grantham's star (nickel) position while filling in for an injured Harvey-Clemons than he was at cornerback. With Harvey-Clemons gone, Swann could slide to nickel permanently.
• Kentucky: Will freshman Drew Barker take command of the offense?
After filling in for an injured James Franklin last season, Maty Mauk could develop into one of the premier quarterbacks in the SEC this fall.
Barker, the star quarterback recruit from Burlington, Ky., seems perfectly comfortable with the huge expectations being placed on him before his first spring practice snap. He and the Wildcats' other early enrollees starred in a television ad that ran during the Super Bowl in Kentucky markets and featured a shot of the team's veteran leaders followed by a shot of the new freshmen in it new whispered-about-in-hushed-tones gray uniforms. "They didn't show [the ad] to us before," Barker said. "They wanted us to be surprised when we saw it." And they were. But Barker said he doesn't feel any added pressure in spite of the obvious comparisons to Tim Couch, another Bluegrass State quarterback who briefly lifted the Wildcats' fortunes. Still, Barker will have to win the starting job before he can affect the future of this program. Neither Jalen Whitlow nor Maxwell Smith nailed down the job last season, so it should be wide open.
• LSU: We already know Tigers' next quarterback, don't we?
Maybe. Maybe not. Anthony Jennings relieved an injured Zach Mettenberger and led a come-from-behind victory over Arkansas, and he also started in LSU's Outback Bowl win over Iowa. But against the Hawkeyes, he went 7-of-19 for 82 yards, with an interception, on a nasty, wet day. Jennings doesn't have the job locked down, and freshman early enrollee Brandon Harris will challenge him. Redshirt sophomore Hayden Rettig and senior Rob Bolden will also compete for the job. Tigers offensive coordinator Cam Cameron spent a long time in the NFL, but he isn't married to the idea of a pure drop-back passer such as Mettenberger. LSU used Jennings in change-up situations last year, and Cameron seems to relish the idea of a quarterback who can do damage through the air and on the ground.
• Mississippi State: With Dak Prescott entrenched, is this the year the Bulldogs make the leap?
Quarterback Prescott endured a brutal 2013, losing his mother to cancer in November. He persevered, getting better in the season's final month before leading Mississippi State to victories in the Egg Bowl and the Liberty Bowl. Through it all, Prescott emerged as a leader who Bulldogs players wanted to follow. Prescott's top five receivers return, though the running game will need some new stars following the departures of tailback LaDarius Perkins and guard Gabe Jackson. Still, Prescott was the leading rusher in '13 and back Josh Robinson averaged 5.9 yards a carry. On defense, Chris Jones will anchor the line after a stellar freshman campaign in which he proved why he jumped from a two- to a five-star rating in a matter of weeks on the recruiting circuit. Meanwhile, linebacker Benardrick McKinney is the top playmaker on a unit that should only improve for coordinator Geoff Collins.
• Missouri: Can the Tigers stay atop the SEC East?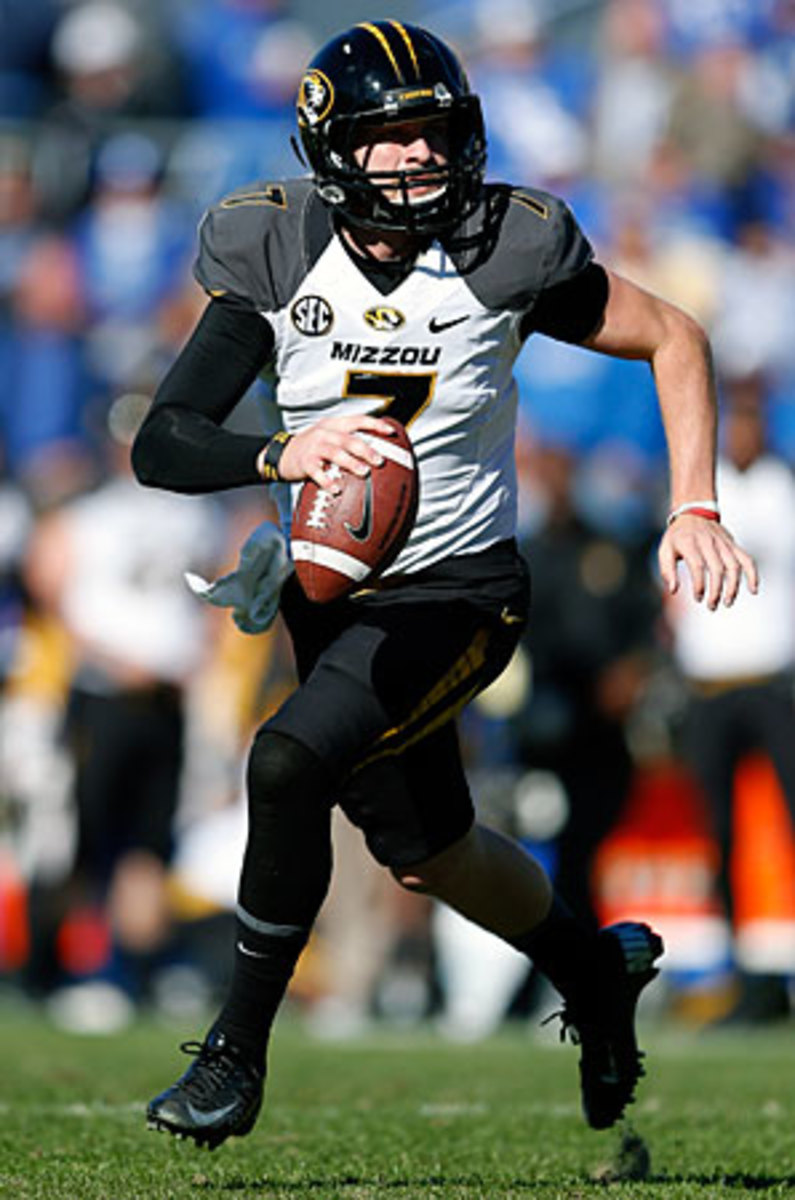 Mizzou lost 13 starters from last year's 12-2 squad, but that number might be a bit misleading. Quarterback Maty Mauk didn't finish the season as the starter, but he filled in ably for an injured James Franklin last October and November and could wind up developing into one of the SEC's best passers. Defensive end Markus Golden had 13.5 tackles for loss playing behind Michael Sam and Kony Ealy, and he would have started on almost any other team in the country. Meanwhile, Shane Ray brought plenty of speed off the edge and should blossom in a bigger role. Still, the Tigers must fill some holes if they hope to repeat as SEC East champs. Sophomore Aarion Penton is now Missouri's most experienced cornerback after the departures of E.J. Gaines and Randy Ponder. And Kentrell Brothers must provide leadership for an inexperienced linebacking corps.
• Ole Miss: Can Hugh Freeze keep the momentum going in spite of some off-field issues?
This could be a big year for the Rebels. Ole Miss returns an experienced quarterback in Bo Wallace. The stars of the vaunted 2013 recruiting class (defensive end Robert Nkemdiche, offensive tackle Laremy Tunsil, receiver Laquon Treadwell and defensive back Tony Conner) proved excellent as freshmen. Most of the defense returns, and the only major positional question mark is on the offensive line. (Though not at left tackle, where Tunsil is a budding star.) But linebacker Denzel Nkemdiche has been suspended for all of spring practice following his Feb. 15 arrest on charges of disorderly conduct and disturbing the peace. Denzel and Robert Nkemdiche are being sued in civil court for $2 million by a man who claims they beat him at a fraternity party. The brothers are facing no disciplinary action for this incident, because school officials contend the claim was properly investigated and no wrongdoing was found. Meanwhile, tight end Channing Ward (DUI) and linebacker Serderius Bryant (disturbing the peace/public drunkenness) were also arrested in the offseason. Both will practice this spring. If the Rebels can stay out of trouble, they could be building toward a special season. If more issues result in further disciplinary action, the team's depth could be tested come the fall.
• South Carolina: Can Dylan Thompson replace Connor Shaw with no drop-off?
When the South was getting pummeled with snow last month, Thompson didn't miss a workout. The Gamecocks' rising senior quarterback even documented his time on the frozen tundra of Williams-Brice Stadium with a tweet. Thompson is beloved by his teammates and considered one of the hardest working players on the roster. He also has come through when called upon, piloting South Carolina to a win over Clemson as a sophomore, and throwing the game-winning touchdown pass in the 2013 Outback Bowl. That's why coach Steve Spurrier has made it clear that Thompson will be the guy to replace Shaw, a passer who took his place alongside Danny Wuerffel and Shane Matthews as a quarterback who meshed spectacularly with the Ol' Ball Coach. Thompson isn't the runner that Shaw was, but he'll have tailback Mike Davis to carry most of the load. With Bruce Ellington gone, Thompson will have to find some new favorite targets. Senior receiver Damiere Byrd will miss spring practice with a knee injury, which should provide sophomore Pharoh Cooper with a chance to develop a rapport with Thompson. Meanwhile, coordinator Lorenzo Ward's defense will need to reload. Unlike last year, linebacker is no longer a question mark. But cornerback is. So is the defensive line following the departures of Jadeveon Clowney, Kelcy Quarles and Chaz Sutton. Juco transfer Abu Lamin should have a chance to compete for a defensive tackle spot.
FARRAR: 2014 NFL Mock Draft: Will Jadeveon Clowney go No. 1?
• Tennessee: Who will fill all the openings along the line of scrimmage in Knoxville?
Maybe the Volunteers' "brick by brick" motto isn't so fitting this year. Before Tennessee can lay bricks, it needs to pour some sort of foundation in coach Butch Jones' second season. The Vols lose all five offensive line starters and all four defensive line starters from 2013. That means there will be plenty of playing time available for hotshot signees from the most recent recruiting class. Juco transfer Dontavius Blair and his 6-8, 313-pound frame should compete for an offensive tackle spot. So should veteran Kyler Kerbyson, who backed up Tiny Richardon and Ja'Wuan James. If Tennessee can find some blockers, whoever wins the quarterback derby should have several quality targets. Wideout Marquez North was a standout freshman last season, and early enrollee Derrick Malone looks the part of an impact receiver. Sophomore Pig Howard is taking a leave of absence from the team for personal reasons, but he remains enrolled. If Howard returns for the fall, the Volunteers could have a dynamic receiving corps. On the defensive line, 285-pound juco transfer Owen Williams will get a chance to compete, and ends Dimarya Mixon and Joe Henderson are also already enrolled. Sophomore end Corey Vereen, who played through injuries much of last season, could emerge as Tennessee's best pass rusher.
ELLIS: Phillip Fulmer and the rebirth of East Tennessee State football
• Texas A&M: How will the Aggies replace three likely first-round draft picks on offense?
Johnny Manziel gets all the ink, but left tackle Jake Matthews and wide receiver Mike Evans could be top-10 NFL draft picks. That's a huge talent drain, especially considering Texas A&M also lost its second-leading rusher (behind Manziel) Ben Malena. Still, people aren't that worried in Aggieland. Kevin Sumlin has stockpiled talent at the skill positions, and former coach Mike Sherman's penultimate recruiting class continues to pay dividends on the offensive line. At quarterback, early enrollee Kyle Allen has raised the level of competition. Sophomore Kenny Hill and senior Matt Joeckel have watched the freshman from Arizona absorb the offense quickly, and they know they'll have a battle on their hands. That competition will stretch into preseason camp. Meanwhile, Texas A&M has another rangy speedster waiting to replace rangy speedster Evans. Ricky Seals-Jones averaged 28 yards on three catches as freshman before a knee injury ended his season, but the 6-5, 225-pounder is working his way back to full health. Early enrollee Speedy Noil has wowed coaches and teammates in his first few practices, too. He'll play a role in the offense this fall. The Aggies also hope to expand the role of 6-6, 274-pound tight end Cam Clear. On the line, fifth-year senior Cedric Ogbuehi will shift from right tackle to left to replace Matthews. Matthews made the same move last year to replace No. 2 overall draft pick Luke Joeckel. This time next year, look for Ogbuehi to sit in a prominent position on draft boards.
• Vanderbilt: Can Derek Mason turn Vanderbilt into the Stanford of the SEC?
When he was at Vandy, James Franklin never really liked it when his program was compared to Stanford. This is probably because the competition in the SEC was a lot stiffer than it was in the Pac-12 when Jim Harbaugh and company first began building the Cardinal into the power they are today. Mason probably won't mind, though. First, the comparisons are inevitable. He was Stanford's defensive coordinator. Second, the Pac-12 Mason left in 2014 is a lot closer competitively to the SEC than the one Harbaugh entered in '07. Mason is the guy who solved Oregon's offense and built an elite defense using players who could get into Stanford. While still a challenge compared to most of the country, it isn't as difficult to get players into Vandy as it is to get them into Stanford. Plus, with a pair of nine-win seasons, Franklin showed that the Commodores could be competitive. This spring, Vanderbilt has to replace some major contributors. Jordan Matthews was the SEC's best receiver. Jordan Cunningham, who caught 15 passes as a freshman, could emerge as the top target for whoever wins the quarterback job -- Patton Robinette or Johnathon McCrary. Departed offensive tackle Wes Johnson was an NFL-quality player, but the Commodores return the other four starters on the offensive line. They also bring back leading rusher Jerron Seymour. Mason may need some time to recruit players physically suited to run the 3-4, but he and defensive coordinator David Kotulski have plenty of experienced players for the transition period. Defensive ends Caleb Azubike and Kyle Woestmann combined for 16.5 tackles for loss as part of a five-man rotation last season. Both could make a leap this year.
RICKMAN: ACC spring primer: Can Florida State keep on rolling?
MANDEL: Big Ten spring primer: Will Michigan State's defense reload?