On the brink: Clemson, Watson eye national title after Orange Bowl win
The Clemson Tigers beat the Oklahoma Sooners, 37-17, in one of the College Football Playoff semifinals to advance to the national championship game.
MIAMI GARDENS, Fla. — In December of 2012, the high school football team buses reached the town line in Gainesville, Ga., and were greeted by police cruisers with lights flashing. They escorted the buses to Gainesville High, where a crowd of hundreds was preparing to launch a post-midnight celebration of the school's first state football title.
That magical night was made possible by a precocious quarterback, Deshaun Watson. Watson would go on to attend college at Clemson, which is on the cusp of a similar celebration after its 37–17 win over No. 4 Oklahoma in the College Football Playoff semifinals on Thursday evening. Watson chose Clemson as his collegiate home in part because he saw the rural town of 14,000 as a kindred spirit to Gainesville (35,000), both tight-knit communities where football dominates the daily conversation and dictates the mood each week in the fall.
College Football Playoff preview hub: Everything you need to know
Clemson's path to the national championship game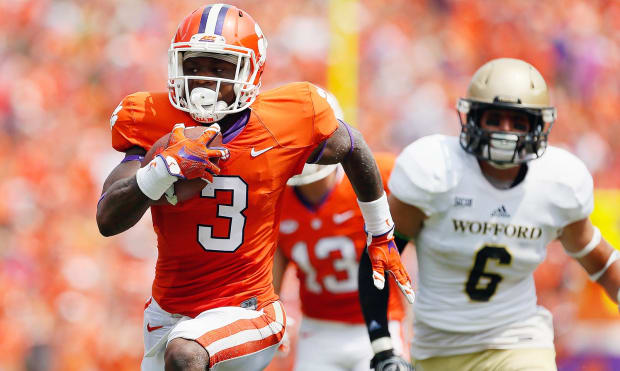 They've been waiting for a generation around Clemson, where football and the community are intricately intertwined. This time around, however, there may be a few more folks waiting for Watson when the buses pull back into the stadium.