The Secret to Washington's No. 1 Defense: An Expertise at Nickelback
From coaching Ronde Barber in the NFL a decade ago to building the nation's best defense this fall, Jimmy Lake and Washington know better than anyone the value of the fifth defensive back, and other teams are catching on.
The nation's top-rated defense, and many like it, owe a debt of gratitude to a player who retired from the NFL five years ago. That is part of the legacy of Ronde Barber, a man who revolutionized the role of the nickelback, a fifth defensive back who takes the place of a linebacker in a typical defensive alignment. So says Washington co-defensive coordinator Jimmy Lake, a coach on that No. 1 ranked defense, who worked with Barber for four seasons as a defensive backs coach with the Tampa Bay Buccaneers.
"A lot of teams, when they would face 11 personnel [one running back, one tight end, three wide receivers] back then, they'd stay in their base personnel," Lake says. "Usually people would only go nickel on third down so that nickel corner would just play man on the slot and that was his role. Well, Ronde was so tough, so smart, so fast and so quick that he could play man on the slot, he could blitz like a linebacker, he could play the run like a linebacker, he could drop into zone coverage like a linebacker/safety, but then if you needed to play man, he'd lock down the slot like all of the other supposed nickels would do. So with him, you could play nickel defense on first, second or third down, and it became what it is today.
"Most teams, including [Washington], their base is their nickel. Base is now like a dinosaur with the true four-down linemen, three linebackers, and four DBs. Now it is five DBs on the grass almost exclusively."
Barber went to five Pro Bowls and made the NFL's All-Decade Team for the 2000s. Over his 16-year career, he intercepted 47 passes, had 28 sacks and 15 forced fumbles, and he led the team in passes defended (14) the last time the Bucs went to the playoffs, in 2007.
"We did so much with him," Lake says. "He was really a true extension of the coaches onto the field. He'd be able to make checks on the run—let the free safety blitz and he would stay in coverage. He would blitz and the free safety would stay in coverage. He would switch things off back and forth, so we became very multiple. You didn't know if we were in man or in zone. He tricked really good quarterbacks. He was so smart and savvy. I think he completely changed the game. Before him, as soon as defenses went nickel, everybody knew that the defense was basically inman defense and that guy was out there to play man."
Lake came to Washington in 2014 with Chris Petersen from Boise State. The Huskies have gravitated to the nickel, he says, because most Pac-12 offenses besides Stanford (the Huskies' next opponent) are in three or four-receiver sets every single play, so it's a necessity to match with as much speed as possible, which means almost exclusively using five and six defensive backs on first and second down. "We've evolved to this because of the type of offenses we're seeing," Lake says.
The Huskies have had some talented players man the nickel in their system. In Lake and Peterson's first year in Seattle, it was Budda Baker. In Year Two, it was a much longer defensive back, 6' 3", 180-pound Kevin King. "He really clogged up the lanes because of his length with his wingspan and he's also so athletic," Lake says. "He also had the same tough mentality to play the run like Budda."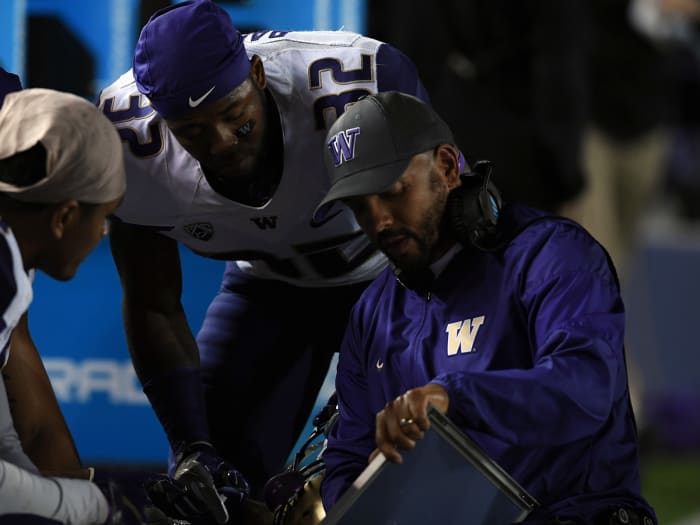 Last season, Washington went back to Baker at nickel and he earned All-America honors as the Huskies rode their defense into the College Football Playoff. With King and Baker off to the NFL, Myles Bryant, a 5' 8" sophomore, has taken over the role and emerged as a playmaker: He leads the team with six passes broken up, sits second on the team with 40 tackles, including four tackles for loss, and had a pick-six in the Pac-12 opener against Colorado.
"I am excited about him," Lake says. "He's just wired the right way. He understands football principles and angles, and at the same time, he's quick enough and speedy to cover and he also understands zone concepts. You can give them so much more information and they're able to gather that information and then use it to make plays on gamedays. He's just so hungry for information."
Due to injuries to both of Washington's starting cornerbacks, Bryant has played some corner as well; in his place, safety Taylor Rapp has filled in at the nickel and made his own share of big plays, registering two sacks.
The Huskies allow just 3.71 yards per play, the fewest in the nation. Only one other defense is under four yards per play entering Week 11: Alabama, at 3.96. Washington also leads the nation by a huge margin in fewest plays of 20 yards or longer allowed, with just 14. Boise State is the next-closest defense with 24. The Huskies are also tops in the country in fewest yards per pass attempt at 5.0.
"What really impressed me is that they're so well-coached," says Colorado offensive coordinator Darrin Chiaverini. "They're so good at mixing up coverages, whether it's Cover-9 or Cover-1. They can make your quarterback believe he's seeing man [coverage] when it's really not."
That was how Bryant helped dupe Buffaloes quarterback Steven Montez into that pick-six—he also made seven tackles (one for a loss) in Washington's 37–10 win.
Last offseason Lake visited four NFL teams, and all four are now playing roughly 65% to 70% of their snaps in nickel. "In the past that was never like that, and we're up to 90–93% nickel. Now you're seeing more dual-threat QBs and the spread offenses that are going up to the NFL now, where it'll be more receivers and more DBs. You see where it's going."
Finding guys capable of playing the nickel is a tricky proposition. Size isn't crucial. Savvy and toughness are.
"The No. 1 trait has to be that when you talk to the HS football coach, he says something like, 'This guy is just a football player. He just gets it.' He plays hard and he's tough. He understands scheme very quickly and can execute it on the field," Lake says. "I don't like to put guys in boxes on the size. I had Kevin King at 6' 3", and now a guy who is 5' 8" and Budda was 5' 9 1/2". I've tried some longer lever guys but they didn't have the short-space quickness to do it. Kevin was a different one.
"Ideally, you have a guy who can play a D or C gap [just outside or inside the tight end along the line] and tackle Le'Veon Bell. You need to understand how to play a hook drop [into shallow coverage], how to play a zone drop. Your typical cover corner knows how to play man and maybe drop to a third. And I'm not taking that lightly at all because there's a lot of details involved in how to cover a great receiver, but in terms of all the information that those guys have to get and be able to use and be in that small space in the slot and still have the toughness to go tackle a big back, that's exclusive company. That is a hard thing to do. There's a reason why for years a lot of people kept big 235-pound linebackers out there. They didn't trust a defensive back to be able to shoot into a C gap."
The teams that have established that trust—even if the next Ronde Barber isn't on the roster—are reaping the benefits.