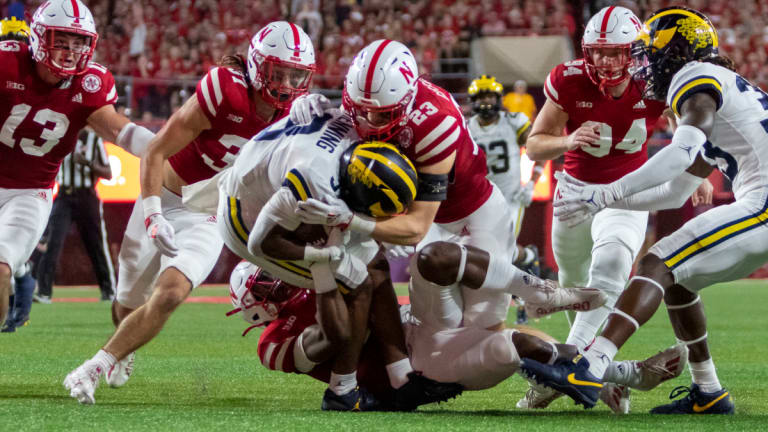 Nebraska Suffers Disconcerting Loss to No. 9 Michigan
The Huskers had their chances to win late but fell in another one-score game
The adjective disconcerting holds two definitions with dictionary.com:
disturbing to one's composure or self-possession; upsetting, discomfiting.
disturbing to one's composure or self-possession; upsetting, discomfiting.
confusing, usually in the face of something totally unexpected; perplexing.
Nebraska's (3-4, 1-3 Big Ten) 32-29 loss to No. 9 Michigan (6-0, 3-0 Big Ten) certainly fits both.
Husker nation is certainly feeling upset after another close loss; confused to see so much progress with a program able to compete with top-10 teams weekly but without anything to show for it.
The officiating certainly seemed disconcerted as well Saturday night at Memorial Stadium. The crew caused long reviews in the first half on missed calls that had both coaches passionately stating their cases before taking timeouts just to force a review. Both instances saw the results of the plays changed.
The officials called Nebraska for "disconcerting signals", a delay of game penalty for five yards and resulted in a a Michigan first down. Haven't heard of that one? Neither had most media that I spoke with.
Apparently, Luke Reimer was flagged for clapping, which is what many offenses, Michigan included, do to signal the snap. This is the same complaint Nebraska lodged against Iowa a few years ago, though it fell on deaf ears.
Nebraska was also on the wrong end of a "joint possession" after a muffed punt, a bad pass interference call in which the ball was nowhere near the receiver and defender that resulted in the ball being spotted incorrectly, and, if you ask most Husker fans, plenty of missed holding calls.
Plenty of fanbases claim they don't get the calls, but Nebraska might have a real case over the years. The head coach, though, won't go there.
"Not gonna talk about that," Frost said multiple times when asked about penalties.
Senior tight end Austin Allen did go there.
"We don't get calls, that's nothing new," Allen told reporters following the loss.
With all that, Nebraska did put itself in a position to win the game.
Trailing 13-0 at halftime, the Huskers got the offense rolling. Nebraska scored on the opening possession of the third quarter, then, after a punt, punched in the next three possessions for touchdowns as well.
One of those touchdowns came after a Deontai Williams interception late in the third quarter. The Huskers scored twice in a span of 32 seconds, putting Memorial Stadium into a state of pandemonium ahead of the new between quarters tradition of playing "Thunderstruck" to a light show with pyrotechnics.
Michigan, meanwhile, started with a punt before scoring on three out of four possessions. That had the game tied at 29-29 with 3:00 to play in the game and Nebraska controlling its fate.
The Huskers used a pass for seven yards and a two-yard run to set up third-and-one at the 34. An Adrian Martinez run up the middle picked up the first down, but he was stood up. The officials ruled that forward progress had not been stopped, and Martinez was hit, causing a fumble.
Michigan recovered the ball.
"I am not going to stand up here and make excuses for myself," Martinez said. "I cannot be careless with the football. I thought the play was over. I was standing as I am standing right now, and I thought it was done.
"But regardless of that fact, I feel a lot of responsibility and cannot make plays like that hurt our team"
The Blackshirts held Michigan from gaining a first down for the fourth time in the game, but the Wolverines managed 39-yard field goal to take the lead with 1:24 to go.
"We took the field on that drive and I think everybody thought we were gonna win this game," Frost said.
With no timeouts, Nebraska started a last chance drive on their own 25 with a 25-yard pitch and catch to Samori Toure. That would be the last yardage gained by the Huskers.
Martinez missed Toure on first down and Falck on second down. The third-down play went to Rahmir Johnson for no gain.
On fourth down, Martinez overthrew Toure down the right sideline, though coverage was tight.
No penalty. Game over.
Well, there was a penalty, but it came after the play. Michigan was able to kneel out the clock and escape Lincoln with an unblemished record.
"The atmosphere and the environment showed a lot of poise and moxie from our guys," Michigan coach Jim Harbaugh said. "There is no doubt they were ready to storm the field and tear down the goalposts. Not on our guys' watch tonight."
Martinez finished the game 18-for-28 for 291 yards and three touchdowns, including a stretch in the second half of ten consecutive completions for more than 160 yards. On the ground, the quarterback ran for 38 yards and another score.
Johnson remained the featured back, rushing for 67 yards on 17 carries. He also reeled in six catches for 105 yards and a touchdown.
Six Husker receivers notched receptions, including Allen with 59 yards and a touchdown and Falck with 31 yards and a touchdown.
Defensively, Nick Henrich led all tacklers with 15 total. Luke Reimer (12) and Cam Taylor-Britt (11) also reached double-digit tackles.
For Taylor-Britt, it was one of the best games of his career as a defensive back in coverage and chasing down ball carriers. His three pass breakups and 11 tackles are career highs.
"Making good plays and doing my job to the best of my ability and playing lights out," Taylor-Britt said of his performance.
Despite Nebraska finishing with 431 yards of total offense (140 rushing, 291 passing), Michigan outpaced the Huskers there as well.
The Wolverines posted 204 yards on the ground and 255 through the air.
Quarterback Cade McNamara managed the game to the tune of 22-for-38 passing. Hassan Haskins ran for 123 yards and two scores. Blake Corum added another 89 yards on the ground with a touchdown.
The last three losses for Nebraska have come by a combined 13 points to teams currently ranked No. 6, No. 9, and No. 11, all with identical 6-0 records.
The Huskers now need to win three of the final five games to reach bowl eligibility. The first chance for one of those will come next Saturday at Minnesota (3-2, 1-1 Big Ten). That game is set for an 11 a.m. kickoff.
---
Related
---