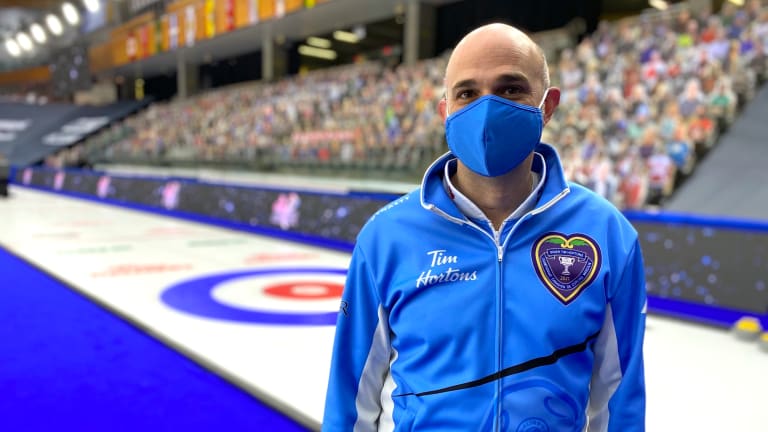 Quebec-Flavored Curling Passion
Fellow journeymen, you should be cheering.
Fellow journeymen, you should be cheering.
The Curling News desk can't help but pay particular attention to the Brier results for Team Quebec.
Skip Mike Fournier, you see, is a longtime contributor. He made the jump to this SI platform with us back in November, and you can catch up on his most recent posts.
Curling fans watched Quebec's 2021 women's team, skipped by Laurie St-Georges, exude fun at last week's Scotties bubble. Winning certainly helped—it always does—and St-Georges made it to the championship round before bowing out.
Well, Team Fournier has released a video showcasing their pre-Brier training regimens, and it's hilarious. We are particularly impressed with third Felix Asselin's impressions of Team Gushue. Here it is for your viewing pleasure:
A recent Curling canada video
We know Fournier's sense of humor, and now we've seen he and his teammates bring it. Given the pandemic circumstances of this Bubble Brier, we can't help but feel a healthy dose of fun can go a long way in the Canadian men's tournament.
Yesterday, for Flashback Friday, we highlighted the cover of our March 2011 London (Ont.) Brier issue, which was themed "London Curling" after the famous London Calling album cover by The Clash.
In that same issue, Fournier wrote a column introducing Francois Gagné and his rookie Quebec team to the Brier curling world. Gagné had impressed us with his enthused 2011 provincial championship celebration, and we were lucky enough to score photographs to lead off Mike's column.
Fournier went on to tell the story of Gagné third Robert Desjardins, one of the more interesting personalities in a sport that is—wonderfully—full of them.
According to Fournier, "Bob" was an eccentric high school math teacher completely devoted to the sport. He walked around curling clubs with homemade fuzzy slippers protecting his homemade Sugi curling shoes and homemade stainless-steel slider. He would bring a score sheet and a pencil out onto the ice, and proceed to score each player—during the game, after every shot. His teammates seemed more like members of a cult than curlers, religiously following their quirky leader and having relatively little interaction with the outside world. 
Bob could also sell his local media and business community to find sponsorships. He wrote his own news releases after every tournament, and send them out en masse to anyone who would read them. He'd spend the sponsorship money to fly to cashspiels out west and return home after three straight losses.
But through hard work and dedication, the curling got better and better … and when Gagné and Desjardins joined forces, their team of Quebec curling journeymen finally made it to the Brier.
"While many fans and organizers had surely hoped for a bigger name to represent Quebec, rest assured that Frankie Gagné and his team will entertain and bring that Quebec-flavored passion to the ice in London," wrote Fournier.
"And Robert Desjardins will not only represent his province, but also that legion of unknown journeymen that fill up bonspiels across Canada every week.
"As a fellow journeyman, I will be cheering."
While the Calgary bubble now marks his second Brier appearance in four years, Fournier probably still considers himself a curling journeyman. His third, Martin Crête, is probably not—this is his ninth Brier, most of those achieved with the now-retired Jean-Michel Ménard).
Dejardins may or may not be considered a journeyman today. He skipped his own team to a Quebec title and a Brier berth in 2012, and won the inaugural Canadian Mixed Doubles championship in 2013. He's now a mixed doubles specialist and will compete with his daughter Émilie at the Calgary bubble, a few days after Team Fournier heads home from the Brier.
Whether a label—like journeyman—is accurate or not, it's clear many curling pedigrees have improved since London 2011. Team Fournier, already a fun-loving bunch, would do well to keep that spirit alive and, where possible, ramp it up through the coming week.
As fellow journeymen, we will be cheering.