Off the Back: Five Thoughts on the 2014 Tour de France
The last stage of the Tour de France is supposed to be promenade, a ceremony. No drama. Sure, the sprinters duel one another in the final moments on the Champs Elysees – chapeau to Marcel Kittel (Giant-Shimano) for awakening from a long slumber to snatch his fourth win of this race – but the hours leading up to that anarchy are scripted, and without suspense.
Usually. Yesterday with six laps around the Arc de Triomphe to go, the No. 2-place rider, Jean-Christophe Peraud, hit the deck, his front wheel washing out on a rain-slicked rectangle of paint. The 37-year-old quickly disentangled himself from the luckless blokes he took down with him, but with peloton galloping full-speed, it was going to be rough for him to chase down the pack. His place on the podium was in danger. The ex-pro mountain biker had some anxious moments until Vincenzo Nibali of Astana, who routed the field to win this Tour, got on the front to slow the bunch down. Peraud's podium rung was assured, as was the reputation of the 101st Tour de France, which threw an uncommonly large batch of adversity at the men who contested it. Five thoughts on this bloodier-than-usual Grand Boucle:
1) Nibali's gracious act to preserve Peraud's place was of a piece with his performance throughout this three-week ordeal. From his guileful late attack to secure Stage 2 into Sheffield, to his opportunistic surge in the rain and mud of Stage 5, to his three additional stage wins in the mountains, the Shark of Messina could not take a false step.
That predatory piece of riding in Stage 5, the controversial day featuring seven cobbled sectors, might have been his most impressive of the race. With defending champion Chris Froome (Team Sky) already out of the race and co-favorite Alberto Contador (Tinkoff Saxo) riding tentatively on cobblestones NBC's Phil Liggett aptly described as "greasy," Nibali went on the attack, devouring the pave like some veteran Belgian hardman. Contador lost 2 ½ minutes to the Sicilian that day. Yesterday, NBC's Steve Porino suggested that, had Contador not found himself in those arrears, he would not have felt pressured to take so many risks on technical descents, in hope of taking time back. Contador broke his right leg after crashing on a descent in Stage 10.
When one competitor is so much more dominant than the rest of the field, and the sport is cycling, we are justifiably skeptical. Remember, however, that pre-race favorites Froome and Contador abandoned the race before it was half over, making it that much easier for Nibali to become just the sixth rider in cycling annals to win all three of the sport's grand tours, and the first Italian victor of the Tour de France since Marco Pantani, the bandanna-clad "Pirata," climbed his way to victory in the scandal-plagued 1998 edition of the race. As Nibali pointed out, theirs were very different victories: he led almost from wire to wire, where Pantani "won the Tour in his last week."
And, like so many riders of his era, the late Pantani built his career on EPO use, whereas Nibali attributes his success to stepped-up doping controls cycling has since imposed on riders, in an attempt to repair its tattered image. "Without these iron controls," he said on Saturday, "I wouldn't be where I am today.
​2) Chapeau to Peraud, and to Best Young Rider Thibaut Pinot, who stood on the podium with Nibali. Yes, it's been 29 years since a Frenchman won this event – Bernard (the Badger) Hinaultbeat out American Greg LeMond in 1985 – and that streak is still alive. But this was unquestionably a Tour of Revival for the host nation. Peraud and Pinot finished 2-3. Peraud'sAg2r teammate RomainBardet's puncture in the final moments of Saturday's long time trial cost him a place in the Top 5 (BMC's Tejay van Garderen took that slot – by all of two seconds.)
Pierre Rolland (11th), Brice Feillu (16th) and John Gadret (19th) gave France six riders in the top 20. It's not so much that French riders have improved dramatically in recent years so much as it has been that the peloton has cleaned up around them. Of course I'm speaking generally. Scandalized in the wake the Festina doping affair in '98, French cycling officials cleaned up their house before the rest of the world. The French imposed "longitudinal" testing on their riders, long before the UCI introduced its biological passport in 2008. The result: during an era we now know was rife with doping, it was much harder for French riders to dope.
As the highly respected cycling journalist William Fotheringham wrote in The Guardian, "There is a consensus that, by and large, French cycling cleaned up its act quicker than other nations after the Festina scandal, and that for years afterwards – primarily the Lance Armstrong era of 1999-2005 – home cyclists were at a disadvantage, a phenomenon nicknamed 'two-speed cycling'."
With the peloton now travelling, more or less, at "one-speed," – we fervently hope – the French are back in the game. When they do break that unfortunate, three-decade streak, Pinot will be the rider that ends the drought.
3) As splendid a Tour as it was for the French, that's how bad it was for Great Britain in general (sprinter Mark Cavendish crashed out of the race on the very first day) and UK-based Team Sky in particular. Yes, the Brits did a fantastic job hosting the first three stages. But those efforts were slightly tarnished by the menace created by a tiny minority of havoc-inducing "selfie" seekers. Froome's Stage 5 flameout left this once-proud outfit without much of a fallback. Richie Porte, Sky's emergency leader, couldn't hang with the heads of state in the high mountains, quickly fading from the Top 10 when the race hit the Alps. Sky's game attempts to hunt for individual stages invariably came to naught. Sky's general manager, David Brailsford, is rightly regarded as one of the keenest minds in the sport. But his decision to leave 2012 Tour winner Bradley Wiggins at home in order to spare the feelings of Froome, who might have been threatened by the presence of the sideburned Wiggo, blew up in his face like a novelty cigar.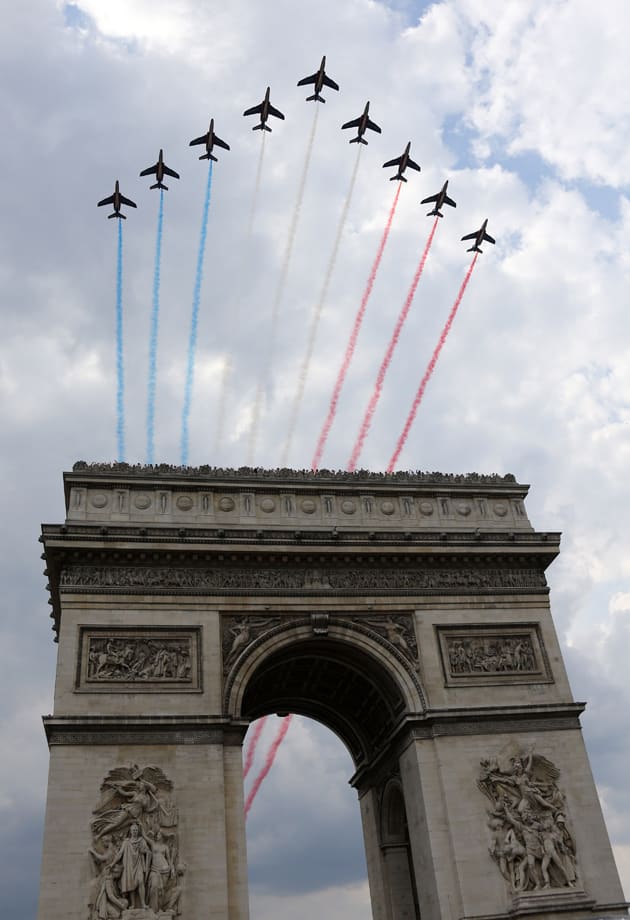 4) Unlike Porte, Tejay van Garderen had just one bad day in the mountains. Sensing his vulnerability, the Movistar team of Alejandro Valverde ramped up the pace on Stage 16's beastly Port de Bales climb. Van Garderen lost the podium that day – and appeared to tumble irrevocably out of the Top 5. But he recovered with panache, making most of the remaining elite selections in the Pyrenees. His gutsy performance in the penultimate stage, a 54-kilometer time trial – 6th place – coupled with a late disaster for Bardet, whose flat tire cost him in the neighborhood of 20 seconds – resulted in the American bumping up from 6th to 5th place overall. That was a highly satisfactory result for van Garderen, considering that he crashed times in the first week of the race, and was taking antibiotics for a chest infection.
True, that fifth place only equaled the result he earned in the 2012 Tour. But at least he got to Paris – more than can be said for the other young American general classification rider, Garmin-Sharp's Andrew Talansky. Despite coming into this race with considerable buzz, following his surprise victory in a Tour tune-up called the Criterium du Dauphine, Talansky couldn't take the start for Stage 12. After nasty crashes in Stages 7 and 8, the 25-year-old Floridian was seriously compromised, suffering from "acute sacroiliitis," according to a team doctor, that made it increasingly difficult to pedal.
Talansky will long be remembered for the courage he showed on his final day in this Tour. Unable to transfer power to the pedals, he was quickly spat out the back. Dismounting his bike, he took a seat on a guardrail and came close to abandoning the race. After a heart-to-heart with Garmin director Robbie Hunter, Talansky remounted and rode the final 60km alone, his only opponent the clock. Talansky was racing to make the time cut. Aware of the drama at the back of the race, the Tour kept a camera on him. Even as he faded from relevance in the race with each pedal stroke – he finished half an hour behind stage winner Tony Gallopin – it was gripping theater. Fighting tears, he willed himself forward, French cycling fans cheering and exhorting him along the way.
Talansky abandoned the race the following day, but only after honoring it with his effort in Stage 11. That portrait of resolve will serve nicely as a snapshot of a Tour de France which gave us, if possible, even more suffering than usual.
5) Let's finish with a shout out to a couple ageless wonders who did make it to Paris. During one surreal stretch on Sunday, cameras showed 42-year-old Jens Voigt attacking off the front, with 42-year-old Chris Horner, the pride of Bend, Oregon, charging out of the bunch to mark his move. Voigt, who is 40 days Horner's senior and the oldest man in the Tour de France (again), announced beforehand that this would be his last Tour. He proceeded to race with his usual aggressive, dynamic, animating style, taking the best climber's polka dot jersey for a stage early in the race. For his part, Horner finished 17th, an astonishing result for a rider who was hospitalized last April with broken ribs and a punctured lung after he was struck by a car during a training session in Italy. Horner's finest moment came on the last mountain stage. He attacked on the ascent of Hautacam, forcing Nibali to chase him down. The pair rode together for a kilometer or so before the Italian soloed to his fourth stage victory. It was an utterly dominant performance by Nibali who, as long as he's racing clean, has nothing to apologize for. If Contador and Froome couldn't stay on their bikes, whose fault is that?