Tuesday's P.M. Hot Clicks
Happy Birthday, Jack
Tuesday's P.M. Hot Clicks
Oscar-winning actor Jack Nicholson turns 77 today, thus this gallery of his best NBA-related photos to mark the occasion. I also recommend this 1986 profile by Rick Reilly about Nicholson and his dedication to the Lakers:
"But as much as Nicholson loves the Oscars, had it not been for Toots's nomination he might have dumped them for the Lakers-San Antonio game that night at the Forum. Nicholson would rather guest-host Hollywood Squares for a week than miss a Laker home game. It's one of the six biggies -- skiing and sex, art and acting, books and basketball -- in his life, and nobody indulges his passions quite like Jack Nicholson. He spends at least three months a year in Aspen, has a reputation as a world-class womanizer, keeps a museum-quality collection of art in his house (the place is so stuffed that he hangs a Botero in the bathroom), is "one of the best actors Hollywood has ever produced," according to director Stanley Kubrick, can quote you everything from I Ching to Don King and, most of all, allows almost nothing to come between himself and his two $125-a-night seats at the Forum, three seats down from the visiting coach. And when the Lakers are on the road he's often there with them, wearing one of his 25 pairs of designer sunglasses. If he can't get to the game, the Lakers make him a tape—with Chick Hearn's broadcast voiced over—and express-mail it to him. Nicholson even has season tickets for the L.A. Clippers just so he can have a front-row seat when the Lakers play them."
BFF Alert
Tiger Woods' ex-wife, Elin Nordegren, and current girlfriend, Lindsey Vonn, have become quite close, even hanging out together while Tiger babysits the kids.
Tom Brady Attends Boston Marathon
The Patriots QB rocked a cardigan at the marathon and a bunch of people tweeted photos of him.
Lovely Lady Round-Up
Tuesday's P.M. Hot Clicks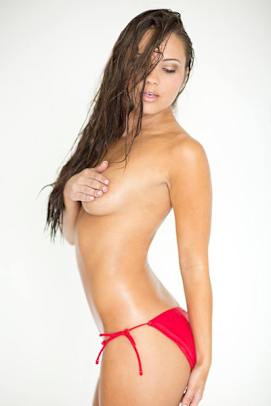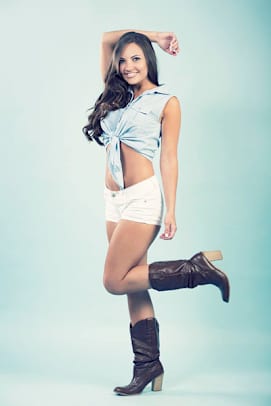 Michelle Fugate is a Ukrainian/Native American model from Chicago. Follow her on Facebook and Instagram ... Amber Heard's 60 sexiest birthday GIFs ... Good to see Busted Coverage has come around and declared Samantha Hoopes as its favorite 2014 SI Swimsuit rookie ... Scarlett Johanssonis a GIF machine ... Stephanie Shiu is the latest model to visit the SI office for a Swimsuit Casting Call.
Buffalo Jills Sue Buffalo Bills
I love this headline. As for the story, five members of the Bills cheerleading squad are claiming the team violated New York minimum wage laws. And I don't blame them for suing. They were allegedly unpaid for both games and practices and compensated with a $90 game ticket and parking pass. Even worse, they allegedly were required to buy 50-75 Buffalo Jills swimsuits calendars to resell on their own time and allegedly were subject to "an onerous set of rules dictating how the women could walk, talk, dress, speak and behave, both in uniform and in their personal lives."
I Like This Idea
Georgia Tech's baseball team is letting fans decide how the outfield grass will be mowed for its series against Virginia Tech.
Dumb Tweet of the Day
Matt Harvey celebrated the six-month anniversary of his Tommy John surgery by tweeting this photo of his middle finger. He quickly took down the tweet, then deleted his account entirely. Can't wait to see what he does at the one-year anniversary.
Odds and Ends
The most popular athletes in each state ... The least popular athletes in each state ... Safety Colt Andersonis now a member of the Colts ... A Nevada man is suing the Seahawks and the NFL for $40 million because he couldn't buy tickets to the NFC Championship Game ... These just may be the ugliest Air Jordans on the market ... Johnny Depp's last two movies have lost $200 million ... Chicago is the funniest city in America ... GQ has a good cover story on Louis C.K.
Sixth Men of the Year
The NBA's best bench celebrations of the 2013-14 season.
Gregg Popovich is Funny
The 2013-14 Coach of the Year decides to have fun with Shaquille O'Neal during a 2008 Spurs-Suns game.
Billy on the Street
The Fuse host welcomes Amy Poehler to his show this week.
Elephants Play With Big Red Ball
The headline says it all. (HT Huff Post)