Tuesday's P.M. Hot Clicks
Athletes Getting Married
Tuesday's P.M. Hot Clicks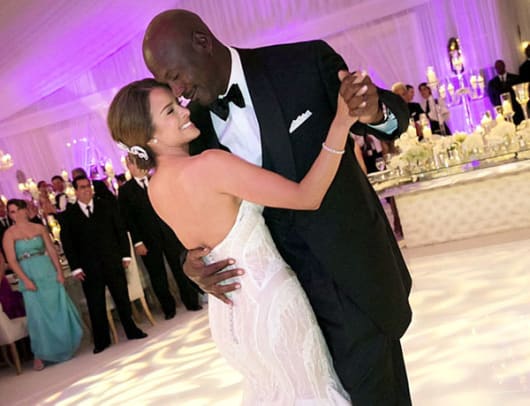 A couple in Indianapolis got a special treat on their wedding day -- Andrew Luck. The Colts QB happened to be walking by, so the couple got him to pose in their wedding photos. In honor of the happy couple and Colts fans everywhere, here's a gallery of athletes on their wedding day.
Ron Washington Celebrates
Mandatory compiled the best GIFs of Rangers manager Ron Washington in full celebration mode, which I enjoyed much more that I expected. Conversely, here's Washington in full relaxation mode.
Scenes From a Montreal Bar
I don't want to say Montreal fans take their hockey too seriously, but hanging a Zdeno Chara doll by a noose may be taking things too far. More amazingly, the bar is in Toronto, not Montreal.
Lovely Lady Round-Up
Tuesday's P.M. Hot Clicks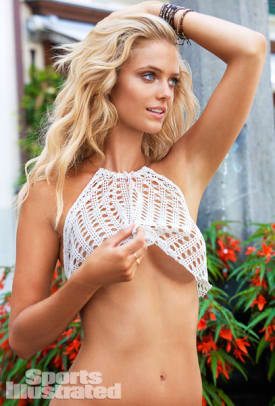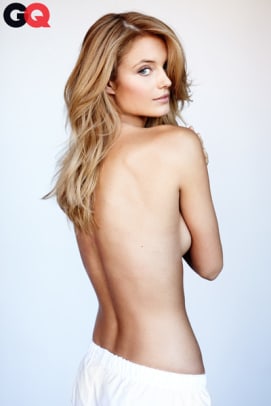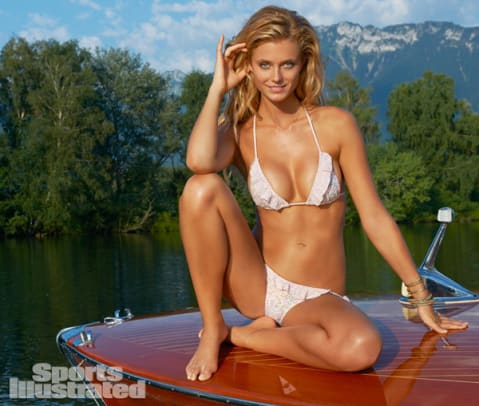 Kate Bock, my inaugural Lovely Lady of the Day back in October, posed in boxer shorts for GQ ... Cindy Prado knows how to model a bikini ... There is now a Michelle Jenneke stretching app for your mobile phone ... A photographic tribute to Gina Carano ... Why isn't Cameron Russell more famous?
Finally. An Excuse To Put George Michael In Hot Clicks!
A's outfielder Josh Reddick used George Michael's Careless Whisper as his walk-up song during yesterday's game against the White Sox. If any MLB players are reading this, it's time to take walk-up music to the next level. And by next level, I mean Wham!
Which Craft Beer Is Your Favorite NHL Playoff Team?
Ketts Corner matches up craft beers with the remaining NHL playoff teams. The Bruins (Arrogant Bastard Ale) is my favorite.
LeBron Can Handle The Truth
Courtesy of SB Nation, here's a look at all of LeBron's 45-point playoff scoring streaks. Notice what three of them have in common? And in case that wasn't enough, here's a gallery of his best playoff performances.
Odds and Ends
The compliance office at Boise State is seeking to obtain a waiver from the NCAA to help a recruit on the football team who is homeless ...Gilbert Arenas has officially forgiven Donald Sterling ... Donovan McNabbhas a sweet ride ... Ten years ago today, Derek Fisher buried a miraculous shot with 0.4 of a second left to beat the Spurs ... The Browns made cookies to welcome Johnny Manziel and Justin Gilbert ... The Indians will give away Nick Swisher Brohio bobbleheads during a game against the Rockies later this month ... The 20 funniest celebrity selfies of all time ... An oral history of The West Wing ... Alec Baldwin was arrested in Manhattan for biking against traffic .... Fans of The Simpsons can download a new app in August to watch all 552 episodes of the hit series.
Jim Ross Calls Solange-Jay-Z Elevator Fight
Everything is better with Jim Ross calling the action.
This is What Tommy John Surgery Looks Like
Sportsgrid has a somewhat graphic video of Tommy John surgery being performed. View with caution. It's pretty gross.
Circus Shaq
Shaquille O'Neal and Underdog stretched their groins out and worked on their circus routine during a break on Inside the NBA last night.