Thursday's P.M. Hot Clicks: Nicole Harrison; College Fans of the Week
Thursday's P.M. Hot Clicks feature the lovely Nicole Harrison and college football fans of the week
College Superfans
​
College Football Superfans, Week 3
Jim Harbaugh's booger eating is just one of the many topics covered in this week's Superfans gallery (see above). If I had to give a Best Fans Award, it would definitely go to Brigham Young bride. A wedding dress at a football game can't be comfortable. (Here's the full-size version of the gallery.)
Mia Khalifa's Pick 6 Column
Good to see one of my favorite actresses branch out with a weekly column. Congrats Mia!
Important Poll For Tonight's Game
Kevin Johnson Beats Up Pie Thrower
I mentioned in A.M, Clicks that Sacramento mayor (and former NBA point guard) Kevin Johnson got a pie thrown in his face during a charity event. Since then, I've learned that KJ beat the crap out of the guy, whose mug shot includes a shiny black eye. If you're not aware of Johnson's exploits as mayor, this should catch you up.
Nicole Harrison: P.M. Lovely Lady of the Day
I interviewed Nicole Harrison when she stopped by the office for an SI Swimsuit Casting. I usually play it cool but I definitely caught myself staring a few times. Hopefully she didn't notice (click for full-size gallery).
Nicole Harrison: 2017 Sports Illustrated Swimsuit Casting Call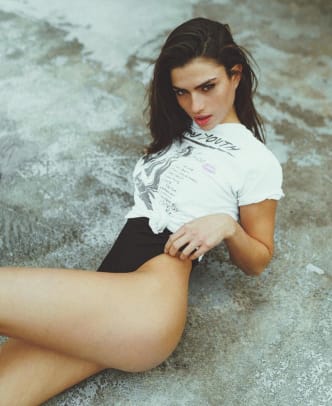 Stay Away From Gigi Hadid!
Some random guy attacked SI Swimsuit model Gigi Hadid and she was not happy about it. Speaking of Gigi, check out the "I want you" eyes she's giving me in this photo. She's wearing sunglasses but you can still tell.
The Most Beloved Beer Vendor in Baseball
Enjoyed this ode to "Captain Earthman," baseball's best beer vendor.
Hot Clicks Giveaway: California Pizza Kitchen Gift Cards
Every so often I like to interview an expert in a field I want to learn more about. In this case I called Ashley Ceraolo, Senior Vice-President of Marketing and Beverage at California Pizza Kitchen and one of Wine Enthusiast Magazine's 40 under 40 Tastemakers. But before we get to the interview, I have two $25 gift cards from California Pizza Kitchen to give away. I'll send to the 100th and 200th person to email me (andy_gray@simail.com) the NFL receiver who just got his own cereal. The answer was in A.M. Clicks. Please make the subject line "CPK."
SI.com: I've never really been into wine, but as I get older I feel like I should be. What's the best wine to get started on?
Ashley Ceraolo: Congratulations on entering the world of wine! You have so many options to choose from. Typically new tasters prefer to begin with lighter-bodied wines to start appreciating the various flavors each grape has to offer, and building up your palate and preferences from there by experimenting with bolder varietals. I suggest starting with a white wine that's light-bodied and crisp in both finish and characteristics, like the Santa Margherita Pinot Grigio. If you prefer to start with a red, try Mark West Pinot Noir—it's light to medium-bodied, super food-friendly and also very reasonably priced.

SI.com: If I'm at a restaurant on a date and order a bottle of wine, what can I do to make it sound like I know what I'm talking about?
AC: I love this question. First off, stick with a wine that you have ordered before or at least tasted. This will give you an opportunity to explain what you like about the wine. Why do you like it? Is it smooth? Does it pair well with food? Is it bold or spicy? Second, when you order the wine, ask the Sommelier what menu items they would suggest pairing with it. They love to share their favorite pairings and it will create conversation between the two of you that shows that you care about the pairing of flavors to create a great meal.

SI.com: What's the best bottle of wine you've ever had?
AC: There is no sweeter sound than that of a cork popping some bubbles. My favorite is Billecart-SalmonRosé Champagne. I also love a bottle of The Prisoner, a delicious red blend from Napa that's moderately priced and always a crowd-pleaser!
SI.com: What's the most expensive?

AC: Penfolds Grange South Australia Shiraz—a very special, and very delicious, treat.

SI.com: You're SVP of Marketing at CPK. What's your go-to meal there?

AC: Our Cedar-Plank Salmon is amazing! While "Pizza" certainly is our middle name, some may be surprised to know that pizzas only make up a third of our menu. We recently re-imagined our menu, with incredible new main plates, hand-crafted cocktails and more. Our Cedar-Plank Salmon that we cook in our pizza oven is my go-to—it's lighter, fresh and full of flavor and pairs great with a glass of pinot noir.
Odds & Ends
Nina Agdal, nudity and pizza—how do you not click? ... Great piece on Drew Bledsoe nearly dying after the Mo Lewis hit ... How South Carolina student Jake Camilliere created his campus's most popular t-shirt ... ​Never seen a golf course vandalized quite like this ... Fortune's 40 under 40 is always a good read ... A look at the best new wearable tech.
Michael Jackson Tribute, Baseball Style
Bill Burr Makes Fun of the Emmys
Put on your headphone for this one. (H/T BroBible)
Power Lacing Sneakers: Coming Nov. 28
Email andy_gray@simail.com with any feedback or ping me on Twitter. Click here for previous editions of Hot Clicks. Visit our Extra Mustard Page throughout each day for more offbeat sports stories and the latest Cheerleader of the Week gallery. Also check out the SwimDaily Page for the latest updates and Instagram pictures of models who have appeared in our issues.