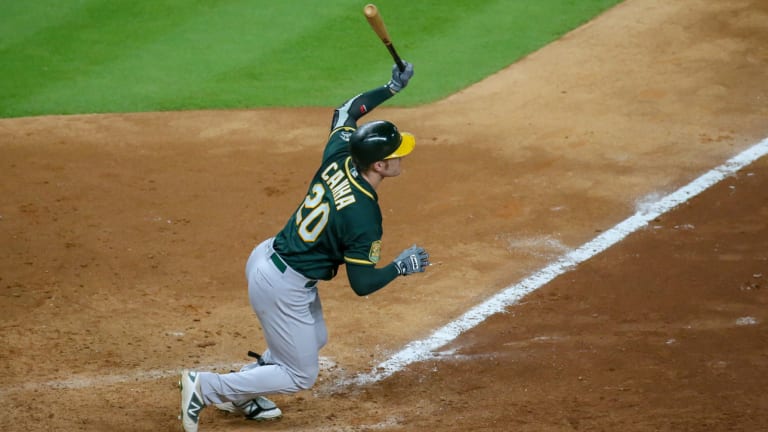 Traina Thoughts: Mark Canha Should Be Your New Baseball Hero
A's outfielder Mark Canha takes back apology and calls out anti-bat flip people.
1. We have another bat flip controversy, but this one ends with a nice twist.
A's outfielder Mark Canha hit a towering dinger against the Giants on Satuday night to give Oakland a lead in the eighth inning, which led to a bat flip. It wasn't anything egregious or outrageous. Just a simple bat flip with a little bit of flare.
Because fun isn't allowed in baseball thanks to unwritten rules and the fear of retaliation, Canha quickly apolozied for his bat flip after the game. However, in a surprising—and beautiful—turn of events, Canha later took back his apology and called out all the stuck up folks who act like they are Major League Baseball's fun police.
This is wonderful for two reasons. One, Canha knows there's nothing wrong with bat flips and knows people who don't like them are foolish. Two, he didn't let a phony apology stand. These days, people love to demand apologies from people even though said people don't mean it. If you don't mean it, don't apologize. 
Thank you for your sanity, Mark Canha.
2. LeBron James showed up to the Lakers' Summer League game on Sunday in a piece of L.A. apparel. 
3. If you're not old, like me, you know that the #InMyFeelingsChallenge is a social media thing right now. Justin Verlander and Alex Bregman got in on the action last night as they headed to Washington for the All-Star Game.
4. Twins manager Paul Molitor used his closer, Fernando Rodney, in the fifth inning Sunday.
However, it wasn't because Molitor was being radical.
5. If you missed it over the weekend, Hulk Hogan is being welcomed back into the WWE after being shunned by the company for three years after he was exposed on tape using racial slurs—while sleeping with his best friend's wife.
6. This week's SI Media Podcast features an interview with ESPN icon Chris Berman. The man known as "Boomer" talks about how his first season in 31 years without hosting NFL Countdown went, the legacy of NFL Primetime, which he co-hosted with Tom Jackson, whether or not Primetime would work today, the various criticisms he's faced throughout his career, being told he can't use his famous nicknames by an ESPN producer and much more. You can listen to the podcast below or download it on iTunes.
7. Sacha Baron Cohen's new Showtime show debuted last night and if you missed this segment, please make sure it is the one thing you watch today. You won't believe what you are seeing.
Traina Thoughts is the best of the Internet, plus musings by SI.com writer, Jimmy Traina. Get the link to a new Traina's Thoughts each day by following on Twitter and liking on Facebook. Catch up on previous editions of Traina Thoughts right here. And make sure to listen to and subscribe to the SI Media Podcast hosted by Jimmy Traina.
IN CLOSING: The worst week of the sports year is upon us. Please use your free time to listen to past episodes of the SI Media Podcast.