Fantasy baseball 2013 draft preview: Outfield primer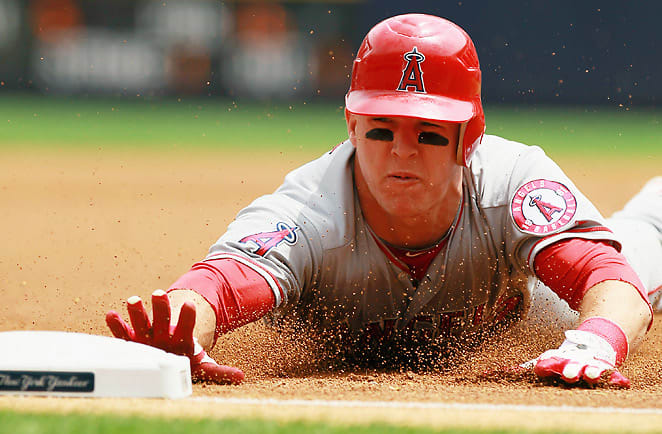 Fantasy baseball 2013 draft prep central: Rankings, position primers and much more
Outfield is an incredibly deep position in fantasy baseball, which means an abundance of late-round gems. But don't get cocky and miss out on the top-tier guys. Owners can find the thump at first and the speed at short, but the best five-category fantasy stars play outfield, making it a crucial position for which to strategize.
There's a lot of ground to cover in the outfield (pun completely and wonderfully intended), so let's get right (and left, and center) to it.
POSITION PRIMERS: C | 1B | 2B | SS | 3B | OF | DH | SP | RP
Is there a debate at No. 1?
Unfathomably, people seem to think so. Many of the folks who so vociferously argued that Mike Trout should be named AL MVP because of his other-worldly WAR are ranking Ryan Braun as the No. 1 overall fantasy player. I believe Trout should be the top choice in all formats, even if he slides a little from his legendary rookie stats. Trout, a stud in all five categories, is a rotisserie player's dream. If the Angels can find a new leadoff man, sliding down in the batting order should do wonders for Trout's RBI total. With the likes of Albert Pujols, Josh Hamilton and Mark Trumbo hitting behind him, Trout could deliver one of the best fantasy seasons ever (at least in the non-steroid category).
Comeback player: Matt Kemp, Dodgers
Kemp is coming off an injury-plagued, age-27 season that's keeping him from being the No. 1 overall pick in fantasy this year. He went from around .325/40/125/115/40 to being worthless in the second half, which is fantasy crunch time. That's enough to embitter many fantasy owners, so if Kemp slips into the middle of Round 1, consider him a steal. Regardless of the hamstring woes that slowed him in midseason or the shoulder procedure he is recovering from now, Kemp will be ready for spring training and will hit in the heart of a potent lineup. He'll be a fantasy star again.
Breakout: Bryce Harper, Nationals
There are plenty of candidates for this category, but Harper is the biggest name among them. The 20-year-old star was solid as a rookie (.270/22/59/98/18/.340/.477), but one of the most ballyhooed prospects of the fantasy era can still become Trout-good. A .289/26/95/100/20/.365/.525 line is a safe bet for this season, but one of these years Harper is going to wow with a .340/35/120/120/30 campaign. He's moving down from the leadoff spot to third in the order, which should make him more productive in the RBI category while keeping his runs-scored rate among the league leaders. The categories keeping Harper from being drafted as a Tier 1 outfielder, average and stolen bases, will be interesting to track in Year 2. He is a special talent who can set his sights on just about anything he wants to accomplish in this game.
Bust: Josh Hamilton, Angels
It's possible to love Hamilton and hate him at the same time. No hitter in baseball can get hotter, but his 2012 was a tale of streaks. He was a monster in April (.395/9/25/20) and May (.344/12/32/19), but a dog in June (.222/4/16/12) and July (.177/4/11/10). It's not the streakiness that makes him a bust candidate, though; it's the injuries and free-agent hype. Hamilton has been plagued by so many injuries, his medical charts look like a kindergartener scribbled all over them. His ceiling remains high, but it's hard to blame the fantasy owners who don't want to risk the gamble. Plus, free agents rarely match their freight in Year 1 -- just ask Angels fans and Albert Pujols owners. Hamilton is making a similar transition, and usually it takes a year for a player to be truly comfortable in his new surroundings and play up to expectations. There are myriad reasons to avoid Hamilton in Round 1, making him a quintessential bust candidate.
Sleeper: Carl Crawford, Dodgers
Outfield sleepers could be an entire offseason preview series, but for the purposes of this file let's focus on Crawford. Now a Dodger, Crawford, 31, is coming off two down years. He lost last season to hamstring and elbow woes, but time should have healed the tissue and surgery should have fixed the ulnar-collateral ligament. He is expected to be ready for the season, but the injury risk remains and all those fantasy owners burned by this former early pick will surely be bitter. When he falls into the middle rounds, Crawford will become a nice injury-risk sleeper, especially in rotisserie formats.
Top prospect/rookie: Wil Myers, Rays
This is no slight against record-setting Reds burner Billy Hamilton, who is moving from shortstop to center field this spring, or 20-year-old Cardinals farmhand Oscar Taveras. Those two will eventually be stars. But fantasy owners need outfielders who can produce now, and the newest face in Tampa will do just that as soon as he gets the opportunity. Myers, a converted catcher, hit a combined .314/37/109/98/6/.387/.600 in 522 at-bats at Double- and Triple-A; he's that good. The Rays have said they plan to start Myers at Triple-A, perhaps to slow his strikeout rate (140 whiffs last season), but they will need the offense sooner rather than later. Consider Myers the most intriguing prospect call-up after Opening Day. Based on what we've seen from similarly billed players in recent years (hello, Trout!), you're going to want to have this guy stashed.
Other potential eligibles
Our rankings only consider those who play outfield as their primary position or played at least 20 games there in their most recent major league season. Here are some other players who are eligible in leagues with different requirements:
? Fifteen games: Adrian Gonzalez, Trevor Plouffe, Chris Parmelee, Scott Moore and Jerry Hairston ? Ten games: Donovan Solano, Jayson Nix, Eric Hinske and Josh Harrison ? Five games: Todd Frazier, Adam Dunn, Wilson Betemit, Brett Pill, Alex Liddi, Ty Wigginton and Pedro Ciriaco ? Three games: Eric Hosmer, Brandon Belt, Mitch Moreland and Yan Gomes ? One game: Carlos Santana, Howard Kendrick, Mike Olt, Ryan Roberts, Willie Bloomquist and Ryan Theriot
Target averages
From the rough estimate projections below, the average outfielder in a 12-team league should produce around .270/20/78/83/16/.344/.464.