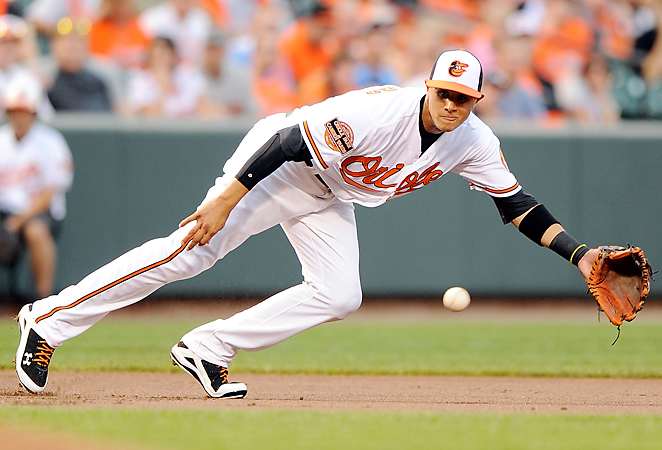 Fantasy baseball 2013 draft prep central: Rankings, position primers and much more
If there's one advice column fantasy owners want to read before draft day, it's a list of the top breakout candidates. These are the players who will provide the biggest bang for the buck.
While a sleeper is someone who falls into the late rounds and comes cheap on draft day, a breakout is a player who has shown some flashes of brilliance but is poised to put it all together for a career year that can carry a fantasy team. Breakouts are not necessarily fantasy unknowns, but rather players who will ultimately make the biggest difference between winning and losing.
Ask those who owned Andrew McCutchen a year ago. Everyone knew he was a strong pick, ranking eighth among SI.com's 2012 preseason outfielders and 31st overall in the Top 300. McCutchen far outplayed that ranking, carrying fantasy teams by transforming from a good player into a fantasy star and an NL MVP candidate.
Mike Trout and Bryce Harper made huge ascensions into the elite ranks last year, too, but because they weren't on Opening Day rosters they fell into the late rounds on draft day. They were both sleepers and breakouts.
Sleepers are nice, but they often fall for a reason. Breakouts, on the other hand, are well-regarded names who can blossom into something even bigger. They're good players who can become great.
It's not an easy list to whittle down, because there are hundreds of players who could prove better than expected in a given year. The best place to start is in the age column, where players who've yet to reach their age-27 prime season stand poised to outperform expectations.
Here's a team-by-team look at the top 2013 breakout candidates in the American League.
AL: Breakouts | Busts | SleepersNL: Breakouts | Busts | Sleepers
AL East
Baltimore Orioles: 3B Manny Machado (20 years old)
Projection: .255/18/75/70/11/.300/.438Upside: .280/25/85/80/15/.320/.480
Machado's numbers alone won't wow you, but the fact that he posted those as a 20 year old playing in a pennant race should. Machado is one of the game's future stars, and his potential keeps him among the top 20 third basemen to target. If he could increase his walks total, we would be even more excited about his immediate potential. It's hard to know exactly what to expect from Machado, but the upside is there.
Boston Red Sox: 3B Will Middlebrooks (24)
Projection: .275/22/78/60/5/.325/.490Upside: .280/25/90/80/5
In the first half of last season, Middlebrooks looked like a rising superstar in fantasy. After his disappointing second half, it's hard to rank him in the top 15 at the third base position. That's actually good news, because it means Middlebrooks brings great potential value late. In his first full season, Middlebrooks will bring solid middle-round potential for fantasy owners.
New York Yankees: SP Phil Hughes (26)
Projection: 15/4.15/170/1.250/0Upside: 20/3.25/200/1.110/0
Hughes gets a bit of a bum rap because he pitches for the pressure-cooker Yankees and hasn't quite been the ace they'd hoped, especially considering they kept Hughes and dealt Ian Kennedy instead. Hughes can enjoy a breakthrough this year if he reaches 200 innings for the first time, though, and he's a good bet for a career year as he turns 27. The best news is that Hughes is a breakout candidate who will make it into the late rounds, so he is just as much of a sleeper as he is a breakout.
Tampa Bay Rays: SP Jeremy Hellickson (25)
Projection: 13/3.07/155/1.190/0Upside: 18/2.75/200/1.110/0
The Rays are full of potential breakout candidates, including outfielder Desmond Jennings, prospect Wil Myers and a host of pitching prospects. Hellickson, however, occupies one of our favorite categories from which to find breakouts: the third-year starting pitcher. That's the year in which a pitcher usually has the arm strength to hit the 200-inning mark, so it's fair to expect Hellickson to deliver the best season of his already impressive young career. He's already among the top 35 fantasy starters, but he's one with great room for improvement.
Honorable mention: SP Matt Moore (23). Moore carried great hype as a rookie, and while he had a good season in 2012, he didn't have the great one he was projected to deliver. We tend to prefer breakout pitcher candidates who have made 40-70 career starts, but Moore is just outside that range, at 32. Still, he can approach 200 innings and 200 strikeouts and shouldn't slip out of the top 125 players off the board on draft day.
Toronto Blue Jays: 3B Brett Lawrie (23)
Projection: .278/20/82/92/15/.336/.446Upside: .300/30/100/100/20/.375/.510
Lawrie entered his first full season in the majors with huge, arguably unattainable, expectations. He enters Year 2 with plenty to prove, playing for a loaded Blue Jays team that will allow him to drift a bit below the radar. Trust us: The elite talent is there, so if you were one of the owners who bit on Lawrie early last year, don't let someone else get the best of him as a mid-round pick now. Lawrie needs to make major strides to restore his fantasy luster, but he's fully capable of doing just that, especially playing for such an offensively potent team.
AL Central
Chicago White Sox: RP Addison Reed (24)
Projection: 2/3.25/68/1.295/33Upside: 5/2.25/80/1.050/45
Reed posted a 4.75 ERA and 1.364 WHIP as a rookie, numbers that aren't likely to impress. His power arm should. Reed saved 29 of his 33 opportunities last year after taking over as closer in May, but his second-half ERA dipped to 5.63, which should see him tumble down draft boards. If the White Sox are better than expected, Reed could capitalize on his opportunity (and velocity) and deliver a 40-save season.
Cleveland Indians: 2B Jason Kipnis (25)
Projection: .260/16/75/90/29/.335/.403Upside: .280/23/90/100/38/.365/.450
Kipnis is a 25-year-old shot in the arm for a position that's missing the likes of Jeff Kent and a healthy Chase Utley. Kipnis' age gives him a pretty good chance to better his 2012 numbers, especially if he can get his average closer to .280 and show more consistency late into the season. Consider him a top-five second baseman, and the one with the best chance to grow into more. If not for a poor second half (.233 with just three homers), his first full season in the majors would have slotted him even higher in our rankings.
Detroit Tigers: SP Max Scherzer (28)
Projection: 16/3.89/227/1.300/0Upside: 20/3.20/250/1.115/0
With 133 career starts under his belt, Scherzer is outside our range of the breakthrough pitcher baseline, but he still has yet to surpass 200 innings in a season. If he can control his pitch counts and work deeper into games, look out. He has 250-plus strikeout potential -- he fanned a career-high 231 in his age-27 season -- and can rise into the top 10 starting pitchers in fantasy as soon as this season.
Kansas City Royals: C Salvador Perez (22)
Projection: .299/14/60/58/0/.339/.471 Upside: .310/20/80/80/0/.370/.499
The Royals are another team loaded with breakout candidates. Perez gets the hat-tip here because he could be a fantasy monster at the game's weakest position. He is just 22, and this will be his first full season after a late-callup in 2011 and an injury-shortened 2012. Add that to the fact that Perez plays for the small-market Royals, and he isn't on many minds. He's going to be a great mid-round consolation prize for owners who miss out on the elite catching options.
Minnesota Twins: 3B Trevor Plouffe (26)
Projection: .236/21/67/65/2/.303/.433Upside: .250/30/95/85/5/.333/.495
Plouffe, who turns 27 this season, enjoyed a breakthrough in the power department last year and earned himself everyday status as the Twins' third baseman. He still has plenty of things to work on, but if he proves more consistent with his batting average, he is going to be a good bargain after the top 15 fantasy third basemen are off the board.
AL West
Los Angeles Angels of Anaheim: SP Tommy Hanson (26)
Projection: 14/3.63/175/1.260/0Upside: 18/3.00/200/1.150/0
A few mediocre seasons and some shoulder woes led the Braves to ship Hanson to the Angels this winter. Now, Hanson is going to offer outstanding fantasy potential relative to his draft position, especially when so few people are expecting him to become that front-line starter he was billed to be years ago. If his shoulder holds up for 200 innings, he is a going to become a legit fantasy ace.
Texas Rangers: 3B Mike Olt (24)
Projection: .277/12/57/44/3/.340/.477Upside: .290/20/80/65/5/.350/.500
The Rangers are loaded with reliable vets and intriguing prospect sleepers (including arguably the No. 1 prospect in the minors, 20-year-old Jurickson Profar), but finding a breakout candidate on this team is not easy. The issue with Olt is not talent, but position. He is a third baseman who is going to have to earn his at-bats at first base, designated hitter and outfield unless something significant happens to Adrian Beltre. Still, Olt boasts legit pop, as evidenced by his .288/28/82/65/4/.398/.579 stat line in 95 Double-A games a year ago. All he needs is an opportunity.
Oakland Athletics: SP Brett Anderson (25)
Projection: 13/3.58/154/1.250/0Upside: 18/3.00/180/1.110/0
Anderson pitched well down the stretch after returning from Tommy John surgery, setting him up for a potential run at elite fantasy status. The problem with ranking him inside the top 40 starters is his potential innings limit; It would be hard to push his shoulder beyond 180 innings after he pitched just 35 innings a year ago. He is capable of being as good as anyone once he hits his prime, though.
Seattle Mariners: C Jesus Montero (23)
Projection: .267/17/75/59/0/.310/.408Upside: .285/25/85/70/0/.350/.495
After disappointing his owners as a rookie, Montero will likely be an overlooked sophomore who falls more than he should. But considering how valuable his bat is for the Mariners, this could be the year Montero breaks through. He's one of the few catcher-eligible players who will manage 500 at-bats, which in his case could mean 20-plus homers and 80-100 RBI. Consider him an excellent mid-round pick.
Houston Astros: SP Bud Norris (28)
Projection: 12/3.65/188/1.350/0Upside: 15/3.25/205/1.200/0
Norris hasn't proven to be a winner or a candidate for 200 innings yet, but he is squarely in his prime at 28 and can reach the 200-inning plateau this season for the first time. That makes him a high-upside pick after the top 50 starting pitchers are off the board, especially for owners looking for strikeouts.