Fantasy baseball 2013 team previews: Boston Red Sox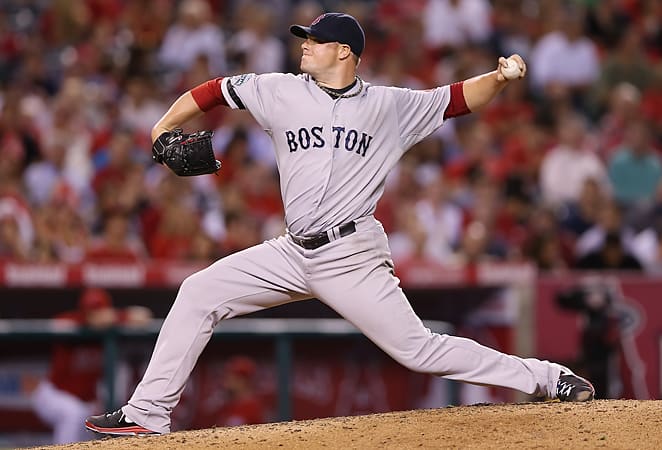 Fantasy baseball 2013 draft prep central: Rankings, position primers and much more
When the greatest accomplishment of a team's season is getting out from underneath a few huge contracts, that squad probably didn't have a whole lot to celebrate. When that happens in Boston, you can bet heads will roll. Gone is Bobby Valentine (who couldn't see that being a disaster, other than the Red Sox front office?), in is former Blue Jays manager and Red Sox pitching coach John Farrell. The Red Sox are a different team than the one we've become accustomed to watching, having missed the playoffs in each of the last three seasons.
Still, this roster has plenty to offer the fantasy owner.
Dustin Pedroia remains a star at second base. David Ortiz clogs up the utility spot, but Father Time has been kind to Ortiz and his power. Jacoby Ellsbury may never again reach the heights of 2011, but he's still a guy with 20/30 potential. Ditto Shane Victorino, a player on the wrong side of 30, but one who still has plenty of fantasy usefulness left. Mike Napoli should find the confines of Fenway Park suitable to his skill set. And for a dash of upside, there is Will Middlebrooks, who looks like a budding star, and Jarrod Saltalamacchia, who, despite his faults, is a catcher who will give you somewhere in the neighborhood of 20 or 25 homers.
The rotation is packed with No. 2 and 3 starters, led by Jon Lester, who isn't what he once was but is still capable of a mid-3s ERA with 170 or more strikeouts. Ryan Dempster and Clay Buchholz should be owned in all mixed leagues, as well.
Projected roster
Lineup:
1. Jacoby Ellsbury, CF 2. Shane Victorino, RF 3. Dustin Pedroia, 2B 4. David Ortiz, DH 5. Mike Napoli, 1B 6. Will Middlebrooks, 3B 7. Jarrod Saltalamacchia, C 8. Jonny Gomes, LF 9. Stephen Drew, SS
Starting rotation:
1. Jon Lester 2. Clay Buchholz 3. Ryan Dempster 4. John Lackey 5. Felix Doubront
Others: Franklin Morales
Bullpen: Joel Hanrahan (closer), Andrew Bailey, Koji Uehara, Junichi Tazawa, Daniel Bard, Andrew Miller, Craig Breslow, Alfredo Aceves
Key questions
? Is the return of John Farrell what the doctor ordered for Jon Lester and Clay Buchholz? Farrell was the Red Sox pitching coach from 2007-10, before taking the managerial position in Toronto. Those seasons also happen to coincide with the three best years of Lester's career, as well as Buchholz's anomalous-to-this-point 2010 season.
Lester regressed in 2011 and had a terrible 2012 season, going 9-14 with a 4.82 ERA, 4.11 FIP and 7.28 strikeouts per nine innings, his worst total since his rookie year. Meanwhile, Buchholz has totaled three WAR since Farrell left town. And Farrell headed to Toronto right as Lester and Buchholz, both born in 1984, were entering their theoretical primes.
There have been other factors at play, though. Since 2010, Lester's average fastball has ticked down to 92.6 mph from 93.3. Buchholz lost two mpg off his fastball from 2010-12. If that's pure loss of velocity, Farrell won't be able to reverse it. But if it's a mechanical flaw, he might be able to work the same magic he did while he was Boston's pitching coach. Either way, this has to be seen as a positive for Lester and Buchholz. Farrell knows them well, much better than did Bobby Valentine. Reuniting with their old pitching coach should be good for the right handers.
? What is Will Middlebrooks' ceiling in 2013? Middlebrooks shone as a 23-year-old rookie last year, hitting .288/.325/.509 with 15 homers and 54 RBI in 286 plate appearances. The power profile certainly looks real. In just 24 games with Triple-A Pawtucket before his promotion, he had nine homers. In a full season with Double-A Portland in 2011, at 21 years old, he had 18 homers. Now that he'll get a full season in the majors, what could be possible?
Middlebrooks is coming off a broken wrist, an injury that tends to sap a player's power, even after he's healthy enough to return. That's something to keep an eye on this spring. He had a .335 BABIP, suggesting good luck was a bit of a factor in his season last year, although his 21.5-percent line-drive rate supports a higher-than-average BABIP. He also may struggle to duplicate his 21.4-percent home run/fly ball ratio, a level that had him nearly on par with Mike Trout and Ryan Braun. Middlebrooks' walk rates across the minors suggest he won't really develop into a guy who takes a ton of walks, but he has always put the ball in play with authority. The fact of the matter is that he belted 15 homers in just 75 games in his age-23 season. He's getting better and stronger, and there could yet be another level to his power. I like his potential to climb into the mid-20s in home runs this season. If everything breaks right, he could approach 30 jacks.
? What do we make of Jacoby Ellsbury? For me, Ellsbury is one of the hardest players to value. Just check out these last four seasons:
There are a few things I feel we can say with certainty. The first is that the power from 2011 was a mirage. Everything from that year, from his ground ball/fly ball ratio to his home run/fly ball ratio to his line-drive rate, is an outlier. Realistically, he has a ceiling on the order of 15-17 home runs. Second, if he stays healthy, we can be pretty comfortable betting on a productive year. He should hit in the low .300s, give us a strong OBP and swipe about 40 bags, to go along with the 15 homers we quoted above. All things considered, that's a darn nice season. It's essentially impossible for us to project health, especially for a guy who hasn't fallen victim to bumps and bruises. When Ellsbury has missed time due to injury, it has been because of a one-off event. That either happens, or it doesn't. There's no way to account for it in a projection. As such, we have to assume he'll stay healthy this year. That makes him the 14th outfielder on my board, right in line with Adam Jones, Matt Holliday and Jay Bruce.
Sleeper
Felix Doubront: Doubront's 11-10 record and 4.86 ERA don't look all that great, but his 4.37 FIP outpaced his ERA, and he fanned 167 batters in 161 innings. He had a .312 BABIP and a 70-percent strand rate, both worse than league average. If those can work their way back toward the mean and the Red Sox get the expected bump in infield defense after the addition of Stephen Drew, Doubront could provide a nice return on investment this season.
Bust
Ryan Dempster: Dempster enjoyed a surprisingly dominant run over his last year-and-a-half with the Cubs, and looked like one of the best pitchers in the National League last year through July, posting a 2.25 ERA, 1.04 WHIP and 83 strikeouts in 104 innings. That all changed when the Cubs sent him to the Rangers at the trade deadline. He had a 5.09 ERA and 1.44 WHIP for the Rangers, as well as a 4.20 FIP after the All-Star break. Now he's in a similarly unforgiving park in Boston, pitching in one of the league's toughest divisions. Things will not get better for him.
Breakout
Will Middlebrooks: We discussed him earlier, but it bears repeating that the power he showed through the minors made the trip with him to Boston. There's no reason to think it will abandon him now. He'll continue to get overlooked at third base, but he's got the potential to hit 30 homers this season. I'd rather have him than David Freese or Todd Frazier, and would even consider him ahead of Pablo Sandoval.
AL-only guys to know
Stephen Drew: Drew managed to play at least 135 games in four consecutive seasons from 2007-10. In each of those years, he hit at least 12 homers, with a high watermark of 21. If he can stay healthy this year, he should give you 15 cheap jacks to go along with a fair share of runs hitting ninth in a good offense.
Franklin Morales: Morales could pick up a handful of starts, and is next in line should someone go down with an injury or fail to perform. Just 27 years old, he struck out 76 batters in 76.1 innings a season ago.