Fantasy baseball 2013 draft preview: Season predictions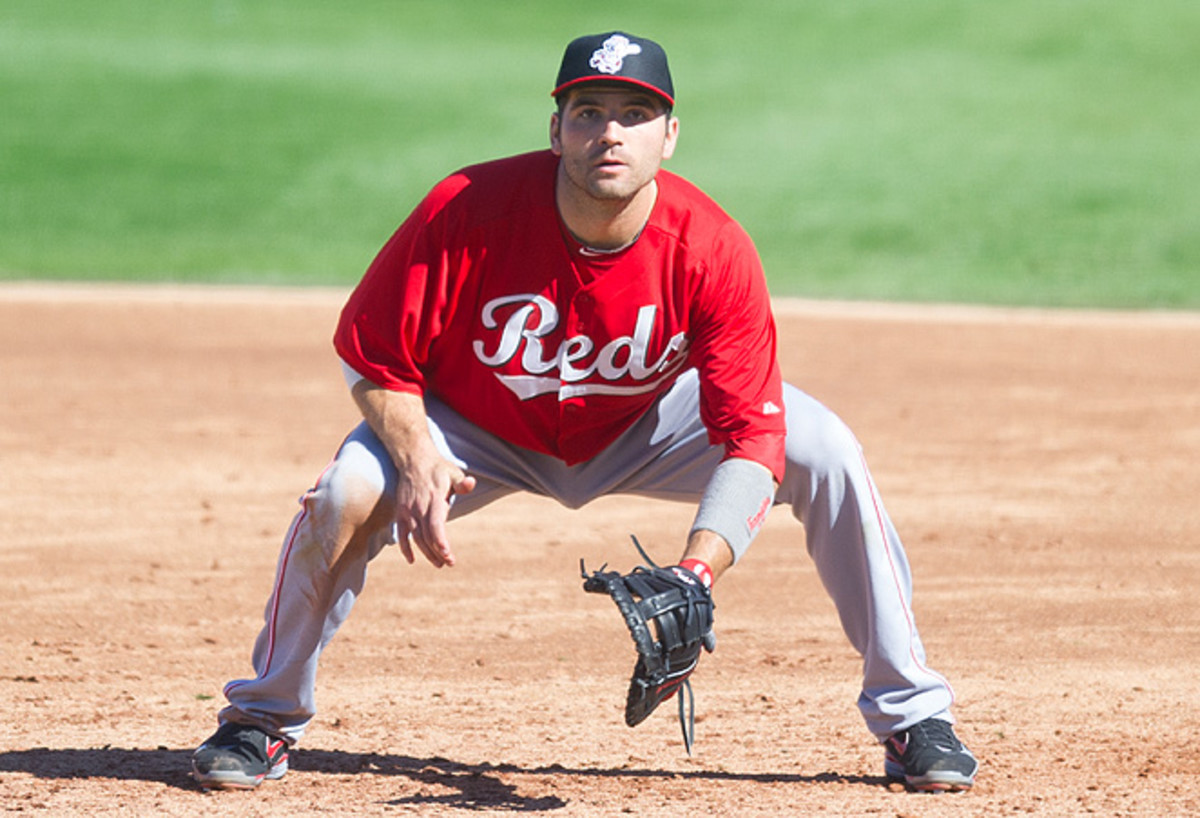 Fantasy baseball 2013 draft prep central: Rankings, position primers and much more
The season is less than one week away, making this the final installment of our Burning Questions series. While a handful of you (myself included) may still have drafts or auctions this week, the time for answering draft-prep questions is largely behind us. It's time to look ahead to the regular season, and what better way to do that than with some bold predictions? Mack gave his for the season last week, but now it's my turn. So, what are my predictions for the 2013 season, from both a real-life and fantasy perspective? I'm glad you asked. Here are six:
PRINTABLE DRAFT KIT: Top 300 Cheat Sheet | Position Rankings Cheat Sheet
Joey Votto will be the MVP...
Votto has a slash line floor of about .315/.420/.530, and numbers like that alone are sure to have him in the MVP conversation. Votto should see increased RBI opportunities this year, with Shin-Soo Choo in Cincinnati and the potential addition of Billy Hamilton sometime during the season; however, the MVP pick is contingent on Votto getting back to the 30-homer plateau, which I think he'll do. While he had just 14 homers last year (in 111 games while dealing with a power-sapping knee injury), he hit 25 homers in 131 games in 2009, 37 in '10 and 29 in '11. If all goes right for Votto, as I believe it will, his slash will be in the .320/.430/.570 range, with 30 homers and 115 RBI. When you do that and lead your team to a division crown, you make yourself an attractive MVP candidate.
...but the Nationals will edge the Reds for the best regular-season record
There isn't a single hole on the Nats' roster. They boast one of the league's deepest, most star-studded rotations with Stephen Strasburg, Gio Gonzalez, Jordan Zimmermann, Dan Haren and Ross Detwiler. Not many teams can say they have two Cy Young candidates heading into the season, but the Nationals can. There really isn't an easy spot in their lineup for an opposing pitcher. Bryce Harper is already emerging as a legitimate stud. Ryan Zimmerman and Adam LaRoche provide power and on-base ability in the middle of the order. Ian Desmond was arguably the best offensive shortstop last year. They rectified their leadoff situation by trading for Denard Span. To borrow a phrase from football, this team still gets off the bus pitching, but the offense could be one of the best in the majors, too. On top of that, Rafael Soriano, Drew Storen and Tyler Clippard give them a three-headed monster in the bullpen to rival anyone in the league, most importantly their division mates down in Atlanta. The Nats will win 100 games this year and take their playoff run a few steps farther, winning the World Series.
David Price will win his second straight Cy Young and leads the Rays to the AL East crown
Perhaps the most remarkable trait of Price's 2012 season was that beyond his surface stats, it wasn't all that different from his 2011 season. In 2011, he went 12-13 with a 3.49 ERA. In 2012, he went 20-5 with a 2.56 ERA. But in 2011 he struck out 8.75 batters per nine innings, walked 2.53 and had a 3.32 FIP. In 2012, he fanned 8.74 batters per nine innings, walked 2.52 and had a 3.05 FIP. Basically, he's coming off two dominant seasons in which he has totaled 9.8 WAR. Armed with a fastball that continues to increase in velocity (he was up to an average of 95.5 MPH last year), and a cutter he unveiled last season, Price will post another 20-win season and lead the Rays to the top of the AL East, earning himself another Cy Young award in the process.
The Angels will ultimately be done in by their pitching
All anyone wants to talk about in Los Angeles (of Anaheim?) is Mike Trout and the Angels' offense, but there's one thing everyone's avoiding: the fact that the starting pitching is not as strong as it appears. Jered Weaver had the kind of season awards voters go crazy for, posting a 20-5 record and 2.81 ERA. However, he struck out just 6.77 batters per nine innings, his lowest rate since 2007. He had a fortunate .241 BABIP and 79.2 percent strand rate, but he also had the worst home run/fly ball ratio of his career at 8.6 percent. Add it all up, and the advanced stats calculator spits out a 3.75 FIP and 3.0 WAR, the lowest WAR total of his career since his rookie season.
Meanwhile, C.J. Wilson's ERA shot up to 3.83 last year, and his 4.04 FIP was his worst by far since becoming a starter. He was also susceptible to the long ball, posting a 10.8 percent home run/fly ball ratio. He lost two full percentage points off his strikeout rate, and his walk rate spiked to 10.5 percent from 8.1 percent. I'll be avoiding both of them in my drafts this week. Ultimately, the Angels offense is too good to miss the playoffs, but it's the Rangers who will win the AL West. The Angels will fall to the Blue Jays in the AL Coin-Flip Game. Hey, speaking of the Blue Jays...
Jose Reyes will steal 50 bases, score 100 runs, hit 15 homers and do all the Jose Reyes things we love
Reyes had a solid, if not spectacular, 2012 season, hitting .287/.347/.433 with 40 steals, 86 runs and 11 homers. He also managed to post just a .298 BABIP, which tied a career low for a season in which he played at least 100 games. This was despite a 21.7 line-drive percentage, the second-best rate of his career. He only managed a 7.5 percent infield-hit percentage, a number we'd expect to be higher for someone with his speed. In fact, it was the third-worst infield-hit percentage of his career. So long as his hamstrings hold up on the turf in Toronto, he should take advantage of its fast surface by beating grounders through the infield, getting on base, getting himself over, and having a teammate get him in. The Blue Jays should have one of the best offenses in the majors, and it all starts at the top.
All the spending in Dodgerland won't result in a playoff appearance or very much fantasy goodness
Expectations are high for the Dodgers this year, largely due to a return to health for Matt Kemp, last year's high-profile trades, and the duo of Clayton Kershaw and Zack Greinke in the rotation. Unfortunately, the hits are already coming: Hanley Ramirez suffered a thumb injury in the World Baseball Classic that will require surgery and keep him out until mid-May. Carl Crawford didn't suit up in a Cactus League game until last week, and there are still major doubts surrounding whether he still has it as we head into the season. Greinke has dealt with elbow inflammation during the spring, though he returned to the mound last week, giving the Dodgers confidence he'll be able to make his first scheduled start of the season. Adrian Gonzalez' power numbers fell off the map last year, but what was equally as troubling was his plunging walk rate, which fell all the way to 6.1 percent. It hadn't been in the single digits since 2007. He seemed to lose all sense of the strike zone, swinging at 37.3 percent of pitches outside of it last year.
I understand the optimism surrounding the Dodgers, but I don't think it will pan out. Other than Kemp and Kershaw, I don't trust anyone on this team for fantasy purposes. It will be the Giants, once again, winning the NL West, and the Dodgers, once again, on the outside of the playoff picture.
More Burning Questions: ? Part I: Can Trout, Harper avoid sophomore slump? ? Part II: Will R.A. Dickey regress after Cy Young? ? Part III: Is Anthony Rizzo an elite first baseman? ? Part IV: Can Brett Lawrie reach his potential? ? Part V: How will the Upton brothers fare in Atlanta? ? Part VI: Is Atlanta's Kris Medlen a top-tier starter? ? Part VII: Is Kansas City's Eric Hosmer worth the wait? ? Part VIII: Can Wil Myers be MLB's next rookie sensation? ? Part IX: Are hitters still more valuable than pitchers? ?Part X: Predictions for the 2013 MLB season