Fantasy baseball preseason roundtable: Who's really No. 1?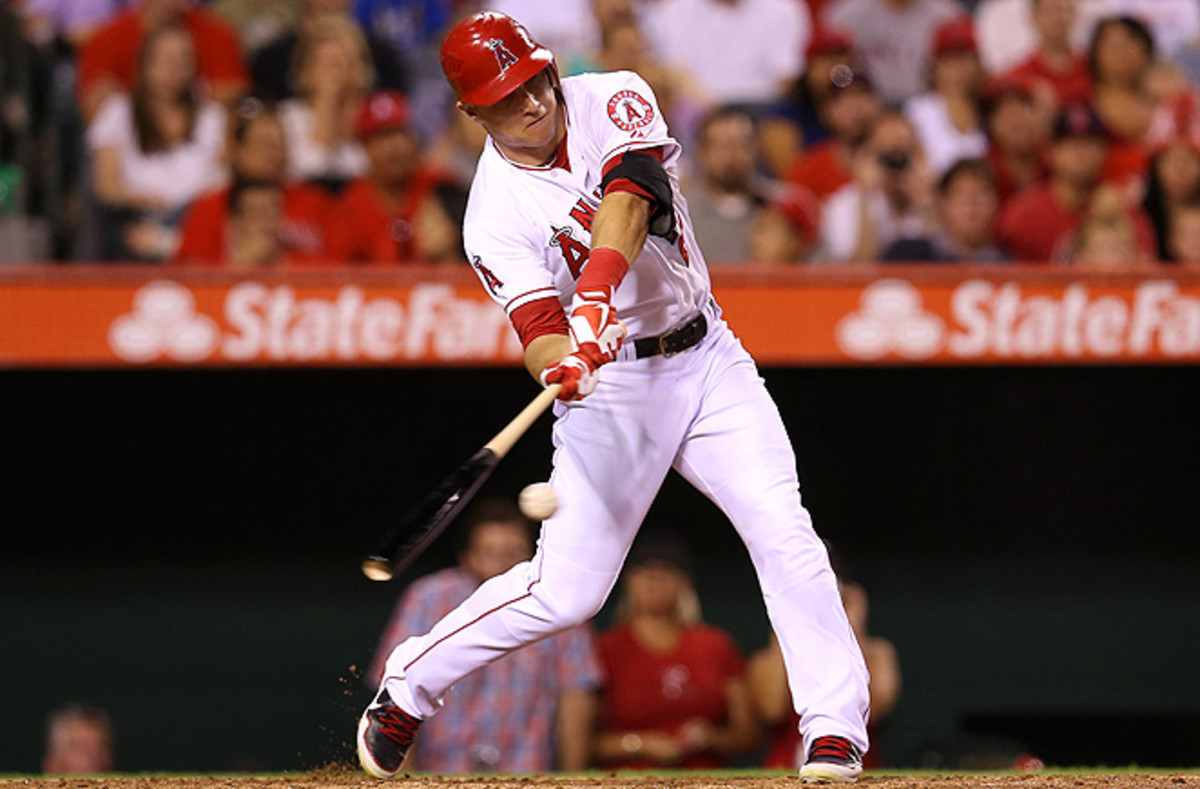 Fantasy baseball 2013 draft prep central: Rankings, position primers and much more
With baseball FINALLY making its long-awaited return this weekend, SI.com caps off its preseason content with a discussion between our two fantasy writers, Eric Mack and Michael Beller.
So, let's start where all drafts will: The No. 1 pick. Who tops your board? Trout? Cabrera? Braun? Someone else?
Mack: No player can match Mike Trout in all five categories in rotisserie leagues. Last season he was one steal away from being only the third 20-50 player in baseball history, and he couldn't even order a beverage at the bar. We still don't even know his full potential, since he hasn't played a full season in the majors yet. You need to pick him over Miguel Cabrera, who doesn't steal, and Ryan Braun, who is allegedly linked to Biogenesis. I can make a case for Miggy or perhaps Justin Verlander in certain head-to-head points leagues, but Trout is the clear five-category monster in rotisserie formats because of the steals potential. Stealing bases is for the baby faces, and I like to rhyme.
Beller: Mack, you make a compelling argument for Trout, and it's one that appears unassailable. I say appears, because there is one hole in it. When you're making the first pick of the draft, you need to get someone who is an absolute lock to produce at stud levels. I don't think Trout is at any real risk to fall off this year, but I know exactly what I'm going to get out of Ryan Braun. His worst batting average in the last four years? .304. Worst OBP? .365. Worst slugging percentage? .501. He's hit at least 33 homers in five of the last six seasons, and driven in at least 100 runs in the last five. In each of the last two seasons, he has stolen 30 bases. And on top of all that, he has played at least 150 games in the last six seasons. I understand the worries about the Biogenesis claims, but they hardly prove that Braun was using PEDs last year, and he dealt with the steroid cloud hanging over his head in 2012 just fine. If I have the first pick, I want the guy with the highest floor. That's Braun.
On another topic, quite often the surprise teams in the league provide us with overachieving fantasy stars. Take Adam Jones and Josh Reddick in 2012. I said in my Rockies team preview that I think they can surprise this year, and if they do, Wilin Rosario will lead them. He's a catcher who's more than capable of hitting 30 homers, and I think he will get to that level. Anyone jump to your mind that fits the mold? Don't worry, we'll get to my love for Jonathan Lucroy soon enough.
I also see a lot of turnover in the American League playoffs, but not very much in the National League. How about you?
Mack: First off, what is Mike Trout's floor? How is his floor not higher than Braun's after the only year we saw from Trout came at age 20? Anyone who pretends to know is just speculating.
But I digress there, as we will have to agree to disagree (and I will only write in clichés) ...
For the standings, I have the Blue Jays, Tigers and Angels as the division champs and the Rangers and Orioles as the wild cards in the AL. Then, the Nationals, Reds and Dodgers as the NL champs with the Braves and Giants as the wild cards. With those picks, I don't see any surprises. Surprises are surprises because no one sees them coming.
I don't think it would surprise too many people if Rosario hit two more homers in his first full season as a starter than he did in just 117 games in 2012 (28). You need to be more bold with your surprises than that. Like saying Stephen Strasburg will strike out 300 batters. That should be easy to criticize.
Pandora's box, open. Go ...
Beller: Hey, I think Trout is a stud and should be one of the first three players off the board, regardless of league parameters. All I'm saying is that while no projection can be thought of as a fact, Braun's track record should give us all the confidence in the world that he will give us another season on par with the last six. That's about as high as a floor can be.
But yes, let's stop splitting hairs about two of the best baseball players on the planet for now. We can agree to disagree as you say, and add a Braun vs. Trout bet to our growing menu of wagers. I've got the Rays, Tigers and Rangers as division winners in the AL, with the Angels and Blue Jays as wild cards. For me, it's all status quo in the National League. Nats, Reds and Giants on top of their divisions, Braves and Cardinals taking the final two spots, with the Cardinals narrowly edging the Rockies on the final day of the season.
I'd love to call you out for your prediction on Strasburg, but this is one spot where we agree. I think reasonable people can disagree on Braun vs. Trout vs. Cabrera. I do not think they can on the topic of baseball's best starting pitcher, at least from a fantasy perspective. Strasburg struck out 197 batters in 159.1 innings last year. Now that he isn't tethered to an innings limit and has another year of seasoning under his belt, 300 Ks are well within his reach. I'm not alone here, but the Nats are my World Series pick this season. I'm not betting against anything Natitude-related in 2013.
One of your predictions I'm not on board with, however, is Evan Longoria becoming a top-five player. I've always been a Longo supporter and have the Rays winning the American League. But top five? You are aware of the existence of Matt Kemp and Andrew McCutchen and Robinson Cano and Carlos Gonzalez and Prince Fielder, right? I can see Longoria staying healthy and outperforming a handful of them, especially since he's hitting his theoretical prime. But since we're penciling in Braun, Trout and Cabrera as the top three players, Longoria will have to have a better year than all but one of those five. I just don't see it.
OK, let's let the readers in on another one of our bets. My love for Jonathan Lucroy is no secret. In my Brewers preview, I asked if he was underrated or wildly underrated. You, however, barely have him as a starter in a 20-team league. That's lunacy. This is a guy who hit .320/.368/.513 with 12 homers and 58 RBI in just 96 games. Hell, he even added four steals. And like Longoria, he is in his age-27 season. So please, explain to me and our readers why there are 18 catchers who make better fantasy options than the Milwaukee backstop.
Mack: You won't be alone in suggesting I am out very far on a limb with Longoria. To me, he's a talent with the best still to come as he enters his age-27 season. A healthy Longoria is capable of a huge .310/35/120/110/15 campaign, which is Cabrera territory. After all, his first full season gave us .281/33/113/100/9. When a player is 27 years old, career years often start, not end.
While I agree Lucroy can be good this year, you are far too tied to last year's numbers. There is little chance he hits .320 again, particularly if he has to play a full season this time. Catchers not named Buster Posey or Joe Mauer just don't do that, and especially not in back to back years. It is just too demanding of a position.
I will concede this: After electronically shaking on your bet that Lucroy will be a top-10 fantasy catcher in 2013, I did move him up to the 13th-ranked catcher in SI.com's Top 300, which I think is a reasonable spot for him in drafts. Those rankings are not my personal rankings; they're more a representation of how I expect drafts to go. If you pick Lucroy as a top-10 catcher, you are going to be reaching for a player you can get a couple of rounds later -- never a good policy in selecting your team.
And, when I sent you that projections spreadsheet in January, you were supposed to let me know of places you disagreed. Instead, you railed me into a bet! Cold. But very clever. I will get my revenge and call you out whenever possible. This is the start of a fun, but contentious relationship.
And, you are arguing for Braun over Trout and Lucroy for top-10 catcher love. You need to stop the Brewers man crushes before they get you to pick Kyle Lohse in the third round.
Speaking of teams, let's hear you rip apart my Tout Wars team. Many others have at ToutWars.com and I think they're crazy. My team is legit, but fire away.
Beller: I agree that Lucroy's batting average is likely to come down this year, but his value isn't solely tied up in a high BA. I think the power is for real, and as long as he hits in the middle of Milwaukee's lineup, he's going to have plenty of RBI chances. Give him a full season, and I think he'll get 18 homers, 12 steals and 80 RBI, along with solid rates -- that's a top-10 catcher. And just because I think he will be one doesn't necessarily mean I'll have to make him one of the first 10 catchers off the board. I'll exploit that market inefficiency for sure.
I'm not sure how to explain all this Brewer love emanating from me this season, especially since I'm a born-and-bred Cubs fan. I guess it just shows my ultimate objectivity. Or maybe I was infected with some sort of insidious Brewers' fan virus during the four years I spent at the University of Wisconsin that is just now manifesting itself in my fantasy predictions. And you might as well get used to a lot of prop bets from me, sneaky or otherwise. I enjoy putting my money where my mouth is (and you aren't the only one who can write in clichés).
Just checked out your Tout Wars squad. Are people really ripping this team? This isn't "Around the Horn," so I'm not going to disagree for disagreement's sake. I think your team is legit, too. Let's start with the offense, built around a rock-solid infield. Albert Pujols, Robinson Cano, Starlin Castro, Jedd Gyorko and the aforementioned Longoria will fill out all five categories. I love the upside behind the dish with Travis d'Arnaud. And did they try to arrest you when you left the auction room after getting Wil Myers for only $4? You've got our favorite pitcher Strasburg to anchor the staff, and a ton of high-upside guys behind him. If two of Brett Anderson, Tim Lincecum, Jeremy Hellickson, Tommy Hanson and Clay Buchholz hit, you're looking good. I think you'll represent SI in Tout just fine.
Let's bring this thing home. Since we started out at No. 1, how about finishing with Mr. Almost Irrelevant. Who are some of your favorite targets in the endgame? For me, I love chasing ultra-talented youngsters. That means I'm ending up with Myers, Oscar Taveras and Dylan Bundy on my teams. I don't mind if I need to stash them for a month or two. Having them on the roster when they get the call could be the equivalent of making a huge trade, except you don't have to give up an asset. As for guys who will start the year in the majors, I can't get enough shares in Julio Teheran and Shelby Miller. Wait, did I just recommend two Cardinals after praising two Brewers earlier? We better wrap this up before I go full-on Stockholm Syndrome and profess my love for Clay Matthews. The last word is yours, Mack...
Mack: Unfortunately, I agree with your last points with this caveat: I burnt too much of my Tout Wars roster on speculative picks who are mere reserves. More wisely, a owner should have just one of two of those types as late fliers taking up reserve spots. You won't want to sacrifice today for the mere promise of tomorrow. With that, we will leave the rest of the fantasy bickering for another day.
PRINTABLE DRAFT KIT: Top 300 Cheat Sheet | Position Rankings Cheat Sheet