Fantasy baseball Prospect Watch: Reds' Cingrani amassing K's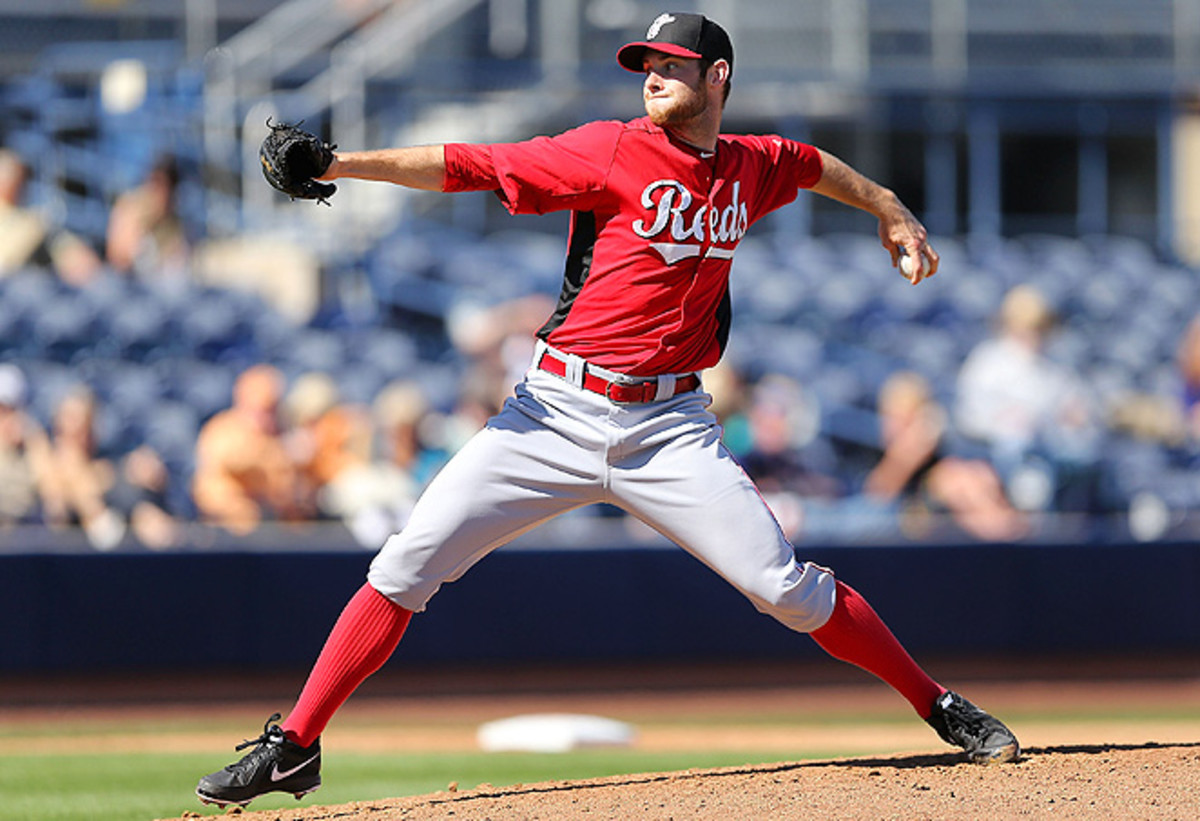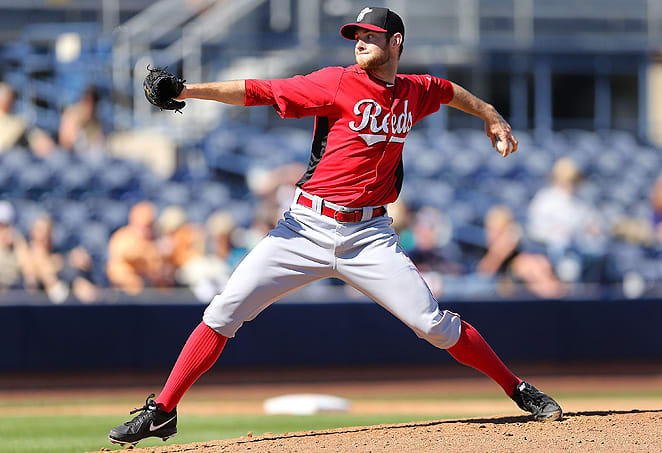 The minor-league season opened Thursday night, and it took all of one inning for the fantasy baseball prospect hype machine to begin cranking at full speed. Each week, we'll trumpet the most outstanding performances in our fantasy baseball Prospect Watch.
Planner | Waiver Wire | Pitching Report | Trade Tips | Stat Focus | Roundtable | Prospect Watch
Reds pitching prospect Tony Cingrani had arguably the most extraordinary showing, as he amassed 14 strikeouts in his first Triple-A game. The Louisville arm was perfect through five and only a leadoff walk in the sixth broke up perfection. He left after 84 pitches, 55 of which were strikes. After that debut, it's safe to assume his next starts are going to be fantasy baseball scouting events.
"I just threw a bunch of fastballs, located wherever I wanted, and just kept putting up zeros," Cingrani told MiLB.com. "I didn't have to go to anything else. There were some changeups and sliders, but mostly just the fastball."
Read: His Opening Day start was just an arm-building exercise for his inevitable arrival in Cincinnati.
We now know exactly why the Reds were so eager to move Aroldis Chapman back to the closer's role. Mike Leake is simply serving as a placeholder in the No. 5 starter's spot until Cingrani is ready.
The left hander, who turns 24 in July, is going to be impacting all fantasy leagues by May, if not sooner. Cingrani is owned in just six percent of CBSSports.com leagues, so you'll want to take that flier now. He has a likely cap of 180 innings this season -- he combined for 151 a year ago -- so the Reds won't want to burn them all on those breezy innings in Triple-A. There was no way a potential perfect game or no-hitter was going to keep Cingrani in the game after six.
"That doesn't play into your mind, but you go out and do what you do," Cingrani said of the no-hit bid. "I was getting a little tired [in the sixth], but it wasn't that big of a deal, I knew I was going to hit my pitch limit."
Cingrani wasn't the only headliner down on the farm Thursday night. Here are some other notable prospect showings:
Mariners' Zunino buzzes on Twitter
While Cingrani was mowing down the Toledo Mud Hens, Seattle catcher prospect Mike Zunino -- the first of the 2012 first-round picks to debut in Triple-A -- was trending on Twitter after hitting a reported 425-foot blast to left field for the Tacoma Rainers. Zunino finished 3-for-4 and was just a double shy of the cycle. (How many catchers can hit a triple?)
"It was one of those moments where it takes the wind right out of you," Zunino said. "When I got there to third, I had my hands on my knees trying to hide how tired I was but I don't think I did a good job. It takes a lot of legs to get to third, and I just don't think I have them."
Unlike Cingrani, Zunino is more likely to spend time making memories in Triple-A. The Mariners have moved Jesus Montero behind the plate full time this season and figure to give him more than a month to prove his worth at that spot. Also, Zunino will be working as a battery mate with all those elite Mariners pitching prospects. Former first-round pick Danny Hultzen was the first starter Zunino caught Thursday night. Taijuan Walker and James Paxton will throw to Zunino eventually.
Zunino, 22, is a future fantasy baseball beast as a power-hitting backstop, but we might have to wait months, not weeks, for his big-league arrival. His ownership is currently at 20 percent and will rise to around 30 percent by May.
d'Arnaud catches fire quickly in Vegas
The Mets boast another of Triple-A's most high-profile batteries, and on Thursday No. 1 catching prospect Travis d'Arnaud stole the show from top pitching prospect Tim Wheeler, who was throwing peas. The 24-year-old catcher went 2-for-3 with two doubles and a career-high four runs scored.
"I think it's just a matter of time," manager Wally Backman told MiLB.com. "He got hurt last year and only played about 70 games at this level, so the organization doesn't want to rush him. ... He's gonna be a very good player when he gets to the major leagues, which is probably not a long ways away."
His wait might simply be the critical 20 days needed to delay his arbitration clock. If the Mets wait until June 1 to promote d'Arnaud, they can avoid the Super Two and delay his salary arbitration clock one full year.
Current Mets catcher John Buck got off to a great start in his series versus the Padres (6-for-12, two homers and five RBI), but d'Arnaud is a "get out of the way" prospect. When he's ready, you make room for him. d'Arnaud was ready this spring, hitting .343 with four doubles and four RBI.
d'Arnaud, owned in 43 percent of leagues, should be stashed before Zunino and even Cingrani in fantasy right now.
This week's top five on the verge
1. SP Trevor Bauer, Cleveland Indians (43-percent owned): Bauer has already been announced as Saturday's starter for the Tribe in place of Scott Kazmir (rib), but Bauer struggled in spring training, so this might be a one-and-done situation with Carlos Carrasco potentially taking that spot after his suspension lapses.
2. SP Nick Tepesch, Texas Rangers (3 percent): He won the No. 5 starter's spot in spring training, but the Rangers won't need a fifth starter until next week. He opened in the minors with five innings, allowing just one unearned run and striking out five. He is someone to own in all AL-only formats, but still only a matchup guy in mixed leagues. He is a two-start pitching sleeper for Week 2, starting at home against the Rays and then at Seattle. Take the flier.
3. SS Jurickson Profar, Texas Rangers (56 percent): He went 2-for-3 in his 2013 debut, with a stolen base and a throwing error at shortstop. The position is noteworthy, because the Rangers recently signed Elvis Andrus to a huge long-term contract extension, so Profar will need to find another position in Triple-A soon. Ian Kinsler isn't yet moving off second base to first, Adrian Beltre is entrenched at third and Profar's minor-league teammate Mike Olt is Beltre's heir apparent at third base. Profar or Andrus will move to second eventually, and if Profar keeps making errors at short, it might hasten his move. Still, with so many veterans blocking him, Profar could end up spending a chunk of the season at Triple-A.
4. 3B Mike Olt, Texas Rangers (20 percent): He went 1-for-4 with a double in his debut, but it was noteworthy because he was playing third base. The Rangers considered having Olt make the team as a rover between first base, outfield, DH and (lastly) third base. But like Profar, he's blocked by vets. Both prospects figure to be helping the Rangers win the AL West by midseason, though.
5. OF Wil Myers, Tampa Bay Rays (81 percent) and OF Oscar Taveras, Cardinals (52 percent): Their games were rained out Thursday, but we have to at least keep everyone abreast of the top two slugging prospects in the minors.