Fantasy baseball Weekend Primer: Stream Capuano, Tepesch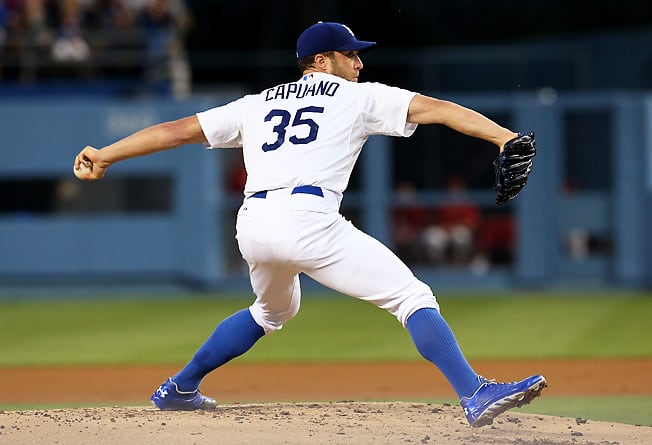 Notable nuggets on the upcoming weekend action that could swing your fantasy baseball matchup:
This weekend, the "Who's Playing the Marlins and Astros?" roulette wheel lands on the Dodgers and Rangers, respectively. Unsurprisingly, those two teams provide some of the best streaming options for the weekend.
WEEK 6 PREP: Fantasy baseball Weekend Primer | Weekly Planner | Waiver Wire | Pitching Report | Injury Report | Weekly Roundtable | Stats Focus | Trade Tips | Prospect Watch
? You likely won't be able to grab Hyun-Jin Ryu off your waiver wire for his Saturday start against the Marlins, but Chris Capuano is widely available and ready to help on Sunday. Capuano has struggled in both of his starts this year, but the Marlins are a great cure for an ailing pitcher, especially with slugger Giancarlo Stanton on the shelf. Capuano also offers the upside of a pitcher who has fanned at least seven batters per nine innings in each of the last three seasons.
? Some guy named Yu Darvish is starting for the Rangers on Saturday, so chances are you won't be able to stream against the Astros until Nick Tepesch takes the ball to end the week. Tepesch's 4.17 FIP suggests he has pitched a bit better this year than his superficial numbers would have you believe. His last two starts, one against the White Sox and the other against the Cubs, haven't been pretty, so maybe he'll benefit from pitching against a team from any city other than Chicago. Given that it's Rangers-Astros, though, Tepesch is one of the best stream options for owners chasing wins this weekend.
? If you have the stomach for it, Francisco Liriano is set to make his season debut Saturday, when he'll take the ball against the Mets. In 16 innings at Triple-A Indianapolis, Liriano has allowed six runs while striking out 23 batters and walking just one.
? Finally, if you really need a start on Sunday and Capuano and Tepesch are owned, consider Cleveland's Zach McAllister. He draws the Tigers, but has gone at least six innings in four of his six starts this year, and has allowed just two runs -- both on solo homers -- in his last 14.2 innings.
Enjoy the games this weekend. We'll see you on Monday.