Fantasy baseball Waiver Wire: Grab St. Louis rookie Michael Wacha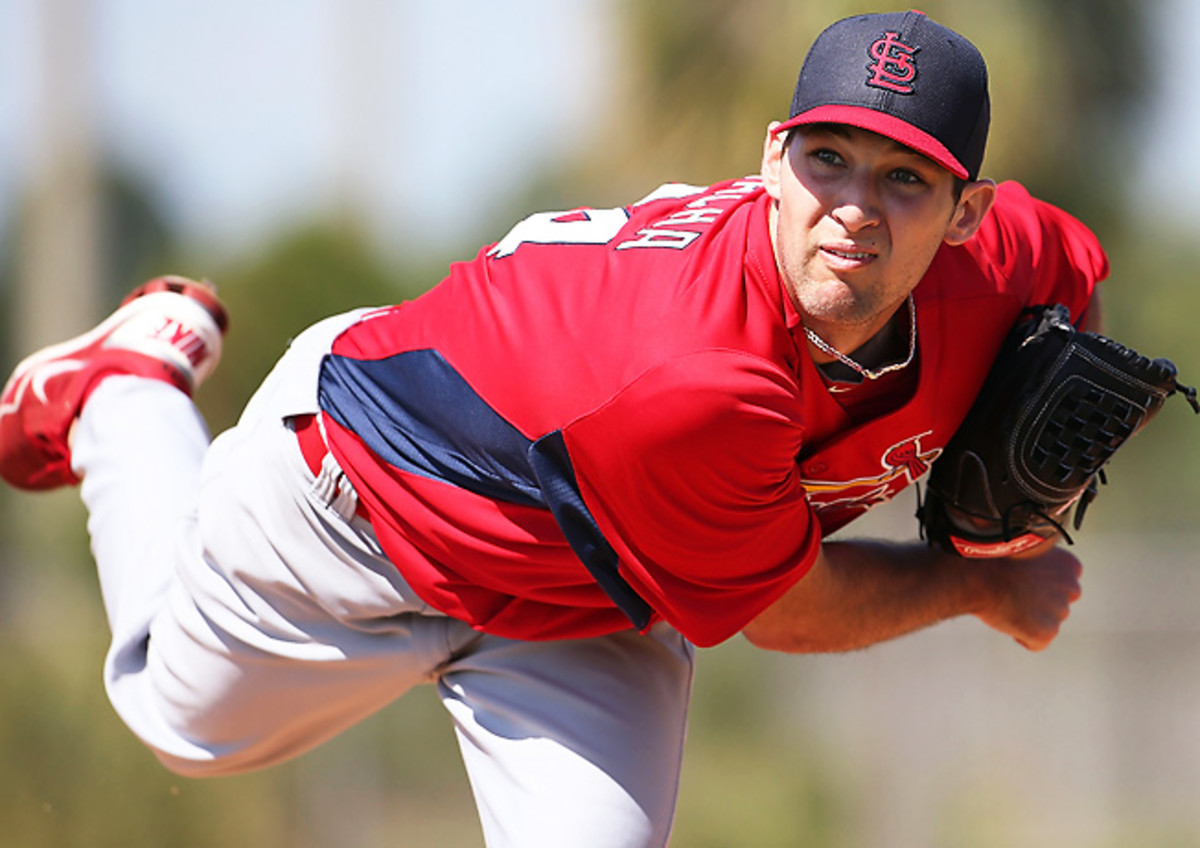 In last week's fantasy baseball roundtable, Eric Mack and I pondered whether St. Louis' starting rotation would slow down a bit after a hot start. When I answered the question, I wasn't too worried. One week later, with Jaime Garcia out for the year and Jake Westbrook dealing with setbacks in his rehab, I'm not quite as confident. However, the promotion of prospect Michael Wacha could be huge both for the Cardinals and for the fantasy owners who are aggressive enough to make the addition.
WEEK 9 PREP: Fantasy baseball Weekend Primer | Weekly Planner | Waiver Wire | Pitching Report | Injury Report | Roundtable | Advanced Stats Focus | Trade Tips | Prospect Watch
Wacha (available in 87 percent of Yahoo! leagues, 74 percent of CBS leagues and 99 percent of ESPN leagues) impressed the Cardinals this spring, but didn't get a chance to start the year in the majors. While injuries ultimately created a spot for him, Wacha did everything possible to force his way to The Show by performing at Triple-A Memphis. In nine starts, he has posted a 4-0 mark with a 2.05 ERA, 0.95 WHIP and 34 strikeouts in 52.2 innings. Unlike other big-time prospects who have earned the call this year, such as Cincinnati's Tony Cingrani and Tampa Bay's Jake Odorizzi, Wacha has a good shot at sticking around for the rest of the year. Not only are Garcia and Westbrook on the shelf, but John Gast, who was promoted shortly before Wacha, is now on the DL as well with a shoulder injury. Given his performance at Memphis this season and his opportunity to stay with the big league club, Wacha is worth adding in all but the shallowest fantasy leagues.
Let's get to the rest of this week's Wavier Wire:
? RP Joe Smith, Indians (Yahoo!: 92 percent, CBS: 96 percent, ESPN: 98 percent): Chris Perez walked off the field with the Cleveland trainer Sunday, a sign that his throwing shoulder, which had been giving him trouble for a few weeks, finally got the best of him. Now Perez is on the DL, leaving the Indians to anoint a new closer. The fantasy community has come to know and trust Vinnie Pestano the last few seasons, but he has not been his reliable self this year. He has a 5.25 ERA and has allowed a pair of homers in 12 innings. He's had some elbow issues recently, too. Smith, on the other hand, has been the dominant force Pestano once was. He has 18 strikeouts against just five walks in 17 innings, and has only allowed two runs. Smith is the add to make, and it could be a profitable one if Perez is out for an extended period.
? CJason Castro, Astros (91, 70, 99): Castro went 4-for-4 with four singles Sunday, but you should add him because of the power. He has six homers this year and has a realistic shot of getting to 20 for the season. He's hitting .283 on the year, but he's likely going to be a drag on batting average and OBP in the long run. For owners who can deal with that, Castro can be a nice source of power from a shallow position. Look elsewhere in shallow leagues, but take a shot on Castro if you play in a league that goes 14 or deeper.
? SP Mike Leake, Reds (85, 54, 88): In the same roundtable I referenced earlier, the editors asked Mack and I what we thought of the Reds' decision to demote Tony Cingrani when Johnny Cueto returned from the DL. I said that while I understand the choice, I would have kept Cingrani around. Of course, that means Leake would have been bumped from the rotation. While I stand by that, the fact is that Leake remains in the rotation and is making a great case to be owned in all mixed leagues. After holding the Mets to one run through seven innings last week, Leake moved to 4-2 with a 3.25 ERA and 3.88 FIP on the season. He can't be given the matchup-proof seal of approval, but he's a great guy to have filling out the backend of your rotation, especially if you can pick and choose the spots where you use him.
? OF Domonic Brown, Phillies (67, 23, 50): We've heard about Brown so much the last few years, you'd be excused for thinking he was 35 years old rather than 25. However, he is just 25 and doesn't turn 26 until early September. That makes his power breakout all the more believable. Brown has nine homers and 27 RBI in 183 plate appearances this year to go along with a strong .209 ISO. His 22 percent line-drive rate would be a career best, so it's safe to say he's squaring the ball up more than he has in the past. According to ESPN's home run tracker, though, his average home run distance is 380.8 feet, and four of his nine homers have had "just enough" to clear the fence. If you keep your expectations in check, Brown could be a nice guy to own the rest of the year. I'd kick the tires in deeper mixed leagues.
The droppables
? RP Kyuji Fujikawa, Cubs: Fujikawa lost most of his fantasy value when an injured forearm put him on the DL, opening the door for the surprising resurgence of Kevin Gregg. Still, Fujikawa remained a nice source of holds, and there was always the chance Gregg would string together a few horrible outings. However, Fujikawa left the game Sunday after apparently reinjuring his forearm. Another DL stint will completely sap his value. There's no reason to keep him now.
? 1B/2B/3B Michael Young, Phillies: I know the name recognition is nice, and the fact that he is eligible at first, second and third is a legitimate asset. But Young has just one homer and he hasn't stolen a base, and he's not likely to get better in either category as the season progresses. His batting average and OBP are decent, but you can't be starting a guy day in, day out who fails to give you a thing in either homers or steals. There are better options than Young out there at all three of the positions at which you could start him.