Fantasy football Player Projections: Breaking down Week 1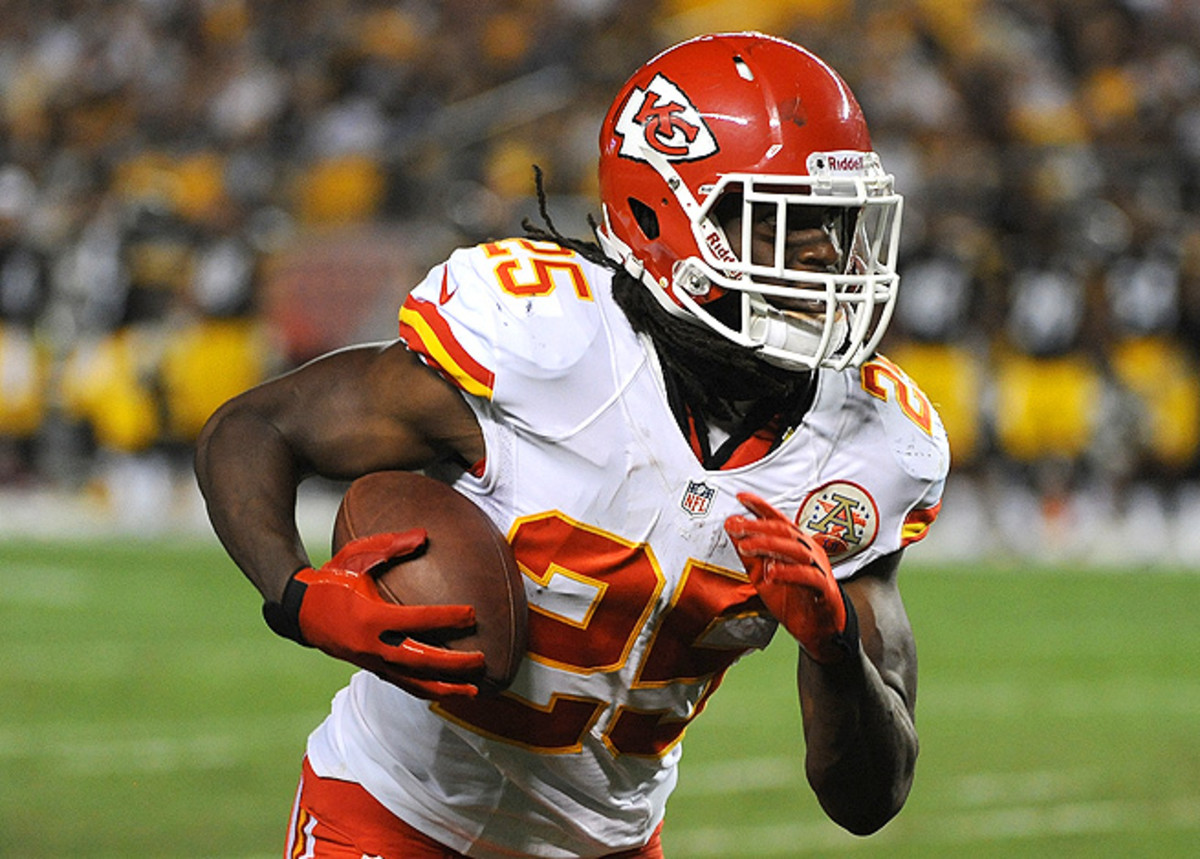 Fantasy Player Projections: Week 1
View by Position
View by Matchup
vs.
vs.
vs.
vs.
vs.
vs.
vs.
vs.
vs.
vs.
vs.
vs.
vs.
vs.
vs.
vs.
Quarterbacks
1

Peyton

Manning

PASS YDS344

PASS TD4

INT0

RUSH YDS0

RUSH TD0

Just last week I predicted Manning would throw 45 touchdown passes this year. It all starts Week 1, as he'll toss two scores to Demaryius Thomas and one apiece to Eric Decker and Montee Ball.

2

Drew

Brees

PASS YDS321

PASS TD4

INT0

RUSH YDS0

RUSH TD0

What more can you say about Drew Brees? The guy is a fantasy monster, and now that he's officially reunited with Sean Payton, we're betting he'll welcome his coach back with a big day.

3

Tony

Romo

PASS YDS322

PASS TD3

INT0

RUSH YDS15

RUSH TD0

I'm on record as believing Tony Romo will finish the season as a top-five quarterback. It all starts against the Giants this week.
To see the full list, click here
Running Backs
1

Jamaal

Charles

RUSH YDS144

RUSH TD2

REC YDS51

REC TD1

I've said time and time again that I believe Charles is the No. 2 player in fantasy football this year. We'll see exactly why Week 1 against the Jags.

2

Adrian

Peterson

RUSH YDS156

RUSH TD2

REC YDS12

REC TD0

Everything has been said about Peterson's ridiculous 2012 season. He'll need to be every bit as good this year to get the Vikings back to the playoffs.

3

Matt

Forte

RUSH YDS93

RUSH TD1

REC YDS67

REC TD1

Forte will be in the MVP discussion this year. You heard it here first. He starts that campaign with a huge game against the Bengals, both on the ground and through the air.
To see the full list, click here
Wide Receivers
1

Demaryius

Thomas

REC YDS121

REC TD2

Thomas will kick off the 2013 season in a big way, catching eight balls for 121 yards and two scores. He'll score the first touchdown of the season on a 32-yard strike from Peyton Manning.

2

Antonio

Brown

REC YDS94

REC TD2

Everything is set up for Brown's breakout season in Pittsburgh. As the focal point of the passing game, he'll end the season as a top-12 receiver, and will get it started Week 1 against the Titans.

3

Pierre

Garcon

REC YDS91

REC TD2

A foot injury limited Garcon, but he was a top-15 receiver when healthy. If Griffin throws more and runs less this year, Garcon will be the primary beneficiary. He has breakout potential in 2013.
To see the full list, click here
Tight Ends
1

Jimmy

Graham

REC YDS99

REC TD1

It's time for Jimmy Graham to create a tier of one at the tight end position. He'll begin his domination of linebackers and safeties with seven catches, 99 yards and a score this week

2

Jason

Witten

REC YDS74

REC TD1

Witten had a monster 2012, and he'll pick right up where he left off. He remains one of the best tight ends in the game.

3

Greg

Olsen

REC YDS67

REC TD1

Olsen has developed a great relationship with Cam Newton, one that could have him among the elite tight ends this year. He'll get that all started on Sunday.
To see the full list, click here
Kickers
1

Matt

Bryant

PAT3

FG3

A big day for the Falcons' offense means a big day for Bryant. He'll reward his owners with at least nine points, and perhaps more if your league gives out yardage bonuses.

2

Steven

Hauschka

PAT3

FG3

With an offense driven by Russell Wilson and Marshawn Lynch, Hauschka may finish the year in the top 10 at the position. If the offense shows the necessary juice, consider Hauschka a regular starter.

3

Dan

Bailey

PAT3

FG3

Bailey's got a huge leg and is part of what could be a very good offense. He should be considered a weekly starter.
To see the full list, click here
Defenses
1

PTS ALLOWED10

SACKS6

INT3

TD1

With E.J. Manuel at the helm for the Bills, the Patriots defense has a huge day. If they're available in your league, they make a great stream option.

2

PTS ALLOWED7

SACKS5

INT3

TD1

Miami's defense was under the radar last season, but that won't be the case in 2013, especially after it gets off to a huge start against Brandon Weeden and the Browns.

3

PTS ALLOWED7

SACKS6

INT2

TD1

Houston has one of the best defenses in the league and a great matchup against the Chargers. They'll be the top performing defense this week.
To see the full list, click here