Fantasy football Player Projections: Breaking down Week 4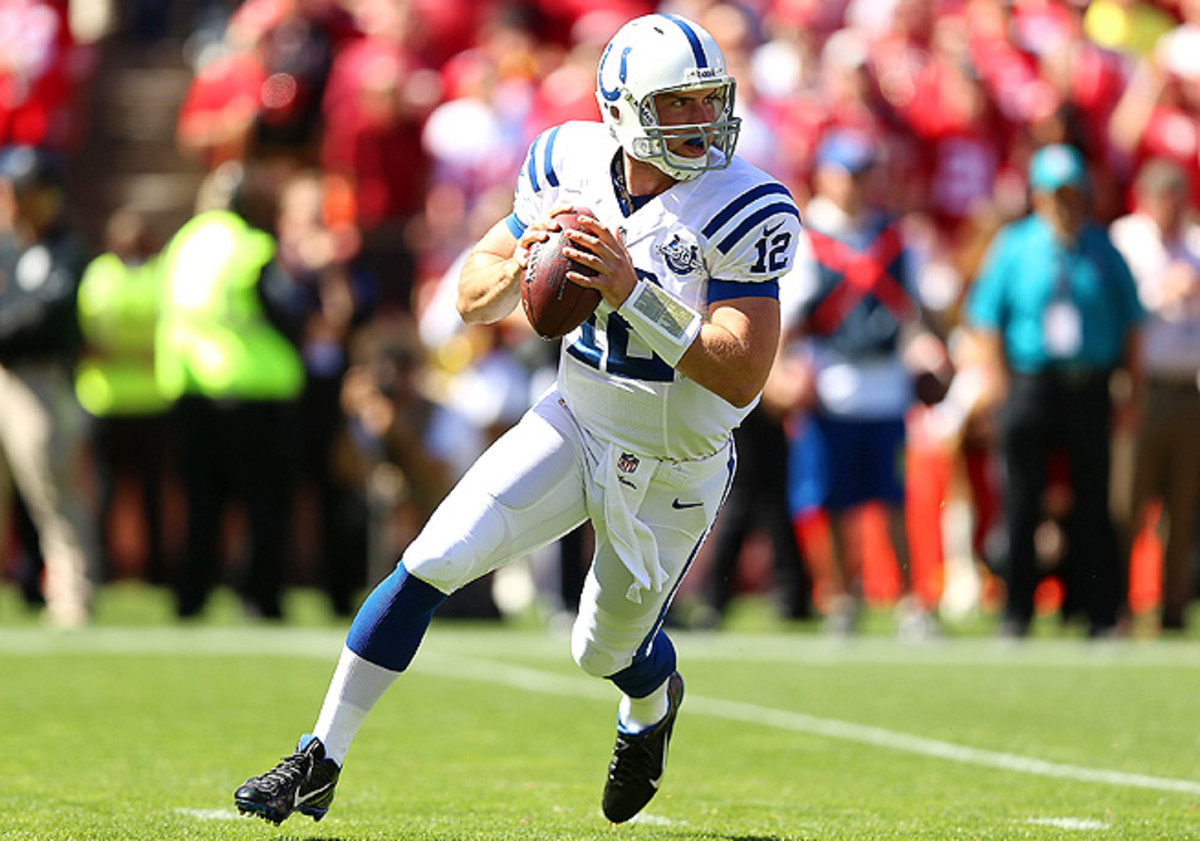 Fantasy Player Projections: Week 4
View by Position
View by Matchup
vs.
vs.
vs.
vs.
vs.
vs.
vs.
vs.
vs.
vs.
vs.
vs.
vs.
vs.
vs.
Quarterbacks
1

Peyton

Manning

PASS YDS409

PASS TD4

INT0

RUSH YDS0

RUSH TD0

The Broncos play Dallas next week, but get Jacksonville, Indy and Washington the following three weeks. Manning could have 2,500 yards and 25 TDs heading into their Week 9 bye.

2

Andrew

Luck

PASS YDS356

PASS TD3

INT1

RUSH YDS29

RUSH TD0

Luck's numbers weren't all that impressive against the Niners last week, but he continued to make plays on the ground. He'll make it up to his owners this week.

3

Terrelle

Pryor

PASS YDS280

PASS TD1

INT1

RUSH YDS44

RUSH TD1

Pryor had a productive fantasy day against Denver, but left after suffering a concussion late. Keep an eye on his practice schedule this week.
To see the full list, click here
Running Backs
1

Jamaal

Charles

RUSH YDS102

RUSH TD1

REC YDS62

REC TD1

Charles totaled 172 yards from scrimmage and a touchdown last week and looms as a huge threat for the Giants.

2

Adrian

Peterson

RUSH YDS124

RUSH TD2

REC YDS32

REC TD0

Peterson has turned in strong fantasy games every week, but he has been forced to grind out every single yard. He'll finally find consistent room in London this week.

3

LeSean

McCoy

RUSH YDS63

RUSH TD1

REC YDS46

REC TD1

Three weeks, three absolute monster games for McCoy. The trend continues this week.
To see the full list, click here
Wide Receivers
1

Calvin

Johnson

REC YDS134

REC TD2

Johnson caught seven passes for 115 yards and a TD in Washington last week and has to be licking his chops after seeing what Antonio Brown did to the Bears last week.

2

Demaryius

Thomas

REC YDS114

REC TD2

Thomas had 10 catches for 94 yards against the Raiders. It'll be his turn to be the big star among the receivers this week.

3

Reggie

Wayne

REC YDS103

REC TD2

Wayne will have his biggest day of the season to date, as the Colts should be able to handle the Jaguars with ease.
To see the full list, click here
Tight Ends
1

Jimmy

Graham

REC YDS108

REC TD1

There is no stopping this guy. Period.

2

Jared

Cook

REC YDS82

REC TD1

Cook had seven targets a week ago, and with the Niners down at least one star linebacker, he could exploit some holes in the defense.

3

Owen

Daniels

REC YDS78

REC TD1

Daniels got nine targets last week, and I think Matt Schaub will rely on him this week against a tough Seattle defense.
To see the full list, click here
Kickers
1

Greg

Zuerlein

PAT1

FG4

Playing at home against a solid defense, Zuerlein could be in for a big night.

2

Dan

Bailey

PAT3

FG3

Bailey had a quiet day, making a 19-yard field goal and missing his other attempt from 35 yards. He's still a guy I'd start confidently every week, though.

3

Steven

Hauschka

PAT2

FG3

Houston's defense did a great job limiting the Ravens to field goals last week, something Hauschka's owners are no doubt hoping for on Sunday.
To see the full list, click here
Defenses
1

PTS ALLOWED14

SACKS5

INT2

TD0

The Chiefs turned in the most impressive defensive performance of the season to date in Week 3, shutting down the previously unstoppable Michael Vick. They look like a D you'll want to start regardless of matchup.

2

PTS ALLOWED17

SACKS3

INT3

TD0

Dallas has been one of the best defenses in the league this year, notching 13 sacks and seven takeaways through three games. I think it's in for another big game this week.

3

PTS ALLOWED10

SACKS4

INT2

TD0

Cincinnati surrendered 30 points to the Packers, but limited Aaron Rodgers to 5.7 YPA and made enough plays to have a big fantasy day. That will continue in Cleveland.
To see the full list, click here