Fantasy football Player Projections: Breaking down Week 7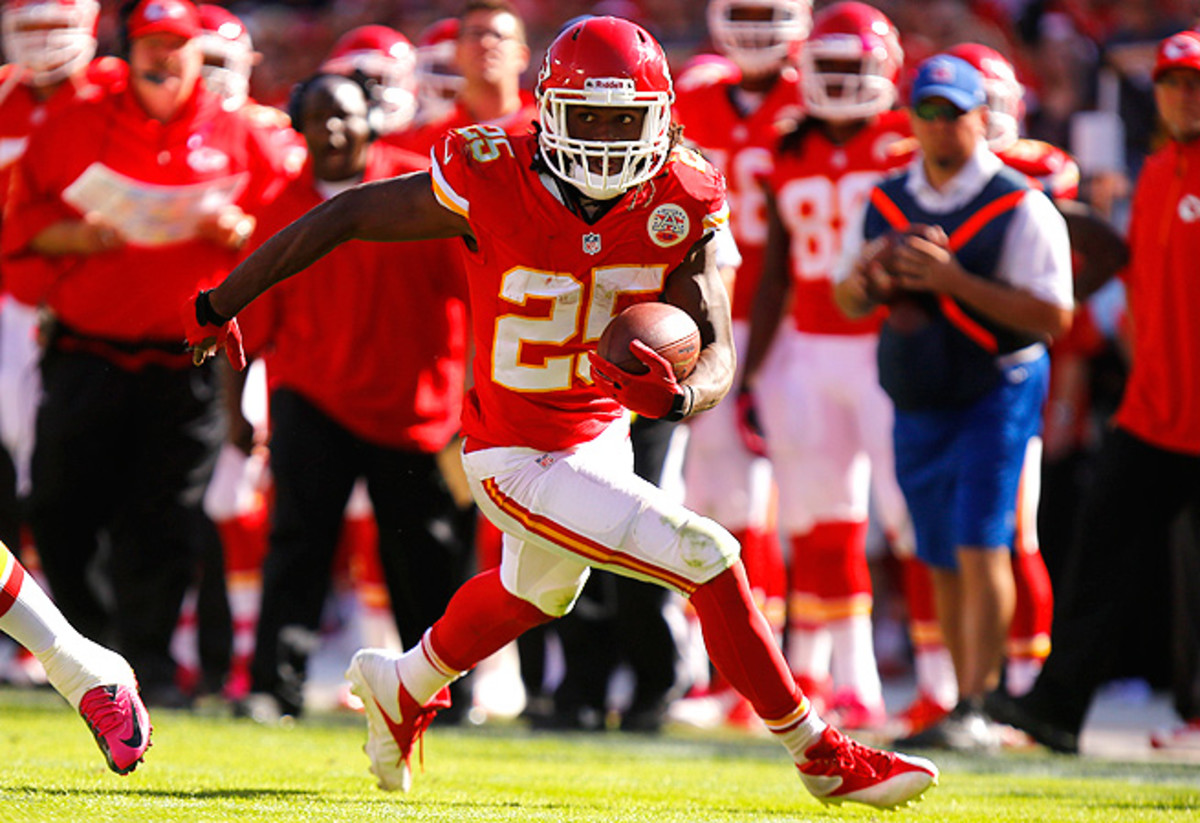 Fantasy Player Projections: Week 7
View by Position
View by Matchup
vs.
vs.
vs.
vs.
vs.
vs.
vs.
vs.
vs.
vs.
vs.
vs.
vs.
vs.
vs.
Quarterbacks
1

Peyton

Manning

PASS YDS384

PASS TD4

INT0

RUSH YDS0

RUSH TD0

If anyone could treat a game against the team for which he played for 13 years as just another game, it's Manning. Something tells me he might have a little something extra, though.

2

Tony

Romo

PASS YDS342

PASS TD4

INT1

RUSH YDS0

RUSH TD0

Going up against the hapless Redskins, Romo severely disappointed his fantasy owners last week. He'll make up for it against the Eagles.

3

Jay

Cutler

PASS YDS339

PASS TD3

INT1

RUSH YDS15

RUSH TD0

Cutler missed some throws against the Giants, but his owners are happy. This matchup is too good to pass up, too.
To see the full list, click here
Running Backs
1

Jamaal

Charles

RUSH YDS106

RUSH TD2

REC YDS57

REC TD0

I'm running out of things to say about Charles, and it's just Week 7. Houston is allowing 4.2 yards per carry this year, making Charles a solid bet to top 100 yards.

2

Adrian

Peterson

RUSH YDS136

RUSH TD2

REC YDS25

REC TD0

The Giants allow 19.1 fantasy points per game to running backs. Peterson will increase that average on Monday night.

3

LeSean

McCoy

RUSH YDS115

RUSH TD2

REC YDS45

REC TD0

McCoy totaled 171 yards from scrimmage last week, while the Cowboys allowed the Redskins to run for more than 200 yards. He should have a huge day.
To see the full list, click here
Wide Receivers
1

Dez

Bryant

REC YDS124

REC TD2

Bryant should make up for last week's game against a Philadelphia defense that is the league's worst against wide receivers in fantasy terms.

2

DeSean

Jackson

REC YDS103

REC TD2

Jackson didn't skip a beat with Nick Foles at the helm, catching six passes for 64 yards and two TDs. Dallas allows 24.8 fantasy points per game to wide receivers.

3

Justin

Blackmon

REC YDS138

REC TD1

In two games this year, Blackmon has 19 catches for 326 yards and a TD. He racked up an insane 20 targets last week. He's a true WR1.
To see the full list, click here
Tight Ends
1

Tony

Gonzalez

REC YDS87

REC TD2

Gonzalez stands to benefit from Julio Jones injury in the form of more targets. I'm sliding him up my rest-of-season rankings a few notches.

2

Jason

Witten

REC YDS98

REC TD1

Witten caught three passes for 27 yards in a lackluster performance for the entire passing game. Philadelphia has been tough on tight ends this year, but you're starting Witten no matter what.

3

Vernon

Davis

REC YDS87

REC TD1

Davis was a beast last week, catching eight passes for 180 yards and two TDs. He could see a lot of corner Alterraun Verner, who Pro Football Focus grades as the best corner in the league thus far.
To see the full list, click here
Kickers
1

Caleb

Sturgis

PAT2

FG4

Sturgis is 10-for-11 on field goals this year, including three from 50-plus. He should be started every week from here on out.

2

Justin

Tucker

PAT1

FG4

Tucker made his only field goal last week, a chippy from 23 yards. He's 12-for-14 this season.

3

Steven

Hauschka

PAT2

FG3

After two weeks of double-digit scoring, Hauschka made just two field goals last week, both after he passed concussion tests.
To see the full list, click here
Defenses
1

PTS ALLOWED10

SACKS5

INT3

TD0

The Chiefs absolutely dominated the Raiders, posting 10 sacks, three interceptions and a touchdown. They could make T.J. Yates' life rough.

2

PTS ALLOWED3

SACKS5

INT3

TD0

Remember a few weeks ago when people thought this defense maybe wasn't what it was the last two years? I think we can put that notion to bed. Start the Niners with extreme confidence this week.

3

PTS ALLOWED6

SACKS5

INT2

TD0

I love this matchup for Miami coming off a bye. If they're available in your league, get them now.
To see the full list, click here