After being gutted, Marlins are back to their old selves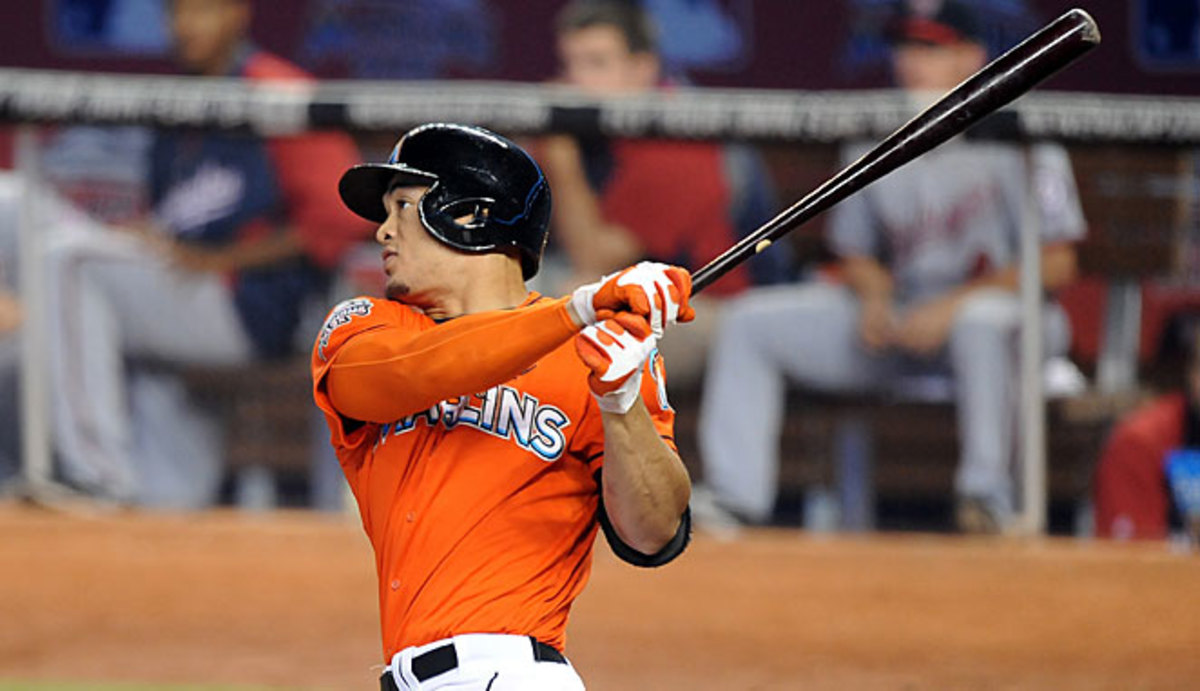 For more of SI.com's 2013 Major League Baseball season preview coverage, click here.
Miami Marlins
2012 Record: 69-93, fifth in NL East
2013 Projection: 60-102, fifth in NL East
For years, the Marlins' first order of business at spring training was to hold a staff meeting to discuss the previous season.
"This year," says team president Larry Beinfest, "I chose not to do that."
It's hard to blame Beinfest or anyone associated with the franchise from not wanting to rehash the dumpster fire that was Miami's last place 2012 season, though that won't stop us from doing it here. After importing a trio of big name free agents in Jose Reyes, Mark Buehrle and Heath Bell and hiring voluble and volatile manager Ozzie Guillen, the Marlins were a trendy playoff pick before the season started. Those hopes were dashed by midseason, when the front office began gutting the team by trading Hanley Ramirez (to the Dodgers), Omar Infante and Anibal Sanchez (to the Tigers) and Gaby Sanchez (to the Pirates) in July. They finished 29 games out of first and wasted little time before continuing the housecleaning in the offseason with one stunning move after another.
The first to go was Bell, who had squabbled publicly with his manager all summer long, dealt to the Diamondbacks in a three-team trade. Just days later, Guillen was fired. In mid-November came the biggest deal yet, a massive salary and talent dump in which Miami sent Reyes, Buehrle, Josh Johnson, Emilio Bonifacio and John Buck to the Blue Jays for mostly minor leaguers and one established big leaguer, Yunel Escobar, whom it then shipped to Tampa Bay a few weeks later.
"There needed to be changes to this team, period," says Beinfest.
There was so much change, in fact, that only two players -- outfielders Giancarlo Stanton and Logan Morrison -- remain from last year's Opening Day lineup. Those two are now the foundation of Miami's rebuilding effort. Stanton, who did not hide his frustration over the team's many moves ("Alright, I'm pissed off!!! Plain & Simple" read one after the Toronto trade), is the only sure thing in this year's lineup after a season in which he led the National League in slugging percentage and finished second in home runs.
Morrison, who will be returning to first base this year, won't help much because he'll miss the start of the season as he continues to recover from knee surgery. Jeff Mathis, acquired in the Blue Jays trade, will also not be ready for the opener because of a broken collarbone.
For all the teeth-gnashing over their most recent fire sale, the Marlins may actually have gotten some decent pieces back for their rebuilding effort. Shortstop Adeiny Hechavarria (from Toronto) opened eyes with his glovework this spring, Jacob Turner (from Detroit) is a former ninth overall pick who figures to be their No. 3 starter and hard-throwing 23-year-old Nathan Eovaldi (from the Dodgers) could be the No. 2.
The No. 1, for now, is Ricky Nolasco. He had originally requested a trade back in November and while he has been quiet this spring on the subject, it wouldn't be a surprise to see him moved before the July 31 deadline. He is in the final year of a three-year, $26.5 million deal and having averaged 13 wins and 190 innings over the past five seasons he is the closest thing to an ace Miami can dangle.
Whether or not the team makes any more moves, a rebuilding, youth-oriented Marlins team is much closer to the team's traditional identity than last year's quick-fix model. Even outfielder Juan Pierre, at 35 the team's oldest player and a member of the 2003 World Series champion Marlins, thinks so. While watching the team's offseason overhaul in the winter of 2011-12 from his south Florida home, Pierre, who spent last season with the Phillies, was dumbfounded. "I thought, Wow. I don't want to say it was out of character, but it was out of character. This year's back to the way we're used to doing things around here, and that's definitely fine with me."
Biggest Addition: Juan Pierre
Losing Reyes cost the Marlins a top-of-the-order sparkplug who could ignite an offense all by himself but Pierre is a solid low-cost alternative. Pierre has neither the star power nor the actual power of his younger predecessor, but he is a reasonable facsimile at getting on base (.352 OBP last year and .346 career to Reyes' .347 and .342) and stealing bases (381 swipes for Pierre since '05, 378 for Reyes).
With much of the rest of the lineup given over to the young (rookies Hechavarria and Rob Brantly) and old (Placido Polanco, Casey Kotchman), a reliable tablesetter like Pierre should come in handy.
Biggest Loss: Mark Buehrle
With plenty of options to choose from, the choice here is Buehrle, who was exactly the kind of durable, above-average innings-eater that the 2013 Marlins will sorely miss. Last year he led the team's starters in wins (13), ERA (3.74), innings pitched (202 1/3) and WHIP (1.171).
What They Do Best: Break promises
At least, that's what Reyes and Buehrle said after claiming the team went back on its word when it traded them. Then there's the matter of the message the franchise sent to its fans after opening a largely taxpayer-funded stadium and filling it with stars only to get rid of them after just one season. Either way, it's a PR hit for an organization that has had more than its share in recent years.
What They Do Worst: Score
Miami finished next-to-last in the majors in runs scored last year with 609 (only the 107-loss Astros were worse) and that was before departures and injuries that have yet to be felt. Short of having some of Stanton's titanic home runs count double if they fly twice as far as the average homer, it's hard to see that number improving much.
Bottom Line
Another last place finish is in store, and more trades could happen, but the real key to the season will be seeing what strides are made by their newly-acquired young players.