Outmanned Mets will struggle again but help is (finally) on the way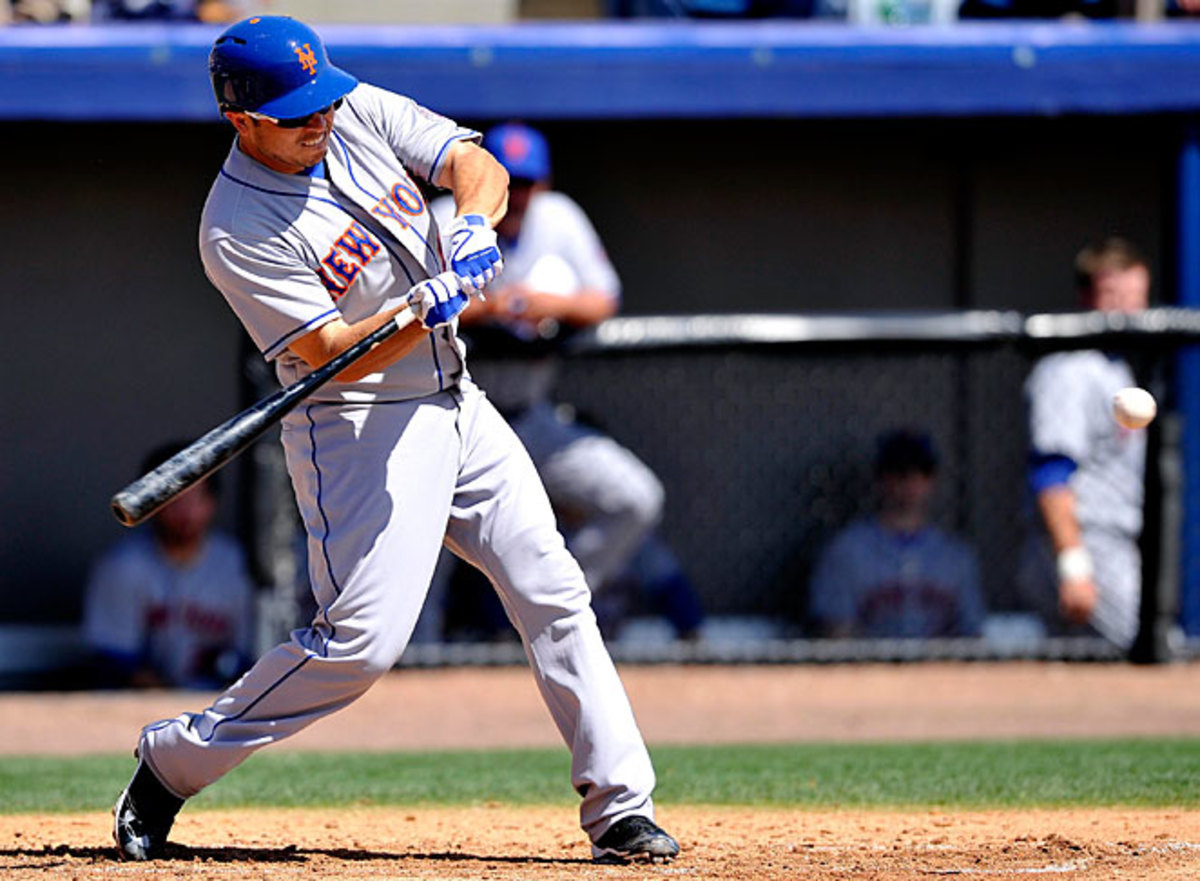 For more of SI.com's 2013 Major League Baseball season preview coverage, click here.
New York Mets
2012 Record: 74-88, fourth in NL East
2013 Projection: 75-87, fourth in NL East
Not many general managers in baseball would be considered authorities on military history but perhaps Mets GM Sandy Alderson comes closest. The son of an Air Force pilot who fought in the Second World War, Alderson is himself a Marine who served in Vietnam. When asked this spring to assess the state of money upon the game, Alderson said, "This is like World War II. The Allies with the highest GNP win."
But, he added, "Prospects have escalated in value."
That's good for the Mets, who have recently laid down their sword when it comes to free agency -- their biggest offseason signing, pitcher Shaun Marcum, cost just $4 million -- but are stockpiling arms -- and bats and gloves -- in an increasingly bright farm system on which they are staking their future.
In exchange for National League Cy Young winner R.A. Dickey, whom the club traded to the Blue Jays in December, Alderson acquired catcher Travis d'Arnaud and pitcher Noah Snydergaard, whom Baseball America listed as the No. 1 and No. 3 prospects, respectively, in Toronto's farm system last November. They join pitchers Zack Wheeler, who came over from the Giants in exchange for Carlos Beltran in 2011, and Matt Harvey, a former No. 7 overall draft pick who debuted last summer and should open the season in New York's starting rotation.
The Mets did spend some money this offseason, inking franchise cornerstone and newly annointed team captain David Wright to an eight-year, $138 million deal, but their payroll will rank in the middle of the majors' 30 teams this year at well under $100 million. It might have been closer to that mark had they succeeded in their initial offseason goal of extending both Wright and Dickey but, as Alderson says, "When it got right down to it, [Dickey's] trade value to us, we felt, exceeded his contract value."
Trading Dickey was difficult, and not just because of his on-field success -- he went 20-6 with a 2.73 ERA and 230 strikeouts -- but because of the author/pitcher's popularity with the Mets' dwindling fan base. After drawing over four million fans in 2008, second only to the Yankees, attendance has dropped every year since, and was down to just over 2.2 million in 2012. With Dickey gone and no bold-faced names coming in, there is little reason to expect that number to grow, especially with the likelihood of a fifth straight fourth-place finish.
The highlight of the summer is likely to be the All-Star Game that will take place at Citi Field, just the second time ever -- and first time since 1964, the franchise's third season of existence -- that the team has hosted the Midsummer Classic. Wright, a six-time All-Star, may be the team's only representative considering the lingering injury problems of Johan Santana, the departure of Dickey and the uncertainty of what to expect from everyone else.
Alderson did pursue one All-Star caliber free-agent in outfielder Michael Bourn but balked at adding a fifth year to his contract and because signing him would cost the team its No. 1 draft pick this June.
Without Bourn, New York has no experienced, quality leadoff hitter and is still hurting for dependable outfielders (more on which below). The lineup will be anchored again by Wright (21 home runs, 93 RBIs) and first baseman Ike Davis (32, 90). d'Arnaud could add another big bat once he takes arrives for good in the majors. He hit 21 homers at Double A in 2011 and 16 at Triple A in 2012 and was raking this spring -- .343/.415/.457 -- before being sent to the minors.
Whenever he arrives he may signal not just a change in the Mets' lineup but in their direction as well. A franchise that was mired in a seemingly endless series of missteps both on the field and off will finally be seeing the long-stalled rebuilding plan bearing fruit. It may not get them back to the playoffs this year, but the Mets are showing signs that they will soon be able to do battle with the established NL East powers.
Bigggest Addition: John Buck
Buck is a serviceable catcher who has averaged 13 home runs in nine big league seasons but his biggest impact may be felt in other ways. First, he helped recruit two free-agents, Marcum and reliever Brandon Llyod, to join him in Queens, thus giving the pitching staff some valuable experience. Second, he will be able to help guide a young staff that, with Santana still out, has Jon Niese, 26, Dillon Gee, 26, and Harvey, 23, as its top three starters.
Perhaps most important, however, is that if he can stay healthy, he will allow the Mets to keep d'Arnaud in the minors long enough so that his service clock won't start until the team would be able to get an extra year out of him before he hits free agency.
Biggest Loss: R.A. Dickey
Dickey is the first NL Cy Young winner to be traded after winning that award since the Expos dealt Pedro Martinez to the Red Sox in November of 1997. Dickey may not be in Martinez's class but he did lead the team in virtually every pitching category last year. In time, Syndergaard, Harvey and Wheeler could form the backbone of a tremendous staff but until then Dickey's absence will be noticeable.
What They Do Best: Play hard
This spring, a scout praised manager Terry Collins for changing "that obnoxious culture that [former GM] Omar [Minaya] created. This team does the little things to win. They work on infield and bunt execution and bunt defense. That has made a difference."
What They Do Worst: Outfield
This offseason Alderson made one quip after another -- "What outfield?" he joked at one point -- about the lack of quality options the club had to man the pastures at Citi Field.
The competition was so wide-open this spring that 35-year-old Marlon Byrd, a non-roster invitee who was cut twice last season and suspended 50 games for testing positive for a banned substance, won a starting job after hitting .311/.347/.444 through Monday. If Byrd starts Opening Day it will be his first major league game since last June 8.
That's not that different than Collin Cowgill, who played just six big league games after last June and whom the Mets got in a trade with the A's last December. The third outfielder figures to be Lucas Duda, a 27-year-old who set saw his slash stats plummet from .292/.370/.482 in 2011 to .239/.329/.389 last season.
Bottom Line
The division is too loaded for the Mets to be serious contenders this year but the pieces of what could be a championship team are finally starting to arrive on the scene.