Phillies looking for another playoff push from aging core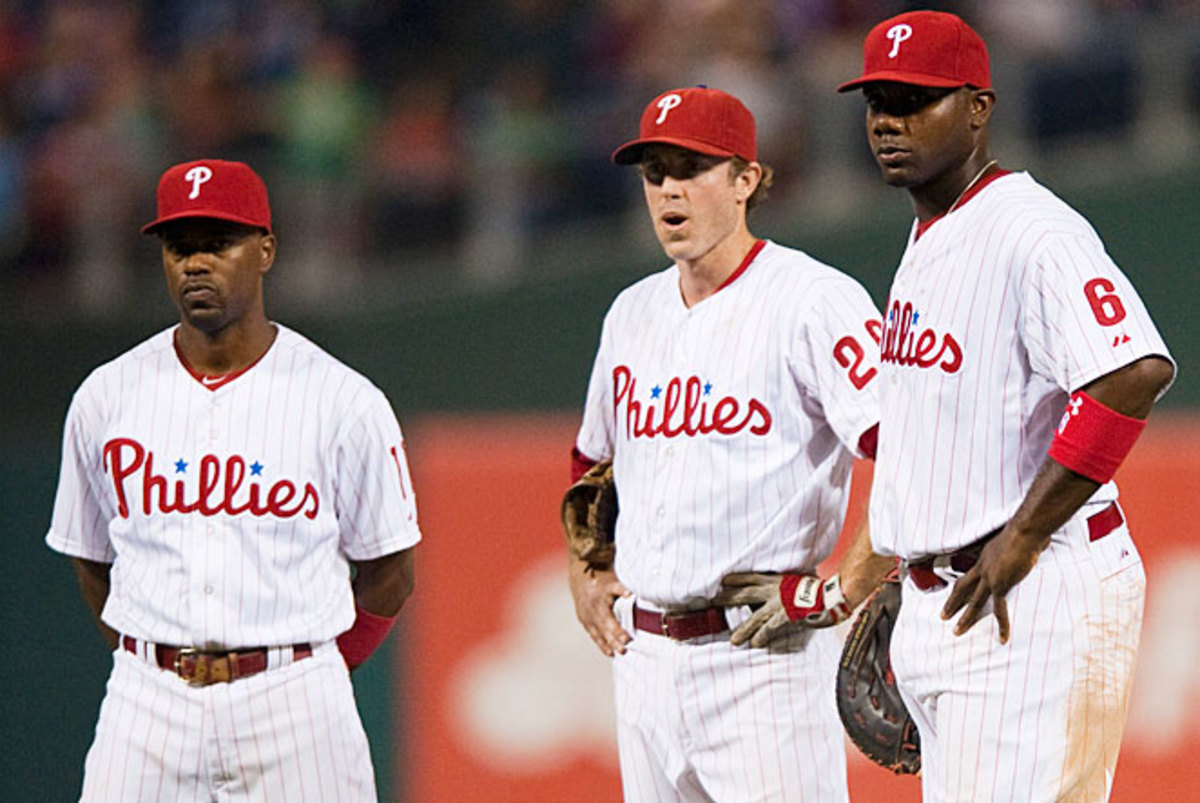 For more of SI.com's 2013 Major League Baseball season preview coverage, click here.
Philadelphia Phillies
2012 Record: 81-81, third in NL East
2013 Projection: 82-80, third in NL East
Phillies manager Charlie Manuel leaned back in his chair in a conference room at the team's spring training stadium and let out a long, audible sigh. The question, about how difficult the National League East will be this season, hung in the air as long as one of Ryan Howard's majestic home runs. Perhaps Manuel simply needed some time to properly address the prospect of how his team stacks up given that this was the first spring in six years that it did not enter camp as either the defending or predicted division champion.
"People are going to pick Washington and Atlanta, and they should," Manuel finally said. "If people think we're a darkhorse, that's OK. If you want to know the truth, though, I think we'll be there."
This being Manuel, the West Virginia native who may be the closest thing the current list of baseball managers has to Yogi Berra, "there" was not clearly defined. If he meant "in contention" it would seem a reasonable guess that a team that finished .500 in spite of injuries to arguably its two best offensive players and the ace of its pitching staff would, if healthy, be able to do just that.
Anything more than that may be depend in large measure on which version of its core players the Phillies get in 2013. Even with Roy Halladay's alarming drop in velocity and effectiveness this spring, the pitching staff should once again be a strength in Philadelphia, one that can match up with what the rest of the division has to offer. The offense, however, finished a pedestrian eighth in the NL in scoring last season and needs strong bounceback seasons from Ryan Howard, 33, and Chase Utley, 34, to keep pace with the prolific offenses of the Nationals and Braves.
If Howard and Utley continue to decline for a fourth straight season, Philadelphia will likely struggle as well. But if Howard, who is fully recovered from his Achilles tendon injury suffered in 2011, and Utley, who has battled knee problems, can carry over their impressive springs -- .329, seven home runs, 16 RBIs for the former and .271, four homers, 14 RBIs for the latter -- the Phillies may yet be able to make one more run at a championship.
Utley did not debut last season until June 27th and Howard was out until July 6th. By the time they returned, the team was already buried in fourth place and would get no closer than 13 games out of first, though Philadelphia did make a late, and futile, push for a wild-card spot.
This year the Phillies will again start the season without a key offensive player. Catcher Carlos Ruiz has been suspended for 25 games for testing positive for a banned substance. Ruiz led the team in hitting (.325), on-base percentage (.394) and slugging percentage (.540) as part of a career year and, as one scout notes, "They're really going to miss him at the start of the year."
It will help if Domonic Brown can build on an outstanding spring -- .354 with a 1.059 OPS through March 25 -- and finally claim a starting spot for good. Once considered among the game's top prospects, Brown has played just 147 games combined over the past three seasons while shuttling between the minors and majors. This winter, he changed his diet, and made some tweaks to his approach by lowering his hands and became more balanced at the plate. The result has been that Brown is driving the ball more consistently.
At 25, Brown is actually a year older than the man he may spend most of the year playing next to, 24-year-old centerfielder Ben Revere. Acquired in an offseason trade with the Twins, Revere brings speed (74 steals the past two seasons) and outstanding defense to a team that could use some help in both areas.
Perhaps just as importantly, Revere and Brown are players around whom the Phillies should be able to build for the future. Neither of the lineup's other noteworthy offseason additions -- Michael Young, 36, and Delmon Young, 27 -- look like long-term solutions, as both are in the last year of their contracts.
Getting them looks like a sure sign that the Phillies are making one more playoff push.
"Sometimes people start talking about the wild card. We're not even thinking about the wild card," says Manuel. "People are going to talk when you're not as good as you were but we've still got some good baseball left."
Biggest Addition: Ben Revere
There's little doubt that Revere will be the newcomer making the most noticeable impact on the Phillies this year. The question, though, is where will Manuel hit him in the lineup? Jimmy Rollins has made the leadoff spot his home for almost all of his 13 seasons in Philadelphia, but Revere -- who had more steals (40 to Rollins' 33) and a higher OBP (.333 to Rollins' .316) may be the better solution there this season.
Biggest Departure: Vance Worley
The Phillies didn't lose anybody they can't live without this year but might wish in years to come that they had hung onto Worley, who was part of the Revere trade. He battled elbow problems last year and finished 6-9 with a 4.20 ERA, but he was 11-3 with a 3.08 ERA as a rookie in 2011. More importantly, he won't be a free agent until 2018, which would have given Philadelphia five more years of team control for a low-cost starting pitcher on an aging and expensive rotation.
What They Do Best: Replace an ace
Roy Halladay's spring struggles got plenty of attention but less notice was given to the fact that those struggles mean he won't start on Opening Day. Why? Because Philadelphia can just slide Cole Hamels into the No. 1 spot, keep Cliff Lee at No. 2 and suddenly Halladay becomes one of the game's best No. 3 pitchers, rather than an ace who can't be trusted to match up with another team's best.
What They Do Worst: Rebuild
The Phillies haven't entered a full on rebuilding period but they may have to this year. Years of big money contracts and deadline acquisitions have left them with a bloated payroll and underwhelming farm system that could cripple them for years in a division where the young Nationals and Braves show no signs of surrendering the top two spots anytime soon.
Bottom Line
It's certainly possible that their starting pitching and a bullpen bolstered by the addition of set-up man Mike Adams in front of closer Jonathan Papelbon can keep this team in contention all year long but the window of opportunity is closing fast in Philadelphia.