CarGo's rise to the elite goes beyond just Rocky Mountain highs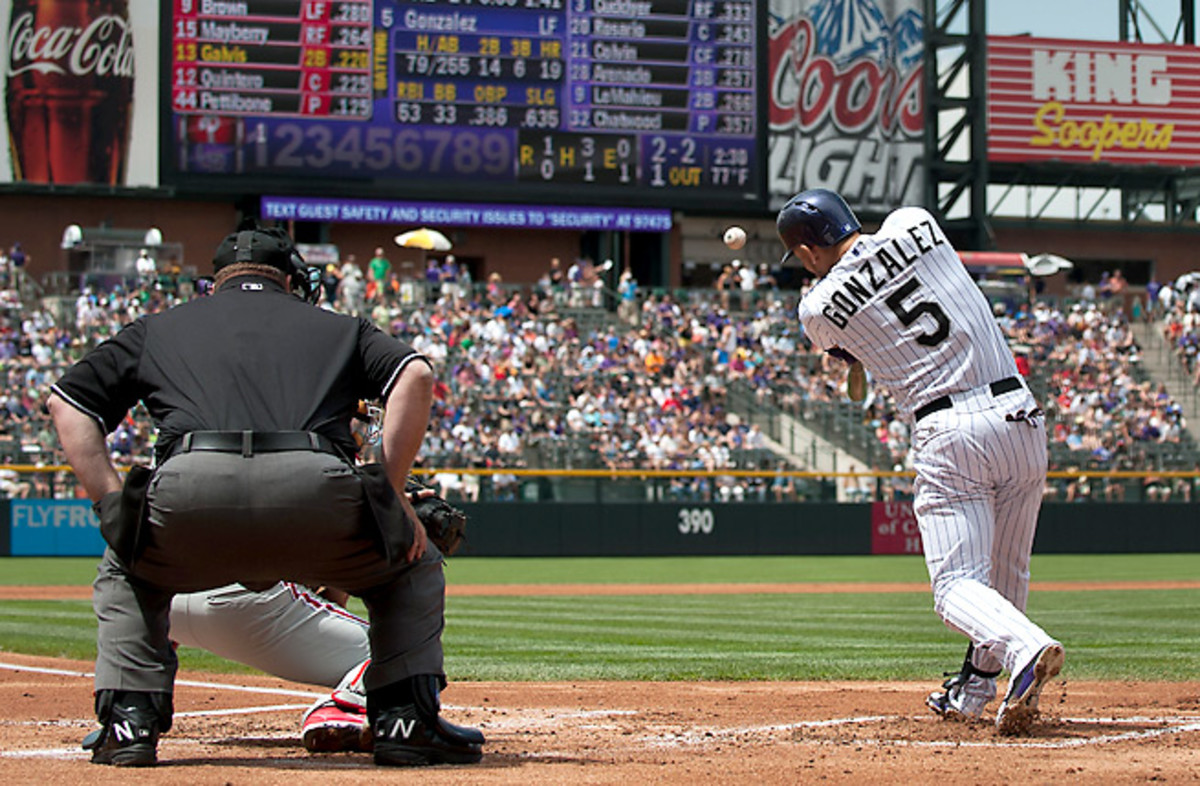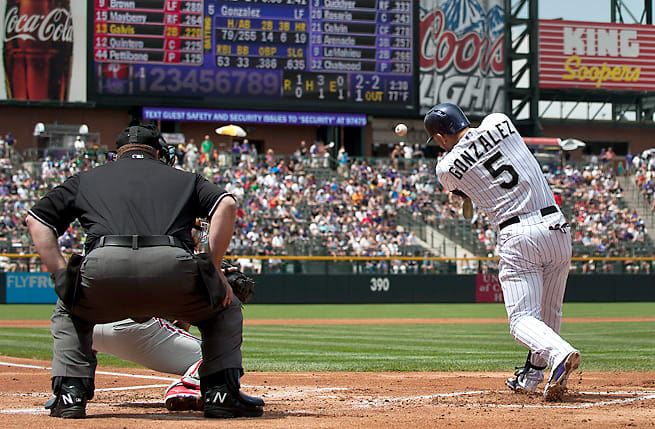 Line Drives
• The Blue Jays have now won 11 in a row to pull .001 winning-percentage point ahead of the Rays and out of last place in the AL East. All five teams in the division are at least two games above .500 and separated by no more than five games. Only the Yankees have a negative run differential, and it's -1.
• In Toronto's 11-game winning streak, which is the longest in baseball this year, the rotation has a 2.65 ERA and has failed to complete the sixth inning only twice. Josh Johnson won his first game as a Blue Jay on Sunday. Since his return from the disabled list, he has a 2.84 ERA and 3.6 K/BB in four starts. The only season Johnson has had a K/BB better than 3.3 was his career year of 2010, when he finished fifth in the NL Cy Young voting.
• Matt Harvey is helping change the culture with the Mets. He was brilliant again on Sunday, improving to 7-1 with a 2.05 ERA and an NL-leading 121 strikeouts in 16 starts and, importantly, won both his starts in Philadelphia this season. Amazingly, as ESPN Stats & Info first noted, he is the first Mets starter to win two games at Citizens Bank Park in a single season. The ballpark, by the way, opened in 2004, and 10 New York pitchers had previously made multiple starts there in a single season.
• The White Sox's Adam Dunn has quietly caught fire the last two weeks with a .340/.433/.780 batting line that is impressive by anyone's standards, let alone his own trademark low-average, high-OBP and -slugging ways. He has seven homers in his last 14 games.
• STATS LLC compiled the average time of game for each ballpark in this list<. The verdict: long games in the Northeast, shorter in the West and, not surprisingly, the top four-run scoring ballparks ranked in the top-seven in game time.
• The fifth round of the 2006 draft was notably fruitful, as mlbtraderumors.com noted. Not only have 12 of the 30 played in the majors but several also stood out last week. Pick No. 148, Orioles first baseman Chris Davis, has seven homers in his last 11 games; pick No. 149, Cubs starter Jeff Samardzija, won in St. Louis on Tuesday, allowing only two runs in 8 1/3 innings; and pick No. 161, Rays starter Chris Archer, rebounded from a loss in Boston on Tuesday by beating the Yankees with six innings of one-run ball on Sunday. The news wasn't all good, as pick No. 157, Royals minor leaguer Quintin Berry, was designated for assignment.
Three Up, Three Down: Young lefthanders
With one obvious exception -- that guy in Los Angeles you've probably heard about -- the young lefthanded pitchers having the best 2013 seasons aren't the ones you probably expected, while some of the southpaws seemingly on the precipice of stardom have had uneven progression. (Pitchers in their age-26 season or younger were considered.)
UP
Obviously. Kershaw, who is a 25-year-old six-year veteran, leads the majors in innings (113 1/3) and ranks third in ERA (2.06).
2. Jeff Locke, Pirates
The 25-year-old New Hampshire native leads the NL with a 2.01 ERA, going 6-1 in 15 starts.
3. Patrick Corbin, Diamondbacks
Corbin has more than halved his ERA from his rookie season; in a similar number of innings, he is 9-0 with a 2.19 ERA.
DOWN
1. Jonathon Niese, Mets
Niese's season (3-6, 4.32 ERA) had already been a subpar encore to his breakout 2012 (13-9, 3.40) before he exited a game on Thursday with shoulder soreness; it was later diagnosed as a slight tear of his rotator cuff.
2. Wade Miley, Diamondbacks
Miley, 26, was the NL Rookie of the Year runner-up last season but is just 4-6 with a 4.70 ERA and has seen his walk rate nearly double from 1.7 BB/9 to 3.2.
3. Matt Moore, Rays
After a stellar first two months, Moore had been enduring a horrid June up until Thursday's quality start and victory over the Yankees; in his previous three starts he had allowed five or more earned runs in each for a total of 19 earned runs in 12 1/3 innings.
Trend to track: Close NL West games
The NL West is shaping up as the most hotly contested division in baseball, with the top four teams separated by just 3 1/2 games. In the last few years the NL West has burnished a reputation of being especially pitching-rich, marked by low-scoring and close games.
That image, however, wasn't based in reality with intra-divisional games in the NL West, which had nearly identical scoring rates as the rest of the majors the last two seasons (specific data here) -- until this season.
With about 45 percent of the season in the books, there has been a huge uptick in close games in the wild West. Games contested by two NL West teams have a final margin of one or two runs 65.4 percent of the time, compared to a 47.8 percent likelihood of such a small margin in all other games.
Another side of ... Sam Fuld, Rays OF
Rays outfielder Sam Fuld was 10 years old when he was diagnosed with Type 1 diabetes, and his best childhood friend while growing up in Durham, N.H., was Chris Gale, whose father, Rich, was the pitching coach of the Red Sox in 1991 and '92. During that time, Fuld tagged along to Fenway on a regular basis and, at the arrangement of Rich Gale, met pitcher Bill Gullickson, a diabetic who won 162 games in the big leagues. They spoke for two minutes before a game, which was more than enough to make an impression on the youngster.
"He was a big role model for me," Fuld said.
Fuld, who went on to star at Phillips Exeter Academy and Stanford and has now logged six years in the big leagues, is now having the same kind of impact through his one-of-a-kind creation. When the University of South Florida opened its new diabetes center, the staff invited Fuld for a tour, and the 31-year-old pitched an idea: a sports camp for children with Type 1 diabetes.
"There are diabetes camps out there, and there are obviously sports camps," Fuld said, "but to blend the two -- I wasn't aware of any that were out there."
This February he organized and ran the second Sam Fuld USF Diabetes Sports Camp, and this year's camp, which both USF and Rays help support, served 115 children ages 8-to-18 with instructors in seven sports: tennis, basketball, baseball, soccer, football, cheerleading and golf. Children could pick three for the day-and-a-half event of programming in which sport instruction is blended with wisdom and experiences of being a diabetic athlete.
One challenge was finding instructors who were fellow Type 1 diabetics. Fuld knew of a local tennis player, Genevieve King, who played in the U.S. Open but otherwise took to the Internet to find diabetic athletes who either played college or professionally in several sports.
"Before I knew it, I was finding diabetic athletes, whether they were local or not," Fuld said. "I googled 'type 1 diabetic basketball player' and I got this guy [Lew Finnegan] who played at Bentley and then played professionally in Germany. I ended up finding him on LinkedIn."
And this year one of those instructors was Gullickson himself.
"This is awesome," Fuld said. "It came full circle when I got a chance to invite him to help out with the camp, and he did this year."
The final out
Despite all the league-wide patience at the plate, there has been an average of just 2.97 walks per team per game this season -- the first time the walk rate has been below 3.0 since the storied Year of the Pitcher in 1968, which prompted a lowering of the pitchers' mound.