Brand-new Cubs Park offers touches of Wrigley in sun-soaked spring training facility
Brand-new Cubs Park offers touches of Wrigley in sun-soaked spring training facility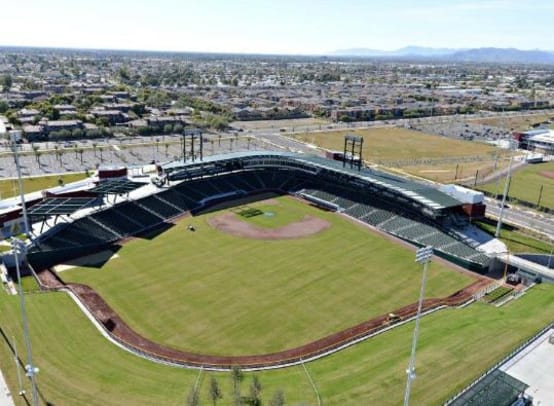 The new Cubs Park in Mesa, Ariz., offers more than just a 15,000-seat spring training stadium. It comes complete with six fan-accessible practice fields, a full training facility -- which will stay open year-round -- and a community park and pond to help residents stomach the $84 million project that kept the Cubs in town instead of picking up roots that dropped in 1979 and moving to Naples, Fla.
Gone are the days of the team's minor league and major league players being split between Fitch Park and HoHoKam Stadium, which is now closed for renovations for the Oakland A's to return to next season. Everyone has plenty of room to stretch out on the 140-acre site that opened in time for this year's spring training.
Don't call Cubs Park, designed by architectural firm Populous, a mini Wrigley Field, but you can be forgiven if you can't stop noticing the similarities. The Cubs Park clock is Wrigley-styled, the light standards and cantilevered roofs match those seen in Chicago and a replica of the Wrigley Field marquee is located in the main concourse. Hey, have your picture taken.
The field itself boasts the same dimensions as Wrigley and brick walls circle the playing field. If everyone gets lucky, we might even see a few strands of ivy make their way up the sun-soaked masonry.
But Mesa has one thing Chicago can lack in February and March: plenty of sunshine. The seating bowl -- the largest of all spring training facilities -- has more than 60 percent of its seats tucked into the shade and all the concourses are completely covered.
But if you want the full-sun experience, pick out the party deck beyond leftfield or the grass berm seating in the outfield, with a steeper pitch for better viewing. Extra party decks fill the first- and third-base sides of the park.
And beyond the lawn seating, a citrus grove with picnic tables sits near a kids' play area. The Cubs plan to bring in food trucks on game days to supplement concessions.
The park officially opens when the Cubs host the Diamondbacks on Feb. 27. And that's about the same time Mesa residents hope their investment starts paying off.
Tim Newcomb covers stadiums, design and technology for Sports Illustrated. Follow him on Twitter at @tdnewcomb.