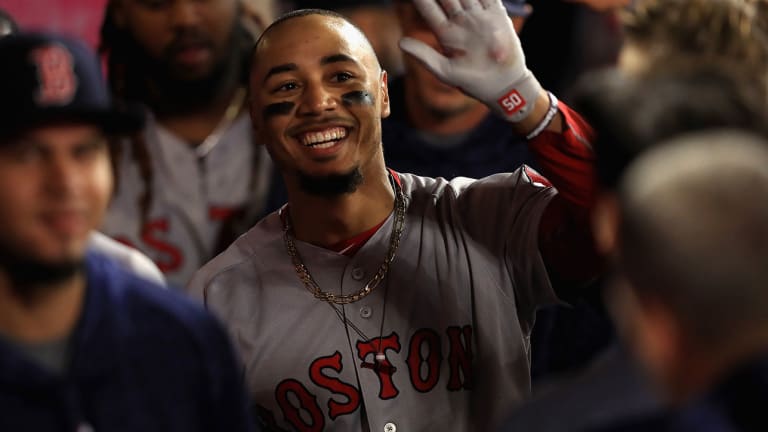 The first manager goes down! Whoever had their money on Bryan Price being the first manager fired in 2018, approach the window to collect your winnings. That'll explain why the Reds kick off this week's Power Rankings in last place!
30. Cincinnati Reds (Last Week: 26): When four of your five starters combine for an ERA of 6.58 and only one everyday player has an OPS+ above 100, then you've got a formula for the team's worst start in 87 years. Even Joey Votto, a pillar of consistency over his 12-year career, is off to a dreadful start. But while Votto will likely be ok, the franchise won't be.
29. Tampa Bay Rays (Last Week: 30): Rays closer Alex Colome was supposed to be one of the top relief pitchers on the market at the trade deadline. If he continues his current stretch of futility, he'll have torpedoed his trade value by May 1. Colome hasn't pitched a clean inning in any of six outings this season, has blown two saves and is currently carrying an 0–2 record with a 9.00 ERA. The Rays' problems go far deeper than their embattled closer, but he's not doing himself or his club any favors by pitching this poorly.
28. Kansas City Royals (Last Week: 28): The bullpen is an unfettered disaster. Kansas City's relief corps has a 6.75 ERA and has blown five leads this season. This isn't a team that was expected to win many games this season, but still.
27. Detroit Tigers (Last Week: 29): Small sample sizes be damned, Francisco Liriano is off to a great start. The veteran hurler has allowed no more than two earned runs in any of his three starts and has managed two wins despite receiving all of three runs of support all season. Maybe Liriano can find his way onto a contender if he maintains his crafty work.
26. Chicago White Sox (Last Week: 20): Yoan Moncada hit his first career grand slam on Wednesday afternoon against the A's, but he entered the game with 29 strikeouts in 74 plate appearances. It's still early for the White Sox' super-prospect, but a 40% K-rate is unsustainable even in the three-true-outcome era.
25. Miami Marlins (Last Week: 27): I've got to hand it to Don Mattingly and friends; I didn't think the Marlins would reach No. 25 at any point this season. Much love to Jarlin Garcia, who has allowed just one hit over his last 11 innings despite walking seven hitters and striking out only five. Talk about effectively wild!
24. Baltimore Orioles (Last Week: 21): Many talk about the Albert Pujols contract as baseball's biggest albatross. Those critics forgot about the deal the Orioles gave Chris Davis before the 2016 season. Davis will earn $23 million this season and is owed $92 million until 2022. Through Wednesday, Davis is hitting .136 (8-for-59) with one homer and three RBIs. Slow starts happen, but Davis is a black hole in Baltimore's lineup.
23. Texas Rangers (Last Week: 19): Losing Elvis Andrus was a devastating blow this early in the season. The franchise shortstop won't be back until June at the earliest because of a broken elbow, and he started the season with a .327/.426/.500 slash line and two homers in 14 games. The Rangers' offense is extremely one-dimensional, and Andrus was one of the few dynamic parts of that lineup.
22. San Diego Padres (Last Week: 25): He'll need to improve his defense at third base, but Christian Villanueva is the early breakout star in San Diego. He hit three home runs in a game on April 4 and has barely cooled off since. Villanueva leads the team with six homers, ten extra-base hits and a slash line of .340/.450/.780.
21. Oakland A's (Last Week: 22): You say Jed Lowrie, I saw Joe freakin' DiMaggio. Lowrie is leading the league in pretty much everything right now. He has six homers (tied for the American League lead), he's slashing .346/.404/.605, and he has more RBI (21) than Bryce Harper (18).
20. San Francisco Giants (Last Week: 18): Buster Posey has swung and missed at five pitches in the strike zone the entire season. He may be getting a little older, but he's still as clinical of a hitter as you'll find.
19. Philadelphia Phillies (Last Week: 24): Winning solves everything. After he was baseball's favorite goat after the opening week of the season, manager Gabe Kapler is at the helm of a club with a winning record. The most exciting player up to this point is Scott Kingery, the rookie infielder who is tied for the team lead in extra-base hits with Rhys Hoskins. The Phillies look good, though let's remember that six of those wins have come against the Reds and Rays.
18. Seattle Mariners (Last Week: 16): The Mariners are playing perfectly mediocre baseball right now, so let's take this moment to salute their Twitter account for unearthing these wonderful photos.
17. Atlanta Braves (Last Week: 23): Entering Wednesday afternoon, the Braves had the two leading hitters in the National League … and they're both middle infielders! Between Ryan Flaherty (.365) and Dansby Swanson (.358), the Braves are one of the league's most exciting offenses. That doesn't even account for the success of 21-year-old Ozzie Albies (.307) who is flashing a 61% (!!!) extra-base hit rate.
16. Colorado Rockies (Last Week: 14): When Charlie Blackmon signed his extension, the narrative was that his career stats were inflated by the thin air of Coors Field. The splits support this assertion, but all seven of Blackmon's home runs (he trails only Bryce Harper for the MLB lead) have come on the road.
15. Chicago Cubs (Last Week: 9): The win probability graph of the Cubs' 14–10 comeback win over the Braves will be one of the great images of the 2018 season. It's one of the few highlights of a mostly disappointing (and rainy) 2018 season on the north side of Chicago. The biggest worry right now isn't the health of Anthony Rizzo or the outfield defense of Kyle Schwarber, but whether Ian Happ can capably make contact at the big league level. The 23-year-old utilityman was a popular breakout candidate pick, but he's struck out in 25 of his 53 plate appearances, a league-leading 47% K-rate.
14. Milwaukee Brewers (Last Week: 11): Josh Hader doesn't just have some of baseball's best hair; he also has a 22.8% whiff rate, good for fifth in the big leagues. Want another fun fact about the Brewers? Eric Thames has hit 37 home runs since returning to the big leagues in 2017. Twelve of those home runs have come against the poor Cincinnati Reds.
13. Pittsburgh Pirates (Last Week: 15): The Jason Marquis Ode to Soft Contact Award for April goes to Trevor Williams, who has a 1.93 ERA through four starts despite a paltry 5.4 strikeout-per-nine rate.
12. New York Yankees (Last Week: 5): While Giancarlo Stanton and Gary Sanchez can't shake their early-season slumps, Didi Gregorius is currently the most valuable player on the Yankees' offense … and that includes Aaron Judge. Gregorius is slashing .327/.452/.764 and trails only Mookie Betts in wRC+ (Weighted Runs Created) with 213. Most impressive? He's striking out in just 5.5% of his plate appearances.
11. St. Louis Cardinals (Last Week: 13): Many felt that this would be the year where the game finally caught up to Yadier Molina. Instead, he's one of the Cardinals' most valuable hitters to start the season. He's tied for the team lead in homers (five) and is hitting a respectable .277. His plate patience is still lacking (he's taken just two walks), but the veteran catcher still looks like a valuable contributor.
10. Minnesota Twins (Last Week: 12): Michael Beller did a great deep dive on Jose Berrios and his ascent as the Twins' ace. The day that piece was published, Berrios flummoxed the Indians with a seven-inning, three-hit performance in his native Puerto Rico. He's arrived.
9. Los Angeles Dodgers (Last Week: 8): The Dodgers might have all of five wins without the contributions of Matt Kemp and Yasmani Grandal. Once exchanged for one another in an offseason trade, Kemp (.347/.389/.592, three homers) and Grandal (.352/.435/.611, three homers) are the team's two leading hitters. Their performances have helped offset slow starts from Chris Taylor (.208/.235/.377) and Corey Seager (.254/.321/.338).
8. Washington Nationals (Last Week: 4): Max Scherzer's last two starts: 16 IP, 3 H, 2 ER, 1 BB, 21 K. Clayton Kershaw has long been considered the best in the game, but Scherzer is certainly in his orbit.
7. Cleveland Indians (Last Week: 7): This is the sound of national pride.
6. Toronto Blue Jays (Last Week: 17): The Jays join the Pirates as the biggest April surprise teams. But Toronto looks like it can sustain a decent run if it can compete with the AL East behemoth Yankees and Red Sox. The surprising gem of the early part of the season is reliever Danny Barnes, who has surrendered just one run in 9 2/3 IP and logged 13 strikeouts.
5. Los Angeles Angels (Last Week: 6): The Shohei Ohtani hype train slowed after he struggled against the Red Sox earlier this week and had to leave his start early with a blister, but you should still take the time to read excellent pieces from Jon Wertheim and Tom Verducci about what the Japanese phenom means to the game.
4. Arizona Diamondbacks (Last Week: 10): Patrick Corbin has 37 strikeouts in his first four starts of the season. The only pitchers ahead of him are Gerrit Cole and Max Scherzer. Even if Zack Greinke appears to be declining and with Robbie Ray off to a rocky start to 2018, Corbin looks like an ace.
3. New York Mets (Last Week: 3): If there's still time to put money on Noah Syndergaard winning the 2018 NL Cy Young, this Michael Beller piece will encourage you to do just that!
2. Houston Astros (Last Week: 1):
Charlie Morton: 25 IP, 6 BB, 33 K, 0.72 ERA
Justin Verlander: 26.2 IP, 5 BB, 34 K, 1.35 ERA
Gerrit Cole: 28 IP, 6 BB, 41 K, 0.96 ERA
And we're not even talking about the offense today. Good luck beating this team in a seven-game series.
1. Boston Red Sox (Last Week: 2): Let's go ahead and marvel at Mookie Betts's outrageous production to start the 2018 season. His slash line is .391/.481/.797 with six homers and a 56% extra-base hit rate. He's walked ten times and only has eight strikeouts. He's one of the best defensive outfielders in the game. He's the catalyst behind the Red Sox' 16–2 start.