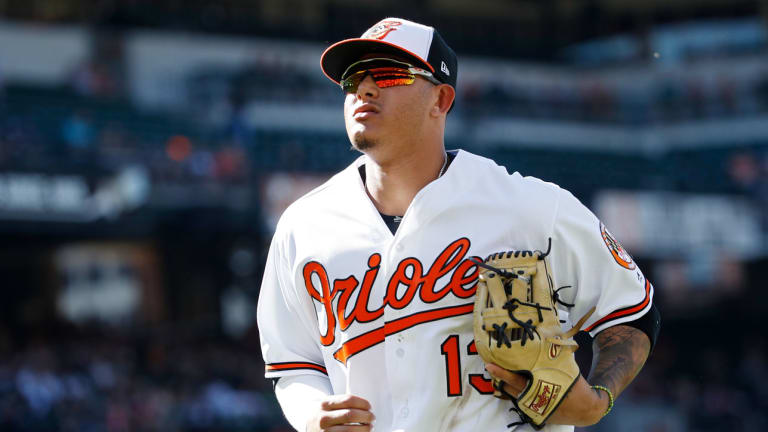 Manny Machado Bolsters the Fearsome Dodgers in Blockbuster Trade With Orioles
By acquiring Manny Machado, the Dodgers have re-established themselves as the NL favorites. The Orioles, meanwhile, look to start over again.
During pre-game batting practice as they shag balls in the outfield or while sitting around the clubhouse, conversation among Ross Striping and his Dodgers teammates will usually gravitate toward one pressing topic: Who's going to join us for this season's postseason push?
"Guys want to make a move," he said before Tuesday night's All-Star Game at Nationals Park. "Guys are very confident in the team and roster we have, but when we've made moves in the two years I've been here, we've made big moves, and I think it gives your team some confidence, like the front office thinks we're ready to win."
As he notes, Stripling is no stranger to a new name joining the Dodgers in late July. Last year, it was Yu Darvish and Tony Watson; the summer before, it was Rich Hill and Josh Reddick. But the trade that his team has swung this time around dwarfs those additions, leaving them looking like a fleet of used Hondas as a brand-new Rolls Royce pulls into the lot.
Manny Machado to the Dodgers and the Biggest July Trades of the Last 20 Years
As the league took its mandated midsummer break, the Dodgers broke up the calm by acquiring arguably the best player who's ever been available at the July 31 trade deadline: Manny Machado. The Orioles' superstar shortstop will be coming to Los Angeles for a five-player package headlined by top prospect Yusniel Diaz in a staggering move that establishes the Dodgers as the NL's World Series favorite. This isn't the rich getting the richer; this is the ultra-wealthy buying a bank.
It's easy to understand why Machado was the target of choice for Los Angeles. The 26-year-old has hit a gargantuan .315/.387/.575 with 24 homers in 413 plate appearances; his 164 OPS+ is good for fifth best in baseball. A four-time All-Star (including a selection this year, which ended up being his final appearance as an Oriole) and two-time Gold Glove winner (though both of those came at third base, where he's a demi-god defensively), he's a true stud, and one whose bank account will add a few zeroes come free agency this winter.
Machado will be asked to help deliver a sixth straight NL West title to Los Angeles, though the Dodgers probably didn't need him to do that. Even with a mere half-game advantage for first place in the division over the Diamondbacks, they have the profile of the better team, with a +82 run differential that's nearly double that of Arizona. What's more, they've been on fire lately: After a rough start to the season, the Dodgers are 27–13 since the beginning of June. That's thanks in large part to an offense that's found an extra gear over that span, in particular Cody Bellinger (a .929 OPS since June 1), Joc Pederson (1.017 and 12 homers) and the indomitable Max Muncy (15 homers and a 1.117 OPS in his last 38 games).
To that lineup that also includes Justin Turner, Matt Kemp, Chris Taylor and Yasiel Puig comes Machado, set to turn Los Angeles' lineup into an American Ninja Warrior-style obstacle course for opposing pitchers. And in this case, one All-Star replaces another, as he'll occupy the shortstop spot that belonged to Corey Seager until he blew out his elbow in late April. Taylor has helped the Dodgers weather that loss by hitting a respectable .265/.363/.471 since May 1. But with Machado in place, he's now free to move elsewhere—perhaps second base in place of Logan Forsythe, who's been one of Los Angeles' few weak spots offensively.
If there are any concerns for the Dodgers, they exist with Machado's glove and his price. With regards to the former, the advanced stats grade his defense as awful at shortstop, though there may be some small-sample-size trickery afoot there. Perhaps better positioning from the stat-happy Los Angeles front office would help make up for Machado's lack of foot speed and range.
As for the cost, it was steep. MLB.com had Diaz fifth in the Dodgers' farm system before the season, and he checked in at No. 31 in Baseball Prospectus' league-wide midseason top-50 list earlier this summer. He's justified that hype, slashing a potent .314/.428/.477 in his first taste of Double A at 21 years old. Signed out of Cuba in 2015, he makes a lot of contact and is starting to develop some power; see his two Futures Game homers earlier this week for proof of that.
Of the other players heading to Baltimore, righthander Dean Kremer and third baseman Rylan Bannon checked in toward the bottom of Los Angeles' top 30 prospects going into 2018, per MLB.com. Kremer, 22, is a strikeout machine, having whiffed 114 in 78 innings at high A ball this year before recently getting promoted to Double A. Bannon, also 22, was hitting a strong .296/.402/.559 with 20 homers in 89 games at high A and rates as a plus defender at the hot corner. Rounding out the quintet is 21-year-old righty Zach Pop, who boasts a 1.04 ERA across two levels of A ball this year out of the bullpen, and Breyvic Valera, a 26-year-old Venezuelan shortstop who will likely join the O's in the second half to help replace Machado.
Those are solid building blocks for Baltimore, especially Diaz, who boasts All-Star potential as a corner outfielder. It's the price you would expect for someone of Machado's caliber, even if only for three months of action. But in a baseball era when teams are pathologically afraid of giving up years of young cost-controlled talent even for legit superstars, it wasn't the expected outcome.
So credit the Dodgers for going for it, even at high prospect cost (though the team was able to avoid giving up coveted prospects Alex Verdugo, Keibert Ruiz, Dustin May, or Gavin Lux, among others from a deep system). Maybe one day Diaz and the rest become productive major league pieces, but Los Angeles needed that now, not five years down the road. For all the quibbling about future value, the upgrade that Machado represents for the rest of the season and, especially, the grueling October beyond could be all the difference for a franchise that's gone 30 years without a World Series win. As we saw with the Cubs in 2016 with Aroldis Chapman and the Astros last year with Justin Verlander, a player of that magnitude is worth every penny and prospect when it could very well bring about the end of a long and painful drought.
Some Dodgers fans may carp that two top-100 prospects is too much for a man who will be a free agent at season's end. Nonsense. This is what a contending team should be doing: Use those prospects to get better today, especially when Los Angeles has plenty of future pieces already in Seager, Bellinger, Walker Buehler and top prospects Alex Verdugo and Keibert Ruiz. Championship windows can close with frightening speed; do everything in your power to prop them open.
As for the Orioles, they now enter yet another Dark Ages. Machado had helped them crawl out of their last long stretch of irrelevance that followed the team's ALCS loss to the Indians in 1997. He helped the O's break a 15-year playoff drought in his first season in 2012 as a 19-year-old, but he could never push them over the mountain. Their and his lone AL East championship in '14 got them as far as the pennant series, where the surprising Royals swept them out.
Baltimore's front office failed to build around Machado, particularly in starting pitching, which remained the team's Achilles heel for years. Things bottomed out this season, as Machado will leave behind a team 41 games under .500 and 39 1/2 games out of first place in the East. In the process, they wasted the prime years of their best homegrown player since Cal Ripken Jr., and will have to hope that Diaz and the rest of the return can someday approach his levels. On its own terms, the haul is an impressive one for the Orioles, who refused to cave on getting appropriate value for Machado. But in the end, letting Machado go still represents a colossal failure on the franchise's part to make his time in the Charm City count.
The Dodgers likely aren't done; the bullpen in particular could use some more depth. But in Machado, Los Angeles has swung the big move that Stripling and his teammates hoped for every day. The front office thinks the Dodgers are ready to win. Adding Machado is one giant step toward making that a reality.
Grades
Dodgers: A-
Orioles: B