Draymond Green leads Warriors' blowout win over Cavaliers in Game 2
The Golden State Warriors lead the NBA Finals 2–0 after a dominant win Sunday night against the Cleveland Cavaliers. 
Your teams on the go or at home. Personalize SI with our new App. Install on iOS or Android.​
The Golden State Warriors are two games from icing the cake on arguably the best season in NBA history.
Led by an outstanding performance from Draymond Green, the Warriors took a 2–0 lead in the NBA Finals on Sunday. They dominated the Cleveland Cavaliers for a 110–77 win. Including last year's Finals and the regular season, Golden State has now won seven straight over Cleveland, and the Cavaliers are still desperately searching for answers.
Green was the hero Sunday, as the Warriors controlled the game despite not getting the best from their explosive backcourt. Green scored 28 points to go along with his pesky defense and mammoth screams. Stephen Curry and Klay Thompson improved on their Game 1 performances, combining for 35 while taking a backseat to their teammates. 
• MORE NBA:Warriors dominate overmatched Cavaliers in Game 2 blowout
Leandro Barbosa continued to shine, hitting five of seven field goals for 10 points—a better night than any Cleveland starter not named LeBron James. On the other end of the court, Andrew Bogut excelled defensively, blocking five shots to jumpstart the Golden State offense early.
The Giant Killer: Draymond Green dares you to define him
James scored 19 points, sitting all of the fourth quarter as the Warriors' lead spilled into the 30s. Cleveland looked lost all over the court, failing defensively and stagnating offensively. To make matters worse, Kevin Love left in the second half to enter the NBA's concussion protocol after an elbow to the head by Harrison Barnes. 
The solutions are unclear for Cleveland. Tyronn Lue went small with James at center, and the Cavaliers got worked. Timofey Mozgov got some time in the fourth, but the game only got more out of hand. Love was injured, but he's been thoroughly picked on whenever he's in the game. At this point, the Warriors getting their talent stolen from the Monstars seems more likely to save the Cavaliers than any kind of strategic adjustment. 
The LeBron James vs. Stephen Curry rivalry in photos
LeBron James vs. Steph Curry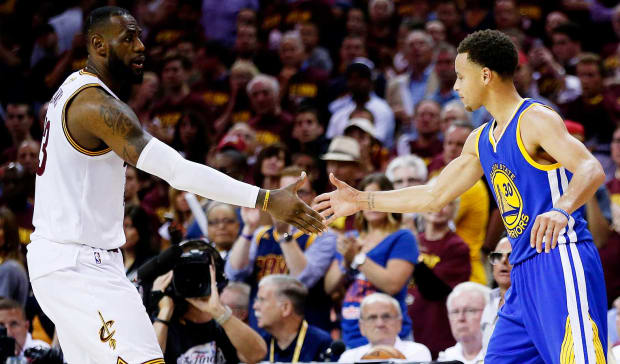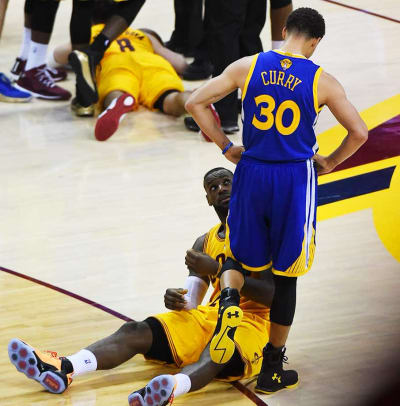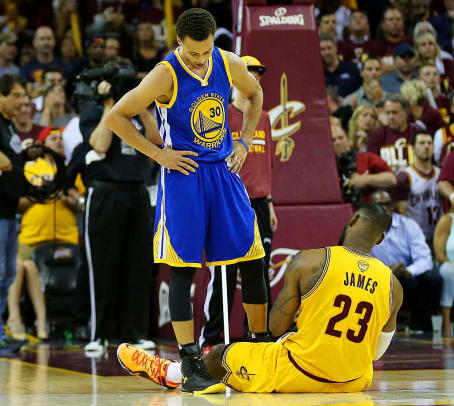 The Warriors, like they did 73 times during the regular season, are simply overwhelming their opponent, as the Cavaliers don't have the offensive firepower or the defensive acumen to counter the Warriors' best lineups. Golden State is now plus-48 through the first two games of the series, the most lopsided two-game start in Finals history.
Game 3 is Wednesday in Cleveland, and the Warriors only need to do what they've done all season long to move closer to their second straight championship.