Ravens hope bold change yields immediate benefits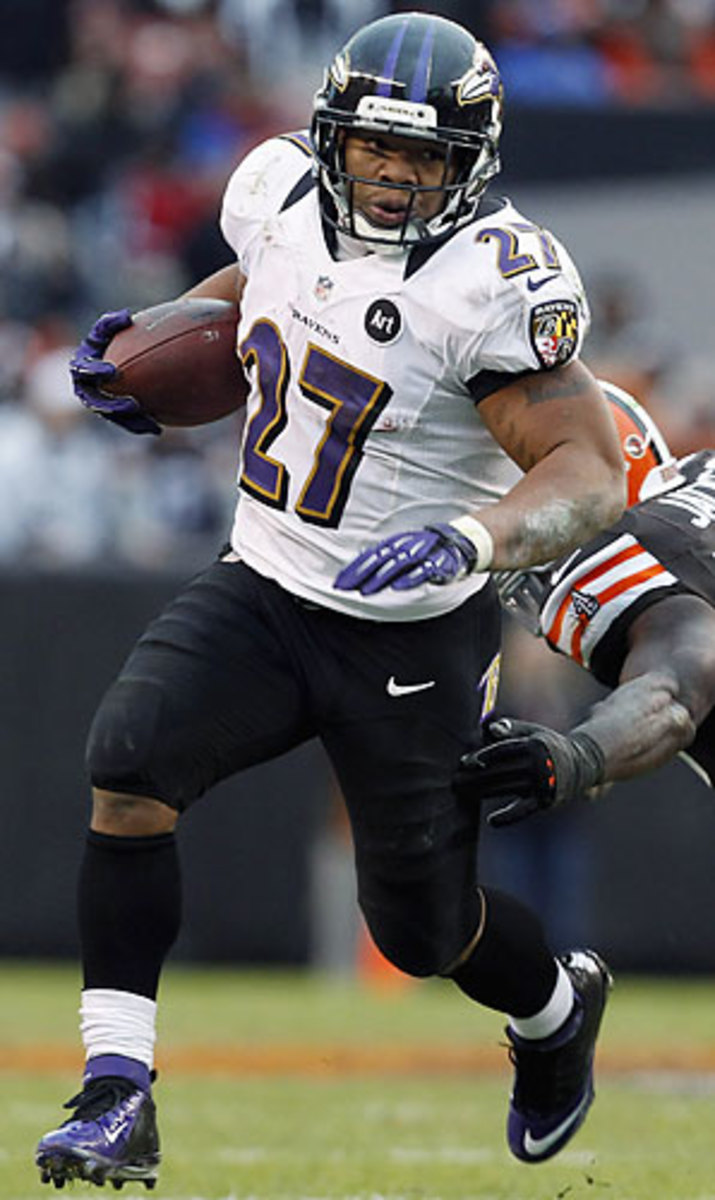 Sometimes, good coaches and good players don't agree, and they get at cross-purposes, and the players stop listening to the coaches, and a boss has to see that, and the boss has to say it's time for a change -- even at an incredibly inopportune time, as the one Baltimore coach John Harbaugh picked this week to fire Cam Cameron in the home stretch of an NFL playoff season.
We all could see why. Cameron has been an offensive coordinator or head coach 11 seasons in the NFL, and nine times he has directed a team in the top of the league in scoring. That's a good record. And he's a good man. But the Ravens offense was stagnant, unimaginative and wasn't using its weapons to the fullest. Ten backs had more carries than Ray Rice, which shouldn't happen. Should Arian Foster have 80 more? Doug Martin 46 more? Should Rice have more than 20 carries twice in 13 games? No, no and no. And when Rice isn't happy -- he was respectful toward Cameron on the phone with me Thursday, but I hear he wasn't pleased with the direction of the offense in the last month -- that's going to be infectious, and not in a good way, to the rest of the team.
The Ravens could have been professional about it and gotten rid of Cameron at the end of the season, which most teams do. But why? This is not a team that's going to stone anyone on defense anymore, and if you can't count on the offense to consistently score in the high 20s in January, the Ravens were going to be one-and-done (or, charitably, maybe two-and-done) in the AFC playoffs. But this wasn't a team built to compete with New England or Houston. Maybe the Ravens will crash and burn with Jim Caldwell calling the plays, starting Sunday in a bad matchup against the Broncos in Baltimore, but it seemed clear they weren't going anywhere with Cameron calling the shots anyway. Why not take the shot?
"What Cam has done is definitely more good than bad,'' Rice told me Thursday. "But we reached that stagnant point. What are we going to do to make it to that next level? We have to get hot, and we have to do what's best for right now, and that's what this move by coach Harbaugh was about.''
Rice said he wasn't concerned about his numbers, which are down from 18.2 carries to 16.8 per game. "But I know I'm important to this team, and I think I can be doing more,'' he said.
Caldwell, Rice said, "has our attention'' after the first three days of running the show in Cameron's place. And Rice said he takes hope from what the Giants did a year ago -- playing inconsistently, being 7-7 with two weeks to go, and rallying to win the Super Bowl.
"What matters,'' Rice said, "is how you're playing late in the season. And like Ray [Lewis], who is my crutch to lean on, says, 'It's a journey, and sometimes it's not smooth. Don't question the journey. Just go with it.' ''
If the Ravens are going to go on the journey, they'd be smart to ride the horse in the backfield more. Look for that to start Sunday.
About Last Night ...
We all knew a victory would set up a Week 16 playoff game between Pittsburgh and Cincinnati, which still appears to be on the horizon (assuming the Steelers beat Dallas Sunday at Dallas Cowboys Stadium). But one takeaway from Thursday, and the only good news we've seen on defense for the Eagles all season, is that Philadelphia finally attacked a quarterback with the kind of vengeance they should have been attacking with all season. Rookie Fletcher Cox and veterans Trent Cole and Brandon "No Longer A Bust" Graham harassed Andy Dalton with a six-sack performance that was the only sign of good things to come that I could see out of Philadelphia. Amazing how ineffective the Philly pass rush has been for the vast majority of the season -- and it's reason enough when cleaning house after the season to not stop with Andy Reid and the offensive side of the ball.
KING: WEEK 15 PREDICTONS
Player You Need to Know This Weekend
Jayron Hosley, cornerback, New York Giants (No. 28). The rookie from Virginia Tech won't play like a rookie against the Falcons Sunday, and I will caution Atlanta defensive coordinator Mike Nolan to not paint a target on the kid's chest. In fact, I'll be surprised if the Falcons make more big plays Sunday against Hosley than against the slumping Corey Webster. The Giants will miss the cornerback who has played best for them this season, Prince Amukamara (hamstring), who probably won't start but could play against Matt Ryan. Hosley's a very confident kid who had a great training camp for the Giants, and he'll have to come up as big as his talk Sunday for the Giants to keep Atlanta from being explosive in the passing game.
Ten Things I'll Be Watching For This Weekend
1. It's beginning to look a lot like RGIII. Washington quarterback Robert Griffin III, whose right knee hyperextended waaaaay too far for any normal person to play a football game on seven days later, ran around practice Thursday looking fairly good. If he doesn't go against Cleveland Sunday, fellow rook Kirk Cousins will. It's not the drop-off in quarterback play that would worry Washington if Cousins has to play. The Griffin-led offense would have had about 60 percent option play-calls by offensive coordinator Kyle Shanahan, and probably none if Cousins plays. So it's not just a plug-and-play system if Griffin doesn't play.
2. Dez Bryant sounds like he'll play, too. When a guy leaves the practice facility on Thursday and says, "I'm gonna play Sunday,'' you assume he's gonna play Sunday. Bryant will be trying to be as brilliant in a vital game against Pittsburgh Sunday as he has been in the last four weeks (438 receiving yards, six touchdowns).
3. Ray-Ray a maybe-maybe. So Ray Lewis, who is angling to return from a torn biceps muscle, is 50-50 to play Sunday against Peyton Manning. I'm told Lewis isn't even sure if he'll play yet. Somehow I think there will some amazing healing powers in the next 48 hours and you'll see Lewis chase Peyton Manning for one last time. (Unless Baltimore and Denver meet in the playoffs. Or unless, against what I'm hearing, Lewis plays next year.)
4. The Payton Countdown. Amazing. Paul Tagliabue slaps down the Saints coaching staff -- led by Payton -- and front office for the culture of misdeeds over a three-year period, and, if anything, Payton gets hotter. It's been two weeks since the league allowed Payton and the Saints to begin negotiating his contract anew that the league voided, and nothing has happened. By the way, New Orleans at Dallas next week -- someone get the binoculars out and look for Payton with a faux beard and glasses in the stands, or in a very nice suite, at Dallas Cowboys Stadium.
5. The Mike Vick Era is over in Philly. You figured Andy Reid was going to play Nick Foles the rest of the season in Philadelphia, and now it's official: Foles will go down with the ship. "I'm going to stick with Nick,'' Reid said after the latest in a string of year-long embarrassments, a 34-13 loss to Cincinnati Thursday night. It'll be interesting to hear the potential landing spots for Vick on the various pregame shows this weekend (Buffalo is the current leader in the clubhouse), but it might be smart to realize this: A quarter of the teams in the league, and maybe more, are going to have coaching and/or GM changes in the next month. How can you know where Mike Vick is going, or where anyone is going, until you know who runs the operation?
6. "We all get cut eventually." Love the reaction from Minnesota punter Chris Kluwe to the Associated Press after special teams coach Mike Priefer said all of Kluwe's activism is getting to him. The latest: Kluwe got fined $5,250 for covering his 50th anniversary Pro Football Hall of Fame patch last week with "Vote Ray Guy'' in support of the Hall candidacy of the former Raiders punter. "Don't cry for me, Argentina,'' Kluwe tweeted.
7. Super Bowl preview. No, not Seattle-Buffalo. Love the Niners-Patriots matchup. How tough is the schedule on San Francisco (which gets home at 3:30 a.m. Monday), if the game in Foxboro is a loss and Seattle's game this weekend is a win, and it has to prep for a potential NFC West championship game Sunday night the 23rd in raucous Seattle?
8. Ben being better. Time for Ben Roethlisberger to do his annual carrying-the-offense-on-his-back thing. DeMarcus Ware tries to knock the offense off said back.
9. Andrew Luck gets his taste of Houston, as a pro. The Houston 'burbs is where Luck spent much of his adolescence, and he returns to start what the league hopes is one of the great rivalries of the next decade. The Colts and Texans were starting to be AFC kingpins when Peyton Manning's neck went bad. Luck slides in Sunday with his 9-4 Colts, and it seems like Peyton never left.
10. Canadian football. The Bills finish off their initial five-year contract with Toronto (eight preseason and regular-season games in five years there), and the reception has been tepid, at best. Not much is going to change Sunday when the Seahawks come to town.