Critical win proves Vikes are more than a one-man show; more Snaps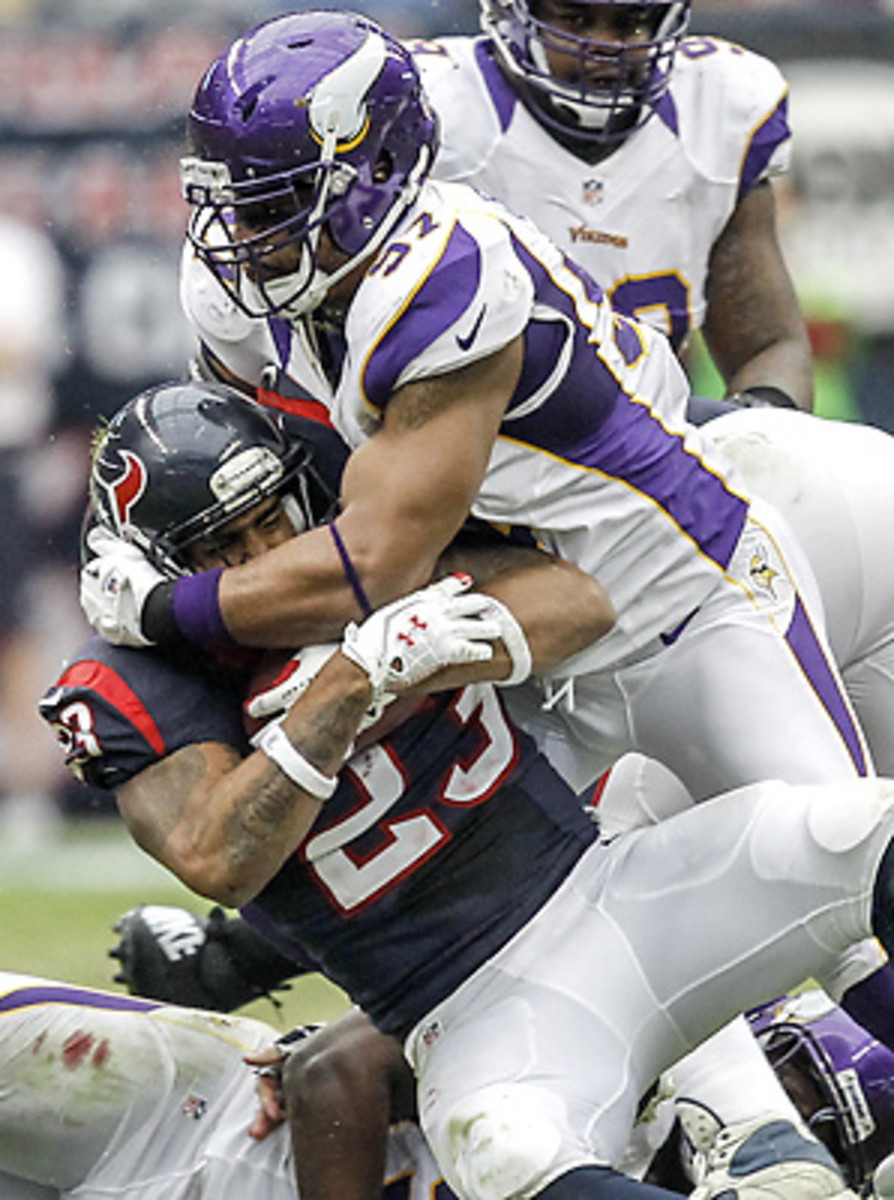 PITTSBURGH -- Musings, observations and the occasional insight from a Week 16 that saw the NFL's playoff field taking shape in almost-finalized fashion...
UPDATED PLAYOFF PICTURE | BEST, WORST OF WEEK 16
? Adrian Peterson probably didn't help his case for the NFL's MVP award on Sunday, rushing for just 86 yards on 25 carries in Houston to leave himself some significant Week 17 work to do in his quest for both the 2,000-yard mark and Eric Dickerson's 1984 single-season rushing record of 2,105 yards.
Or did he? After all, the Vikings pulled the huge upset against the Texans, winning 23-6 at Reliant Stadium to improve to 9-6 and move within one more victory of clinching a playoff spot after last year's 3-13 finish. And that is Peterson's strongest argument for MVP this season, that he took a Vikings team that had no business competing for the playoffs in 2012 and basically carried it on his back to the postseason. Minnesota's three-game winning streak has already assured it of making a six-game improvement this year, meaning it has tripled last season's win total.
With the Vikings on the cusp of doing what absolutely no one predicted this season, maybe Peterson's MVP credentials are alive and well, at least providing he gets the 102 rushing yards needed next week at home against Green Bay to reach the 2,000 mark, if not the much-less-likely 208 he would require to supplant Dickerson. From a bottom-line perspective, no one can claim to have had a bigger impact on their team's fate this season than Peterson, who hadn't been held under 100 yards since gaining only 79 in a Week 6 loss at Washington.
But against the Texans, who blew a chance to lock up the AFC's top playoff seed with the loss, Minnesota might have also paradoxically found out its playoff-contending team is about more than just Peterson's excellence after all.
Newly married Vikings second-year quarterback Christian Ponder played his best game in about five weeks, finishing a solid 16 of 30 against Houston, with 174 yards passing, one touchdown, no interceptions and only one sack, and 48 yards on seven rushes. Minnesota also got three more field goals on three tries out of its automatic rookie kicker Blair Walsh -- who set an NFL record with a ninth field goal of at least 50 yards -- and a game-sealing fourth-quarter touchdown run from Toby Gerhart of all people, who did his best Peterson impersonation on the three-yard scoring rush.
And then there was the Vikings defense, which held Houston without a touchdown for the first time since 2006, the year before quarterback Matt Schaub arrived via trade. The Texans rushed for just 34 yards on 16 carries, went just 1 of 11 on third down, and produced a measly 11 first downs against Minnesota, which also totaled four sacks of Houston quarterbacks. Late in the third quarter, with the game still in the balance, the Texans drove within the Vikings 1-yard line, but Schaub took a 14-yard sack on third down and Houston had to settle for another field goal.
Beating Green Bay next week to punch their first playoff ticket since 2009 will of course be a long shot for these Vikings. The Packers (11-4) can still earn the No. 2 seed and a first-round bye, so they have plenty to play for against their division rivals, whom they have dominated in recent years. But with Peterson's miraculous comeback setting the tone this season in Minnesota, and those two magical rushing marks still in his sights, it'd be unwise to preclude the chances the Vikings have one more improbable twist left in them.
Or even an MVP winner in their backfield.
VIKINGS 23, TEXANS 6: RECAP | BOX SCORE
? The Ravens and Giants entered their matchup Sunday with an air of desperation clinging to them, but I guess we know now that New York's penchant for second-half swoons is far more powerful than the aberration that was Baltimore's recent three-game slide. The 33-14 Ravens win didn't eliminate the Giants from the playoffs, but New York is now the No. 9 seed, and needs to climb over Dallas, Chicago and Minnesota to defend its Super Bowl title.
Probably ain't happening, even though the Giants should beat the Eagles next week at home to get to 9-7. But that will mean New York ended the season in a 3-5 funk after a 6-2 start, and this year a 9-7 record won't earn it an NFC East title and a No. 4 seed like it did in 2011.
I'll tell you who the biggest winners are if Tom Coughlin's maddening team heads home for the offseason after next week: The 49ers">49ers, Packers and Patriots, none of whom ever want to see New York headed their way in the playoffs ever again. How can the Giants look so good against the likes of San Francisco and Green Bay earlier this season, and then wind up being wiped out by the injury-depleted Ravens, who out-gained them 533-186 yards on Sunday?
RAVENS 33, GIANTS 14: RECAP | BOX SCORE
? Eli Manning figures to end the season as a bit of a question mark, as well. What an un-even year for the two-time Super Bowl MVP. While brother Peyton was soaring to great heights with his new team in Denver, leading the Broncos to a 10-game (and counting) winning streak, Eli was riding the rollercoaster, maybe like never before.
Both Mannings played against Baltimore, Atlanta, Pittsburgh and Cincinnati this season. But while Peyton went a crisp 3-1, losing only to the Falcons on the road in Week 2, Eli went 0-4. So much for brotherly scouting insights making a difference.
? It's official now: For the first time since 1995, the NFL will not have at least five new playoff qualifiers in the postseason. With Sunday's results, eight of last year's 12 playoff teams have made it back to January's tournament, meaning the league can't have more than four teams take part this season after missing the postseason a year ago.
The eight repeaters are: Houston, Denver, New England, Baltimore and Cincinnati in the AFC, and so far, Atlanta, San Francisco and Green Bay in the NFC. Indianapolis is the only newcomer in the AFC, and that sounds funny to the ear, given the Colts made the playoffs every season from 2002 to 2010.
In the NFC, the Giants could still make it nine teams returning to the playoffs in consecutive seasons. But the Seahawks, Redskins and Vikings are currently the three seeds that would qualify as new playoff teams.
? So, the Colts and Bruce Arians are in the playoffs, and the Steelers and Mike Tomlin are not. I'd love to know what Ben Roethlisberger might be thinking about that turn of events.
COLTS 20, CHIEFS 13: RECAP | BOX SCORE
? Seriously, the passing yardage records are falling faster than most of us can keep up with them. Colts rookie quarterback Andrew Luck threw for 205 yards in the playoff-clinching win at Kansas City, and that gave him 4,183 yards through the air this season, breaking Cam Newton's 2011 rookie mark of 4,051 yards. Considering that Newton broke the 1998 record of Peyton Manning, which had stood for 13 years, I'd say there's some acceleration at work here.
And on the non-rookie quarterback front, Drew Brees hung up a 446-yard, three-touchdown passing game in the Saints' overtime win at Dallas, giving him 4,781 yards this season and making him the first QB to ever rack up 4,500 yards or more for three years running. Brees has an astounding 14,877 yards passing in the past three seasons, the most in any three-year span in league history. And keep in mind the Saints won their only Super Bowl in 2009, the season before Brees' streak began.
? It's always something with the Jets at quarterback. New York's Jeremy Kerley threw a 42-yard pass to receiver Clyde Gates early on in the 27-17 loss to the visiting Chargers, and that made another humiliation for Tim Tebow painfully obvious: Now he's not even New York's backup Wildcat quarterback.
CHARGERS 27, JETS 17: RECAP | BOX SCORE
? I think it's safe to say the Rams' draft weekend gamble on the character issue that came with North Alabama cornerback Janoris Jenkins has paid off handsomely through year one in the NFL. Jenkins had a 41-yard interception return for a touchdown in St. Louis' 28-13 win at Tampa Bay, and he now must be factored heavily into the Defensive Rookie of the Year discussion.
Jenkins has four interceptions and a fumble recovery, which he has turned into four return touchdowns. His three pick-6 returns are tied for the most by a rookie in league history, with San Francisco's Ronnie Lott (1981) and Detroit's Lem Barney (1967). Both of those guys went to the Hall of Fame, so stay tuned.
RAMS 28, BUCCANEERS 13: RECAP | BOX SCORE
? Maybe it's not a season-ending 10-game losing streak this time around, but the Bucs aren't exactly finishing up strong for rookie head coach Greg Schiano. Tampa Bay lost its fifth in a row on Sunday, falling by 15 points at home to the 7-7-1 Rams, and Schiano's team isn't putting up much of a fight. See last week's 41-0 loss at New Orleans.
That kind of effort, or lack thereof, was a hallmark of head coach Raheem Morris's final season with the Bucs in 2011. His team all but mailed in the final two months of the season, and it got him summarily canned. I'm hearing some rumblings that all is not exactly peaceful in Tampa Bay these days between some members of the Bucs front office and the coaching staff, but it could be just the natural out-growth of a once-promising season turned sour at the end.
? It's time to quit scoffing at the idea of Washington making a deep playoff run, and dare we even say it, reaching the Super Bowl? If the Redskins win next week at home against Dallas to clinch its first NFC East title since 1999 (wrap your mind around that one), they will enter January with an NFC-high seven-game winning streak and the kind of confidence that can be contagious in the playoffs.
They'd be far hotter in terms of a potential Super Bowl run than the 9-7 Giants appeared to be upon winning the NFC East in 2011, even with Eli Manning at quarterback rather than rookie Robert Griffin III. And while the notion of Washington winning at Atlanta, Green Bay or San Francisco in the postseason might sound implausible, is it really that much more of a reach than New York winning at 15-1 Green Bay or 14-3 San Francisco in last year's playoffs?
The Redskins have been playing with house money for weeks now, ever since head coach Mike Shanahan shrewdly decided to take the pressure off his team by all but conceding the season and looking toward 2013 (I suppose he could have been that brilliant, but I doubt it). If there's a bigger karma team in this year's postseason -- or almost in it at this point -- I don't know who it would be outside of Washington.
REDSKINS 27, EAGLES 20: RECAP | BOX SCORE
? So I suppose that's the way it had to end in front of the home crowd for Andy Reid, after this lost season in Philadelphia. With rookie quarterback Nick Foles being called for what amounts to an intentional grounding with one second remaining, the Eagles at the Washington 5-yard line, and the Redskins holding a precarious 27-20 lead. Because Foles' pass attempt didn't get back to the line of scrimmage, there was an automatic 10-second clock run-off required -- which was nine seconds more than the Eagles had in their possession.
Running out of time in the most painful ways possible was kind of the story of Reid's final year in Philadelphia.
? From the sound of some postgame comments by Titans owner Bud Adams, the chances of Tennessee head coach Mike Munchak surviving into a third season on the job took a nose-dive with his team's 55-7 surrender at Green Bay. Munchak's Titans are now 5-10, and that sounds about right, since Tennessee played like a dime-store operation at Lambeau Field.
And what to do at quarterback in Tennessee? Second-year passer Jake Locker was horrible against the Packers, completing just 13 of 30 passes for 140 yards, with two interceptions, one touchdown and seven sacks. Locker looked as if he wanted no part of the Packers, no part of Lambeau's loud environs and no part of the cold Week 16 weather. At the half, Locker was 3 of 12 for 35 yards, with two picks and a passer rating of 0.0.
PACKERS 55, TITANS 7: RECAP | BOX SCORE
? Of all the Week 17 playoff possibilities for the outside-looking-in teams in the NFC, the club in the best shape seems to be Chicago, which needs a win at 4-11 Detroit, and a Packers win at Minnesota. That sounds like a very do-able job-saving quinela for Bears head coach Lovie Smith, if all four NFC North teams cooperate.
The long shot of the group is clearly the Giants. They need to win at home against the Eagles, which should be the easy part. But they also need the Vikings to lose at home against Green Bay, the Cowboys to lose at Washington, and here's the killer, the Bears to lose at Detroit. Could happen, but I'd rather be the Bears than the G-Men in that scenario.
BEARS 28, CARDINALS 13: RECAP | BOX SCORE
? Don't get me wrong, Calvin Johnson breaking Jerry Rice's single-season receiving yardage record was a monster accomplishment by one of the game's true superstars. But I found myself thinking it would have felt so much more meaningful had Megatron broke the mark last season, when the resurgent Lions were on their way to the franchise's first playoff berth since 1999, rather than this year's ugly 4-11 unraveling in Motown.
And I get we're well into the era when individual accomplishments often drown out all else in terms of being glorified by TV networks needing a storyline to hype, but Johnson's pursuit of the record Saturday night seemed to overshadow Atlanta's NFC No. 1-seed clinching win, and that always leaves me a bit cold. The Lions after the game didn't look very much like a team that just got beat by 13 points at home, dropping their seventh in a row. They looked like they were the ones doing the celebrating.
Nothing against Johnson. He did his part and then some to make Detroit a winner this season. But all those yards didn't contribute to many victories. I actually think he was a better receiver last season, when the Lions weren't playing from behind all year and throwing the ball quite so much. If Minnesota's Adrian Peterson manages to chase down Eric Dickerson's single-season rushing record of 2,105 yards next week, at least he'll have done so in the most meaningful of settings, as the Vikings pursue an NFC playoff berth. That's just the way you want to see one of the game's landmarks fall.
? This Falcons team has proved it can win no matter the venue this season, but staying home throughout the playoffs isn't as big an advantage as it might have been for them this year in my estimation. Why? Because I don't think San Francisco or Green Bay will mind one bit if the playoff bracket sends them to the Georgia Dome at some point, even though Atlanta is 7-0 this season in that building, with a meaningless Week 17 visit from Tampa Bay still to come.
I wouldn't be surprised to see the Falcons end their playoff losing streak and win their divisional-round opener. But I would be borderline shocked if Atlanta put together a pair of home playoff wins and used their No. 1 seed as a springboard to New Orleans, site of this season's Super Bowl.