Traditional pocket passers becoming extinct? Don't tell this QB class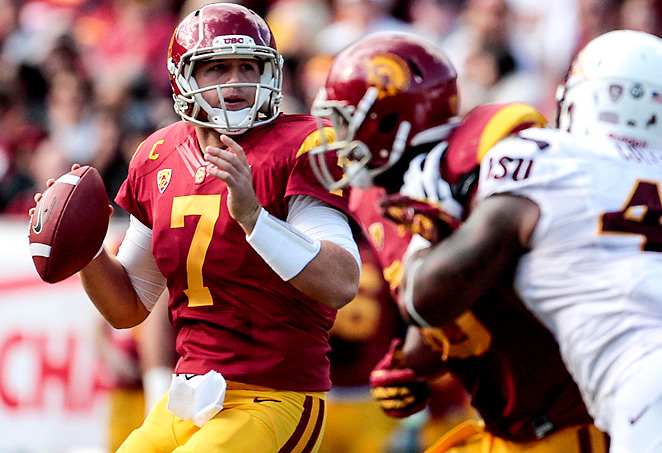 INDIANAPOLIS -- Perhaps the irony of the NFL's incoming quarterback class on display here at the scouting combine is that while the read-option trend seems to be the wave of the future within the league, the future clearly isn't now. At least not in terms of this year's particular crop of passers, who don't seem poised to follow the example of Cam Newton, Robert Griffin III, Colin Kaepernick and Russell Wilson and further the recent craze for quarterbacks who can do damage with both their arms and their legs.
The pickings appear slim for the read-option prospects in this year's draft, with the top-rated passers being known much more for their work in the pocket, and not seen as players who are likely to threaten a defense on the edge. For a league that has started to think outside the box at quarterback in the past two seasons, the 2013 QB class appears to favor passers who stay inside the pocket and take a more traditional approach to the game's most difference-making position.
"I think I have the skill set that fits any offense, but I don't think that's my game,'' said highly rated West Virginia quarterback Geno Smith, of the read-option offense that many believe is beyond his capabilities, citing his lack of above-average foot speed. "I don't think my game is predicated around that. But if the coach wants me to, then I'll definitely be all for it.''
It's doubtful that any NFL coach would ask Smith to force the square peg into the round hole in regards to the read-option approach. It doesn't mean the push toward the read-option won't continue to be expanded on the league's landscape. It just means there might not be any significant new ground staked out on that front this year.
"I don't think this year tempers the trend toward the read-option quarterback,'' said NFL Network draft analyst Mike Mayock said. "I think this thing is here to stay, and that teams are going to be looking for that kind of guy. (New Eagles head coach) Chip Kelly just signed Dennis Dixon, didn't he? But in this year's draft, I don't see five quarterbacks that are that kind of guy.
"Geno Smith is athletic, but he's not necessarily an option quarterback. (Syracuse's) Ryan Nassib is sneaky athletic, but he's certainly not an option quarterback. (Florida State's) E.J. Manuel is a big, strong kid and he's athletic, but he's not an option quarterback. There's just not a Colin Kaepernick in this particular draft, and that's fine. It just happens to be a funky year where, forget running quarterbacks, the position of quarterback is down this year.''
Mayock doesn't have a first-round grade on any quarterback prospect this year. Ditto for ESPN draft analyst Todd McShay, whose top six quarterbacks carry second-round grades, and who doesn't consider any of the draft's best seven passers to be candidates to run the read-option in the NFL.
Maybe it all points to a brief renaissance for the pocket passer in this year's draft, at least in terms of gaining the NFL's almost singular scouting focus this spring. There is still plenty of room in the league for a quarterback whose sole option is throwing downfield.
"I think in the NFL you're always going to have to be a passer,'' said USC's Matt Barkley, whom many consider the draft's second-best quarterback prospect. "It's a passing game, and as much as the read-option is successful, the Super Bowl-winning quarterback is similar to how I play. And that style, that tradition I don't think that will ever fade.''
Barkley, who won't throw here at the combine due to his still-in-progress recovery from a mid-November shoulder separation, makes a timely and excellent point. Baltimore's pocket passer, Joe Flacco, won the Super Bowl MVP award and a ring. San Francisco's dynamic read-option threat, Kaepernick, did not. In the season of the read-option quarterback, score one for tradition, I suppose.
Griffin's, Kaepernick's, Newton's and Wilson's success has been well-documented, but the NFL isn't about to pass on a quarterback prospect who does his damage from the pocket, a'la rookies Andrew Luck, Ryan Tannehill and Brandon Weeden last season. As long as a quarterback can move around in the pocket and avoid pressure, there are still teams that will find room for him, with or without the read-option element being added to an offense.
"I'm a traditional drop-back quarterback, a passing quarterback,'' said Barkley, in reality meaning a non-running quarterback. "At the same time, I definitely believe I have the quickness, the pocket mobility to avoid (pressure) and do what it takes to get out of the pocket. I think my throwing on the run is great, and I have complete confidence in that. I'm not going to be running a 4.3 40 or anything like that, but how many starting quarterbacks in the league these days can? I believe that I'm strong enough to make every throw, move in the pocket and make guys miss.''
New Arizona Cardinals head coach Bruce Arians struck an against-the-grain note here on Thursday, all but dismissing the read-option offense as a dangerous game to be playing with a franchise's most precious commodity, its starting quarterback. Arians coached Luck, of course, last season in Indianapolis, and Ben Roethlisberger before that in Pittsburgh. No wonder he's pro pocket passer.
"I'm not a believer in putting my quarterback in harm's way,'' Arians told the media here, while sporting the coolest raspberry-colored beret you've ever seen. "The more you put the quarterback in harm's way, the more harm will come to him. I'm more of a traditionalist as far as quarterbacks.''
Which probably means he likes this year's quarterback draft class. The only prospects who are considered decent read-option threats in the NFL are all labeled mid-to-late round picks at this point in the scouting process: Arizona's Matt Scott, Zac Dysert of Miami (Ohio), and FSU's Manuel, despite Mayock's difference of opinion on his read-option suitability.
After Smith and Barkley, quarterbacks like Syracuse's Nassib, Oklahoma's Landry Jones, North Carolina State's Mike Glennon, Arkansas' Tyler Wilson and Tennessee's Tyler Bray are in the discussion for the remainder of this year's top-rated passers. There's no consensus about the pecking order just yet, but that gives everyone the opportunity to significantly improve their stock in the coming two months of scrutiny and debate.
"Maybe there is no Luck or Griffin this year, but there's quite a few talented quarterbacks who have done some great things in college and it's really who's going to separate themselves here or on their pro day and in the interviews,'' said Nassib, who is known to be on the radar screen in Buffalo, which is now led by his collegiate coach, Doug Marrone. "It's going to be a pretty tight race and I just hope that at the end of the day, I put myself in the best position where hopefully I'll get put in together with some of these other guys.''
But that position isn't likely to be in a read-option offense. The NFL may have to wait another year for their next emerging quarterback star in that dual-threat attack.
"We did some read-options this past season and I feel as if the NFL's going to make that transition, as it has been,'' Nassib said. "I feel like I'm pretty prepared for it. I know I'm not much of a runner by trade, like some other guys, but I feel like I'll be able to make some good decisions, and get some yards when I have to. I'm not going to be able to pull a ball down and run for 60 like some guys might be able to. But one thing about my experience running the read zone, maybe you don't have to run. Maybe I can throw the ball instead of having to run. Because if that's what the read says, that's what you do.''
In the NFL these days, plenty of the youngest and most impressive quarterback stars seem to do plenty of both.