Atlanta Falcons 2013 Offseason Preview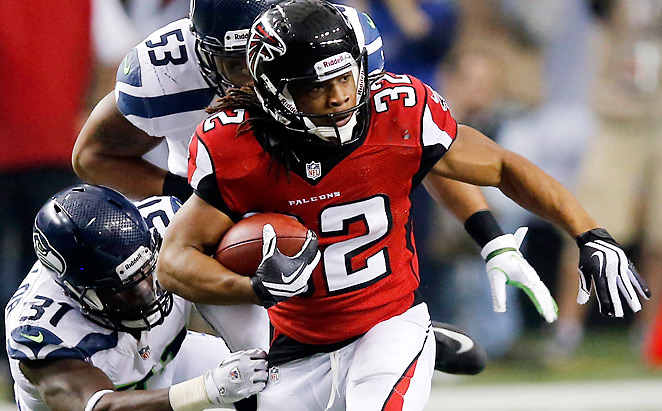 SI.com is laying out offseason road maps for all 32 teams as they start their journey for the Lombardi Trophy -- two teams per day, from the teams that need the most work to contend in 2013 to the ones that are in pretty good shape. See them all.
2012 Record: 13-3; lost to 49ers">49ers in conference championship Key Pending Free Agents:Sam Baker, T; Tony Gonzalez, TE; Brent Grimes, CB; Todd McClure, C; William Moore, S; Robert McClain, CB (RFA) List of Draft Picks (pending compensatory picks): 1 (30), 2 (60), 3 (92), 4 (124), 5 (156) 6 (188), 7 (220). Available Cap Space: About $8 million GM/Coaching Moves: None
2012 Season Recap
You could see something brewing in Atlanta for a while now. Despite a slew of heartbreaking near-misses -- one-and-done playoff showings in 2008, 2010 and 2011, including a bottoming-out 24-2 loss to the Giants in the wild-card round last season -- the Falcons have been adding and developing talent consistently since Mike Smith arrived in 2008. After years of wondering if Smith's team would be one of those very-good-but-never-quite-great ones, they finally got over that hump in 2012.
The Falcons of 2012 weren't elite in any one area, but they were very good in most. Speaking of elite, Matt Ryan made his case for that lofty status, and even appeared poised for an MVP season through five games, when he had four games with a rating over 100 and a 13-3 TD-INT ratio. Two poor showings against bad teams -- vs. Oakland in Week 6 and Arizona in Week 11 -- and the superhuman comebacks of Adrian Peterson and Peyton Manning undid Ryan's award-winning campaign, but it was still a career season for the fifth-year passer.
Ryan's hot start echoed the team's. An 8-0 start stirred talk of an undefeated season, even if it seemed the team was playing playing slightly over its head. (Again, it was a great, but not historically great, squad.) A 5-3 stretch to close the season scuffed some of the first half's polish, but after all of the playoff heartbreak in recent years, nothing mattered except what the team did come January, and there it answered some questions. But not all of them.
Yes, the team did win its first playoff game in seven years, against the Seahawks, and came within a hair of beating the 49ers in the NFC Championship Game, which would have secured their second-ever Super Bowl appearance. But in both games, the Falcons had double-digit leads -- 20 points against the Seahawks, 17 against the 49ers, only to need a last-minute desperation drive to beat Seattle before succumbing to San Francisco.
So, the Falcons are firmly in the conversation about the league's best teams, but there are clearly areas to improve on, especially in an offseason with the future of a few key players in the air.
Stat To Feel Good About
61.1. The Elusive Rating for Jacquizz Rodgers, fifth-best in the league, per Pro Football Focus. The Elusive Rating measures how well a running back performs avoiding tacklers outside of the blocking provided for him. The Falcons running game, still too reliant on Michael Turner, wasn't very good in 2012, but Rodgers provides hope for the future.
If It Ain't Broke ...
As mentioned above, Ryan had the best season of his young career in 2012, but he got by with a lot of help from his friends. Roddy White and Julio Jones formed one of the best starting receiver pairs in the league, especially when both were healthy, and Tony Gonzalez did his thing as the ageless, super-playmaking tight end has always done. Add in increased contributions from Rodgers (402 yards, 7.6 yards per catch), and the Falcons went a long way toward realizing their goal of becoming a more explosive, big-play offense. (Ryan's 7.7 yards per attempt in 2012 was the second best in his career, just slightly off the 7.9 mark he posted as a rookie in 2008 when he attempted almost 200 fewer passes.)
The Falcons need to continue in this area by making sure Gonzalez returns, or bringing in a similar pass catching tight end, and by upgrading their No. 3 receiver, where Harry Douglas barely cracked 10.4 yards per catch and ranked among the league's least explosive wideouts, according to Pro Football Focus. After losing their last franchise quarterback to prison time, the Falcons struck gold in taking Ryan. Now they need to make sure they build the team around his strengths.
Troubling Stat
2.7. Tackle attempts for each missed tackle by Asante Samuel, worst among cornerbacks playing a minimum of 25 percent of their team's snaps.
Must Fix It
The Falcons don't have a ton of cap room, but they should get out the checkbook to keep Brent Grimes, whose torn right Achilles last season forced Samuel to play a bigger role. With Grimes back, Samuel shouldn't be so exposed.
It's a risk bringing Grimes back, for sure, especially with other key free agents who should get top dollar if they were to hit the market. But Grimes was a very good player before his injury, and Mike Smith has indicated that he'll be ready before the season starts. If anything, the injury might have knocked the cost of retaining Grimes down to something the Falcons can manage. But pass defense was one of the Falcons' biggest deficiencies in 2012, and letting go of talent at a premium position isn't the way to go about solving that.
More On The To-Do List
1. Bolster the pass rush. The unit finished 28th in sacks (29), which certainly contributed to the pass defense woes detailed above. And that's not even mentioning the fact that John Abraham keeps getting older. The Falcons should canvas free agency and the draft for multiple solutions here, including potentially making a run at Michael Bennett if the division rival Bucs let him walk.
2. Figure out what's going on at tight end. So much for 95 percent. That was what Gonzalez pegged his retirement odds at repeatedly through 2012, but recent events have opened the door for the future Hall of Famer to come back. If he does, the team still needs to bring in a young pass catcher at the position to serve as his potential replacement; if he doesn't, that need is even more pronounced.
3. Overhaul the running game. Anyone with eyes and a minimal football sense could tell that Michael Turner passed his expiration date in 2012, while the backup Rodgers shined at times in his first season as a prominent part of the offense. Luckily for Falcons fans, Turner is all but certain to be a part of the team's past soon. Rodgers alone can't carry the Falcons run game -- they'll need to bring in someone with more power to replace Turner's skillset, but he deserves much more time on the field.
What We'll Be Saying In July
The team has two big-money priorities in free agency in Sam Baker and William Moore. Add in potential contracts for Grimes and Gonzalez, and the Falcons don't currently have enough cap room to go around. Cutting Turner will go a long way in helping them keep both Baker and Moore, and they'll find the money to re-sign Gonzalez if he decides to come back. Grimes is the one piece that could potentially defect, but the fact that the Falcons are unlikely to use the franchise tag is a good sign that they expect to be able to return everyone of note.
That might not leave them a ton of room to chase a defensive end in free agency, which would make it a heavy draft target, but one way or the other the team will do something there, too. As Atlanta hits training camp, they'll again look like one of the best teams in the league, one fueled by being so close to the Super Bowl and with enough still-developing young talent to again be a threat to make the big game.
SEE ALL OF SI.COM'S OFFSEASON PREVIEWS