Led by shaky QBs, 2013 draft might not be kind to top-10 teams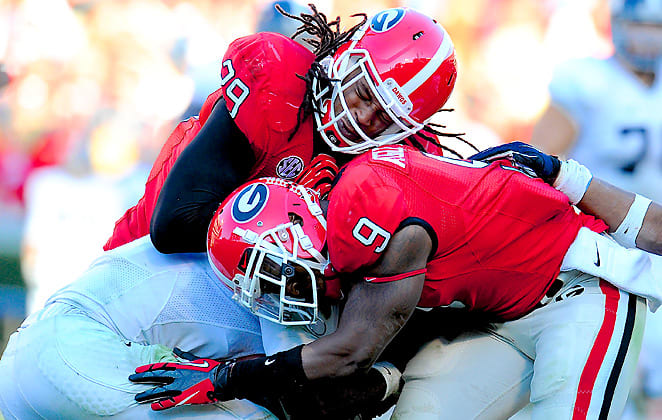 Now this could be a lot of fun.
On the night of the first round of the draft, April 25, at Radio City Music Hall in New York, a major motion picture starring Kevin Costner will begin filming. It's called Draft Day. It's about the Cleveland Browns dealing for the first pick in the draft, and the frenzied hours around the trade and the pick, and the drama includes Costner playing the general manager of the Browns (he's cuter than Mike Lombardi).
I asked a veteran NFL operative who has read the Draft Day script about the movie, and he said, "Pretty realistic."
The movie, with Ivan Reitman directing, will include action filmed at Radio City in the midst of the real action of the 2013 first round. There will be a series of meetings beginning this week between the movie people and the NFL people to figure out how the whole thing is going to work on draft night.
And there is a Costner love interest, working in the front office of the Browns, who could give the whole thing its requisite Hollywood touch. (Variety reported last week the movie could co-star Jennifer Garner.)
So there's that, 17 interminable days before the draft begins, to add to the mayhem of the festivities.
One last note about Draft Day: Seems Costner's original team was going to be the Buffalo Bills. But late in negotiations for on-location filming, Ohio offered the filmmakers a better deal. (Much to New York Gov. Andrew Cuomo's chagrin, I hear. He got involved and tried to keep the picture as a total New York-based film.) So that's how he became Browns GM Kevin Costner, instead of Bills GM Kevin Costner.
BANKS: Mock Draft 4.0 | BURKE: Big Board 4.0
***
Now for what I have this week:
? Jon Gruden on the "Shaky the Mohel'' quarterback class (Florio gets that) of 2013 ... and why he's smart to like Ryan Nassib.
? The 2008 Draft, and why I think 2013 will mirror it when history is its judge.
? Reggie McKenzie on taking his medicine -- prescribed by Al Davis and Hue Jackson -- today, in hopes for a better Raider tomorrow.
? Jack Pardee, who died the other day, and his compelling football life.
***
What makes Gruden Gruden is happening now on TV.
You'll see Jon Gruden at his cocky, snarling, football-smarts best this week, when he continues his must-see-TV series breaking down the top quarterbacks in the draft. Now, this is not to shred Jon Gruden the Monday Night Football color man. At all. This is to praise him for a series I love every year, Gruden's QB Camp on ESPN. This is what he does best -- coach and carouse with and stick the needle in the players we'll see on NFL fields in the future. And this week's the week to watch: half-hour shows on ESPN2 breaking down tape and on-field drills with West Virginia's Geno Smith (Tuesday, 7 p.m. Eastern), USC's Matt Barkley (Tuesday, 7:30 p.m.), Florida State's E.J. Manuel (Thursday, 7 p.m.) and Syracuse's Ryan Nassib (Thursday, 7:30 p.m.) The full schedule, which includes some position players such as tacke Luke Joeckel, can be found here.
What I find interesting about these segments, mostly, is they show quarterbacks in their natural habitat, or what will be their natural habitat in the NFL: the tape room, with the whiteboard for a coach, or player, to draw up plays. And they show which quarterbacks can keep up with one of the best quarterback minds alive, Gruden.
The other day, I saw the Smith show, and it showed one of Gruden's favorite running plays, "96 Wanda," as he called it. When he told Smith about it, Smith recognized it and told Gruden at West Virginia, the play was called "Y Quick 16."
As Gruden explained it to me, a quarterback calling 96 Wanda could have three options on the play, and his choice would depend on what the defense shows. Smith understood, and he explained how, as with Wanda, Y Quick 16 tried to get the ball to his lightning-fast receiver, Tavon Austin, who comes sprinting in from the right to possibly get a handoff from Smith. The options, with Smith in the Pistol or the Shotgun: hand to Austin, turn and hand to the back on a counter play, or, as Smith says to Gruden: "I've got the option to throw my 'Z' a quick screen because the corner's so far off him. So much intricacy."
So much of what quarterbacks are asked to do these days in college football comes prescribed from the sidelines. All the pre-snap reads in so many programs are done by signal, and you wonder if quarterbacks, when they get to the NFL, can adjust to checks at the line and what the defense is throwing at the young passer. As Gruden said to me: "This guy knows a huge volume of plays, and he showed me he can execute the plays by reading what the defense is doing.''
That's what's great about these shows. The players can't hide. Gruden throws friendly fire at them, but it's fire. They have to respond intelligently, or he'll eat them up. Affectionately, but you'll be able to tell they've got some recognition weaknesses. I didn't see that in Smith.
I asked Gruden Saturday what he thought of the 2013 class of passers.
"Last year was a ridiculous year for quarterbacks,'' he said. "I mean, five starters right away. This year, it's like every one of these guys comes from broken quarterback families. Tyler Bray at Tennessee: recruited by Lane Kiffin, family moves to Knoxville, everybody's excited, and Kiffin goes to USC. Bray ends up playing for another coach, coach [Derek] Dooley, who didn't even recruit him.
"Tyler Wilson at Arkansas: Bobby Petrino has his situation, he leaves, and Wilson -- now, he was the all-SEC quarterback under Petrino two years ago -- has to play in a disastrous situation at Arkansas, and he's wildly inconsistent last year. Matt Barkley at USC: Held that team together through all kinds of turmoil. Geno Smith at West Virginia: They go from one conference to a totally different one, and now he's playing at Baylor and Texas instead of the Big East -- and that's a huge difference -- and you're having to learn about new teams with new defenses while you have this 20-hour rule, all you can spend is 20 hours a week practicing and studying football, and how do you do that? So it's like nobody had the smooth sailing of some of the guys last year did.''
I can't wait to see the Nassib and Manuel shows. When I talk to teams leading up to the April 25 first round, I keep hearing both Nassib and Manuel as late-first-round prospects. Nassib in particular, and certainly more than Manuel. Gruden seems fascinated by both. The other day, one personnel man for a team not interested in drafting a quarterback this year told me, "No way if you want Nassib you think there's a realistic chance he gets past 41.'' That's the overall slot of the Bills' second-round pick. The Bills are coached by Nassib's four-year college coach, Doug Marrone. NFL types think Marrone loves him some Nassib.
"If the Bills really like him, and they think he's the best guy on the board, why not take him at eight?'' Gruden said. Eight is where the Bills pick in round one. "Why take even the slightest risk he wouldn't be there later?"
Nassib met Smith, the presumptive top quarterback in the draft, three times. When they met for the first time, in Morgantown in 2010, West Virginia had won seven straight meetings in the series between the two schools. In the three meetings -- at Morgantown, Syracuse and Yankee Stadium (for the Pinstripe Bowl last December) -- Nassib won every one, by scores of 19-14, 49-23 and 38-14. Average margin of victory: Syracuse by 18.3.
In the three games, Smith out-statted Nassib, throwing for 295 more yards, but made more mistakes. Nassib's touchdown-to-interception differential was 7-1, Smith's 5-5.
I could tell by listening to Gruden he likes Nassib. A lot.
"Here's a guy who went 3-0 against Geno Smith,'' Gruden said. "Imagine this pressure: Syracuse is expected to be pretty good last year, and they start 0-2, and they've losing to Stony Brook at home at halftime the next week. He brings them back there to win. They beat Louisville. They win at Missouri. They really handle West Virginia in the bowl game. Those are some good wins, now. And they do it after changing their offense two weeks before the start of the regular season. I like the way he plays. I like the way he handled his own people booing him.''
As for Manuel: "He'd be a fun guy to coach. Very fun. Can call any play. He can run any play. Upbeat. Powerful vibe around him. People just like him. They want to be around him. Loves the game. I really, really like this kid.''
Regarding Nassib and Manuel: "You want Nassib and Manuel on your team. You want to be around Nassib and Manuel. If you like those guys, you're on the right track."
Smith, Barkley, Nassib and Manuel, in a total of two Grudenized hours Tuesday and Thursday. I know I'm making that investment.
BANKS: Ranking the backup QBs in new places
***
There's not a lot of love for the top of this draft.
As the smoke begins to clear for the 2013 draft, this is obvious: No one loves the top of it. No one. When you talk to league people, you hear over and over about how this is a middle-class draft, with an egalitarian class from the teens until the middle of the second round, and no real can't-miss stars at the top.
A history lesson, then, this morning. This draft is mindful of the 2008 draft, which, in retrospect, had a significantly better second 10 than top 10. That's in part due to injuries suffered by the first and fourth players in the '08 draft -- Jake Long and Darren McFadden -- but it's as much about the fact that the players picked 11 through 20 have just been better, injuries and all. Looking at the top 20 from 2008:
1. Miami:Jake Long, T
2. St. Louis:Chris Long, DE
3. Atlanta: Matt Ryan, QB
4. Oakland:Darren McFadden, RB
5. Kansas City:Glenn Dorsey, DT
6. NY Jets: Vernon Gholston, DE
7. New Orleans: Sedrick Ellis, DT
8. Jacksonville: Derrick Harvey, DE
9. Cincinnati: Keith Rivers, LB
10. New England:Jerod Mayo, LB
11. Buffalo:Leodis McKelvin, CB/Ret
12. Denver:Ryan Clady, T
13. Carolina:Jonathan Stewart, RB
14. Chicago: Chris Williams, T
15. Kansas City: Branden Albert, T
16. Arizona: Dominique Rodgers-Cromartie, CB
17. Detroit: Gosder Cherilus, T
18. Baltimore: Joe Flacco, QB
19. Carolina: Jeff Otah, T
20. Tampa Bay:Aqib Talib, CB
Let's judge the top 10 versus the second 10:
Premier players: In the top 10, there are two, Ryan and Mayo. In the second 10, I'd say there are three: Clady, Albert (a slight stretch, though a top-12 left tackle in this game today has to be considered premier) and Flacco. Jake Long would have been, had injuries not derailed his career. He still may be one, but he'll have to be sturdier in his new address, St. Louis.
Better than average players: Five in the top 10 -- Jake Long, Chris Long, Ryan, McFadden (marginally, because of his injuries) and Mayo. And I would say eight in the second 10 -- McKelvin, Clady, Stewart (4.7 yards per carry in a job-sharing career with DeAngelo Williams), Albert, Rodgers-Cromartie, Cherilus, Flacco and Talib.
Busts: Gholston, Harvey and Rivers in the top 10, only Williams and Otah in the second 10.
By any stretch, the second 10 has to be considered a stronger collective group than the top 10 from the 2008 draft.
Think of this draft. Who would be all that surprised if Jarvis Jones, Tavon Austin, Alec Ogletree, Xavier Rhodes, Desmond Trufant and Bjoern Werner go in the second 10 ... and outplay their peers in the top 10?
BURKE: The safe, and surprising, options for each team's first pick
Raider fans: You want the good news or the bad news?
The bad: Oakland is missing two of its top five picks in this year's draft (the second- and fifth-rounders), leaving the team with just one choice in the top 65, and will have about $75 million to spend on the salary cap this year, a league low. That's because of approximately $48 million in dead money from the normal $123 million cap each team has. Some bad, bad contracts from the final days of Al Davis -- and the onerous decision to deal for and to pay big money to Carson Palmer in 2011 -- led to this mess.
The good: In 2014, Oakland will be in the best cap shape of any team -- or very close to it -- because GM Reggie McKenzie took his cap medicine in his first two years on the job. The Raiders will have approximately $50 million to spend in free agency and to extend the contracts of good players on their roster next year.
Think about an NFL team having $75 million to spend on players in a year. Washington has been grousing because of its $18million cap penalty in each of the last two years because the league ruled the team put too much dead money into the 2011 uncapped year. But Washington still has $105 million to spend this year -- $30 million more than McKenzie has to rebuild the 4-12 Raiders.
That figure, $75 million, was the cap number 10 years ago, in 2003.
McKenzie finds himself in one of the biggest Catch 22s ever in the NFL. He took the job knowing he had two years of cap hell to negotiate. Year one was ugly. Then he jettisoned the big-money quarterback, Palmer, in favor of the largely untested Matt "Two Career Starts'' Flynn. Year two could be uglier.
On Sunday, I asked McKenzie if he feared a lost season -- 3-13, or something on that order -- could cause owner Mark Davis to question the progress of the team, and maybe clean house.
"No, I don't fear that,'' he said. "You know what? I don't think along those lines. I just think of doing what's needed to make this team the best it can be long-term. That's my job. But fearful? No. Not at all. Mark knew the cap part of this was going to be a two-year deal. Mark is not his father. He is allowing me to do this, and we talk about the process all the time. He's allowing me to do the job that needs to be done.''
As one club executive told me, the Raiders will bear watching this year and next, as the lowest-growing team in the league. Some in the league think the Raiders would have less of a problem with spending $75 million on players this year than Oakland will have spending a load of cash it may struggle to scrape together next year, when McKenzie could open the checkbook to spend freely on free agents. Will Davis give McKenzie free reign to build the team as he sees fit?
"Yes, and we've talked about that,'' McKenzie said. "Remember -- the way I was raised in football, in Green Bay, was not as a big spender in free agency. I hope we continue to draft well, and I hope we can sign our own players, because that's the way I believe you win in this league. You draft, develop and sign your own players. Mark is on board with that, and what we have to do now and in the future, he's on board with and understands and he supports.''
This year, McKenzie badly wanted to keep bright defensive tackle Desmond Bryant, but the Browns, with scads of cap money available and a new owner dying to spend it, forked over $7 million a year to nab him. Could McKenzie have moved bodies around and mortgaged the future a bit with some contracts to do a deal with Bryant? Probably. But McKenzie made it clear Sunday that he wanted the Raiders out of cap jail right now, and he wanted to be sure they'd never be back in it again on his watch.
"But as far as taking our bruises now, I do want you to know we're in this to win this year,'' McKenzie said. "We will compete. This is not a throw-in-the-towel deal.''
I like that the Raiders dealt for Flynn. McKenzie knew Palmer, long-term, wasn't going to be the quarterback, because he wasn't going to commit franchise-quarterback money to Palmer annually. So for half the cash, McKenzie dealt for Flynn. McKenzie doesn't know if Flynn will be his quarterback of the future. In fact, the odds are against a seventh-round passer being someone's franchise quarterback. That's why McKenzie won't rule out taking a quarterback with the third pick in the draft. He won't rule out taking any position there. "Matt could turn out to be the guy, and if he does, so be it,'' McKenzie said.
This is why it's essential for Raider fans -- at least in my mind -- to have a forgiving nature this year. This isn't the year they're going to win. This is the year they put up building blocks for the future. If you say, "I've been patient long enough, I want results.'' Well, don't. Or don't put the blame for the 2013 performance on McKenzie if it's substandard.
The level of incompetence in the draft room by the Raiders is stunning. Over the past nine years they're the only team to not draft a Pro Bowl player in the first round. The year-by-year futility in drafting:
2004 -- Drafted tackle Robert Gallery second overall. Couldn't hack tackle. Became a decent guard. Now out of football.
2005 -- Drafted cornerback Fabian Washington 23rd overall. Now out of football.
2006 -- Drafted safety Michael Huff seventh overall. Just left for Baltimore as an unrestricted free agent.
2007 -- Drafted quarterback JaMarcus Russell first overall. Russell and Ryan Leaf are the biggest quarterback busts in NFL history. Now out of football.
2008 -- Drafted running back Darren McFadden fourth overall. When healthy, he's a very good back, but he's missed 23 games due to injury in five years. Enters the season as the Raiders' prospective starting back.
2009 -- Drafted wideout Darrius Heyward-Bey seventh overall. Just left for a modest free-agent deal in Indianapolis.
2010 -- Drafted linebacker Rolando McClain eighth overall. Two arrests, one team suspension and three in-and-out seasons later, he was released by McKenzie last week.
2011 -- Al Davis used the first-round pick in a trade the previous year for defensive tackle Richard Seymour, who was cut by McKenzie in a cost-cutting move last month.
2012 -- Former coach Hue Jackson used the first-round pick in a trade the previous year for Palmer, who was traded by McKenzie to Arizona in a cost-cutting move last week.
Nine first-round picks in the last nine years, and the Raiders have just one of the players used with the nine picks on the roster today. That is all-time incompetence. McKenzie is here to clean up the mess. It's categorically unfair to judge the job he's doing until at least the end of the 2014 season.
BURKE: Will Raiders' latest attempt to land a QB work?
***
Jack Pardee's career was simply amazing.
The 10 things you need to know about the football career of Jack Pardee, who died at 76 last week of gallbladder cancer:
1. He scored 57 touchdowns his senior year in high school, as a back on a six-man football team in west central Texas.
2. He played college football for Bear Bryant.
3. He was a linebacker and the defensive leader for George Allen's Washington team in 1972 -- the team that, in Super Bowl VII, became the 17th victim in the Dolphins' unbeaten season.
4. He was a World Football League head coach in 1974, with the Washington-turned-Norfolk-turned-Florida franchise. The Florida Blazers lost in the 1974 World Bowl.
5. He was the first NFL coach for Walter Payton, working for three years with the Bears, from 1975 to 1977. He walked a disciplinary tightrope with the enigmatic Payton early in his career.
6. He followed George Allen as Washington's coach, going 24-24 in three years, and preceded Joe Gibbs as Washington's coach.
7. He coached Jim Kelly with the USFL Houston Gamblers in 1984 and '85.
8. He coached the University of Houston, and Heisman-winning quarterback Andre Ware, for three years.
9. He coached the NFL's Oilers for five years, including the Wild Card game in which Houston blew the 35-3 lead. So egoless was Pardee that when he took the job and asked for an office where the team practiced, he was told there was no office space whatsoever there. The only space in the cramped locker-room facility was a janitor's closet. "Can it be cleared out?'' Pardee asked? "Can we fit a small desk in there?'' In the broom closet went a small desk and chair, and Pardee had to wedge himself around the corner of the desk to sit down. When he had a meeting with someone -- a player, for instance -- the player would have to stand in the hallway or pull up a chair to the desk, with the chair being mostly in the hallway.
10. He coached, finally, the Birmingham Barracudas of the Canadian Football League in 1995. Notable for two things: Birmingham is 850 miles south of the nearest Canadian border. And the 'Cudas cut Ickey Woods in his last-gasp attempt to continue playing football.
Amazing: The man coached in the WFL, the NFL, the USFL, the NFL again, and the CFL. Four leagues. One other story: The Oilers were playing a preseason game one August Saturday evening in San Diego, and after the game, Pardee stuck around the stadium to tape his coach's show. His PR man, Chip Namias, and PR lieutenant, Dave Pearson, drove Pardee back to the hotel in a rental car. Pardee still was in his coaches' clothing for the show -- coaches' shorts and a polo shirt. On the way back to the hotel, he asked to stop at a Ralph's, a grocery store chain, so he could get some beer. They went into Ralph's, Pardee got two six-packs, and they went to pay. Only one checkout stand was open. So they waited. And waited. An NFL coach, in his coaches clothing, patiently waiting with his two six-packs 10, 15 minutes for the long line to go down, and not complaining.
Jack Pardee, his office in the janitor's closet. Pardee, in the long checkout line at midnight at a Ralph's, in his coaching togs, with a couple of sixes. Pardee, playing for Bear Bryant and George Allen, coaching Payton and Warren Moon and Kelly. Quite a football life.
Quote of the Week I
"He has no awareness of the rush surrounding him. So his pocket awareness ... 30, 32 fumbles in his career ... five sacks in the first half against Texas, three of them he could have gotten rid of the football easily and one of them he was stripped of the football in the end zone for a touchdown. There is no internal clock, there is no feel. Deep ball accuracy, I've put reel together of six to eight throws that should have been touchdowns; wide-open vertical guys that he overthrew or underthrew.
The more tape I watch -- and this is common of a lot of talented, big-arm quarterbacks -- he stares down receivers and he throws the football late. So there is a lack of anticipation and timing. Now, having said all of those things, I recognize the big arm, the athletic ability; he's a great athlete, he's a natural thrower of the football. I just don't see it enough on tape. I couldn't take him in the top 10, I don't think I could take him in the top 20. This entire quarterback class on tape frustrates me."
-- Mike Mayock, the NFL Network analyst, on West Virginia quarterback Geno Smith.
Meet the prospects: Tank Carradine | Menelik Watson | Desmond Trufant| Margus Hunt
Quote of the Week II
"I would argue that, in my opinion, Mike Glennon could go late in the first round and I wouldn't have a problem with that at all. As I talk about his attributes, I think he has probably -- of the quarterbacks in this class -- more of the attributes that you look for than maybe any other quarterback in this class. The thing that stands out with him, first of all, is his functional mobility for a big man is far better than people might give him credit for. You see him move out of the pocket and make throws. The thing I really like about him is his willingness to pull the trigger. You've got to do that in the NFL."
-- NFL Films senior producer and tape maven Greg Cosell, who said Friday on NFL Network that he thinks Glennon, of North Carolina State, is a better NFL prospect than Geno Smith or Matt Barkley, the two presumptive top quarterbacks in the 2013 draft.
Quote of the Week III
"We're in talks with a handful of players who are considering it. There are up to four players being talked to right now, and they're trying to be organized so they can come out on the same day together. It would make a major splash and take the pressure off one guy. It would be a monumental day if a handful or a few guys come out. Of course, there would be backlash. If they could share the backlash, it would be more positive.''
-- Former Ravens linebacker Brendan Ayanbadejo, to the Baltimore Sun on Friday, on the prospect of active players admitting they are gay.
Quote of the Week IV
"I'm definitely closer towards the end than I am the beginning, but I think if anybody watched last year they know how much I have left ... But as far as trying to prove people wrong, I'm way beyond that."
-- Anquan Boldin, to Ben Volin of the Palm Beach Post, about whether he'll have success in San Francisco.
Stat of the Week
We hadn't heard much about the son of Gregg Williams, Blake Williams, since his dismissal by Jeff Fisher as Rams linebacker coach and defensive playcaller after the season -- until last week. NCAA Division II team William Jewell College of Missouri hired Blake Williams as defensive consultant and presumptive playcaller. Quite a precipitous fall. Blake Williams might find the job tougher at William Jewell than he had in trying to stop Colin Kaepernick and Russell Wilson last year.
William Jewell lost by scores of 57-16, 56-0, 53-7, 52-17 and 48-3 in 2012. The team gave up 41.6 points per game, 5.8 yards per rush, and 34 touchdown passes.
Factoid of the Week That May Interest Only Me I
Between them, Rutgers basketball coach Mike Rice and athletic director Tim Pernetti are due more than $2 million in contract settlements in the wake of leaving university employment.
There is something twisted about that.
Factoid of the Week That May Interest Only Me II
In 2012, the last full calendar year of his prolific life, film maven Roger Ebert, who died Thursday, reviewed 306 movies. That's more reviews than he wrote in any year of his Pulitzer Prize-winning life.
There is something inspiring about that.
Mr. Starwood Preferred Member Travel Note of the Week
I just have to travel more. Two notes for you, not necessarily what you're used to reading as travel notes.
One: The Santa Clara basketball team just finished winning the College Basketball Invitational, one of the sub-NCAA tournaments that someone figured out would be a good way to keep gyms crowded in late March and April. The Broncos won the first game of the 16-team field at home against Vermont. Then, in an 11-day span, Santa Clara won at Purdue (West Lafayette, Ind.), at Wright State (Dayton, Ohio), in Santa Clara against George Mason in the first game of a best-of-three championship series, then lost at George Mason (Fairfax, Va.) in game two, then won at George Mason (Fairfax, Va.) Friday night to win the CBI. That's 8,427 miles traveled to win the CBI.
Santa Clara is used to silly travel schedules in the postseason. Two years ago, the Broncos played at SMU (Dallas) in the semifinals of the CollegeInsider.com Postseason Tournament, then at Iona (New Rochelle, N.Y.) in the championship game. Santa Clara won that one before an announced crowd of 2,440, and 2,202 attended Friday night in Fairfax.
Two: Maybe wearing gym shorts and an old hoodie, with an open paper cup of coffee, and a dog laying at my feet, isn't the proper way to wait for one's wife outside a Food Emporium grocery store on the east side of Manhattan. There I was over the weekend, while my wife did a little shopping inside, and a guy walked out of the store toward me and fished out two quarters. "Here you go,'' he said.
I said, "No, no, no, I'm good. But thanks.''
Double Tweet of the Week
"the best coaches don't stoop to use anger and rage to motivate. Players don't respond. We ignore those coaches.''
"The best coaches earn the player's respect from respecting the players. Those coaches win over their players and win over time.''
-- @BradyPoppinga, former Packers linebacker, on the Mike Rice mess at Rutgers.
Tweet of the Week III
"Rutgers University: The Gang That Couldn't Spin Straight."
-- @MikeVacc, New York Post columnist Mike Vaccaro, watching the State University of New Jersey try to make sense of the Mike Rice affair in its Friday press conference.
Tweet of the Week IV
"This game is uglier than a Mark Sanchez comeback attempt."
-- @HubbuchNYP, Bart Hubbuch of the New York Post, as the Wichita State-Louisville game plodded along in the first half Saturday.
Ten Things I Think I Think
1. I think the Jets are delaying the inevitable with the stuff about making Darrelle Revis work out at their facility (via Rich Cimini of ESPNNewYork) if he wants his workout bonus. They wan to do so even though he's probably better off for his rehab at his Arizona facility, and even though Revis in the house will provide the distraction of all distractions during the Jets' offseason workout program. Why invite mayhem into what should be a period of positive press?
2. I think the meaning of Terrell Owens, who turns 40 this year, catching passes from Tom Brady in a Los Angeles workout is this: Owens wants to continue his NFL career. Brady wants to have receivers catch balls from him when he works out. That is all. Not saying it's impossible that T.O. will end up in someone's camp, but I highly doubt it, and I highly, highly doubt it will be New England's.
3. I think around this time of year, everyone has an opinion, and for an analyst like Pro Football Weekly's Nolan Nawrocki to be highly critical of Geno Smith ("Not a student of the game, not committed or focused") is not surprising. Understand one thing: People like Nawrocki are not making this up. NFL scouts talk to people studying the draft, and they have opinions, and they understand that the analysts are going to put the opinions in their own words. Now, is Smith a bad student, or not focused? Not from what I have heard. But I probably haven't spoken to the same people Nawrocki has.
I've heard Smith is a bit reserved, not a great leader and an average decision-maker. But I've also heard he's a good worker, a smart player who puts in the time, fast, with a very good arm. Understand this: No NFL scout is going to take what Nolan Nawrocki thinks or writes to the bank. Could the team choosing him go back and do some extra homework on him after reading that? Maybe. But let's say Buffalo is considering Smith at No. 8. Do you think GM Buddy Nix is taking shortcuts on the eighth pick in the draft, and do you think coach Doug Marrone would take Smith, upon whose shoulders his future as an NFL head coach will depend, without doing full due diligence?
4. I think Doug Marrone's taking Ryan Nassib. I can't stop thinking that.
5. I think I'll pass this along, with the names not used because I was let behind the curtain of the draft process with this particular team a few years ago for educational purposes and not to reveal who told me this. But in 2001, when Michigan wideout David Terrell was the eighth pick overall by Chicago, I was allowed into the Michigan Pro Day. I'd say there were 60 NFL people at the Pro Day -- coaches, scouts and a couple of general managers. I saw two fairly famous scouts there, guys I'd known for a while. Very opinionated guys, both of them. These two scouts didn't sit in the large meeting between coaches and scouts, and during the Terrell workout, I saw both sitting on the sidelines, not paying much attention to the throws and catches. One of them told me he'd watched tape of Terrell and didn't like him, and he was quoted the same way before the draft.
The point is, whether he watched a lot of tape and loved the guy or didn't love the guy, scouts have opinions. They like to share those opinions. In my opinion, I wouldn't have trusted the two scouts I saw on the sidelines nearly as much as I would have trusted those being worker bees at the workout that day, because the two veteran scouts had such a laissez faire approach to their jobs and had already made up their minds about a player before seeing all the available evidence. Turns out, on Terrell, they were correct. But in general, I trust general managers who make tough and seemingly against-the-grain decisions more than I trust the ones making the predictable decisions.
Who has succeeded more in the past few drafts? Atlanta GM Thomas Dimitroff made a risky move to deal for Julio Jones, which looks smart now. I didn't like Indy GM Ryan Grigson at the time for taking a second straight tight end in the 2012 draft, but Dwayne Allen turned out to be one of the best rookies in the league last year. Seattle GM John Schneider took Russell Wilson 75th overall last year, and everyone said he reached for the diminutive Wilson. Some reach. My point: Dimitroff, Grigson and Schneider aren't biting their nails because Nolan Nawrocki questions a player they like.
6. I think, as he told the Arizona Republic, Cards GM Steve Keim won't have many sleepless nights about the quarterback position. Keim said he watched every one of Palmer's passes for the past three years. That's 1,479, by my count. And he's convinced that Palmer has enough arm to play in coach Bruce Arians' downfield passing offense. Arians, I can tell you, is thrilled. This is the man they wanted, of every quarterback in the market. To get him for a trade-down of 43 slots this year in the draft, dealing a sixth-round pick to Oakland for the Raiders' seventh-rounder, will be a good trade whether Palmer works out or not. Very, very much worth the small risk Arizona is taking.
7. I think Charles Woodson is right. He said the other day he's not been signed in free agency because teams think he's too old. What gave it away? The fact you're 36?
8. I think this has to be the charity donation of the week: Peyton Manning pledging $500,000 to Pat Summitt's foundation for Alzheimer's support and research.
9. I think (making an exception on my football thoughts of the week to include the loss of a great critic, Roger Ebert) what I always appreciated about Ebert was that he liked more movies than he hated -- many more. And he didn't mind gushing in a gee-whiz way about them. That's how I've always felt about movies. There's something in most of them to like. I wasn't an ardent reader of his reviews, but I watched his show with Gene Siskel a lot, and I do recall reading his piece on Field of Dreams, one of my favorite movies ever. I thought he hit a grand slam with it. Sample a piece of it, of the glove story and the love story between Costner (Ray) and Amy Madigan (Annie), and see why we'll miss Ebert so:
Movies are often so timid these days, so afraid to take flights of the imagination, that there is something grand and brave about a movie where a voice tells a farmer to build a baseball diamond so that Shoeless Joe Jackson can materialize out of the cornfield and hit a few fly balls. This is the kind of movie Frank Capra might have directed and James Stewart might have starred in --a movie about dreams. It is important not to tell too much about the plot. (I'm grateful I knew nothing about the movie when I went to see it, but the ads give away the Shoeless Joe angle.) Let it be said that Annie supports her husband's vision, and that he finds it necessary to travel east to Boston so that he can enlist the support of a famous writer (James Earl Jones) who has disappeared from sight, and north to Minnesota to talk to what remains of a doctor (Burt Lancaster) who never got the chance to play with the pros. The movie sensibly never tries to make the slightest explanation for the strange events that happen after the diamond is constructed.
There is, of course, the usual business about how the bank thinks the farmer has gone haywire and wants to foreclose on his mortgage (the Capra and Stewart movies always had evil bankers in them). But there is not a corny, stupid payoff at the end. Instead, the movie depends on a poetic vision to make its point ...
There is a speech in this movie about baseball that is so simple and true that it is heartbreaking. And the whole attitude toward the players reflects that attitude. Why do they come back from the great beyond and play in this cornfield? Not to make any kind of vast, earth-shattering statement, but simply to hit a few and field a few, and remind us of a good and innocent time.
It is very tricky to act in a movie like this; there is always the danger of seeming ridiculous. Costner and Madigan create such a grounded, believable married couple that one of the themes of the movie is the way love means sharing your loved one's dreams. Jones and Lancaster create small, sharp character portraits --two older men who have taken the paths life offered them, but never forgotten what baseball represented to them in their youth. 'Field of Dreams' will not appeal to grinches and grouches and realists. It is a delicate movie, a fragile construction of one goofy fantasy after another. But it has the courage to be about exactly what it promises. 'If you build it, he will come.' And he does.
Now that's a movie review.
10. I think these are my non-football thoughts of the week:
a. RIP, Stan Isaacs. Looked up to him before, during and after my Newsday gig in the '80s. Dignified man and a very good writer, with better ethics.
b. Way to go, Cornhuskers. That rocks, and that's how to make a 7-year-old cancer patient's dream comes true.
c. Paragraph of the Week That Shows How Shallow I Am: This comes courtesy of critic A.O. Scott of the New York Times, in his elegy of Ebert: "Twitter was the last, and maybe the least, of the discursive forms Mr. Ebert mastered. A journalist for nearly half a century, a television star for three decades, a tireless blogger and the author of a memoir and a cookbook, he was platform agnostic long before that unfortunate bit of jargon was invented. Social media, another neologism and, too often, an oxymoron, was for him a tautology.''
d. I shall now define the previous four terms I do not understand, with help from Webster's Online Dictionary. "Discursive:'' moving from topic to topic without order; rambling ... "Platform agnostic,'' I believe, means that he was unwilling to commit to work on one platform, and he enjoyed and was good at many ... "Neologism'' is a new word, usage or expression, meaning that social media was just another new tool to communicate for Ebert ... And "tautology'' means a needless repetition of an idea. Meaning, I think, that all media is social, so why use the term "social media?"
e. Thanks for the vocab lesson, A.O., and I mean that.
f. Well, at least I knew "oxymoron.''
g. The meaning, it seems to me, is that Roger Ebert was his profession's Troy Brown. Mr. Versatile, getting the job done in many different media.
h. Juan Pierre is three hits shy of Yogi, six shy of Mattingly.
i. Jose Iglesias, 2012: eight hits, 68 at-bats. Jose Iglesias, 2013: nine hits, 16 at-bats.
j. Rest in peace, Matthew Warren. The 27-year-old son of pastor Rick Warren suffered from depression. So sad.
k. Get well, Nelson Mandela.
l. Get wise, in a hurry, legislators standing in the way of real gun reform.
m. Matthew Stafford's High School Teammate Just Might Be Good Dept.: Clayton Kershaw after two starts: 2-0, 0.00 ERA, 16 innings, six hits, one walk, 16 strikeouts.
n. Best drama of the first week in baseball: Cubs up 5-4, bottom nine in Atlanta Saturday night. Chicago bullpen arsonist Carlos Marmol comes on. B.J. Upton leads off. Hits a 93-mph fastball two rows into the center-field seats. With one out, brother Justin Upton comes up. Hits a 94-mph fastball into the first row of the center-field seats. Braves win, 6-5.
o. Second-best: Yu Darvish's 26-up, 26-down, single-up-the-middle gem at Houston.
p. Third-best: Will Middlebrooks with three bombs Sunday at Toronto -- and a fourth that died on the warning track in left field in the eighth inning.
q. Congrats, Louisville men and women. The women, especially. An amazing run they're on, reaching the final Tuesday night after a seesaw year and being seeded fifth in their part of the bracket. And congrats also to the UConn women beating Notre Dame. This native Nutmegger felt lots of pride last night, with UConn winning the other national semi after losing to the Irish three times this year. Great job. As for the men's national championship game, I'll take Louisville tonight, 64-60. Sorry Adam Schefter. Sorry Rich Eisen.
r. Happy opening day, Fenway.
s. Coffeenerdness: I congratulate you on the new hazelnut macchiato, Starbucks. That's a keeper.
t. Beernerdness: Saw two baseball games last week, one at Yankee Stadium and one at CitiField. I will now grade the beer selection. Yanks: C-minus; Miller/Coors must have bought the pouring rights for the place, because the only thing I found with a touch of originality was Batch 19, its Prohibition-era beer. Not bad. A choice would be better. Mets: A. The selection is the best in the majors east of Safeco, my palate says. Bypassed the Third Shift Amber Lager for one I love -- Brooklyn Lager in a 16-ounce can, currently my favorite lager. Gotta love a stadium with choices outside the mainstream.
u. I'm a little late for Mad Men. Five years, to be exact. But it feels like a show I should catch up on.
v. T-minus six days for the new season of Veep.
w. And let's not forget the fundraiser for the foundation of the late Cardinals safety and military hero Pat Tillman. The details:
? I'll be running April 20 in Pat's Run, the 4.2-mile race in Tempe, Ariz., that honors the memory of Tillman and raises money for the Tillman Military Scholars. The night before the race -- April 19, 5-7 p.m. at Tom's Tavern in downtown Phoenix -- I'm going to host a Tweetup along with some Cardinals.
? Admission: $40, which includes admission, two drink tickets, food (pasta stations, to get prospective runners ready for Saturday morning's race) and a football panel. All of the $40 will go directly to the Tillman Military Scholars program.
? The panel: I'll be joined by new Cards coach Bruce Arians, GM Steve Keim, club president Michael Bidwill ... and some Cardinals players. I know Jay Feely, Patrick Peterson and Sam Acho will be there, and we'll try to get more. We'll have a panel discussion, and attendees will be encouraged to ask questions and get autographs and photos.
? The goal: To raise at least $10,000 for the Tillman Military Scholars. Our goal is to fund one student -- a returning veteran, or the spouse of a veteran -- for one semester of school at one of 16 universities used by the Scholars. The program has invested $3.2 million in sending 230 scholars to college.
? Ticket limit: There will be 250 tickets sold. Call 602 379 0102 to obtain them, or visit Cardinal box office locations.
? Auction: We'll have some auction items, many of them Cardinal-centric, but also a Peyton Manning autographed football.
? My thanks: To all who will attend, and especially to Michael Bidwill for generously making the evening possible. He's the one who got Arians and Keim to come -- so fans can pester them into revealing who the Cardinals will take with the seventh pick of the draft (shhhhhhh!) -- and he's the one who okayed donating every dime from the tickets to the Tillman Military Scholars.
Really hope to see you out there that night. It's going to be a great couple of hours.
The Adieu Haiku
A key draft nugget: Syracuse passer's name is NASS-ib, not na-SEEB.