'Power in numbers' was a trend in this draft, but why?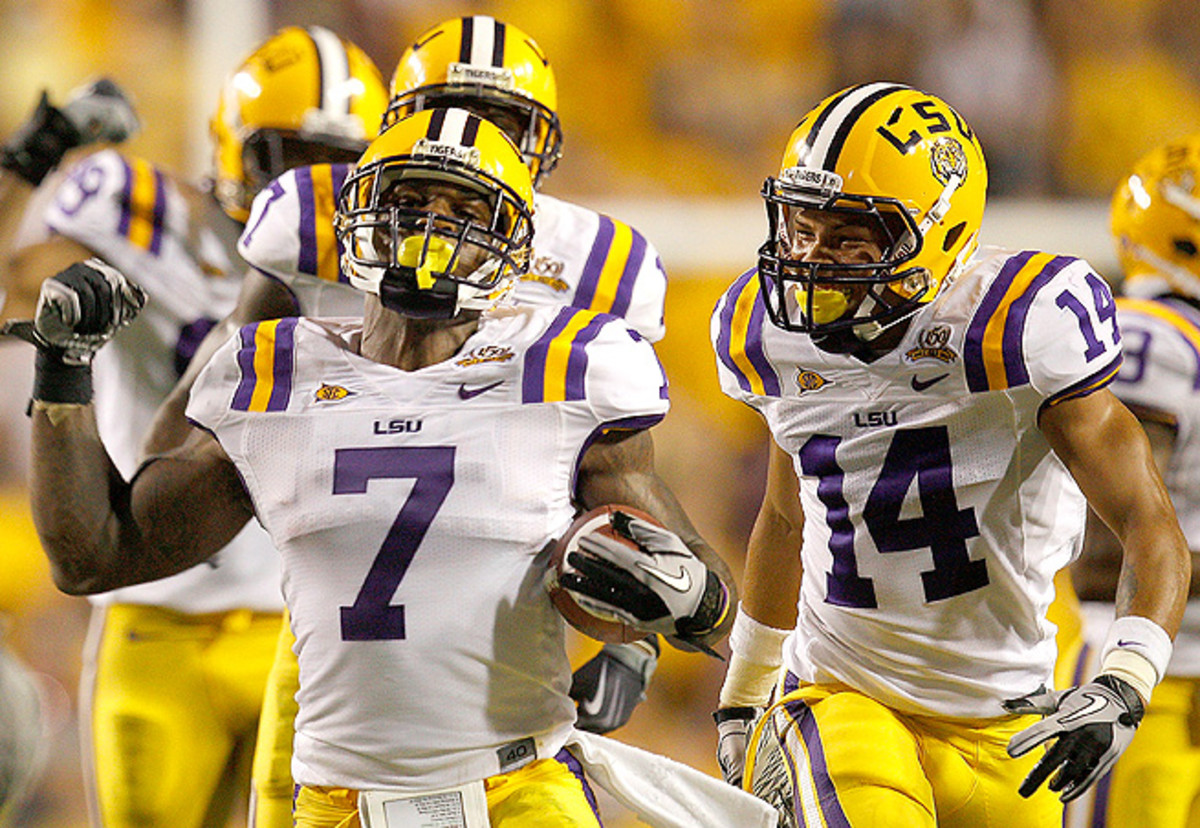 One of the more subtle trends emerging from last week's NFL draft could loosely be described as the 'Power in Numbers' theory. Some teams took a more-the-merrier approach in targeting particular schools and positions in the process of building their rookie classes.
The Rams selected not one but two highly productive receivers from West Virginia: Tavon Austin in the first round, and Stedman Bailey in the third round.
The Cardinals took a pair of LSU defensive standouts, second-round linebacker Kevin Minter and third-round defensive back Tyrann Mathieu. They join former LSU star, Pro Bowl cornerback-returner Patrick Peterson, who's already one of the team's cornerstones.
And as always, the Patriots set the pace, drafting three defensive players from Rutgers among their seven picks: cornerback Logan Ryan and safety Duron Harmon in the third round, and linebacker Steve Beauharnais in the seventh. In addition, they signed Rutgers cornerback Brandon Jones this week as an undrafted free agent. Those four additions boost the Scarlet Knight contingent on the New England roster to six, along with safety Devin McCourty and defensive end Justin Francis. And then there's Steve Belichick, the son of the Patriots' long-time head coach, a former Rutgers long-snapper who is now a New England assistant on his dad's staff. All six of the Patriots players with Rutgers ties are defenders.
At a quick glance, you can see most of the logic for these three teams to stock up in bulk from the same schools. The Rams went into the draft in dire need of receivers, and Austin and Bailey were two of the most prolific available, each catching 114 passes last season for the Mountaineers, combining for 42 touchdowns and 4,691 all-purpose yards in the process.
The Cardinals took a chance on the talented but troubled Mathieu; this made all kinds of sense, because Peterson is his friend, former teammate and mentor. The pair lived and trained together in Arizona for much of the past year, as Mathieu sat out the 2012 season after being suspended from LSU for multiple failed drug tests. When you add in the drafting of Minter, the ex-Tigers team MVP and captain, there's at least the making of the best possible support system already in place for Mathieu in Arizona. Not that the potential upgrade of two SEC standouts joining the mix on defense for the Cardinals wasn't the driving factor in Arizona's decision making. The Cardinals drafted Minter and Mathieu for their talent, not their familiarity with each other and Peterson.
As for the Patriots, they've routinely bought in multiples in recent drafts. In 2010, they drafted three from University of Florida coach Urban Meyer's program -- tight end Aaron Hernandez in the fourth round, and linebackers Jermaine Cunningham and Brandon Spikes in the second. They made runs on positions in 2010 (tight ends Rob Gronkowski and Hernandez), 2011 (running backs Shane Vereen and Stevan Ridley), and this year, with their double-receiver draft of second-rounder Aaron Dobson of Marshall and fourth-rounder Josh Boyce of TCU.
But the quadruple investment in the Rutgers program also has plenty to do with Bill Belichick's history and familiarity with former Scarlet Knights coach and current Tampa Bay head coach, Greg Schiano. The two have been coaching friends for some time, just as Belichick is with Meyer, and that association gave the Patriots head coach the confidence to raid Meyer's ultra-successful Florida program three years ago.
After first describing his expenditure of 43 percent of his 2013 draft picks on Rutgers players as "coincidental,'' Belichick acknowledged that his comfort level with Schiano and his former collegiate program was a major factor in New England's draft decisions.
"I've known coach Schiano for quite a while,'' Belichick said Saturday night, in re-capping the Patriots' draft. "I'd say the players he recruits and the program he runs is in a lot of ways similar to what we do. So the fact that he's recruited those kids four to five years ahead of when they come into this league and they've been in a program that's, in a lot of ways, probably similar to ours, then it's probably not that surprising that we would like some of the kids he's produced, both talent-wise and total makeup.''
What is perhaps more surprising is that while Belichick drafted those three Rutgers players this year, Schiano hasn't spent any of the 13 picks Tampa Bay has made in his two years as their head coach on one of his former players. Belichick seemingly has more confidence in Rutgers' products than Schiano does, or perhaps just more latitude to invest in them than a first-time NFL head coach (see the brief Steve Spurrier coaching era in Washington, with its plethora of former Gator players failing to ensure success).
While a team or coach's familiarity or comfort zone with one particular collegiate program will perhaps always be a cyclical thing in the NFL, this year's examples aren't the only recent instances where personal relationships and ties to a player or coach might have contributed to a club's draft-day thinking. In the 2012 draft, the Colts selected quarterback Andrew Luck and then made sure to take his former teammate and pitch-and-catch partner, Stanford tight end Coby Fleener, in the second round. Also, Miami's selection of Texas A&M quarterback Ryan Tannehill with the No. 8 pick last year had more than a little something to do with the Dolphins having hired ex-Aggies head coach Mike Sherman as their offensive coordinator.
Again, while not solely driving a team's decision, the potential upside of having Austin and Bailey break in together in St. Louis, or Mathieu being surrounded by Peterson and Minter in Arizona, seems obvious. There's a support system already in place, and the rookies' NFL acclimation process should be aided by having someone familiar to turn to. In the best-case scenario, one plus one could wind up equaling more than two.
"It's probably more case by case than a trend, but absolutely I think there's potential benefit,'' said Rams vice president of football operations Kevin Demoff. "I don't think that was ever the reason we took Bailey after already drafting Austin, but it's one of those things were if you could weigh things on a scale, and everything else was tied, you could say, yeah, it's good to bring in two people who know each other, who can room together and help each other translate the offense. Now that they're both here, all of those things are positive.
"One valuable thing is, if you saw what [Rams 2012 second-round draft pick, running back] Isaiah Pead said this offseason, he admitted that during his rookie year he was lonely and miserable and it was very hard adjustment for him. When you come in with a hand-picked best friend and ex-teammate, that's great, because it should only benefit you long term and in your transition to the league.''
The Cardinals are not expecting Peterson to babysit Mathieu, but they selected the draft's most controversial prospect with a decent level of confidence stemming from Peterson vouching for Mathieu and encouraging his selection. Peterson and his father, Patrick Peterson Sr., worked with and trained Mathieu in Arizona in recent months, after Mathieu was arrested last fall on a drug possession charge. The Peterson family has invested in his career resurrection, to the point where Mathieu lived with the Cardinals star cornerback in the Phoenix area.
"It helped a bunch,'' new Cardinals head coach Bruce Arians said, when asked how Peterson's involvement in Mathieu's comeback impacted Arizona's decision. "Not just Patrick, but his family. How much they care about this young man, they obviously see something. There are other connections to him that we have that feel very strongly.''
Peterson called the day the Cardinals selected Mathieu "one of the happiest days of my life,'' and said he has been with his former teammate "through thick and thin ... for the last nine or 10 months.'' Peterson's faith in Mathieu extends to the point where he guaranteed the Cardinals they will be rewarded for the gamble they took.
"I told them I'm willing to put my neck on the line for the kid,'' Peterson said in a draft weekend conference call with Arizona's media. "I promise you he will definitely walk a straight line. He will not get in any problems with us. I want to see him succeed as well, as much as he wants to see himself succeed. They came to me and I told them that. I can promise you he would never let the opportunity [to play] slip away from him again.''
Mathieu, who wore Peterson's old No. 7 jersey at LSU, knows he wouldn't be in Arizona if it were not for his former Tigers teammate. Having Minter on the Cardinals roster just adds to the familiarity factor in Phoenix.
"I couldn't have picked a better team to go to,'' Mathieu said in his post-draft conference call. "I spent so much time out there with Patrick, and Phoenix has kind of become my second home over the past year. Like I said, seven months ago [Patrick] was the only one who believed in me. He showed [the Cardinals] that I was doing the right thing. He has done everything for me.''
Perhaps like no other NFL team this season, the Cardinals are certainly banking on there being strength in numbers when it comes to their roster's LSU contingent. If Mathieu and/or Minter ever come close to Peterson's level of stardom, Arizona's buy in bulk approach to the 2013 draft will go down as a wise and rewarding purchase.