Packers show good things come to those who wait; more Snaps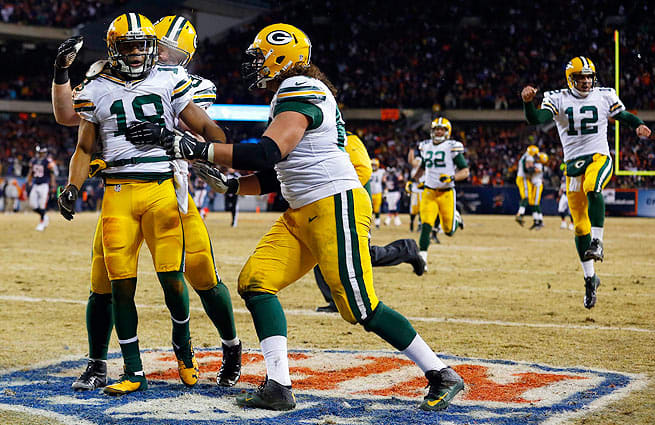 Rodgers was a gutsy 25-of-39 for 318 yards, with two touchdowns and two interceptions. And in a plot twist that you just can't make up, both scoring passes were to Cobb, who was only activated off injured reserve on Saturday. Cobb caught just two passes in the game, but both came in the second half, and gave Green Bay a lead. His seven-yard touchdown grab put the Packers up 20-14 midway through the third quarter, and his game-winner unfolded on a play where the Bears gambled and brought extra pass pressure on Rodgers.
• The Bengals found a way to get it done against the Ravens and finished 8-0 this season at home, and 11-5 overall. But I still don't have a lot of confidence in my AFC preseason Super Bowl pick heading into the playoffs. I'm pretty sure it has plenty to do with those four Andy Dalton interceptions against Baltimore.
The picks weren't all Dalton's fault, but it wasn't the kind of note the Bengals' quarterback wanted to enter the postseason on, even if he did wind up setting team records for touchdown passes (33) and passing yards (4,296) this season.
The No. 3-seeded Bengals will draw upstart No. 6-seeded San Diego (9-7) at home in the first round of the playoffs next week, and be comfortably favored, and rightly so. But the game will be pressure-packed for Cincinnati, given the history of the Bengals in the playoffs. They've lost on the road at Houston in the first round in each of the past two years, and Cincinnati hasn't won a playoff game of any sort since a win over the Houston Oilers in the 1990 postseason.
Nothing less than at least one playoff win should suffice this year in Cincinnati. The Chargers should be playing loose and with house money in the postseason after their December rally. But if the first Bengals home loss of the season is next weekend, no amount of spin will be able to disguise the fact that Marvin Lewis's team again underachieved in 2013.
• Gutty win for the Panthers at Atlanta, because Carolina overcame a sluggish first quarter and withstood a late comeback attempt by the Falcons, who were bidding an emotional farewell to retiring tight end Tony Gonzalez (and this time he really means it).
The Panthers hung on for a 21-20 win, earning the No. 2 seed in the NFC and receiving a much-needed first-round bye, and a divisional-round home game. That's time off Carolina desperately needs, because the thought of a legitimate Super Bowl run being mounted without a healthy Steve Smith is far-fetched. The veteran receiver sat out the Falcons game with a knee sprain and now won't have to test it for two weeks.
Carolina's pass rush was phenomenal against Atlanta, with an NFL season-high nine sacks, setting the Panthers' one-game record and giving them a club-record 60 this season. Defensive coordinator Sean McDermott's defense is playing as well as any other team in the league at the moment, and it looks ready to withstand the pressure of the postseason.
• I know this might not be a popular notion in eight other NFL cities about now, but if form holds and the top two seeds in each conference wind up meeting in the conference title games, how could we complain about Carolina at Seattle in the NFC, in a matchup of dominant defenses; and New England at Denver in the AFC, in another Tom Brady-Peyton Manning playoff duel?
• Vikings rookie Cordarelle Patterson's absence from this year's NFC Pro Bowl team takes the notion of a Pro Bowl snub to a whole new level. The Pro Bowl, of course, has done away with kickoffs this season for the first time, and that leaves Patterson and his league-best 32.4-yard kickoff return average on the outside looking in.
Patterson made his omission a glaring one with his performance in Sunday's 14-13 win over Detroit, scoring on a scintillating 50-yard rush late in the first quarter, and a pretty 8-yard catch early in the fourth quarter. The rushing touchdown was the longest in Vikings history by a receiver, and he set another team record for the most rushing touchdowns in a season by a receiver, with three.
It's hard to take the Pro Bowl seriously any way, but without the dangerous and multi-faceted Patterson on the NFC roster in some capacity, it's a complete joke.
• The Rob Chudzinski tenure in Cleveland isn't looking very long-term at the moment. (UPDATE: The Browns have fired Chudzinski, per multiple reports.) Had one long-time NFL source in the coaching community tell me his surprise head coaching vacancy will be in Cleveland, where the Browns front office is apparently disappointed in some aspects of Chudzinski's first-year work. The source noted that Chudzinkski, of course, wasn't the first choice of team president Joe Banner last year (that was Oregon's Chip Kelly), and that Browns decision-makers haven't liked Chudzinski's inability to stop the bleeding in the second half of the season.
Cleveland started a very competitive 3-2 in the AFC North, despite playing quarterback roulette between Brandon Weeden, Brian Hoyer and Jason Campbell for most of the season, but lost 10 out of 11 and its final seven games to finish 4-12, one game worse than its last-place showing of 2012. The Browns are said to have their eye on either current Penn State head coach and former Patriots offensive coordinator Bill O'Brien or current New England offensive coordinator Josh McDaniel. That sounds like Browns general manager Mike Lombardi, who worked with Bill Belichick in Cleveland in the early '90s, isn't exactly in the Chudzinski camp.
• Not really a fan of how the Chiefs helped decide the AFC's sixth and final playoff berth in favor of San Diego. Kansas City, locked into the AFC's No. 5 seed and having nothing to play for against the Chargers, decided to rest Len Dawson, Mike Garrett, Otis Taylor, Willie Lanier, Buck Buchanan, Jim Tyrer and Curley Culp.
Well, actually, rather than members of their 1969 Super Bowl team, the Chiefs sat Alex Smith, Jamaal Charles, Derrick Johnson, Branden Albert, Dwayne Bowe, Tamba Hali and Dontari Poe. But the effect was the same. Kansas City played its JV squad against the Chargers, no matter that Pittsburgh needed a Chiefs win over San Diego to make the playoffs. And even though Kansas City played the game hard with those players available, it's the mentality of resting players en masse while the playoff races are still on that doesn't sit right.
Three weeks ago, this is what Hall of Fame head coach John Madden had to say about Mike Shanahan's decision to bench quarterback Robert Griffin III for the final three games of the year: "We have an integrity piece here, too. You can say, 'Well they're 3-10, they're out of it, so now they can do these things.' No you can't. This is still regular-season football. Draft order, that's one small thing, but you still owe it to the people that are playing, that are still in the playoff picture. And when you can affect that and you don't affect it with an all-out performance, then I think that affects the integrity of the game."
If Griffin's benching affected the integrity of the game, even though Washington only played one more game against a playoff contender (at home in Week 16 against Dallas), then how is Kansas City's decision to bench seven of its best players any different? It certainly impacted the AFC wild-card playoff race in terms of the No. 6 seed.
You can say that Kansas City earned that right, and I suppose the Chiefs did. But that doesn't mean it's the right call for the integrity of the playoff races. It's not and it never will be in my view. Just like when the 2009 Colts barely played Peyton Manning in Week 16 against the Jets, who went on to make the playoffs because of it, and eventually win their way to the AFC title game.
I don't think Pittsburgh can complain too loudly, given that the Steelers started 0-4 and went just 8-8. But the rest of us can. The Chiefs en masse benching stinks in my opinion. It's one of the ways Week 17 can wind up offering a less than level playing field for playoff contenders.
• That RGIII trade looks better for the Rams all the time. The blockbuster deal eventually played a role in getting Mike Shanahan fired in Washington (after perhaps initially earning him a fourth season in D.C.), but it has been nothing but aces for St. Louis. With Washington's loss to the Giants, the Redskins (3-13) locked up the No. 2 pick, which they will promptly ship to the Rams as the final payment in the Griffin trade.
The Rams traded their No. 2 pick in 2012 and received first-round selections in 2012 and '13, with a second-rounder in 2012, and now, the No. 2 overall pick in 2014. They won't get a king's ransom in trade for this No. 2, but they might again put it up for auction and see if a quarterback-needy team, or someone in love with South Carolina defensive end Jadeveon Clowney, comes calling.
Players who have been drafted by the Rams with those picks from the Redskins, or the extra picks that St. Louis turned them into, include defensive tackle Michael Brockers, cornerback Janoris Jenkins, linebacker Alec Olgetree, running back Zac Stacy and whomever comes their way via the No. 2 pick in 2014. Maybe not Herschel Walker-turn-the-franchise-around-overnight-like, but a pretty good haul nonetheless.
• Peyton Manning hung up video-game numbers this season and his record-breaking totals of 55 touchdown passes and 5,477 passing yards have to earn him the distinction of the greatest season ever produced by a quarterback.
But, and we're repeating ourself here, if it doesn't produce a Super Bowl ring for the Broncos, it's going to be perhaps the most bitter pill Manning has ever had to swallow in his tortured playoff history. That's just the reality of his record-shattering -- and no doubt MVP-winning -- performance in 2013.
Manning knows that better than anyone. Either he parlays the Broncos' No 1 seed and all that offense into the big confetti shower on the night of Feb. 2 in his little brother's home stadium, or his historic production is going to feel like it has gone for naught. I don't think it's a stretch at all to say this year is his last, best chance to join the two-ring club.
• I know there was some reporting that Raiders head coach Dennis Allen is safe for the 2014 season, but that was before Oakland went out and trailed visiting Denver 31-0 at the half. The Broncos pulled Manning after four touchdown passes and a 25-of-28, 266-yard first half, and that helped the Raiders lose by a more respectable 34-14.
But with back-to-back 4-12's in Allen's first two seasons in Oakland, I won't be shocked if Raiders owner Mark Davis decides not to show the patience he planned on and asks this young head coach to turn in his key card and his parking space at some point in the coming days.
• The Texans are going to interview San Diego offensive coordinator Ken Whisenhunt as the final candidate for their vacant head coaching job, and they reportedly might be ready to make a hire as early as Tuesday. While ESPN reported that Houston is already in negotiations to hire Penn State head coach Bill O'Brien, don't sell Whisenhunt's chances short.
Texans general manager Rick Smith is thought to be very high on Whisenhunt's candidacy, and the former Arizona Cardinals head coach is no cursory interview. He'll get his fair shot to make a case for the job, and one league source close to the situation told me Saturday night to be wary of prematurely locking in O'Brien as Houston's selection, even if he is the overwhelming favorite. Remember, last year during hiring season, Andy Reid was reportedly "95 percent'' certain to be Arizona's new head coach.
• Remember when the Colts seemed to bury themselves in the first half every week? Those days seem gone. Indianapolis raced out to a season-high 17 points in the opening 15 minutes, then cruised past Jacksonville 30-10, to win its third straight game and fourth in five games.
And it looks like the Colts have a found themselves a legitimate go-to receiving threat to replace the injured Reggie Wayne. Second-year veteran T.Y. Hilton had a monster game with a career-best 11 catches for 155 yards, and the Colts offense was going so good against the Jaguars it even got a rushing touchdown from Trent Richardson -- his first since Week 4.
Indianapolis is seeded fourth in the AFC and will play host to No. 5 Kansas City next week in the first round of the playoffs. And at 11-5, the Colts matched their regular-season record of last year, settling one question, I suppose. There were those who wondered if head coach Chuck Pagano or interim head coach Bruce Arians deserved the credit for Indy's remarkable turnaround season of a year ago. But in leading the Colts to an identical record, plus a division title (rather than a wild-card berth), Pagano more than proved his coaching value this season.