Ranking the top quarterback draft classes of the last 10 years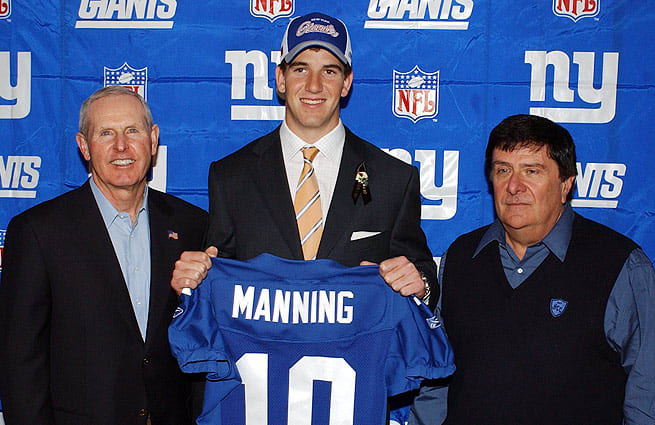 6. Class of 2009
• The Highlights: This is a quarterback class that in retrospect looks worse all the time, but there were some upswings along the way. Mark Sanchez (No. 5 overall) won four road playoff games and started in the AFC title game in each of his first two seasons with the Jets. Josh Freeman (17th) looked like the long-term answer in Tampa Bay after the Bucs went a surprising and hopeful 10-6 in 2010. And Detroit's 10-6, wild-card playoff season of 2011 seemed to announce No. 1 overall pick Matthew Stafford's arrival among the NFL's quarterbacking elite.
But upon further review, only Stafford is still considered the goods, and even he has his critics following his two so-so seasons of 2012 and '13. Stafford had 27 turnovers last season (19 interceptions and 8 fumbles lost) and his penchant for the big game-turning mistake was not supposed to still be an issue as his fifth season unfolded in 2013. With Sanchez cut by the Jets and signing on as a backup in Philadelphia, and Freeman having experienced a career free-fall like few quarterbacks ever last year (from Tampa Bay to Minnesota, to potential oblivion), Stafford remains the relative gold standard in the class of 2009.
• The Lowlights: No less a judge of playing talent than Bill Parcells has called Miami's selection of versatile West Virginia quarterback Pat White (44th) in the second round of 2009 as one of his worst draft mistakes ever, and we concur. The NFL's wildcat craze was started in Miami in 2008, and the Dolphins thought White was the natural choice to take that novel form of offense to another level the following season. But that proved woefully incorrect. White ran 21 times for just 81 yards in 2009, and was 0-for-5 as a passer, and that was it for his Dolphins career.
7. Class of 2006
• The Highlights: Turns out there wasn't as much staying power as there was star power in 2006's first-round trio of quarterbacks. Tennessee's Vince Young (No. 3), Arizona's Matt Leinart (No. 10) and Denver's Jay Cutler (No. 11) hit the league with great resumes and a ton of fanfare, but only Cutler is still active, and preparing for his ninth NFL season, and sixth in Chicago. For all his gaudy stats, however, Cutler has played on just one playoff-qualifying team in eight years, going 1-1 in the postseason as the starter for the 2010 Bears, who lost to division rival and wild-card entrant Green Bay at home in the NFC title game.
GALLERY: No. 1 draft picks of the past 25 years
Young was the early pacesetter of the draft class, earning the league's Offensive Rookie of the Year award in 2006 and going 8-5 as the Titans' starter, with four fourth-quarter comeback wins. He followed that up by going 9-6 in his second season and leading Tennessee to a wild-card playoff spot, but by early 2008 he was benched in favor of Kerry Collins and had fallen out of favor with Titans head coach Jeff Fisher. By the time his tenure in Tennessee was over, Young owned a very respectable 30-17 starting record (.638), but he also possessed a well-deserved reputation for mercurial behavior and a crippling lack of maturity. His play was equally uneven at times.
• The Lowlights: Leinart's career in Arizona is thought of as a train wreck, but that's not exactly the way it went down. He threw for an NFL rookie-record 405 yards in a late-November game against the Vikings, totaling 2,547 yards and 11 touchdowns in going 4-7 as a starter for the 5-11, last-place Cardinals. But he couldn't stay healthy and beat Kurt Warner out in either 2007 or '08, and by the time that unexpected '08 Super Bowl season unfolded in Arizona, Leinart's future development already appeared to have been stunted from lack of work.
The top of the 2006 QB class certainly didn't last as long as expected in the league, but there was some serious backup quarterback potential discovered after the first round. Four passers taken in rounds 2-7 are still drawing a check in the league for clipboard duty, and occasionally playing well when given the chance: Kellen Clemens (Jets, second round), Tarvaris Jackson (Vikings, second round), Charlie Whitehurst (Chargers, third round) and Bruce Gradkowski (Bucs, sixth round).
8. Class of 2013
• The Highlights: Last year's non-descript quarterback crop did little to elicit excitement on the months-long road to the draft, and from that perspective it lived up to its billing. Manuel was the only first-round selection, and while the ex-FSU star showed flashes of dual-threat playmaking potential when healthy, he twice got knocked out of the lineup by knee injuries and wound up starting just 10 of the Bills' 16 games, going 4-6 for 6-10 Buffalo.
The Jets' Geno Smith lasted all the way until New York's No. 39 pick in the second round, but his rookie season was a thrill-a-minute rollercoaster ride from start to finish. New York rallied to an 8-8 record to save head coach Rex Ryan's job, winning three of its last four games, and Smith's play was on the upswing when the season ended. But his 12 touchdowns against 21 interceptions, with five fumbles lost, along with his 55.8 completion percentage and 66.5 passer rating did little to convince the Jets they had found their next Joe Namath.
Tampa Bay third-round pick Mike Glennon was actually the most pleasant surprise of the low-profile QB draft class, throwing for 19 touchdowns and 2,608 yards in 13 starts after the Josh Freeman benching. Glennon played smart and steady football for the most part, guiding the Bucs to their only four wins of the season. But the head coach who drafted him got fired (Greg Schiano) and new coach Lovie Smith has already brought in veteran Josh McCown to start ahead of Glennon in 2014.
• The Lowlights: Considered a cinch top-10 pick after his stellar 2011 season, USC's Matt Barkley opted to return to the Trojans for his senior season and paid the price, falling all the way to the fourth round (98th overall) after he struggled in 2012 and ended the year with a separated shoulder. And his reputation didn't rebound much during his rookie season in Philadelphia, where he served as the third quarterback behind Nick Foles and Michael Vick for the NFC East-champion Eagles. Barkley saw three games worth of relief action, but he looked overmatched for the most part, throwing four interceptions without a touchdown, fumbling three times and posting a 44.6 passer rating. With the Eagles signing Mark Sanchez to potentially serve as Foles' veteran backup in 2014, Barkley's No. 3 status is quo for the time being.
9. Class of 2010
• The Highlights: Pay attention, because this is going to be quick. The Rams' Sam Bradford went first overall, and by no means did St. Louis bomb with the selection. But the Rams haven't gotten their full money's worth from the last of the big-dollar No. 1 pick quarterbacks either. Bradford has started 16 games just twice in four years (2010 and '12), with his 2011 season being cut to 10 games by injury and a torn ACL costing him all but seven games in 2013. His durability issues have dominated the discussion, but his play has been a mixed bag, as well. He's 18-30-1 as a starter, but has gone 5-2-1 in the rugged NFC West the past two seasons, a hopeful sign.
His 79.3 career passer rating is only so-so, but plenty of Bradford's issues have to do with the 120 sacks he's absorbed in just 49 games, and not having much of a team around him. His 59 touchdown passes against 38 interceptions are at least trending the right way (35 to 17 the past two seasons) and the Rams under Bradford were a competitive 10-12-1 when he started in 2012-13. Staying healthy and getting past the seven-win threshold in 2014 will tell the story of Bradford's future in St. Louis.
• The Lowlights: Who can forget the unexplainable magic carpet ride that was Tim Tebow's 2011 season in Denver, where he willed a .500 Broncos team into the divisional round of the playoffs with a series of late-game heroics and comebacks? But even that two-plus months of feel-good drama didn't make Denver's trade for the No. 25 pick in 2010 a good expenditure in the long run. Tebow is out of the league, as is the draft's No. 48 pick, Carolina's Jimmy Clausen. The ex-Notre Dame quarterback lasted just three seasons as a Panther, going 1-9 as a rookie starter on a 2-14 Carolina squad.
In the third round, Cleveland took Colt McCoy out of Texas, and he fared about as well as your typical Browns quarterback: three years and done. McCoy went 6-15 as Cleveland's starter in 2010-11, then was replaced by Brandon Weeden in '12. He spent 2013 as Kaepernick's backup in San Francisco and last month moved on yet again, signing with Washington, where he'll presumably compete with Kirk Cousins for the No. 2 role behind Griffin.
10. Class of 2007
• The Highlights: Were there any? I can think of one, actually, but it came off the field, when the best moment of Brady Quinn's career unfolded during a postgame press conference in the wake of Jovan Belcher's tragic murder-suicide in Kansas City in December 2012. As you might recall, Quinn, as the Chiefs quarterback, delivered an honest and eloquent plea for people to plug into the lives of friends and those they work with and spend time with, in an effort to head off the kind of troubles that drove Belcher to his act of violence.
• The Lowlights: As quarterback draft classes go, this one sets the bar impossibly high when it comes to unfulfilled expectations. Oakland's No. 1 overall pick, JaMarcus Russell, is the closest thing the league has ever seen to Ryan Leaf, going 7-18 as the Raiders' starter and being out of the league by 2010. Oakland's colossal miss on him set the franchise back for years. Quinn, taken 22nd overall by Cleveland (yes, the Browns again), is just 4-16 as a starter in his career, and has been the property of five teams.
And there's plenty more career wreckage to sort through. Second-rounder Kevin Kolb couldn't stay healthy and keep/win the starting job in Philadelphia, Arizona or Buffalo. John Beck was a second-round pick in Miami (40th overall), but had only brief and failed chances with the Dolphins and Redskins. The Lions took Drew Stanton in the second round (43rd) and he's still a capable backup in Arizona, but the likes of Trent Edwards (third round, Buffalo), Troy Smith (fifth round, Ravens), Jordan Palmer (sixth round, Redskins) and Tyler Thigpen (seventh round, Vikings) never were able to change our impression of the failed 2007 quarterback class.