Jameis Winston selected No. 1 by the Tampa Bay Buccaneers in NFL draft
Jameis Winston is a Tampa Bay Buccaneer. The star quarterback out of Florida State was selected with the first pick of the 2015 NFL draft.
With the first pick in the 2015 NFL draft, the Tampa Bay Buccaneers selected Florida State quarterback Jameis Winston. The former Heisman Trophy winner could take the Bucs into a new stratosphere if he can keep his head straight.
The least surprising No. 1 pick since the Colts started negotiating with Andrew Luck a month before he was selected in 2012, Winston will be the face of the Buccaneers franchise from Day One, and head coach Lovie Smith has said that he's comfortable with that. At his best, Winston does show many of the attributes for NFL greatness at the position: He's big, physical, fearless in the pocket, and he's got a great arm.
• 2015 NFL draft tracker: Pick-by-pick grades and scouting reports
That great arm, though, could be his ultimate downfall—he believes so much in his ability to throw into tight windows that he'll make some really questionable decisions. That's one reason his completion percentage decreased and his interception rate increased from 2013 through 2014. When you factor in Winston's well-documented history of questionable off-field decisions, this is anything but a sure pick. But in 2014, Mike Glennon and Josh McCown combined for 21 touchdowns and 20 interceptions, and if the Bucs believe they're a great quarterback and a few other players away from a possible playoff berth (in the NFC South, they may very well be), they must go after the quarterback who has their trust. There's no other way to win in the modern NFL.​
​Strengths: Dynamite arm with the ability to make every NFL throw, including deep-third vertical throws to the opposite boundary. Has an advanced understanding of routes, protections and defenses for a modern college quarterback. Not a flashy-fast runner, but gets up to speed quickly over time. When running, keeps his eyes free to scan the field and find targets. Throws to second and third reads consistently. Doesn't require scheme-created openings to get the ball downfield—can legitimately throw his receivers open and into tight windows. Fearless thrower in the pocket—doesn't bail too early and will stand in to make the throw even when he knows the big hit is coming.​
Weaknesses: Functionally athletic, but not in a quick-twitch sense—Winston is not a scrambler/runner per se. Much more of a pocket quarterback. Deep interceptions and incompletions are mechanical to a degree—he tends to lean on and bow his back leg instead of throwing through his body. Upper and lower body aren't always integrated—Winston uses his arm strength in a negative sense. Mechanics aren't consistent and he can be labored with them at times—as if he's thinking through the throw as opposed to just throwing. Not a subtle passer on short and intermediate throws; he'll try to take a little off the velocity and just miss the target at times. Struggles to right his body (shoulders to the target) after bailing out of the pocket. Off-field issues will obviously require a great deal of vetting. Interception rate increased and completion percentage decreased in 2014.
Player Comparison: Jay Cutler
Grade: B
GALLERY: SCENES FROM THE NFL DRAFT
2015 NFL Draft in Pictures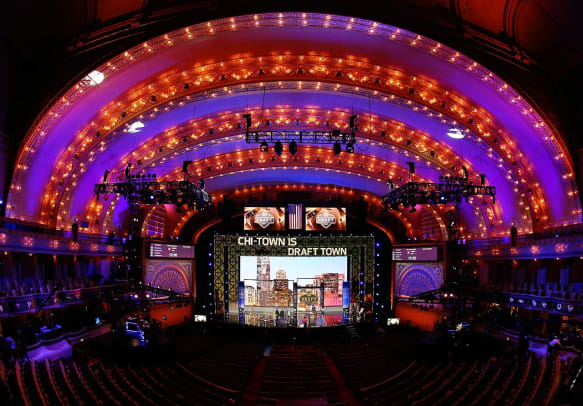 ​