A Sleepy Football Sunday
The games were mostly a snooze but we still learned plenty on the third Sunday of the season. Here's why a trio of surprise teams are 3-0, the AFC North might be all but over and the U-word whispers have begun in New England. Plus weekly awards, Monday night preview and 10 things I think
This morning, we can see how a few more pieces fit into the 2015 NFL jigsaw puzzle. This wasn't a particularly good weekend of pro football, and TVs across America must have clicked off with the three late-afternoon games being decided by 40, 27 and 26 points. (Average margin of victory on Sunday: 14.9 points.)
But every week we find out a little more about where the year's headed. The verities of Week 3:
• The Bengals are in fabulous shape in the AFC North. At 3-0 after a crushing 28-24 win at 0-3 Baltimore on Sunday, Cincinnati is set up nicely for the fifth playoff appearance in Andy Dalton's five years. "I'm as comfortable playing this game as I've ever been," Dalton said from Baltimore. A 121.0 passer rating would seem to back him up.
• The Steelers will need a 2010 version of Michael Vick to save their season. "How's Ben?" Dalton asked late Sunday afternoon. "Hope he's okay." Ben Roethlisberger, his left knee caved in on a Rams pass-rush, suffered an MCL sprain and bone bruise, but no damage to his ACL. He's gone for four to six weeks. Vick, 35, doesn't have too much pressure on him: The Ravens travel to Pittsburgh to play the 2-1 Steelers in four days.
• Jay Cutler, Tony Romo, Drew Brees … and now Roethlisberger. That's four marquee quarterbacks hurt before the calendar turns to October. You can be sure the Competition Committee will be pushing for more off-season drill work for offensive linemen; players are now restricted from all off-season contact by the 2011 labor agreement.
• The Patriots wake the echoes … of 2007. They're already using the "U" word in New England. As in "undefeated." New England went 16-0 in 2007, and advanced to a flawless-looking 3-0 Sunday against Jacksonville. More about that later, but as one of the '07 team leaders, Rodney Harrison, opined Sunday night: "It's 2007 all over again. Tom Brady's playing like he's 29, 30 years old." Brady is 38, and he threw his 400th and 401st pro touchdown passes against the Jags.
• BOOK EXCERPT: Inside the Brady-Belichick relationship
• Richie Incognito is back, and he's really good. Incognito, who didn't play football for 22 months after the Dolphins' bullying scandal of 2013, had his third straight very good day at left guard Sunday for the Buffalo Bills, back at Miami. Incognito helped keep Tyrod Taylor sack-free, and through three weeks he's allowed only one quarterback hit and no sacks in 196 snaps—good for the top guard in the league as rated by Pro Football Focus. "It's great," the 32-year-old Incognito said from Miami. "I just kept working on my game and on me as a person, and the Bills gave me a chance. I'm grateful."
• Indianapolis is the most fortunate decent team in the league. AFC South standings: T-1. Indianapolis/Jacksonville/Houston/Tennessee (1-2). The Colts, their season on the brink, went from disaster to tied for the division lead exiting September in one afternoon. You wouldn't think a 35-33 win at Tennessee would make a coach emotional after a game. But Chuck Pagano was. "This is bigger than a football game," he said, exhorting his team after the game in the locker room, via a Colts.com video. "This is about LIFE! That's as big a win as I've ever been a part of IN MY LIFE!"
• THE STRUGGLES OF SAM: Despite first win, Philly' quarterback remains a major question mark
• There's a reason you don't have to worry about Peyton Manning's health. The Denver defense is huge. "We just have ball hawks," safety David Bruton said, a few minutes after making his third huge defensive play of the month, an athletic pick of Matthew Stafford to clinch the 24-12 win over Detroit. Stafford couldn't breathe against the defensive pressure. Now the Broncos, 3-0 after a killer September, have a more humane October: Minnesota at home, Oakland and Cleveland on the road.
• Carolina, Atlanta and Arizona, all 3-0, are there because of burgeoning stars. Cornerback Josh Norman saved the Panthers on Sunday with a ridiculous leaping end-zone interception down the stretch. Running back Devonta Freeman saved the Falcons with a 141-yard rushing game. And Tyrann Mathieu did the same for Arizona with a two-pick day. I asked Norman what's the big difference this year from past seasons. "I'm playing," he said. "Opportunity." That's all?
• The Raiders, usually out of it by now, will actually have a winning record as October dawns. The Raiders (2-1) play on the road next week—and they are actually favored to beat Chicago. The quarterback, Derek Carr, is a big reason. "Having a quarterback is everything," said Charles Woodson from Cleveland. Having Woodson is something too. His last-minute interception, 10 days shy of his 39th birthday, ensured the 27-20 win. "I'm not surprised at all," he said. "I was born to do this."
So the games might have put us to sleep Sunday. The results, and the meaning, did not.
* * *
The Best Team in Football Takes the Week Off.
It's early-bye time for New England. No team likes the Week 4 bye. This year, only the Patriots and Titans have it. Strange to have a bye before the leaves turn in Foxboro. "Rest, let your muscles chill and do what you have to do to be ready for next game," Rob Gronkowski said Sunday. Taking stock of this team, you don't want to make too much of the almost-too-easy win over the Jaguars, but you can make a few comparisons to 2007.
That was a sick team eight years ago. The '07 Patriots started with 24-, 24- and 31-point wins, and didn't have a game closer than 34-17 (Week 5, Cleveland) in the first half of the season. This year, New England handled Pittsburgh, which made it close in the second half. Ditto Buffalo, and then the Jaguars rout. It's easy now to say Brady has never been better, but he was: in 2007. In the first three weeks then, the 30-year-old Brady completed 79.5% of his throws with a plus-nine TD-to-pick differential and a rating of 141.8. This year, he's completing 72.2%, with a plus-nine and a rating of 119.6. It's like quibbling over whether driving a Mercedes or a BMW is a smoother ride, but Brady set his all-time standard in 2007.
•   Join this FREE money 1-week fantasy football league. Top half of teams win cash on Sunday! Sponsored by FanDuel
"The only difference between that year and this year," Harrison said, "is this team's a little younger—so the guys are more impressionable." Randy Moss, Kyle Brady, Mike Vrabel, Harrison, Tedy Bruschi, Larry Izzo … the '07 team had self-starters. But this year, the remade offensive line and secondary have meshed earlier than young units on past teams, and Bill Belichick has already forged a pass rush that could be deeper than any he's had before in New England—I say could be, because the season is young. But with 13 sacks already, the Patriots are on pace for 69. The high in Belichick's 15 previous seasons in New England: 48, in 2013.
New England is likely to be favored in all of its remaining games—save, perhaps, for the Week 12 Sunday-nighter at Denver. And the Patriots get several advantages. They play Dallas, without Tony Romo and Dez Bryant, coming off the bye in 13 days. They play the Colts (in the Deflategate Revenge Bowl) the next week, and the Colts' offensive line is currently in tatters. Conversely, Philadelphia may have time to get its act together by the time the Eagles come to Foxboro on Dec. 6.
• BOOK EXCERPT: Inside the Brady-Belichick relationship
Harrison told me over the summer that the league did Brady and the Patriots a huge favor with the long-running investigation into Brady's honor—he'd be supremely motivated to stick it to the league this year, even more motivated than the hyper-focused player usually is. So far, Harrison's been spot on. Brady hasn't thrown an interception since Super Sunday. He had the best passing day of a foe in the 56-year history of the Bills in Week 2, and he scored every time he had his hands on the ball Sunday against the Jaguars. And Brady still has one thing to accomplish that he hasn't yet in his previous 15 NFL seasons: winning 'em all. Going 19-0. You'd be naïve to think he hasn't thought of that—many times.
* * *
The Red Rifle is Trying to Bury His Past.
Think of the environment the Bengals walked into Sunday: Baltimore home opener, the Ravens at 0-2 and in desperate straits, knowing a loss would put them three games out in the division after three weeks, and then the little thing about the Ravens and Bengals not liking each other. And then think of Dalton getting stripped in the fourth quarter, having it returned for a score, and, after being up 14-0, trailing 17-14 with seven minutes left, crowd going nuts.
"I just knew we needed a play," Dalton said from Baltimore. "We had to answer. I told A.J. Green what I thought we'd get for coverage, and I thought the play to him would be there."
First down, Bengals' 20. Dalton drops. Green runs a seam route deep up the left side, bracketed by safeties Kendrick Lewis and Will Hill; the left corner, Jimmy Smith, was singled on the outside receiver. Dalton threw a perfect strike 36 yards in the air, between the two safeties, and Green won the race against them and Smith, who came over to try to help. Too late: 80-yard touchdown. But the Ravens came back to take another lead. And here came Dalton again, taking over at his 20 again. "We're going to need every one of you here," he said in the huddle. "I trust every one of you to make plays right now." Mohamed Sanu and Marvin Jones made big catches, and Dalton had a second-and-goal at the Baltimore seven, with 2:16 to go. Now he knew Smith would take Green, but Green got a step on him, and Dalton lofted the ball toward the left corner of the end zone. Again, a perfect strike. Touchdown. This time, the winning touchdown.
• MAXIMUM EIFERT: Q&A with Bengals tight end on his emergence, eating steak and more
In two drives during the last seven minutes, Dalton drove the Bengals 160 yards for two touchdowns … in a total of one minute and 58 seconds. "I've got a lot of confidence in what we're doing," Dalton said. "Once you've been in a system for a while and you know your receivers, you get a lot more confident, and that's where I am with these guys right now."
I'd like to see Dalton's three October tests, all against pressure defenses (Kansas City at home, Seattle at home, at Buffalo), before saying anything definitive about him. But what I saw Sunday, I liked a lot. Pressure throws, in a cauldron, with the game on the line. And one of them a well-placed long throw made with confidence right on the money. Dalton's a 66.3% passer this morning, with eight touchdowns and one interception. And lots of confidence. Again: Dalton's been a good regular-season quarterback (43-23-1, 107 touchdowns, 67 picks), and a maddening postseason one (0-4, one touchdown, six interceptions). Cincinnati won't love him until that changes. But that can't change in September, and what Dalton has done in September is all he can do. It's been plenty good enough.
* * *
The city of Pittsburgh sighs.
Michael Vick, 35, has a better chance to go 2-2 against a tough October slate (Baltimore, at San Diego, Arizona, at Kansas City) than a majority of backup quarterbacks would. But if you're a Steelers fan you have to hope that the four-to-six-week injury to Ben Roethlisberger keeps him out for the four games rather than the six. Thirty-four days from now (five weeks, so at the midpoint of what was the best guess for Roethlisberger's recovery as of Sunday night), the Bengals come to Heinz Field to start a Cincinnati-Oakland-Cleveland home slate for the Steelers. You've got to figure Cincinnati is the game etched in Roethlisberger's head (and Mike Tomlin's) as the one he'd love to get back to play in. Because the Steelers play five of their six AFC North from Nov. 1 on, Pittsburgh wouldn't be out of contention if the Steelers could win at least one of the next four and Roethlisberger could return then.
The injury is a strain of the MCL and a bone bruise. But the ACL is intact. Roethlisberger thought the worst when he left the field, because of the pain. And the Steelers have to feel good that Tomlin banged the drum to get Vick in the building as the backup, because Vick has played in the kind of games he'll have to win, beginning Thursday night—against Baltimore, in a rabid-rivalry game at home. "I'm playing with some great talent," Vick said Sunday. "I know how to do it right." Doing it right is handing it to Le'Veon Bell and throwing it to Antonio Brown; the weapons are there. Vick has had some great hurrahs in the NFL, and there's no reason why, with this talent, he can't scotch-tape the offense together and win a couple of games over the next four weeks.
* * *
Three questions for… Richie Incognito.
But first, a stat: Through three games, the former Dolphins guard—as mentioned above, Pro Football Focus's top-rated guard in the NFL—has surrendered one quarterback disruption (either a quarterback sack, hit or pressure) for Buffalo. The Dolphins' starting guards have given up 26.
My sense is Incognito will enjoy that one.
Speaking from the Bills' locker room after Buffalo's 41-14 rout of his former team, Incognito reflected on his successful return to the game.
The MMQB: What was important against such a good defensive front in keep Tyrod Taylor clean?
Incognito: We came out and wanted to move the pocket with Tyrod. They are such a good one-gap penetrating team that we wanted to move him so they wouldn't know where he'd be. For me, the important thing was to take out the emotion of coming back here. And I was able to do that, to take the emotion out and just go play a football game. In my younger days, I think my emotions would have gotten the best of me and who knows how I would have handled a day like today.
The MMQB: Do you regret not being signed last year, even though you were eligible to play, and missing the entire season?
Incognito: I do. A big part of me wishes I played last year. I missed the game. But I was able to work on a lot of things, so when I got my chance this year, I'd be ready. And the way it's worked out is great—to get a chance here with Rex Ryan. I'm grateful [GM] Doug Whaley took a chance on me, and [owners] Terry and Kim Pegula. They showed faith in me, and I appreciate it.
The MMQB: When you say you worked on a lot of things—what exactly did you work on?
Incognito: I spent my year off polishing my craft. A year and a half, really. It was a long time. But I worked on myself physically and mentally. I went to Exos Sports in Arizona and worked with a trainer, Brett Bartholomew, on all parts of my body. When you play year after year, even after an off-season, you enter the next year and something might be bugging you physically. Overall, taking a year off at this stage of my career—even though I wanted to play last year—has been a huge positive. And it's been amazing coming back and playing again, after what happened [with the bullying scandal with Jonathan Martin]. You keep working and working and working, and good things can happen. It says something about the human spirit and second chances.
* * *
The dot-dot-dot…
Through three weeks, NFL teams have missed 14 of the newfangled extra points, after missing 26 in the previous four seasons combined. With the line of scrimmage for the PAT pushed back from the two- to the 15-yard line, it's obviously not such a gimme anymore. And that's good. When a play is 99.6% successful, the pertinent question is why the play should exist. I loved what happened Sunday night in the Detroit-Denver game, when Bronco Aqib Talib blocked a Lions extra point attempt, and cornerback Chris Harris picked it up and ran it 52 yards toward the opposite end zone before being tackled by Detroit's Eric Ebron. If Harris had made it all the way, Denver would have been awarded two points, and a 7-6 Bronco lead would have grown to 9-6. The change was made to add some excitement to a dull play, and while I wouldn't call a 33-yard extra point kick "exciting," it certainly makes the point or points after touchdown more interesting than before … Did you catch the Chuck Pagano post-game speech in the winning Indy locker room? Powerful. Part of the emotion, clearly, was the pent-up tension between Pagano and the Colts' front office, stemming from the inability to negotiate a contract extension in the off-season. "GRIT always wins!" he said, pacing back and forth. "You dig your way out of something that NO ONE thought you could dig your way out of … You can do anything that you want to do. ANYTHING! … I'll cherish that one for the rest of my life. Why we do this is for moments just like this. MOMENTS JUST LIKE THIS!" The Colts aren't out of the woods, but they do have the Jags and Texans the next two weeks ... The Panthers aren't going to blow teams out, but no one's blowing them out either. Playing without Luke Kuechly (concussion), the Panthers bent on defense, giving Luke McCown-led New Orleans 380 total yards, but didn't break at the end of a 27-22 win. One of the game's rising-star corners, Josh Norman, plucked a McCown pass intended for Brandin Cooks out of the sky. "I saw a bone, and I went up and got it," Norman said. A bone? "Yeah, a bone. The ball. God gave me wings to fly, and I went up and got it. All the guys on this defense can make plays. Do your job. Be in the defense. I'm doing some pretty good stuff. I think we all are." Carolina goes for 4-0 Sunday in Tampa ... Charles Woodson baited his trap Sunday in Cleveland, waited, waited and waited, then, with Oakland up 27-20 and 43 seconds left, Woodson cut on the Josh McCown throw deep downfield. He made the 61st interception in his career look easy, as though he was the intended target. "They have one of the fastest guys in the league out there," said Woodson, referring to Cleveland's Travis Benjamin. "In my heart of hearts, I knew they were going to him. I just had to be smart." Since when has Woodson not been smart? Through eight years in Oakland, then seven in Green Bay and now three more in Oakland, about to turn 39, Woodson needs five more picks this year (no small feat) to end his decade of the 30s as the fifth-leading interceptor of all time. Then again, there's always next year. "I love the direction we're headed," said Woodson. The Raiders are 2-1. "I love the guys we've been bringing in. And this quarterback [Derek Carr] is going to be good for a long time." Can you believe it? Raiders at Chicago Sunday, and a win would put them two games over .500.
* * *
The Yogi Section.
June 1990, West Orange, N.J., Yogi Berra's annual charity golf tournament. Bill Parcells and Yogi Berra, in a country club locker room, are discussing Kirby Puckett's record $3-million-a-year contract, and Parcells says: "Can you believe they're paying a ballplayer $3 million a year, Yogi?"
"If Branch Rickey was alive today," Berra said, "he'd roll over in his grave."
Parcells relayed the story Friday. "I swear to God it's true! He said it!"
No one's doubting it.
---
The day before the Giants played a huge Thursday night game, in a short week when time was so valuable, Giants coach Tom Coughlin greeted his team at its daily morning meeting by talking about the death overnight of former Yankees catcher Yogi Berra. "Good morning, men. Yogi Berra is a New York legend. He was 5-7 but he could really hit a baseball. How's this for a résumé?" And he put up two slides on the big screen in the front of the Giants' meeting room for all the players to see.
As Coughlin said later: "Can you imagine what he accomplished—three MVPs, 10 world championships. He was unbelievable. And not a big man. And he was in D-Day. And the fact that he could stick to his business all those years, when quite frankly, others weren't." The Giants went on to win Thursday night. Maybe there's a place for humanness and perspective in the game after all.
Berra, 90, died Tuesday. Yes, he was a 20-year-old kid from St. Louis on one of the first boats to provide naval support for the invasion of Normandy in World War II. He went on to one of the great careers in baseball history, and to be just a good person and quiet neighbor in the leafy burb of Montclair, N.J. I lived there at the same time and knew him a little, from some events at his Yogi Berra Museum and Learning Center on the campus of Montclair State University. We had a Montclair High softball booster club event at the place once, and I saw Yogi settle into a seat near the top of the auditorium and watch for a few minutes, and at the end, he said to me, "You run a tight meeting." He liked hanging around the museum and saying hi to school kids and parents who would frequent the place.
Regarding his career: Imagine, in a six-year period, being the league MVP three times and finishing second, third and fourth the other three years—when you're on the same team as Mickey Mantle for five of those six years. He finished third in 1950 and hit .322 with 28 homers and 124 RBI. And imagine the durability. In those five years, he played an average of 145 (out of 154) games per season.
And there's this: Major league baseball teams rarely schedule doubleheaders anymore. There have been 22 in 2015, but each was the result of a rainout necessitating playing twice in one day. Not so in Yogi Berra's day. There were scheduled doubleheaders on most holidays, and when rain necessitated two in one day, they were played back-to-back, not in day-night fashion. 
I've written about this before, but it bears repeating: Between 1950 and 1955, Yogi Berra caught 94 complete doubleheaders … every inning of both games, 94 times.
The Yankees played doubleheaders on three straight days in 1953: July 4, 5 and 6. Berra caught every inning of the two games against Philadelphia on July 4 at Yankee Stadium, boarded the train for Washington after the second game, caught every inning of the two games on July 5 at Washington, boarded another train for Philadelphia, and got a reward the next day: sitting out game one of the third straight twin bill. He caught all nine innings of game two in Philadelphia.
Pretty special player, and person.
* * *
Emily Kaplan of The MMQB is the daughter of Dave Kaplan, who was close to Berra and runs the Yogi Berra Museum and Learning Center. Emily knew Berra for years, and I asked her for her recollections.
Eight years ago I tagged along with my dad and Yogi to Yankees spring training camp in Tampa. One particularly brisk morning, as we waited for players to take the field, my bare arms broke into goosebumps. (An aside: Yogi was notoriously punctual. He was known to turn on the lights in Joe Torre's office before the manager arrived.)
"Cold?" Yogi asked.
"No," I lied. Didn't matter. He disappeared into the clubhouse and returned with an oversized, thick parka. I put it on, and Yogi smiled. "Good," he said, and began to walk away before pausing. "Oh, and make sure you give that back. I stole it from Tino."
Tino Martinez. It was vintage Yogi: thoughtful, generous and authentic. Well-suited to be a superstar (sports icon, war hero, oft-quoted philosopher), Yogi didn't choose to be the everyman. He just was. He even signed autographs at my bat mitzvah for a couple of annoying 13-year-olds with Red Sox yarmulkes. (Apparently his wife, Carmen, insisted and even offered a pen.) Yogi earned a Purple Heart but couldn't be humbler. He won 10 world championships but always talked about the next generation of ballplayers. He did good things because that's all he knew. Every Thanksgiving he and Carmen hired a horse carriage and invited neighborhood kids to take a pre-Turkey trot down his street. He always asked about how my field hockey team fared, though by the time my dad arrived at work, Yogi had already looked up the summary in the Star-Ledger. 
And yes, his funny quotes were genuine. In 2011, when my dad told him a writer from Sports Illustrated was coming for a story in the "Where Are They Now?" issue, Yogi responded: "What do you mean? I'm right here."
I believe the museum is a blessing because it not only preserves Yogi's legacy, but promotes something he found important: programs on sportsmanship and building good character. I'll miss Yogi so. He made everyone around him feel special.
* * *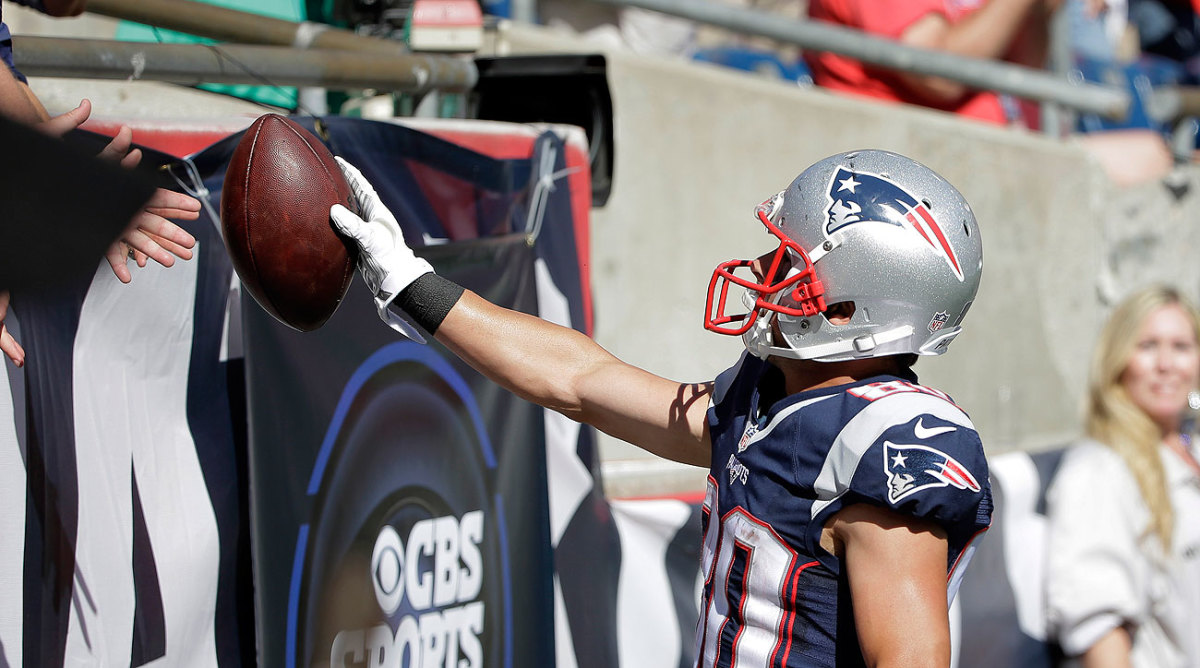 Quotes of the Week
I
"I don't care. It's just a ball."
—Tom Brady, asked how he felt about Danny Amendola—the receiver of Brady's 400th NFL touchdown Sunday in Foxboro—handing the ball to a fan in the end zone after making the historic catch.
II
"Well, not too good."
—Troy Aikman, on the FOX pregame show, when asked by studio analyst Jimmy Johnson how it felt when owner Jerry Jones said last week that Brandon Weeden threw the prettiest ball he has seen.
III
"I think there's a little bit of karma coming back to him. Nelson Agholor hasn't replaced Jeremy Maclin. Jeremy Maclin was a class-act guy. You can't just replace people like they're things, you know what I mean? Like they're toys that you're tired of playing with because you want something new. So I hope that he loses. I hope he loses every game."
—Former Jets linebacker and current CBS NFL analyst Bart Scott, on Chip Kelly, to WFAN radio in New York.
Three thoughts:
1. It's a little dicey when an NFL analyst says publicly he hopes one of the league's 32 coaches, whom he is going to have to comment about regularly, loses every game.
2. Jeremy Maclin left the Eagles to sign a free-agent contract last winter with Kansas City. In 2012 Maclin was the 28th-leading receiver in football, with 69 catches. In 2013 he missed the season with a torn ACL. In 2014 Maclin was the 13th-leading receiver in football, with 85 catches. He signed a five-year, $55 million contract with the Chiefs, which, at the time, was tied for the fourth-richest contract (per season) for a wide receiver in NFL history. Maybe letting Maclin walk for the fourth-richest receiver contract ever will be seen as a dumb decision in the long term, though I doubt it. Smart teams let good players take exorbitant deals in free agency and draft good players to replace them. I don't know if this will work out; it's obviously a gamble by the Chiefs to pay the money, and a gamble by Kelly to not meet Maclin's demands. But I'd rather pay Agholor $2.3 million a year for the next four years (his rookie deal) than pay Maclin $11 million a year. And how does one judge after two games whether Agholor can adequately replace Maclin?
3. Did Baltimore GM Ozzie Newsome "replace people like they're things" when he let Torrey Smith and Pernell McPhee walk in the off-season, as he does every year? Did John Elway treat tight end Julius Thomas "like a toy" for letting him go to Jacksonville for $9.2 million a year in free agency? Or Jerry Jones, with DeMarco Murray, when Murray got $8 million a year in Philadelphia? No. They made business decisions. Kelly has made a bunch of them in the past couple off-seasons. Some are not looking good right now.
I know Scott, and I like him, and I love to see network analysts have strong opinions. I don't understand this one, though.
IV
"The pageantry, the energy around a college football game is something the NFL just can't replicate."
—Detroit Lions president Tom Lewand, at the Brigham Young-Michigan game in Ann Arbor on Saturday, on the Michigan radio broadcast of the game, as reported by MLive's Kyle Meinke.
V
"Go Eagles."
—Actor Mark Wahlberg, with Pope Francis behind him on a Philadelphia altar, introducing former Eagle and current pastor Herb Lusk at a event on the Pope's tour Saturday. Lusk was the first player in NFL history to kneel in prayer after scoring a touchdown.
VI
"One of these days we'll figure out how to cover A.J. Green. It'd be nice if we did that before he retires."
—Baltimore coach John Harbaugh, after Green burned the Ravens for two second-half touchdown catches from Andy Dalton to win the game for Cincinnati.
In his last four games against the Ravens, Green has 28 catches for 570 yards and five touchdowns.
* * *
The Award Section
OFFENSIVE PLAYERS OF THE WEEK
Steve Smith Sr., wide receiver, Baltimore. Rare, particularly with all the great offensive performances Sunday, to reward a man from a losing team. I don't recall the last time I did it. But Smith was absolutely indomitable in the 28-24 loss to Cincinnati. At 36, playing as physical as ever (and that is saying something; Smith has been one of the game's most physical wideouts in this golden age of receivers), Smith nearly willed the Ravens to a win over the division foe that has given them huge trouble recently. With Baltimore down 14-0 in the third quarter and the ball at midfield, Joe Flacco threw a short out route to the right for Smith, who caught it at the 45. He broke two tackles right away, then sprinted down the right side, and survived a hog-tying near the goal line by Cincinnati cornerback Dre Kirkpatrick to score. He had two catches on the next drive, which ended in a field goal that cut the lead to 14-10. Then each team scored a touchdown, and then Smith tied the franchise record with his 13th catch of the game, on a 16-yard strike from Flacco that looked like it might stand as the winning touchdown. It didn't, but we're not going to mark down Smith's day for the way his defense let him down. There's no good reason Smith is retiring at the end of the season, which he's already announced, except that he wants to do something else and is tired of the physical abuse. But he was magnificent Sunday.
• STEVE SMITH SR.'S LAST LECTURE: In a first-person piece for The MMQB, the star receiver looks back on lessons learned, the legacy he'll leave behind, and why he doesn't fear what's next as he prepares for his final NFL season
Devonta Freeman, running back, Atlanta. The 2014 fourth-round pick from Florida State is supposed to be a complementary back, not a feature back. Sunday in Arlington, Texas, he was a hammerhead who beat the Dallas Cowboys. Running at times elusively and at times like he had an anvil in his shoulder pads, the 5-8, 206-pound Freeman had equally dominant halves: 104 rushing/receiving yards and two touchdowns in the first half, 89 yards and a touchdown in the second half. For the game, 30 carries for 141 yards and three touchdowns on the ground. His previous high for carries in an NFL game: 12.
DEFENSIVE PLAYER OF THE WEEK
Josh Norman, cornerback, Carolina. Channeling his inner Odell Beckham Jr., with the Panthers protecting a 27-22 lead over the Saints with 80 seconds left, Norman, a rising-star cornerback, was right behind Brandin Cooks sprinting down the right sideline. Luke McCown let fly what looked to be a well-thrown pass, and Norman leapt, stretching to the length of his 6-foot frame, and caught the McCown pass at the height of his jump. Just a beautiful play, at the precise time his team had to have it. It was the difference between the Panthers being 3-0 and tied for the NFC South lead, or being 2-1 and a game behind the Falcons. Norman added five tackles. He's turning into one of the best cornerbacks in the league.
• FIVE EARLY TRENDS: After Week 2, Josh Norman's shutdown ability was among five surprise early trends identified by Pro Football Focus
SPECIAL TEAMS PLAYERS OF THE WEEK
Tyler Lockett, returner/wide receiver, Seattle. With the Bears clinging to life, losing just 6-0 to start the second half, kicker Robbie Gould booted the kickoff halfway into the end zone. Lockett received it. No one touched him for the next 105 yards. Touchdown. Ballgame. Lockett, the rookie third-round pick from Kansas State, is officially the most dangerous return man in football right now. Well, along with …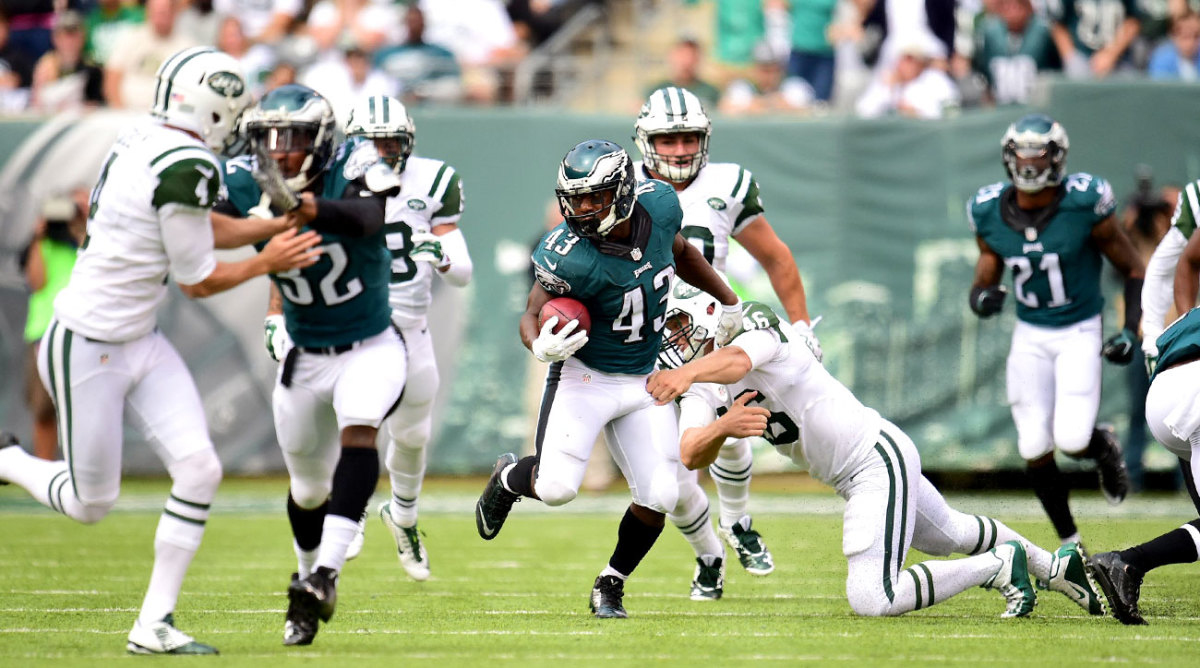 Darren Sproles, punt returner/running back, Philadelphia. An 89-yard punt return to die for, the kind of return—hit by four Jets, slithering all the way up the left sideline through good punt coverage—that's a signature play for this gifted player. When Sproles' career is over, this should be one of the plays that's shown on his career highlight reel. With DeMarco Murray missing in action with a hamstring injury Sunday, Sproles added a one-yard touchdown run in the Eagles' 24-17 win.
Brad Wing, punter; and Rashad Jennings, running back, New York Giants. Rare indeed for a starting running back to be a punt-rusher on special teams, but Thursday night was a desperate time for the Giants, 0-2 entering the game against Washington. Jennings pushed the momentum in the Giants' direction on the first series of the game, blocking a Tress Way punt and having it bound out of the end zone for a safety. By the end of the quarter it was a 12-0 Giants lead, and it was never closer than nine points the rest of the game. Wing, an Aussie, played Australian Rules Football, and several punters with similar backgrounds say that one of the techniques that has helped them succeed in the American game is that they can punt the ball and have it die or go sideways upon hitting the ground. That's advantageous, of course, for punts inside the 20. And Wing, late in the second quarter, hit such a punt from the Washington 46, a 45-yarder that Zak DeOssie downed at the one-foot line. For the game, Wing punted four times, and pinned Washington at the 12-, 1-, 26- and 12-yard lines.
COACH OF THE WEEK
Kyle Shanahan, offensive coordinator, Atlanta. Shanahan was the perfect choice as offensive coordinator of the Falcons, in part because of his offensive brain and in part because he's not shy to coach the quarterback hard, and Matt Ryan is one of those quarterbacks who can't be coached hard enough. The Falcons were without running back Tevin Coleman on a day Shanahan wanted to run it a lot, but they didn't let that bother them. Devonta Freeman churned for 141 rushing yards and Atlanta beat a strong Cowboys defense on the ground and in the air. With the Falcons averaging 29.7 points and 411.7 total yards a game, this is an offense that's going to be hard to stop.
GOATS OF THE WEEK 
Can we honor The Entire Miami Team here? No? Well, here are the goatiest three:
Brandon Marshall, wide receiver, New York Jets. Jets in Eagles territory, driving to cut the Philly lead to 17-7. Marshall catches a throw from Ryan Fitzpatrick and, in traffic at the Eagles' 35, attempts to lateral to a teammate and hits Eagles linebacker Connor Barwin right in the facemask. Philadelphia linebacker Jordan Hicks recovers. Instead of the Jets cutting the margin to 17-7, the Eagles drove and scored to go ahead 24-0. "I have been watching the Jets all my life," Tweeted Jetaholic Mike Greenberg. "That is the dumbest play I have ever seen." Marshall agreed. "Probably the worst play in NFL history," he said. There was more: With the Jets down 10 late and driving to try to stay in the game, Marshall let a fairly easy catch tip off his hands and into the hands of Walter Thurmond for a clinching interception.
Colin Kaepernick, quarterback, San Francisco. Any chance the Niners had at Arizona on Sunday rested on the right arm of Kaepernick, who simply couldn't turn it over against an offensively explosive team like the Cardinals. And on his first two series, he threw footballs to Cardinals. Both were intercepted, and both were returned—for 33 and 21 yards—for touchdowns, putting the Niners in a 14-0 hole they couldn't dig out of. Trying to close a three-touchdown gap in the final minute of the first half, Kaepernick was intercepted by Tyrann Mathieu for a second time, setting up a field goal for Arizona to close the half. On his next pass, with San Francisco trailing 31-7 on the first drive of the second half, Kaepernick threw another pick, right into the hands of Arizona's Jerraud Powers. A very bad day for Kaepernick.
Kyle Brindza, kicker, Tampa Bay. Bucs lost by 10 at Houston. The rookie missed 10 points worth of kicks—an extra point clanked off the right upright, a 41-yard field goal and a 33-yarder went wide right, and a 51-yarder was shanked wide left.
* * *
Stat of the Week
One of the underrated things about New England's 3-0 start is what offensive line coach Dave DeGuglielmo has done with a nearly new interior of the line. Other teams struggle with protection—Denver, Tampa Bay—when inserting new players on the line. Not New England, at least so far. Though rookie guards Shaq Mason and Tre' Jackson have struggled in run-blocking, they've been solid in keeping Tom Brady clean (139 pass drops, six sacks). The latest example of the Patriots getting young players ready to play and just playing them, through the first three games (223 plays) of the 2015 season:
| | | | |
| --- | --- | --- | --- |
| Player, Year | How Acquired | Offensive Plays | % Played |
| C David Andrews, rookie | undrafted FA | 223 | 100% |
| G Josh Kline, third year | undrafted FA | 194 | 87.0% |
| G Shaq Mason, rookie | 4th round | 154 | 69.1% |
| G Tre' Jackson, rookie | 4th round | 108 | 48.4% |
* * *
Factoids of the Week That May Interest Only Me
I
The best passer rating for a season in Tom Brady's career was 117.2, in the Patriots' 16-0 season of 2007.
Since halftime of the AFC Championship Game, when, obviously, there have been eagle eyes on the pressure level in the footballs the Patriots use on offense, New England has played five-and-a-half games. Brady's passer rating since halftime of the AFC title game: 117.8.
Brady has never completed 70% of his passes in any season. Since his game balls have been micro-analyzed at halftime of the AFC title game, he has completed 73.6%.
•   Join this FREE money 1-week fantasy football league. Top half of teams win cash on Sunday! Sponsored by FanDuel
II
The first nine Chicago drives at Seattle ended in punts.
The first nine New England drives against Jacksonville ended in scores.
* * *
Mr. Starwood Preferred Member Travel Note of the Week
The reason why Pope Francis was safe on his two-day trip to the island of Manhattan, viewed by someone who had to get around the east side of the city with Pope routes in the way: Every one of the 80,000 people who packed the sides of the east roadway in Central Park for his Popemobile trip through the park late Friday afternoon had to pass through metal detectors to enter the park. Every one of the thousands who packed the barriers placed on the sides of Fifth Avenue to see the Pope and Popemobile pass by Thursday evening had to pass through metal detectors starting at about noon. If you wanted to pass from the east side of the city to midtown or west, you had to either take the subway or walk through an underground subway passage.
Police erected 40 miles of barriers in the city, and 818 tons of concrete barriers. The New York Postquoted a law enforcement source as saying security for the visit was like "a POTUS [visit] on steroids." POTUS, as in President of the United States.
I've lived in Manhattan for only four years, but the prep for his visit was superb—like none I've seen. Nothing bad was happening to this Pope.
* * *
Tweets of the Week
I
II
III
IV
* * *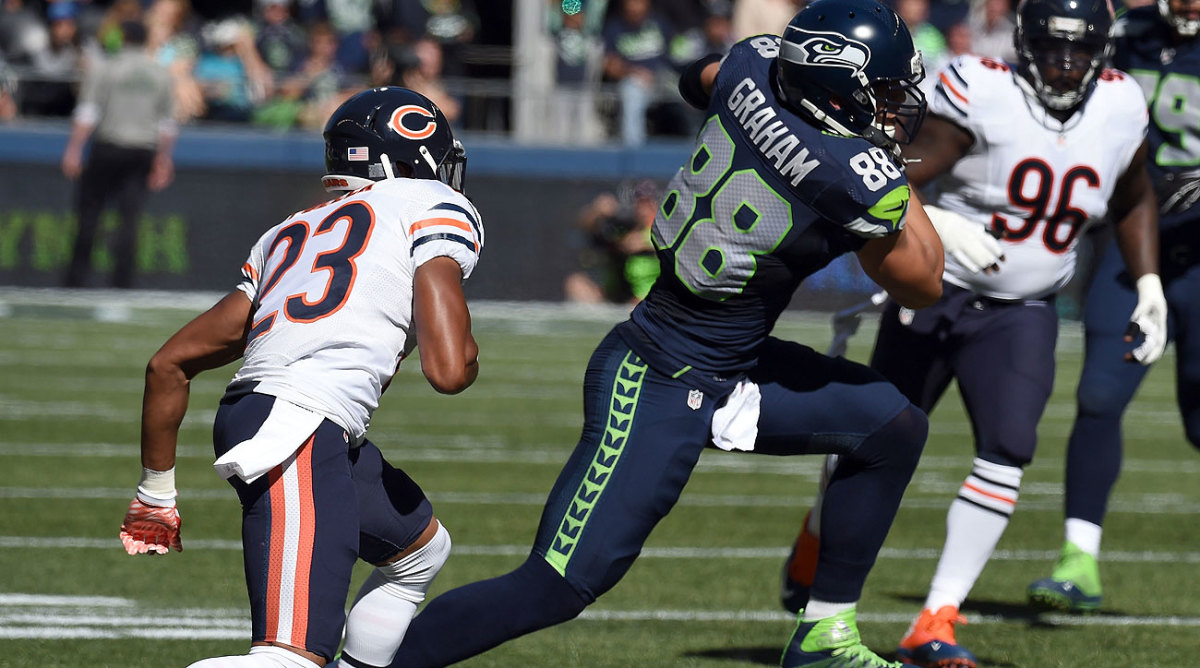 Ten Things I Think I Think
1. I think this is what I liked about Week 3:
a. Tom Brady, joining the 400 touchdown club. I'll take a bet right now that he hits 500.
b. Adrian Peterson: 20 carries for 126 yards, two touchdowns. Running at 30 the way he ran at 23. Keep calling his name, Norv Turner.
c. That's the way Minnesota wants to play: 31 rushes, 24 passes. Not that Turner doesn't trust Teddy Bridgewater; he does. But he wants Adrian Peterson to carry this offense, and Sunday, in the convincing 17-point win over San Diego, that's what Turner called, and Peterson delivered.
d. The Flying McCown Brothers, starting on the same NFL weekend for the first time since 2007. In losses, Cleveland's Josh and New Orleans' Luke did well. "Wow, that quarterback played well," said Josh Norman after the Panthers hung on to beat Luke, starting his first NFL game since he quarterbacked the Jags in 2011.
e. Jimmy Graham, finally getting involved.
f. Lone Niner bright spot: the 37-yard punt return by Aussie Jarryd Hayne.
g. Many Cardinal bright spots: Carson Palmer, Larry Fitzgerald, the ball-hawking secondary. This is a team to be reckoned with.
h. You can't stop Joseph Randle. You can only hope … aww, you know the rest.
i. Last two weeks, Julio Jones: 35 targets, 25 catches, 299 yards, two touchdowns.
j. Amari Cooper on third-and-long, and against Pro Bowl cornerback Joe Haden of the Browns.
k. Bengals cornerback Leon Hall, keeping the Ravens out of the end zone and forcing Baltimore to kick a field goal instead of scoring the tying touchdown early in the fourth quarter.
l. Smart design of the touchdown pitch play to Khiry Robinson by the Saints.
m. San Diego's John Phillips, who started camp as just another body for the Chargers at tight end, making the tight-end catch of the year.
n. Justin Pugh at left tackle for the Giants, subbing for the injured Ereck Flowers. Thirty-two dropbacks for Eli Manning, two pressures and zero hits and zero sacks from Pugh's man.
o. Rueben Randle (seven catches, 116 yards), coming off the milk carton for the Giants.
p. The instinctive and speedy 101-yard kickoff return by Washington's Rashad Ross, tying the franchise's longest kickoff return ever.
q. The diving interception by rookie linebacker Kwon Alexander of Tampa Bay.
r. Great wheel-route throw by Sam Bradford to Ryan Mathews for a touchdown. Led him perfectly.
s. Brandon Carr, with the terrific quick stop of Falcons back Devonta Freeman. Loss of five.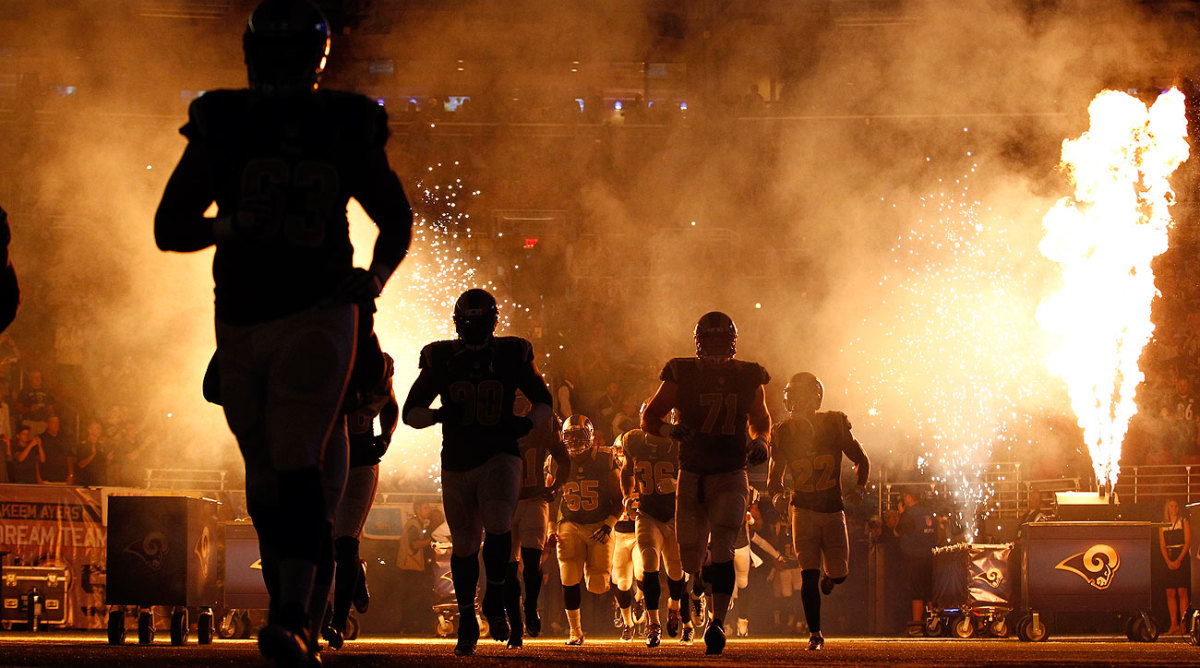 2. I think this is what I didn't like about Week 3:
a. That mangy-looking ShopVac vacuuming the field in the Ed Jones Dome after the turf caught on fire.
b. A 27-minute delay for a tiny piece of turf that caught on fire in St. Louis? Come on. Please.
c. Kyle Rudolph, dropping the easiest touchdown pass he'll have a chance to catch all season.
d. On the next snap, Teddy Bridgewater throwing a pick in the end zone. That failure had multiple fathers.
e. A Ryan Mathews drop, with 30 yards of open field in front of him.
f. Cold business, football: Dion Bailey waived to make room for Kam Chancellor on the 53-man Seattle roster. Bailey started in Week 1, fell down on the Rams' game-tying touchdown at the end of the fourth quarter, got benched in Week 2, and, with Chancellor back in the fold, got whacked Saturday.
g. Kirk Cousins. His awful read and interception to Prince Amukamara really set Washington on an impossible path to win Thursday night.
h. Whatever rehab plan Baltimore rookie receiver Breshad Perriman is on. Sixty-one days ago he tweaked his knee in practice, a tweaking so seemingly minor that John Harbaugh said after practice that day—I was there—about Perriman's availability: "It could be as early as tomorrow, or a couple of days at the most." Perriman is practicing. There's that.
i. C.J. Mosley, sprinting through the line on a blitz before the snap of the ball, like he didn't know the rules and didn't know offside was a penalty.
j. St. Louis tight end Lance Kendricks, with an inexplicable drop, open behind the defense, for what should have been the go-ahead touchdown late in the first half against the Steelers.
k. The numbers on Tampa Bay's uniforms. You can't read them.
l. Darius Slay, apparently not "Big Game Slay," as he said pre-game, letting Demaryius Thomas get behind him for a crucial, late-first-half touchdown pass from Peyton Manning.
m. The Chargers, looking slovenly, letting Chad Greenway lumber across the field after an interception, then down the sideline 91 yards for a touchdown. Where's the pursuit?
n. Ryan Tannehill. An awful day.
•   Join this FREE money 1-week fantasy football league. Top half of teams win cash on Sunday! Sponsored by FanDuel
3. I think if I were Todd Bowles, I'd be worried about Darrelle Revis. He's 30 now. He suffered a strained groin last week, and left Sunday's game against the Eagles with some hamstring injury. Revis said post-game he was fine, and maybe he is. But this is the cornerstone of the New York secondary, obviously, and if we're not even to the end of September and he's got an iffy groin and hamstring, that's troubling.
4. I think if I were the 49ers, I'd be extremely concerned with Colin Kaepernick. His TD-to-interception ratio in the past 10 games is 8-to-9, and he's had one 300-yard passing game in that time. "I was 100% responsible," he said about the embarrassing loss to Arizona on Sunday. Well, 80% maybe. But Kaepernick was awful.
5. I think the NFL had better have a good explanation (Ed Hochuli, too) for Cam Newton's post-game claim Sunday concerning a borderline late hit on him. Newton wanted a personal foul called on the hit but it wasn't flagged, and he said after the game: "The response I got [from Hochuli] was, 'Cam, you're not old enough to get that call.' I didn't think you had to have seniority to get a personal foul or anything like that," Cam said. I'm sure Hochuli will say (assuming he agrees that this is what he said) that he was joking. But it's not something to joke about. The league has to get on this one this morning.
6. I think the aftermath of the Kam Chancellor contract hoo-ha is compelling. I find it very interesting that early this month, a report was floated that the Seattle strong safety wanted $4 million from his 2017 salary (the last year of his current contract) transferred to the 2016 season, and the Seahawks were stuck on a transfer of $3.1 million. And when Chancellor reported to Seattle last week, nothing was done to his contract. He walked in with the contract containing the exact same terms as it had the day he signed it. So what gives?
Well, all along it was a pipe dream that the Seahawks would do anything other than something totally cosmetic (such as guaranteeing some of his 2016 salary, cosmetic because there's a 98% chance Chancellor will be on the team in 2016 anyway) for Chancellor. If Seattle moved money from 2017 to 2016, that would be a major coup for Chancellor, seeing that the Seahawks are on record as being willing to re-do contracts for important veterans with one year remaining; moving $4 million to 2016 would essentially be a $4 million bonus handed to a player as a reward for playing well with three years left on his contract, and if Seattle did it for Chancellor, others would be standing in line the minute they outperformed their existing deals. (Michael Bennett, for instance.)
If Seattle indeed had ever offered $3.1 million to Chancellor—Pro Football Talkreported Chancellor believes the team reneged on a pledge to re-do his contract, something the site claimed the Seahawks deny—it stands to reason that would have been reflected in the deal when Chancellor reported to the team. So whom to believe here? I just know this, from a training-camp conversation with GM John Schneider, during which he would not be specific about Chancellor or any player's contract: He was adamant that the team would not endanger the long-term salary-cap health of the franchise to solve any single contract squabble. For him to have made a major commitment to re-do Chancellor's deal in that same month would surprise me.  
• CHANCELLOR RETURNS: Andrew Brandt's breakdown of the Seattle contract squabble
7. I think this is my favorite Jerry Jonesism of the year, and you have to know Jones (and his staunch defense of his guys in the face of everyone saying his guys are flawed, and understand that he tends to go overboard quite often) to understand why he would say this about Brandon Weeden: "He's a thing of beauty on throwing a football. His passing motion and his arm, frankly, you won't see a more gifted passer—power, accuracy, the entire aspect of it." He made the comments to KRLD-FM in Dallas. Quite candidly (a favorite Jones way to start a sentence when he's about to sound quite candid but you always wonder if he's really being quite candid), I'm sure Jones doesn't think Weeden throws a prettier ball or a better deep ball or a better anything than Troy Aikman, for instance, but you have to understand, Weeden is today's quarterback. Jones is concerned with Weeden, not Aikman or Tony Romo or Roger Staubach. All Jones wants to do is boost the confidence of a guy who has only five career wins as a starter.
8. I think this is one of the coolest charitable things I've heard about this year—and it's an annual thing: The Starkey Hearing Foundation of Minnesota, which has as its goal the distribution and installation of 175,000 hearing aids worldwide, combined with the Vikings and the Wilf Family Foundations (the Wilfs own the team), the New York Yankees and the Jewish Federations of North America to provide 100 people with free hearing aids Wednesday at Yankee Stadium. This includes an estimated 20 Holocaust survivors. "Being a family [with] Holocaust survivors, this is an extremely important cause," said Vikings vice chairman Lenny Wilf.
9. I think, speaking of great causes, Cam Newton made one heck of a gesture in Charlotte the other day. He showed up unannounced at 10-year-old cancer patient Elijah Hughes' early Halloween party—and brought an ice cream truck with him.
10. I think these are my non-NFL thoughts of the week:
a. Such a sad story, the death of Warren Hills (N.J.) High quarterback Evan Murray, 17, from an injury suffered in Friday night's game against Summit High.
b. That Leonard Fournette 48-yard run on what should have been an LSU quarterback sack at Syracuse was some play. Good note from Gil Brandt: Saturday's win by LSU at Syracuse was the first game LSU has played in New York since 1942.
• WOMEN PLAYING FOOTBALL: A feature—sans racy pictures—on the former Lingerie Football League
c. Jeter and Harbaugh, at the Big House. Cool sight before BYU-Michigan.
d. Christian (son of Ed) McCaffrey and Barry (son of Barry) Sanders combined to rush for 303 yards in Stanford's 42-24 rout of Oregon State.
e. Stop the presses: Indiana and Northwestern are 4-0.
f. Mike Trout doesn't just hit home runs.
g. Wouldn't an Astros-at-Yankees wild-card game be fun to see? Correa and Keuchel (David) playing at Goliath?
h. Having said that, I do hate the one-game wild-card playoff. It's unfair for teams that have played 162 games to make the playoffs, and poof, it can be gone with one lousy inning.
i. You've got to see this Mookie Betts catch. Tweeted Sox nut and writer of some note Stephen King: "The only other player I ever saw capable of a similar feat was Willie Mays."
j. So Betts was playing a fairly flawless center field for most of the year with the Red Sox, and earlier this month, superb defensive outfielder Jackie Bradley Jr., began playing regularly in right field, and the Red Sox decided Bradley was a slightly better outfielder than Betts, and so it moved Bradley to center and put Betts in right. Some players would have groused at the perceived defensive demotion. Betts: "I just want to do what I can to help this team win a World Series."
k. Can the three teams from the National League Central—as of Friday morning, St. Louis, Pittsburgh and Chicago were 1-2-3 in major-league baseball in wins—just play a World Series round robin this year? Such a shame that, most likely, the Cubs and Pirates will meet in the play-in game, and three hours later, one of them will be out.
l. Cool to see the Cubs in the playoffs for the first time in seven years. Cooler to see the Jays in the playoffs for the first time in 22 years.
m. If you're Joe Maddon, do you pitch Jake Arrieta at Pittsburgh in the play-in game? If you're the Pirates, in line to play their third play-in game in three years, aren't you tired of facing aces? Johnny Cueto and the Reds two years ago, Madison Bumgarner and the Giants last year, and probably Arrieta this year.
n. Josh Donaldson: 41 homers, 40 doubles, 121 runs, 122 RBI, .951 OPS. That is one insane season.
o. Bryce Harper: 1.125 OPS. That is one insane number. No one in baseball is within 100 points of him.
p. I need an explanation for the 79-76 Washington Nationals. I mean, the Twins are 80-75. The Mets clinching the division with eight days left in the season … pretty hard to fathom.
q. It's not about you, Joe West. And it shouldn't be.
r. Coffeenerdness: Thanks, Jason Gay of the Wall Street Journal, for pointing out the weirdness of coffee shops in America in 2015, via Twitter: "There's a guy in this coffee shop sitting at a table, not on his phone, not on a laptop, just drinking coffee, like a psychopath.''
s. Beernerdness: So happy for the great people at Allagash Brewery in Portland, Maine. Allagash White, which is only the greatest beer of all time, won gold in the Belgian Witbier category this weekend at the Great American Beer Festival in Denver. That's my little pet beer category, and Allagash White's the best I've had. 
t. Having the Pope in town for two days was fantastic. Sounds corny, I guess, but the vibe and the good feeling was just so nice. Who doesn't like this guy?
u. I know some would say, "Keep politics out of this, Pope Francis. You're not qualified to talk about global warming, and you have no idea what's causing the discord in the Middle East and it's easy for you to say everyone should take in refugees—just stick to religion." I say: "Keep the pressure on, Pope. Keep talking about things that matter, especially global warming. Go get 'em."
v. At the September 11th Memorial and Museum, with 9/11 families among those on hand, the Pope said: "Here we weep in the face of injustice, murder and the failure to settle conflicts through dialogue." Perfect words.
w. And his energy, at 78. To see this vibrant person always with a smile and going hard for 11, 12 hours a day, day after day, with sciatica and a bad knee … pretty impressive.
x. Good luck to friend and colleague David Elfin, a Washington sportswriting fixture, as he transitions to writing about the real world. Smart and honorable and dogged. Three pretty good traits to have in this business, and Elfin has them all.
* * *
Who I Like Tonight
Green Bay 27, Kansas City 22. The well-documented 2005 draft (Alex Smith and Aaron Rodgers competing for the top pick, Smith picked No. 1 and playing in year one, Rodgers picked No. 24 and sitting for three years) has been a big topic in the run-up to this game. "We've certainly moved beyond that," said Smith, who has moved from San Francisco to Kansas City. "You get the what-ifs … I don't give it any thought."
Strange thing: They've only faced each other twice, though they played on conference rivals for the first eight years of the post-draft period. Smith has a 30-22 win; Rodgers has a 30-24 win. They've never met anywhere other than Lambeau Field. Tonight the keys will not be found on memory lane, but rather in whether Rodgers can win a game against a ferocious pass-rush and with offensive weapons Eddie Lacy and Davante Adams either sidelined or slowed with injuries. I'm really looking forward to Chiefs rookie sensation cornerback Marcus Peters covering Randall Cobb, who's had a pretty quiet start. For Green Bay to win, Cobb has to make some plays tonight, and I think he will.
* * *
The Adieu Haiku
Pagano can speak.
Wall broken down in Nashville.
Colts ran through that thing.
• Question or comment? Email us at talkback@themmqb.com.