Broncos Are Reborn as One More Perfect Season Ends
Behind Brock Osweiler, Denver finds new life in knocking New England from the unbeaten ranks. Plus, a peek at the developing playoff picture, Adrian Peterson nears his third rushing title and more from Week 12
This was toward the end of Denver quarterback Brock Osweiler's second start in the NFL on Sunday night—his first against a 10-0 team led by the greatest quarterback in football today—as flurries swirled near the Rockies. The wind chill, 19 degrees, made even the diehards think three-and-a-half hours outside was just about enough.
Two minutes into overtime. Denver 24, New England 24. Third-and-one, Patriots' 48-yard line.
In the huddle, Osweiler called two plays; coach and play-caller Gary Kubiak told Osweiler before the play, "You get us the best one." Osweiler would give a signal once he saw how the Patriots aligned on defense. As the huddle broke, the quarterback told running back C.J. Anderson, "Hey man, just go. Make a play."
Osweiler got to the line, under center, and surveyed the New England front. He was going to run C.J. Anderson to the weak side (that was his first call in the huddle) but saw something he didn't like there—maybe an unblocked Rob Ninkovich hovering on the quarterback's right. Whatever, he switched to a strong-side sweep to the left. "KILL! KILL! KILL!" he called, arms stretched out parallel to the ground. To the left, tight end Vernon Davis and a strong blocking wide receiver, Bennie Fowler, got ready to seal the left side for Anderson.
"It's a wide toss," said left guard Evan Mathis, "and if the play goes the way it's designed, there should be one of our guys on every one of theirs, except for the deep safety. Then the back's got to make that guy miss."
"OMAHA!" yelled Osweiler.
(Hey! Isn't that Peyton Manning's cadence-starter? Well, it was.)
"Set!"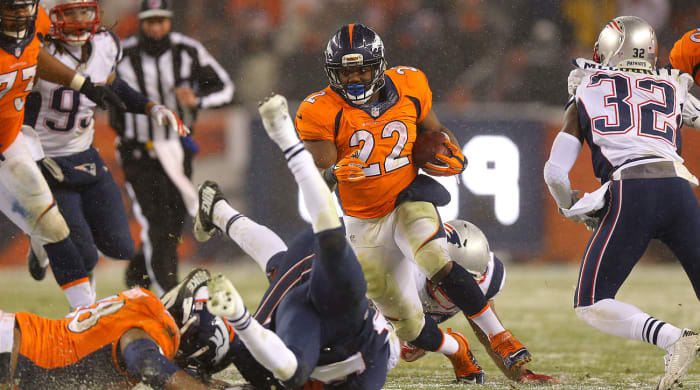 Anderson, seven yards deep in a classic tailback position, bolted left and took a pitch from Osweiler. Mathis was right. There was a hat-on-a-hat throughout the left end, right tackle Ryan Harris going out to sweep away cornerback Malcolm Butler, Davis eliminating safety Devin McCourty, and, most impressively, center Matt Paradis sprinting out after snapping the ball and cutting down linebacker Jonathan Freeny. The only player left, just as Mathis said, was safety Duron Harmon, angling to the sideline to push Anderson out at the 30-yard line.
"My job," Anderson said from Denver near midnight, "was just run to the open space, then make the guy miss." Hugging the sideline, Anderson did that. For the last 30 yards he was all alone, and the Patriots weren't unbeaten anymore, and there was some mystery in the AFC.
And then there was one: Carolina, the only undefeated team left in the NFL entering December.
* * *
If you're New England, the only worrisome thing is the condition of tight end Rob Gronkowski, who went down in agony with an apparent right knee injury late in the game. But Adam Schefter reported the injury wasn't believed to be serious. If it isn't, the verdict in Denver isn't that big a loss. The Patriots (10-1) played without both top wideouts, with a makeshift offensive line, without impact linebacker Jamie Collins, and without breakout back Dion Lewis. A crucial turnover was made by an undrafted free agent, Chris Harper, the seventh wide receiver to play for the team this year; he dropped a punt, and Denver recovered and later scored. The Patriots don't play a team better than 6-5 in the last five games, while the 9-2 Bengals and 9-2 Broncos play each other Dec. 28. Denver also is at Pittsburgh in three weeks. So New England is still very much in control of home field throughout the AFC playoffs.
But Denver has to feel reborn this morning. With Manning playing so unreliably—14 interceptions in his last six games—Osweiler's efficiency in his two starts and his 2-0 record should ensure he'll keep the job as long as he continues to play low-error football.
• Join our risk-free Week 13 FanDuel league. Double your entry fee or get refunded! New users only. Sponsored by FanDuel
Every year the NFL produces a story or two or three as good as this one. The Osweiler story will be told a lot in the coming weeks … a 6-foot-8 Montana kid who turned down a basketball offer from Gonzaga to play quarterback at Arizona State. He caught the eye of Denver football czar John Elway before the 2012 draft and got picked late in the second round to learn the pro craft behind Manning. It was Manning who sat upstairs Sunday to watch the New England defensive tendencies and came down to the locker room at halftime to spend a few minutes spilling what he'd seen to Osweiler.
Osweiler is quite sure of himself. He threw a few 95-mph fastballs Sunday through the snowflakes, and you can see that the moment is not too big for him. He does have to learn to throw the ball away instead of taking big sacks; one of those cost Denver a possible field goal Sunday night.
"Even when he wasn't starting," Mathis said from Denver on Sunday night, "he was getting a lot of reps [practice plays] this year. Great command of the huddle. Prepares exactly like he was going to play. Growing so much behind the scenes. When he steps in, nothing's different about his approach, or how he is in the huddle, or how he carries himself at practice. He doesn't let anything on the outside get to him."
He'll need that at Heinz Field in three weeks—presuming coach Gary Kubiak keeps handing him the reins—and in the playoffs, if he plays. And though never is heard a discouraging word between Manning and Osweiler and the coaching staff and the brass about the odd quarterback situation, it won't be easy for a healthy Peyton Manning to sit out games for the first time in his 18-year career.
Osweiler is the X factor as the AFC playoff picture takes shape. New England, as the one seed, and either Denver or Cincinnati as the two seed (their Dec. 28 game is in Denver) should lead the pack. The fourth seed, likely to be 6-5 Houston or 6-5 Indianapolis, could be the toughest spot to be. Kansas City (6-5) won its fifth straight Sunday and would be in line for a shot at the five seed. Pittsburgh (6-5) would be dangerous too as a five or six seed. The 6-5 Jets and the loser of the Indy-Houston showdown for the South will be formidable challengers for the last two AFC spots.
• This wouldn't be a bad AFC bracket:
Wild-card round: Pittsburgh (6) at Denver (3) … Kansas City (5) at Houston or Indy (4).
Divisional round: Denver at Cincinnati (2) … Houston/Indy (4) at New England.
I'd rather see a Broncos-Patriots rematch in the divisional game, but that's me. The other teams in the AFC will not go down easy.
• As for the NFC …
That got a little weird in Week 12, with the realization that Minnesota might hang in and win the North, and Washington might be the survivor in a bad NFC East. So here's one try at the NFC bracket:
Wild-card round: Seattle (6) at Minnesota (3), in a possible rematch (same site) of the upcoming Seahawks-Vikings game Sunday … Green Bay (5) at Washington/New York Giants (4).
Divisional round: Minnesota at Arizona (2) in a possible rematch of the Vikings-Cardinals game in Week 14 … Washington/Giants at Carolina (1).
Of course, Seattle at Carolina would be a compelling divisional game, as would Green Bay-Arizona.
* * *
Adrian Peterson, chastened, chases third rushing title
That doesn't seem right, does it? Adrian Peterson, with just two rushing titles? He won at age 23, in his second NFL season, with 1,760 yards, and won again in that MVP season of 2012, coming off major knee surgery the previous winter to run for 2,097 yards, a sick 6.0 yards per rush. That's it.
On Sunday in Atlanta, Peterson (29 for 158, with a couple of touchdowns) again asserted his dominance, this time against the best run defense in football through 10 games. He passed three more runners on the all-time rushing list and now sits 18th in NFL history. He will enter December—and some tough foes in his last five games, starting with Seattle on Sunday at home—with a 126-yard lead in the rushing race over Tampa Bay's Doug Martin. Peterson, through 11 games, has rushed 237 times for 1,164 yards (4.9 yards per carry) and eight touchdowns.
After Sunday's 20-10 win over the Falcons, Minnesota is 8-3 with a one-game lead over struggling Green Bay in the NFC North. The Vikings started the season trying to make this a dual offensive team, with Peterson and Teddy Bridgewater sharing starring roles. But in the last five games Bridgewater has been held under 200 passing yards four times. In the last five games, Peterson has topped 100 rushing yards four times.
Three points Peterson made to me over the phone post-game:
• He's happy that 2014 was a year to get healthy, mentally and spiritually and physically away from football. He was placed on the commissioner's exempt list for excessive discipline of his four-year-old son (pleading no contest to misdemeanor reckless assault) and missed the final 15 games of the 2014 season. "A blessing in disguise," he said. "I was able to rest my body. And sometimes you've got to be humbled. There were things I was doing that God didn't want me to do. I think it's a good thing I was able to sit back and get my life in order."
• He has been motivated by turning 30 last March. "People on the outside all say, 'You're 30, you're 30, you're 30," Peterson said. "It's too old for a running back. I heard it over and over and over. That's not the only thing that motivates me, but it helps when everyone tells you that you can't do something, and you know you can do it."
• It means something to him, by the way, this third rushing title. Why wouldn't it? Peterson, like no back I've met since Emmitt Smith, has a deep desire to leave footprints on the game. He's 958 rushing yards behind Jim Brown now—Brown is ninth all-time—and should pass him next September, good health willing. In training camp last year Peterson told me how much he wanted to catch Smith's all-time record; he's now 7,001 yards behind Smith, and only a miracle or Tom Brady's fountain of youth will help him get close to that. "I can't lie and say I'm not proud of being in this position now," he said of being comfortably ahead in the rushing derby this year. "As a competitor, yes, it's big. But I don't make it my main focus. We're winning. That's my focus."
With his quarterback in the shotgun so much now, Peterson has had to get used to more of a sidecar role in the backfield. Offensive coordinator Norv Turner is trying to do what's best for Bridgewater's growth and Peterson's production. "Norv's been doing a great job of mixing it up," Peterson said. True: Bridgewater has thrown it 108 times in the past four games; Peterson has run it 97 times in the same stretch. Not much has changed for Peterson or the Vikings: If he's dominant in December, Minnesota has a great chance to win the division. If defenses load the line to stop him, it's going to be up to Bridgewater to win games through the air, and he hasn't done that very much yet.
What will help Peterson is coach Mike Zimmer's defense. In nine of their 11 games, the Vikings have held foes to 20 points or fewer. So Peterson knows it's not up to him to have monster games every Sunday. Though Peterson also leads the NFL in rushing attempts, you can be sure Turner and Zimmer won't keep feeding him just to push his numbers high. He's going to put up big numbers organically. And you get the feeling he'll be doing that for three or four more years. At least.
* * *
A peek into the window of the concussion-watchers.
Last week, in the wake of the Case Keenum concussion debacle, the NFL granted permission for one of its unaffiliated neurotrauma consultants to speak to me about the process during a live NFL game. The NFL made available Richard Ellenbogen, the chairman of the University of Washington's department of neurological surgery and the co-chair of the NFL's head, neck and spine committee. Eight days ago Keenum, the Rams' quarterback, slammed his head on the turf in Baltimore; he appeared woozy and had difficulty getting up. The NFL has a spotter upstairs who is supposed to see such incidents and call down to the sideline to stop the game and make sure the affected player is removed and checked out. In addition, there are head-trauma specialists such as Ellenbogen on both sidelines of every NFL game. These unaffiliated neurotrauma consultants are commonly known as UNCs.
The system in Baltimore failed Keenum. The spotter upstairs saw Rams certified athletic trainer Reggie Scott hustle onto the field to examine Keenum and figured, as is the custom when a trainer comes on the field for such an exam, that he would be bringing the player back to the sideline for an analysis. But Keenum twice told Scott he was fine (most experts say that kind of answer from a player is unreliable and should be disregarded, because most players will say anything to stay in a game), and the officials on the field did not stop the game as they should have with a trainer present. So Keenum stayed in for a couple more plays until the spotter upstairs called down. By that time the series was over and Keenum was on the sideline, and the Rams had no more offensive snaps in the game.
Ellenbogen is also the NFL official who examines every UNC's report from every game. "In that game last week,'' he said, "there are a lot of things a lot of people could have done better. When a trainer walks on the field to see a player, the player should walk off the field to be examined."
Ellenbogen worked the Pittsburgh sideline Sunday in the game at Seattle. He said there were two head-trauma situations with the Steelers, including the most notable one of the weekend with two minutes left in the game. But we'll get to Ben Roethlisberger in a moment. The first incident was with linebacker Ryan Shazier.
"This was a very good day for culture change," said Ellenbogen. "The team was all-in."
The spotter upstairs noticed that Shazier appeared woozy after a mid-second-quarter play. He was escorted to the sideline, and an athletic trainer took his helmet. Shazier told Ellenbogen and Steelers doctors he was OK. Ellenbogen watched the video of the play in question and saw helmet-to-helmet contact, and also saw Shazier's head hit the ground. That was enough for both a sideline exam and a more thorough exam inside the locker room. Shazier insisted he was fine, and at one point, according to Ellenbogen, coach Mike Tomlin came over and said to Shazier: "You will listen to these doctors, and you'll do it now."
A Steelers physician and Ellenbogen went inside the locker room with Shazier. They examined him and asked him some questions from the NFL's Sideline Concussion Assessment Tool. ("Where are we? What quarter is it? Who scored last?") The assessment took between five and eight minutes. Then each doctor watched the video again, and they watched it together. Ellenbogen said the Steelers doctor, who knew Shazier from prior exams, didn't think Shazier was completely fine although the player passed the verbal tests. So he declared Shazier out for the game and in the league's concussion protocol this week.
Ellenbogen said that in the waning minutes of the game, Roethlisberger went to Steelers doctors and said he had a headache. He hadn't been staggered, and there was no sign of a concussion before then. Roethlisberger, according to Ellenbogen, did exactly what the league has been asking players to do in recent years: self-report to team medics if players feel any sign of head trauma. Because the game was now at the two-minute warning and Roethlisberger was going to be taken inside to be examined the way Shazier was, the Steelers inserted Landry Jones in the game and ruled Roethlisberger out.
"The system worked," Ellenbogen said Sunday night from Seattle. "This was a very good day for culture change. The team was all-in. The coach was involved, and he was fully supportive of what the medical people were doing. He couldn't have been more supportive. Then we had a player self-report in the middle of an intense game, which is exactly what we want. He [Roethlisberger] put health and safety over the competition. Concussions sometimes can take a few minutes to appear, as in this case. Today the system worked. The humans worked."
Now the NFL has to be vigilant to be sure a situation such as Keenum's never happens again. It will take players who self-report, and coaches who buy in to what their medical people are saying, and not taking a player's word for it when he says, "I'm OK."
* * *
Three questions with Kirk Cousins
This week at The MMQB, Robert Klemko will have a good look into the life and football career of Washington quarterback Kirk Cousins, who has one of the most interesting stories in the NFL. A fourth-round pick out of Michigan State in 2012 (after franchise quarterback Robert Griffin III was drafted three rounds earlier by Washington), Cousins is a great example of how the NFL works in mysterious ways. For three seasons, Griffin was the incumbent and Cousins the benchwarmer. Now the tables have turned. That, plus Cousins' family story, will interest you quite a bit.
It's a pretty bleak year for the NFC East when we enter December and every team in the division is below .500. In the last five weeks, NFC East teams have won a grand total of five games. The division is survival of the meekest. But after Washington's 20-14 win on Sunday over the Giants, Cousins' team is 5-6 and holds the tiebreaker edge with the similarly 5-6 Giants for first place. With 10 touchdown passes and only two interceptions over the past five games, Cousins is now the league's 17th-rated quarterback (91.7). I spoke to him after the game.
The MMQB: You guys were 2-4 and in the middle of getting clobbered by Tampa Bay at home a month ago, and now you're in first place. How'd it happen?
Cousins: "We just felt there was a lot of football left. It sounds cliché, but if you look at the full season, you'll be overwhelmed. Just think about one game, one play, and you'll be a lot better off. We have a bunch of high-character guys who never stopped thinking we were a good football team."
The MMQB: You're one of the more interesting stories in the league—drafted onto a team with another rookie as the franchise quarterback. Who knew when or if you'd ever get a chance to play. How did you handle that?
Cousins: "I got great advice from Mike Shanahan when I got here. He told me, and I know this is a cliché too, 'Tough times don't last. Tough people do.' At the end of it all, I had to keep pushing, working. It's a process. It's a roller coaster. I couldn't control anything about what would happen other than to work hard every day and learn and be ready if I ever got my chance. What's unique about my opportunity this year is that I wasn't the starter through mini-camp and OTAs. I wasn't the starter through training camp. For most of the off-season, I'm working with the twos and threes [the second- and third-string players]. Then I get the job right before the season, and so it's been a process of the coaches saying, 'What plays do you like?' most weeks. It's still developing. My job is to be a distributor, to put the ball into the hands of the guys who make a lot more money than I do, and let the magic begin."
The MMQB: Ever find your mind wandering, thinking you could be a free-agent next year, and wondering where you'll be?
Cousins: "It's human nature to wonder about that sometimes, but you only get in trouble when you do that. The great ones just work on the game that week, and they put everything else off to the side. That's what I'm doing. I have enough to handle that way."
Bonus Big Ten question, in advance of the Iowa-Michigan State title game…
The MMQB: Got a prediction for the Big Ten championship game Saturday night?
Cousins: "You know what the best thing about this week is? We play Monday night against Dallas, so we'll have Saturday night to do what we want. Normally, we'd have meetings, and I'd probably miss most of the game. I've got a lot of appreciation for my time there, and for coach [Mark] Dantonio. He's done a great job this year."
* * *
And in the 103rd Grey Cup ...
The feel-good story of the Canadian Football League, the one that had 36,000 fans in Winnipeg thrilled for much of Sunday evening, faded late. The Ottawa Redblacks, 2-16 last season, and losers decisively twice to Edmonton earlier this year, lost to the Eskimos 26-20 on a 20-degree (Fahrenheit) evening. Ottawa had underdog lovers across Canada excited, taking a 13-0 first-quarter lead. But the Redblacks could manage only two field goals and a rouge (the single point scored by punting or kicking the ball into the end zone without it being kicked back out or returned) the rest of the way.
Tough loss for Henry Burris, whose name you might recall. He's 40, and won the CFL's Most Outstanding Player this year, and won Grey Cups in 1998 and 2008 with Calgary. In 2001, the Packers signed him and gave him a chance to win a job backing up Brett Favre. He spent time on the Green Bay practice squad, then moved to the Bears, where he played a little in 2002 before returning to Canada in 2003. Burris won the Grey Cup the year Peyton Manning was drafted.
I'll always have a soft spot for the CFL. It's a fun league with great stories.
* * *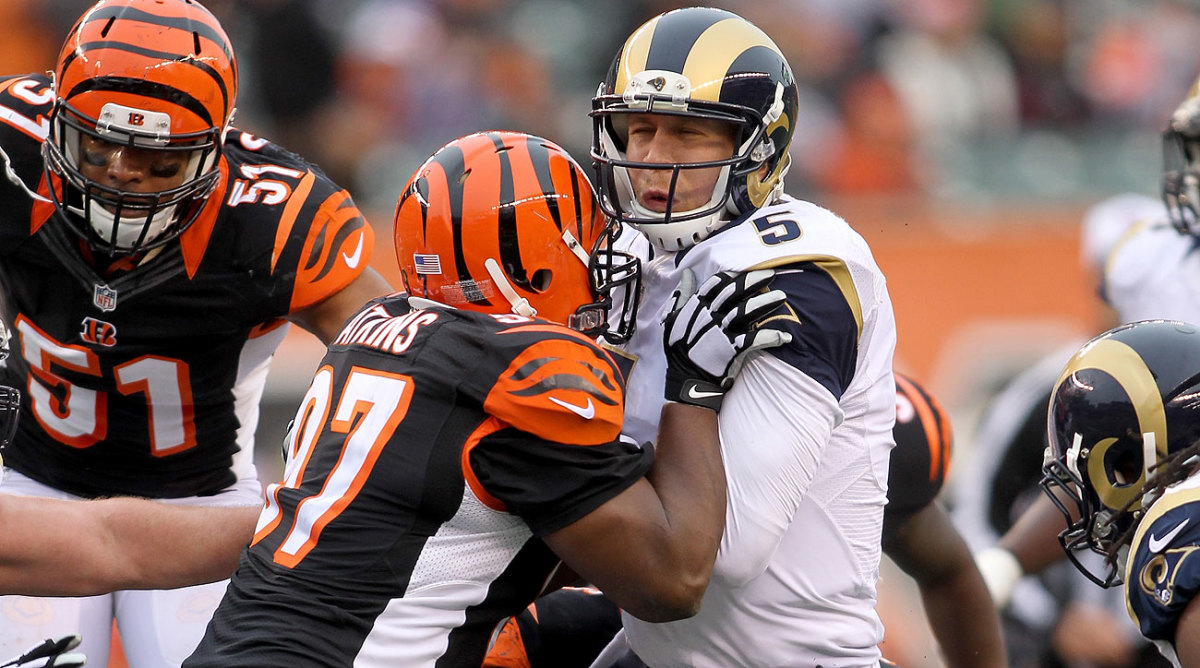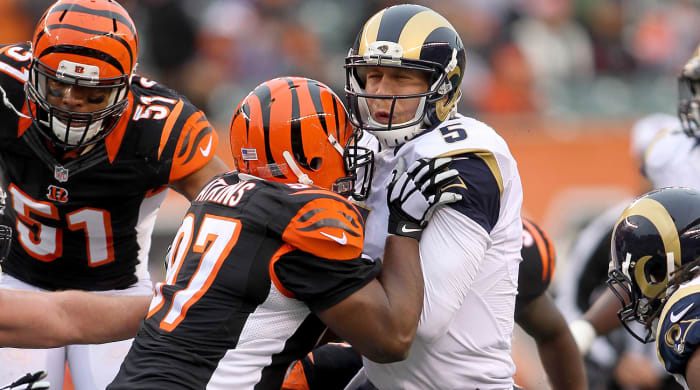 Quotes of the Week
I
"Anyone who implies that it's an effort issue, they can kiss my ass. Because there's no effort problems."
—Rams coach Jeff Fisher, irked after the loss to Cincinnati on Sunday when asked if the Rams' recent run of poor play is due to a lack of effort. St. Louis has lost four in a row, the past three by a combined 51 points.
II
"I LIKE THAT!! YOU LIKE THAT?! I FRIGGIN' LIKE IT!!!!!!''
—Washington defensive lineman Chris Baker, in a tizzy to the press walking off the field after a victory over the Giants that left Washington in first place in the NFC East.
III
"During the last years of his life, Frank dedicated himself to understanding the recent revelations concerning the connection between repetitive head trauma and its associated cognitive and behavioral symptoms—which he experienced firsthand. We miss him every day, now more than ever, but find comfort in knowing that by disclosing his condition we might contribute positively to the ongoing conversation that needs to be had; that he might be an inspiration for others suffering with this disease that needs to be addressed in the present; and that we might be a small part of the solution to an urgent problem concerning anyone involved with football, at any level."
—A statement from the family of the late Frank Gifford on Wednesday, disclosing that an examination of Gifford's brain found evidence of Chronic Traumatic Encephalopathy (CTE), a brain disease found in many deceased former NFL players. Gifford becomes a significant part of this story now because, unlike many of the players diagnosed after death with CTE, he may have been more famous after his career than he was during it. Gifford was a long-time Monday Night Football announcer.
IV
"Gobble gobble!"
—The Tennessee Titans, breaking the team huddle on Thanksgiving after practice, as reported by Jim Wyatt of Titansonline.com.
V
"I'm heartbroken that we are in this situation again, and again, and again. And I cry out with you and ask, 'Why?'"
—Rev. Amanda Henderson of the Interfaith Alliance of Colorado, at yet another service for mourning the victims of senseless gun violence, this time in Colorado Springs, when a disturbed drifter brought an AK-47 into a Planned Parenthood clinic and murdered three people, including a police officer, and wounded nine others, including five police officers.
Nothing will be done—nothing whatsoever—unless we as Americans take this issue as a true crisis instead of shaking our heads and saying, "Nothing we can do."
VI
"So, what's new?"
—Kobe Bryant of the Lakers, addressing the media late Sunday night Pacific Time. Earlier in the day, Bryant announced he would be retiring from basketball at the end of this season.
* * *
The Award Section
OFFENSIVE PLAYERS OF THE WEEK
Russell Wilson, quarterback, Seattle. There's a bit of emptiness not giving this award to Ben Roethlisberger, who, in the first game he ever played in Seattle, threw for a Seahawk-opponent record of 456 yards. But Wilson was spectacular, especially late. Three times he led touchdown drives in the fourth quarter. Three times he finished those with touchdown passes, one to Jermaine Kearse and two to Doug Baldwin. This was Wilson's 67th NFL game, regular season and playoffs, and twice before he'd thrown four touchdowns in a game. Never had he thrown five—until Sunday. His numbers: 21 of 30, 345 yards, five touchdowns, no interceptions, and the third-highest passer rating of his career, 147.9.
• HOW RUSSELL WRECKED THE STEELERS: Andy Benoit on how the Seahawks spread out to pick apart the Steelers, and why it could be a perfect new look for Seattle
Matthew Stafford, quarterback, Detroit. Career day for Stafford against the Eagles. The best Matthew Stafford is the one who looks for Calvin Johnson endlessly. On Thursday he threw 14 passes to Johnson—connecting eight times, with three touchdowns resulting. On the day, in the 45-14 rout, Stafford completed 27 of 38 passes for 337 yards, with five touchdowns and no interceptions, and a passer rating of 137.8. Thursday was Stafford's 90th game in the NFL. He has never had a rating higher than the one he compiled against Philly.
DEFENSIVE PLAYERS OF THE WEEK
Tony Jefferson, safety, Arizona. In a game that was closer than it should have been—Arizona 19, San Francisco 13—the Cardinals got three big plays from Jefferson, the combo-platter inside linebacker/safety. He forced a fumble, had five tackles and on the last Niner drive of the day sacked Blaine Gabbert for a 10-yard loss and shared a tackle on San Francisco's desperate final play. This was not the vintage Cardinals' defensive performance, but the Arizona secondary comes up big game after game, and not just in coverage—physical big plays too.
Ziggy Ansah, defensive end, Detroit. With a 3.5-sack day on one of the few windows when America would be watching—Thanksgiving afternoon against Philadelphia (at least for a while in the Lions' rout)—Ansah made Eagles quarterback Mark Sanchez's day miserable. His third-quarter strip-sack and fumble recovery led to a short field and an insurance touchdown. By the end of the day, Ansah was tied for the league lead, with J.J. Watt, with 11.5 sacks and had left a mark on Sanchez. Several, most likely. "He's a heck of a player," said Sanchez. "He had a lot of juice today."
• Join our risk-free Week 13 FanDuel league. Double your entry fee or get refunded! New users only. Sponsored by FanDuel
SPECIAL TEAMS PLAYER OF THE WEEK
Cameron Heyward, defensive end, Pittsburgh. Seahawks scored a touchdown in the third quarter to draw within 21-20, and on the PAT, Heyward leaped in the air and got a piece of the Steven Hauschka boot to prevent the ball from going through the uprights. The Steelers kept the one-point lead well into the fourth quarter. Huge play.
COACHES OF THE WEEK
Vic Fangio, defensive coordinator, Chicago. Winning in Green Bay on Thanksgiving night in a big upset, Fangio continued his strong play-calling run this season. Aaron Rodgers was just three-of-11 on third-down conversions and completed just 51 percent of his passes. What I so admire about Fangio this season is that he doesn't have a great pass-rusher and has had to mix and match in the secondary with a makeshift group. And this is what has resulted in the past five games: The Bears have held Minnesota, San Diego, St. Louis, Denver and Green Bay to 23, 19, 13, 17 and 13 points, respectively.
Jim Bob Cooter, offensive coordinator, Detroit. The Lions are 3-1 since coach Jim Caldwell whacked offensive coordinator Joe Lombardi and promoted quarterbacks coach Cooter—favored by Matthew Stafford—to that role. (Detroit was 1-6 with Lombardi as coordinator.) What I like most about the way the Lions are playing now: They had gotten away from Calvin Johnson (last three Lombardi games: 23 targets, 16 catches) and now they're back to keying on him, even forcing the ball to him when he's covered (three-game winning streak: 32 targets, 19 catches), culminating in Johnson's three-touchdown game on Thursday. "I love that [Cooter's] so aggressive," Stafford said after the 45-14 rout of the Eagles.
GOAT OF THE WEEK
Matt Ryan, quarterback, Atlanta. Midway through the third quarter of a 7-3 game (in favor of Minnesota), Ryan made the kind of error rookies make—and rookies who are not very good. Rolling left, Ryan threw the ball across his body, weakly, and it landed right in the hands of Minnesota cornerback Terence Newman in the end zone. A sure three points was lost in a game in which points were gold. That was Ryan's 10th pick in the past six games. No wonder the Falcons are struggling so much.
Khalil Mack, linebacker, Oakland. In a 17-14 game (in favor of Oakland), in the middle of the fourth quarter, Tennessee was driving and had a third-and-one at the Oakland 20. Fullback Jalston Fowler went up the middle for about a yard—but no matter, because as he was piled up by the Raiders and clearly down, Mack came in from behind and delivered a forearm shiver to the back of Fowler's head or to his neck—it wasn't exactly clear. Whatever the play, it was absolutely dirty, and a large fine or suspension will result from it. The 10-yard (half the distance) roughness penalty got the Titans closer, and Marcus Mariota hit Fowler, fittingly, for a go-ahead one-yard touchdown pass. Oakland needed a 90-yard touchdown drive to pull out the win and keep its playoff hopes alive.
Landry Jones, quarterback/holder, Pittsburgh. With the ball at the Seattle 27 and the Steelers in a quasi-punt/field-goal formation on the first play of the second quarter, Jones took a shotgun snap, rolled right, stopped, looked back to his left, and lofted a pass for offensive tackle Alejandro Villanueva for some ridiculous, inexplicable reason. Ex-Steeler Charlie Batch summed it up perfectly with his "WTF" tweet because that is exactly what every member of Steelers Nation was thinking.Seahawks corner JeremyLane grabbed the gift interception and returned it 54 yards to set up the Seahawks' first touchdown of the day.
* * *
Stat of the Week
So the games seem interminable this year? Through 11 weeks, they're taking a huge leap from 2014.
•​ Gametime through 11 weeks, 2014: 3:05.46.
•​ ​Gametime through 11 weeks, 2015: 3:09.26.
Increase in time of game from 2014 to 2015: 3 minutes, 40 seconds.
* * *
Factoids of the Week That May Interest Only Me
I
What is it about Tracy Porter and crucial moments at ends of games and Super Bowl-winning quarterbacks? Porter, an afterthought free-agent signee of the Bears last spring, had two huge plays against Aaron Rodgers on Thanksgiving night. His history of big plays in big games against big passers:
When: 2009 NFC Championship Game—Saints vs. Vikings
Situation: Fourth Quarter, :19 left
Result: Porter picked off Brett Favre's bad cross-field pass when a field goal could have won game. Saints win, 31-28, in overtime.
When: Super Bowl XLIV—Saints vs. Colts
Situation: Fourth quarter, 3:24 left
Result: Porter cut off Reggie Wayne, taking a Peyton Manning pick 74 yards for an insurance TD. Saints win, 31-17.
When: Opening Day 2012—Broncos vs. Steelers
Situation: Fourth quarter, 2:10 left
Result: In his first game as a Bronco, Porter's pick-six of Ben Roethlisberger ensured a 31-19 win for Denver.
When: Thanksgiving Night 2015—Bears vs. Packers
Situation: Fourth quarter, 3:23 left
Result: Porter "got a gift," Aaron Rodgers said, beating Davante Adams for the pick. And a few minutes later...
When: Thanksgiving Night 2015—Bears vs. Packers
Situation: Fourth quarter, :36 left
Result: Porter deflected what would have been the winning TD pass to James Jones. Bears win, 17-13.
II
Michigan State denied permission to the St. Louis Rams to speak with coach Mark Dantonio in 2012 when the Rams were looking for a head coach. The Rams hired Jeff Fisher.
Why I mention this: There are going to be coaching openings at the end of the season, as there always are. College coaches are always on NFL teams' lists. Dantonio, as usual, is doing a fabulous job at Michigan State and would be a natural to be on any team's short list for a head coach. Barring a change of heart by the MSU administration, teams will have to look away from East Lansing.
* * *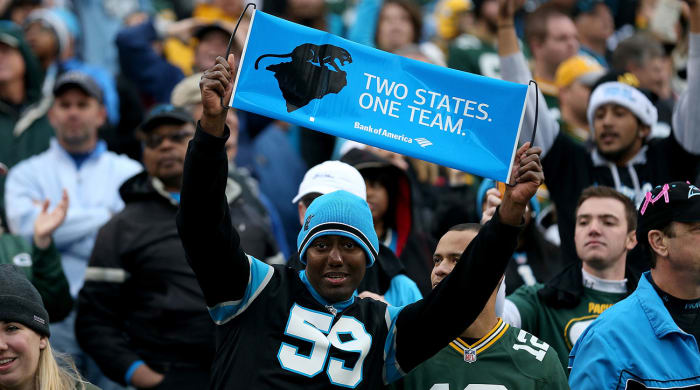 Mr. Starwood Preferred Member Travel Note of the Week
A very cool travel note, a piece of Americana I never knew existed, from the Washington Post'sLiz Clarke. She took Amtrak from her family's home in Raleigh, N.C., to Charlotte last weekend to cover Washington's game at Carolina, departing Raleigh at 7 a.m. and arriving in Panther town at 10:10 a.m. (And if you know the professional and uber-polite Liz Clarke, you can hear her voice here):
"I take Amtrak frequently for work, traveling from DC's Union Station to Philly or New York most often to cover games. But the vibe and experience on the Raleigh-to-Charlotte train is totally different—almost like a field trip.
"Everyone was in a great mood; so many families and fans wearing Panther jerseys. All the kids were so excited to be going to the game. And the conductors, as well as the woman who organized the crowd before boarding, were so friendly and eager to make sure everyone knew exactly what to expect and what to do to get to the game on time and back to Raleigh afterward. Around 6:45 a.m. the announcements started in the terminal and platform that "no personal alcohol" was permitted on the train. Once on board, people started digging into their backpacks and coolers and pulling out chicken biscuits, pimento cheese crackers and sweet tea for the families. And the conductor said to the passengers, with great verve: 'Are you ready for some football?!'
"Not everyone was going to the game; the train stopped often—at places like Burlington, Greensboro, Salisbury and Kannapolis—and a few people got off, while other Panther-bound fans joined the train. As we got closer to Charlotte, the conductor handed out an elaborate map and made a little speech, explaining that once at the Charlotte station, you could hop on a bus to downtown for $2.20 or take a taxi. The map showed how to walk to Bank of America Stadium from the bus stop.  Then the conductor explained that there was only one train going back to Raleigh afterward, so everyone needed to be sure they got back to the station in time. He made a special point to tell the children they'd have listen to their parents and not dawdle and miss the train. He was more chaperone than conductor, very doting and dear.
"The whole thing was adorable. Everyone around me was in a great mood (of course the Panthers were then 9-0; and 10-0 by afternoon). But all were so happy to be setting off on this adventure, and everyone who worked for the train was so concerned that they have a good time and get there with plenty of time to spare.
"As for why I did it, there were two reasons. The main one: My dad, who is 87, lives in Raleigh, and I don't see him often enough. The other reason goes back nearly 25 years, to when I was hired by the Charlotte Observer to cover the city's quest to get an NFL expansion team. It was a fascinating, difficult process to cover (directed by the young Roger Goodell, a staffer under Paul Tagliabue), with 11 cities vying for two expansion teams. If you recall, Charlotte's case rested heavily on the shrewd marketing plan designed by Max Muhleman. Central to Muhleman's pitch to NFL owners was that a Charlotte expansion NFL team would draw fans from a 150-mile radius. He actually had a point; while clever marketing, it was also true. The Panthers are a regional team, and the Raleigh-Charlotte 'game-day' train was added expressly because of the Panthers. Two decades later, I finally took the train from Raleigh to Charlotte. It was all Max predicted and promised so many years ago—transporting Panthers fans from 150 miles away—and great fun. Better still, it enabled me to visit my dad on a game weekend."
Now that's a heck of a travel note right there. Thanks, Liz.
* * *
Tweets of the Week
I
The veteran Seahawks beat man, who has covered the team for a decade, tweeted this after Kearse's second-quarter touchdown catch against the Steelers.
II
III
A week after the Ohio State running back ripped his coaching staff for lack of use in a loss to Michigan State, Elliott carried the ball 30 times for 214 yards in a 42-13 rout of Michigan.
* * *
Football Quiz of the Week
Gunner, Sarah Catherine, Rebecca, Grace, Halle, Caroline, Peter, Clare.
What do those names represent?
Answer in No. 10 of Ten Things I Think I Think.
* * *
Ten Things I Think I Think
1. I think this is what I liked about Week 12:
a. Catch of the Day, and of the Month, and maybe of the Year: The Odell Beckham Jr. dive-job with his left hand bringing the ball into his body as he fell to the ground. Too soon to say he's got the best hands ever; he needs to do it longer. But his hands are absolutely phenomenal.
b. Tampa Bay tight end Cameron Brate, with the ball arriving at the same time as a Colts defensive-back sandwich. And Brate, the Harvard man, hung on.
c. Harry Douglas: Catch of the Week while being mugged. Tremendous presence to hold onto the TD throw from Marcus Mariota.
d. Great pick of Blake Bortles by San Diego linebacker Manti Te'o, lying in wait and jumping for it, leading to a short field and easy touchdown catch for Antonio Gates.
e. Terrific run-stuff of Adrian Peterson by Atlanta nose man Paul Soliai, who, on that play, was impossible to block.
f. And the same "B" gap filling and stuffing of Chris Ivory on fourth-and-short by Miami safety Reshad Jones.
g. Calvin Johnson: three touchdown catches in 11 minutes Thursday against Philadelphia. How many players in NFL history have done that?
h. Look! Tony Siragusa! A Blues Brother!
i. Jay Cutler, for outplaying Aaron Rodgers. At Lambeau.
j. Blaine Gabbert (7 of 8, 143 yards in the third quarter against Arizona), rolling out and making plays on the run. The man is proving he's worthy of competing for a starting job somewhere in 2016. He's not a top quarterback, but neither are six or eight current starters.
k. Zach Miller, who has become a big factor and a big favorite of Jay Cutler. Four touchdowns in the past four games.
l. Willie Young, the Chicago defensive lineman no one knows. What an impact player, week in and out.
m. What a pick by Atlanta safety Ricardo Allen. He had a vertical leap like Michael Jordan and rose to get what looked like a perfectly fine pass into the end zone by Teddy Bridgewater.
n. Pierre Garçon, running a perfect 12-yard curl on Prince Amukamara. Kirk Cousins, throwing a perfect pass, low and inside so that only Garçon could catch it. Lovely connection.
o. Excellent timing on a safety blitz by San Diego's Jimmy Wilson, getting home and sacking Blake Bortles.
p. Nice zig-zag of a run by Alex Smith for a first down late in the first half against Buffalo. So effective, in fact, that Smith faked an official to the ground as the official tried to avoid him.
q. Xavier Rhodes playing Julio Jones physically and with no sense of intimidation whatsoever.
r. Heads-up play by Minnesota's Anthony Barr, punching the ball out of Tevin Coleman's grasp from behind in the open field.
s. Looking good back in Indy, Ted Marchibroda.
t. Good line by FOX's Matt Millen after Jameis Winston stumbled and scrambled for a key second-half first down: "He reminds me of Ben Roethlisberger. Kind of awkwardly athletic."
u. The CBS graphic late in Jets-Dolphins, showing Miami 1-of-21 this year on third-down conversions against the Jets.
v. One of the best run-stops of the day, by anyone: Arizona safety Deone Bucannon's ankle tackle of Niners back Shaun Draughn for a six-yard loss in a 13-all game in Santa Clara. One play later, with 10 minutes left in the game, San Francisco had to punt.
w. Mike Mayock on Twitter. He's @MikeMayock. Finally broke down and joined the social media world!
• Join our risk-free Week 13 FanDuel league. Double your entry fee or get refunded! New users only. Sponsored by FanDuel
2. I think this is what I didn't like about Week 12:
a. Nick Foles.
b. I mean, that is all. You can't throw the pick-six he threw to Leon Hall. Just can't. And the floater to George Iloka. Seventh-grade interceptions.
c. Blake Bortles, twice throwing the ball after he passed the line of scrimmage. That's a worrisome trait.
d. The awful third-quarter pass-interference call on San Francisco's Vance McDonald, which helped Arizona hold the Niners to a field goal. Big call. Wrong call.
e. St. Louis cornerback Janoris Jenkins, passing off A.J. Green to no one, and Green waltzing alone into the end zone, getting the easiest touchdown of the day. Biggest coverage gaffe of the day.
f. Washington tight end Jordan Reed, with three holding penalties in the first 18 minutes of the game. (Costanza voice: "Is that wrong?")
g. Shane Vereen of the Giants, muffing a pass right in his gut and popping it up so it could be intercepted by Washington's Perry Riley.
h. Ditto Dwayne Harris. Bobble. Washington pick.
i. And Harris, fielding a punt near his goal line with 23 seconds left, down six. Brain lock. Should have let it bounce into the end zone, obviously.
j. Poor Geoff Schwartz. Hated seeing the Giants guard (and occasional contributor to The MMQB) get his leg caved in like that.
k. Eddie Lacy, with another lost fumble. This one turned into seven Chicago points.
l. The terrible, marginal, touch-foul illegal-contact against Tracy Porter of the Bears in the first half of Bears-Packers. Can't make that call. Or, if you do, there are 19 other illegal contact/defensive pass interference calls you've got to make too.
m. The consistency of officiating. There's the perfect example. Why was that play called?
n. Davante Adams: 11 targets, two receptions. From Aaron Rodgers. Yikes.
o. For having such a vaunted fan base, it sure was strange to see, in a very close game in the third quarter, a sea of empty seats in the upper deck at Arrowhead.
p. Falcons: started 5-1, and 1-4 since, and it looks like the bad run is not over.
q. The missed tackle by Tampa Bay safety Bradley McDougald, allowing Donte Moncrief a key fourth-quarter first-down in a tight game at Indy.
r. Officiating crew conferences. They get longer and longer and longer.
s. Niners players on the white stripe on the sideline, causing a 15-yard penalty for interfering with an official that helped Arizona with a free first down on third-and-19.
t. Hate it for Quinton Dial, flagged for roughing the passer on Carson Palmer, because it seemed like such a good football play … but I believe it's a call that has to be made. Dial's helmet contacted Palmer's facemask, and thus, even though Dial did everything else right, it's a call made in the best interests of protecting the quarterback.
3. I think the biggest problem with the Packers right now is that Aaron Rodgers doesn't have a number one receiver. In fact, the way Randall Cobb and Davante Adams are dropping passes, he doesn't have a number two receiver either.
4. I think this says everything you need to know about the quality of football in the once-proud NFC East: The division will enter December with all four teams under .500.
5. I think Ryan Pace and John Fox deserve credit for being pragmatic in the off-season about Jay Cutler. The new Chicago GM and coach arrived in town and had to put in earplugs because of all the baying hounds screaming for the Bears to dump Cutler and go with someone, anyone, as the Chicago quarterback for 2015 and beyond. But they decided to hand the job of Cutler-wrangler to a calm, smart guy—offensive coordinator Adam Gase, who was fresh from his time coaching (and learning from) Peyton Manning in Denver. Pace and Fox are being rewarded. Cutler outplayed Aaron Rodgers on a windy, cold, rainy night in Green Bay, where the Bears have been haunted, and it was just a reminder that good players can be rehabbed with the proper care and support and coaching. I'm not saying Cutler is on his way to Canton. I'm just saying the Bears could have thrown him out last spring and been in the same boat with struggling teams like Cleveland and Houston, unsure about their future at the most important position in the game.
6. I think if you missed what cornerback William Gay of the Steelers wrote for The MMQBthe other day, please take a minute to read it. It's important. I'm proud of so many smart players writing smart things for our site over the past three seasons, and this would be near the top of the list. Gay got fined $5,787 for wearing purple cleats in a Steelers game last month. October is Domestic Violence Awareness Month. When William Gay was 8, his stepfather murdered Gay's mother before turning the gun on himself. And now Gay has become one of the league's biggest advocates for domestic violence awareness. In the column, he proposed an interesting solution for players to help the causes they are passionate about (and not just the two causes the NFL chooses to be passionate about—breast cancer awareness in October and military support in November). Wrote Gay: "We've talked about this a lot in the locker room. So many of us feel like there has to be a solution; a way for the league to work with us for trying to promote good things, rather than punish us. Ben Roethlisberger came up with the idea to allow each team to have one cause that affects the community that we play in and have each player be able to represent that. Another idea, and one I feel strongly about, is to allow every player in the league one amnesty week—one game during which they can support their cause through a shoe color or eye-black and not have any consequences. Where is the harm in that?" There is no harm in that. It is smart, and would show a partnership between the league and the players that currently does not exist in the forced uniform support of the NFL's chosen causes for nine of the 16 regular-season weeks per year.
7. I think—don't get me wrong—that there is nothing wrong with the NFL's causes. But why only two? And why does the NFL choose where to funnel millions, or where to funnel good deeds and two months' worth of network and media promotion, and how to dress its players so they can support these causes at the exclusion of the causes the players themselves support? I've made this point many times, but why year after year is breast cancer, and not prostate cancer or some other form of cancer, the beneficiary of the NFL's generosity?
8. I think there is nothing more startling this season—so far anyway—than the Eagles playing two sub-.500 teams in the span of five days and surrendering 45 points to each. And getting routed in each game. But I wouldn't take the easy way out and infer what so many are: that Chip Kelly's going to parachute into some great college job and abandon the Eagles five weeks from now.
Now, it's easy to be burned by predicting what wise coaches with options will do. Remember the Nick Saban saga nine years ago? In his second year as Dolphins savior, Saban said with three weeks left in the season: "I'm not going anywhere." With a week left, Saban said: "I'm not going to be the Alabama coach." Three days after the season, standing on the Alabama campus in Tuscaloosa, Saban said: "What I realized in the last two years is that we love college coaching." So do not ignore the Kelly-to-USC chatter, or the Kelly-to-anywhere chatter. Just as I didn't think Saban was going anywhere (he told me so, twice, in the last month before he left), I don't think Kelly is going anywhere either, because I don't think he's a quitter.
When he was at Oregon, it wasn't as if he was necessarily in the place where he could see himself coaching forever. When he got the Eagles' job I thought part of it was for the challenge of competing on a level playing field, not one where the corporate and alumni world can make such a difference in winning and losing. One more observation: Had Saban signed Drew Brees in 2006 instead of listening to team medics who told him Brees' shoulder surgery would make that season iffy for the quarterback, there's a good chance the Dolphins would have at least one Super Bowl in the last decade and Saban would still be in Miami. And if Sam Bradford had worked out and played great—there is still time, but Bradford hasn't played well enough to erase the doubts people had on him before the March trade to Philadelphia—these questions about Kelly's future would be moot. Gut feeling: Unless Jeffrey Lurie gets Tennessee's first-round pick for Kelly, and Kelly's serious about re-starting his NFL life in Tennessee next year (with his former Oregon QB, Marcus Mariota), Kelly stays. With Lurie's full support.
9. I think I have seen enough of the Rams' veteran quarterbacks—and I bet every Rams fan has too. That's why Jeff Fisher should start third-round rookie Sean Mannion from Oregon State against Arizona at home on Sunday—and, if he's competent, for the rest of the season. Mannion certainly can't do any worse than Nick Foles or Case Keenum.
10. I think these are my non-NFL thoughts of the week:
a. I heard this on Sunday on NPR about the police officer killed in the Colorado Springs Planned Parenthood murders, Garrett Swasey: The shooting wasn't in his jurisdiction, and he wasn't even a Colorado Springs municipal police officer. But he was close to the scene, and he felt it was his duty to help. The immense sadness of his wife and two children must be almost too much to bear. The immense sadness in losing such a good and loyal public servant, for the rest of us, should be palpable too.
b. We lose too many good people to idiots who have no business carrying AK-47s, in a country without the fortitude to do something about those carrying the AK-47s, or the AK-47s themselves.
c. Boston Globe reporter Nick Cafardo over the weekend said that bidding for David Price could reach $30-million a year. To which I say: Run away. Run away as fast as you can.
d. Hard not to like David Price a lot. But if the reports are true that the bidding could go to seven years for $210 million—for a starting pitcher who turns 31 next season, and who has thrown 1,505 major-league innings in eight years—that is, potentially, one anchor of a contract on a team's salary structure.
e. Good luck to Tom Sorensen, columnist for the Charlotte Observer, in retirement. Good paragraph in his farewell column over the weekend: "You know how some people are a Jack of all trades? I'm a Jack of one trade. I don't know how to build stuff, fix stuff or put stuff together. I can't figure out a computer or work beneath a hood. I don't cook or dance. I think I'd be an excellent therapist, and the only people who disagree are everybody I know."
f. You're leaving with the Panthers 11-0?
g. When it's time, it's time, I guess.
h. Georgia fired Mark Richt, a coach with a 19-6 record in the past two seasons. What a business.
i. Coffeenerdness: The later in the season, the more espresso I need. Funny how that seems to happen every year around this time.
j. Beernerdness: Now this was an odd one, but very interesting. I sampled Citrus Ninja Exchange by Westbrook Brewing Company (Mount Pleasant, S.C.) on the Thanksgiving holiday and thought it was really, really good. My daughter-in-law Kim picked it out when we went beverage shopping Wednesday; she loves the strange ones. A little big on the alcohol, but all else was terrific, with a grapefruit scent and taste, a light white head and very smooth. I will be getting this Ninja thing again.
k. Winenerdness: On the King family Thanksgiving table was a bottle of the 2012 Casa Piena Cabernet. Casa Piena is the small vineyard of former Niners and Browns executive Carmen Policy and his wife, Gail. I am no wine snob (but I like a full red), and we are no wine family, and we wouldn't know Robert Parker if he knocked at our front door. But wow. What a Cab. Full and silky. This was one of those "We are not worthy" wines. Memo Not Meaning To Be Snarky To Carmen Policy: If Tim Couch were as good as this wine, you'd have won a championship in Cleveland.
l. Bummer. The tiny Pretty Things brewers in Boston closed shop. In the three years we lived in Boston, I loved that beer and drank my share of those 22-ounce bottles. Pretty Things was all that is good about craft beer.
m. Football Quiz answer: Those are the names of the eight children of Philip and Tiffany Rivers.
* * *
Who I Like Tonight
Cleveland 27, Baltimore 22. I mean, really. Who cares? The smartest thing for the Browns right now would be to lose to get into position to pick Paxton Lynch, or Jared Goff, or whoever the next flavor-of-the-draft quarterback will be. But before we close the book on Johnny Manziel, who obviously did a stupid thing in breaking his word to coach Mike Pettine by partying and acting immature on his bye weekend (as reported by Jay Glazer on Thursday), I can't stress enough what I wrote earlier this week. The Browns used first-round and third-round picks in 2014 to trade up for and draft Manziel. He has started five games in two seasons. There is no way Cleveland owner Jimmy Haslam, or any remotely intelligent football person, can tell you right now whether Manziel is going to be any good at pro football; 163 passes in two years gives you clues but not the answer. And by benching Manziel, who knows for how long, the Browns surrender the chance to gather further evidence about whether to hang onto him at the end of the year.
I know this is a different time, and I am in no way whatsoever defending Manziel, who has made a lot of mistakes. But Bobby Layne and Ken Stabler and plenty of other party-time quarterbacks—maybe even an early-career Brett Favre—could easily have been ruined by social media. Because there's a good chance Manziel is doing nothing more than they did. Layne is in the Hall of Fame. Favre will be next year. And Stabler is up for the Hall next year as well. Would I want to put my trust in Manziel right now, starting fresh? No. But the Browns have this guy on their roster, and they spent two high draft choices to acquire him, and to let the next meaningless month pass without seeing more of him, warts and all, is a mistake.
Jerry Jones just read that paragraph and smiled. Johnny Manziel for free when the Browns cut him!
* * *
The Adieu Haiku
The Falcons. Big slump.
I have no clue what happened.
Matty's on thin ice.
• Question or comment? Email us at talkback@themmqb.com.