On Kaepernick, Kelly and the Player Who Could Upend the NFL Draft
The Broncos are trying to finalize a deal to get Colin Kaepernick from the Niners. Plus Chip Kelly finally gets to meet his new team, an update on Dr. Z and why an NFL-wide defensive shift may lead to activity atop the draft
No new news about the status of a certain 49er quarterback—Sunday was very quiet in the Colin Kaepernick derby—but we do have some information about the first pick in the 2016 draft. Specifically: The Titans might have some action on the No. 1 slot.
But first …
As we careen toward the draft a little more than three weeks from now, there's one nagging asterisk: the status of Colin Kaepernick. He's not a Bronco yet, and I suppose there's a chance he won't be. But I ask you these two questions:
1. If the 49ers wanted desperately to keep Kaepernick, would they have allowed him twice to meet with Denver GM John Elway—one of those meetings being at Elway's house in Denver?
2. With the Broncos in such salary-cap purgatory, would Kaepernick have even entered into these discussion if he wanted to keep his career alive in San Francisco?
No, and no.
• MMQB ROUNDTABLE: Peter King and staff on Goff, Kaepernick, RG3 and more NFL storylines
As one person close to these incendiary discussions told me Sunday night, the ball is in Kaepernick's court. If he wants to be traded to Denver, he'll have to take a significant pay cut from his $11.9 million compensation this year to do so. I am going to try to put this in some logical terms: Kaepernick clearly wants out of San Francisco—which I think is knee-jerk for him, because he would be a good quarterback in Chip Kelly's system. But going to Denver isn't bad either, because the Broncos defense would mean he wouldn't have to be a prolific passer in order to win. So, he has to determine whether making $11.9 million this year as a Niner or maybe $6 million as a Bronco is the smart move. Neither is wrong. I would understand him thinking the Denver deal is best for him, because this is the defending Super Bowl champion, and having two terrific receivers and a strong defense—while making less money—is a good move. But if I were Kaepernick, I'd be thinking not of vengeance against an organization I hate, but rather of the ability to work with a coach, Kelly, who has been scorned and will be supremely motivated to do a great job with a new team.
I expect a decision this week. I expect Kaepernick will pick Denver.
* * *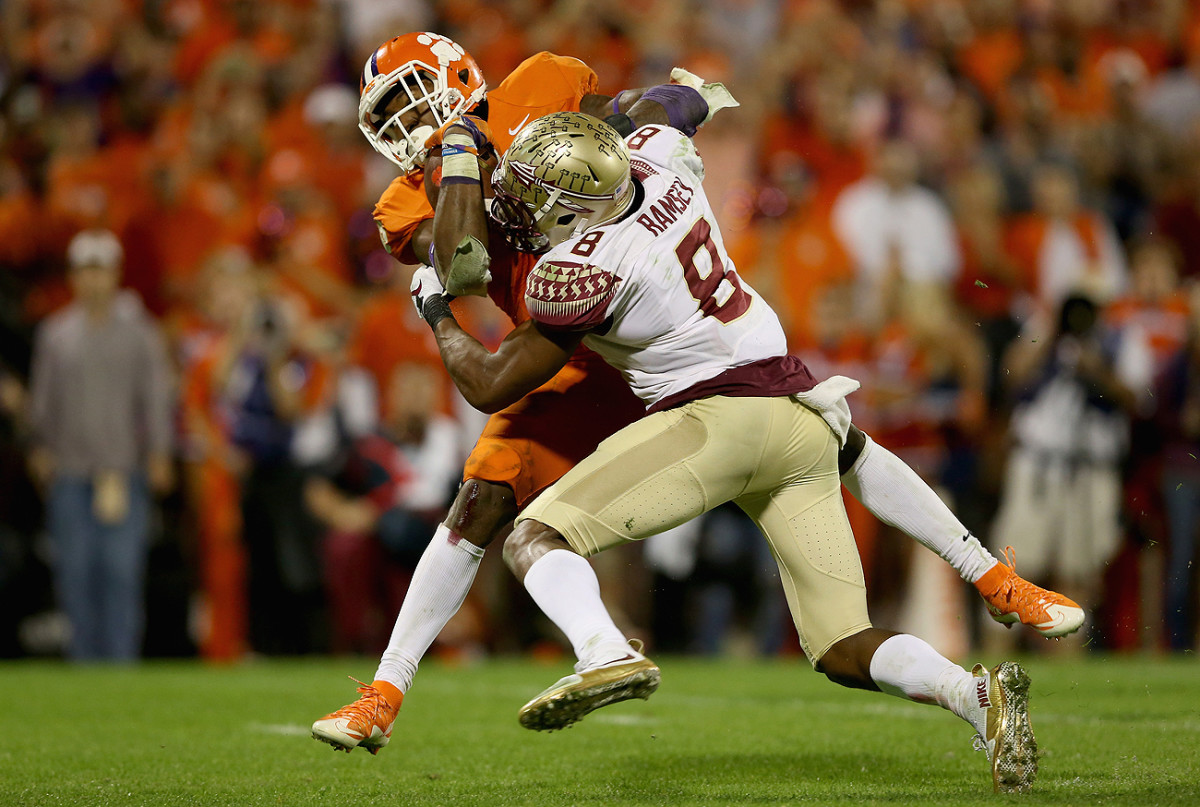 Speaking of the ball in someone's court, meet Jalen Ramsey.
This is an odd place for a Stat of the Week, but I'll explain why it's here in a moment:
Stat of the Week
The 2015 season was the seventh straight year for an increase in the number of defensive snaps in the NFL on which five or more defensive back were on the field. Per Pro Football Focus, here is the percentage of plays in NFL games with five DBs or more on the field in every season since 2008:
2008: 43.4%
2009: 45.1%
2010: 48.8%
2011: 52.5%
2012: 54.4%
2013: 58.3%
2014: 60.3%
2015: 63.4%
This is revolutionary, really, and something we don't talk about nearly enough. Five years ago about half the defensive snaps in the league occurred with four defensive backs on the field; last season it was almost two-thirds of the snaps with five or more defensive backs on the field per snap.
So why does this portend a revolution at the tip of the draft? Easy.
The Titans, holders of the first pick in the draft, will have a chance to make a deal. The Titans have received significant interest in the pick. I believe it is now 50-50 whether Tennessee will trade it or keep it. Rookie GM Jon Robinson is going to have to decide whether to accept an offer—presumably by a team that wants one of the top two quarterbacks in the draft, Carson Wentz of North Dakota State or Cal's Jared Goff—or to stay at number one and pick a player the Titans believe will be a cornerstone for years to come.
The leaders in the clubhouse for Tennessee are Laremy Tunsil, the Mississippi tackle, and defensive back Jalen Ramsey of Florida State. The Titans have a couple other players they're seriously considering—aside from Tunsil and Ramsey, a Tennessean who really wants to play close to home—but those two are the most logical.
• THE DRAFT'S X FACTORS: Moves for Paxton Lynch, Jalen Ramsey could shake up the early first round
A defensive back has been picked first overall only one time in the history of the NFL, in 1956.  But understand these reasons why times are changing in the NFL. Last season the NFL saw new records set for touchdown passes allowed (842), completion rate for quarterbacks (.630) and passer rating (90.2). Ramsey became an interesting X factor for those reasons, and because the Titans are so desperate for help at both tackle and corner.
The pick will probably come down to Tunsil or Ramsey for Tennessee. Both will visit the Titans in the coming weeks, and that will provide more clarity. It's been thought that Tunsil was more logical, but there are a few things making Tennessee do more homework on him. He is a natural left tackle, to be sure. But he isn't a classic downhill left tackle, which the Titans want; they just traded for bullish back DeMarco Murray and want to run the ball significantly. And players with history in a college spread offense, like Tunsil, have to adjust, and that's no sure thing.
The NFL, as the Pro Football Focusnumbers show, has transitioned into more of a three-down passing league. Ramsey had only three interceptions in the past three college seasons at Florida State, but he seems the most pro-ready corner in this draft. He's a 6-1, 210-pound specimen with the ability to cover the kind of big receivers the league is fielding today. He can play cornerback, he can move inside and cover the slot receiver, and he can play a centerfield kind of safety if need be. He's the kind of versatile defensive back every coach wants. The Titans have a crying need at tackle, after allowing more sacks than any other team in football last fall. But they also need a corner and a nickel defender, and defensive coordinator Dick LeBeau would froth at the chance to use a player with the blitzing and tackling skills of Ramsey.
So … do not assume Tennessee is locked into Tunsil. Robinson certainly could take him. But the top of the draft is in flux, and I will not be surprised if in the next three weeks the Titans move the pick for an additional high pick or picks—even though there's not the Andrew Luck or Marcus Mariota out there for a team to move up and grab. But there are teams like San Francisco or Los Angeles or Philadelphia that might want a quarterback, and might be desperate enough to overpay for the top pick.
* * *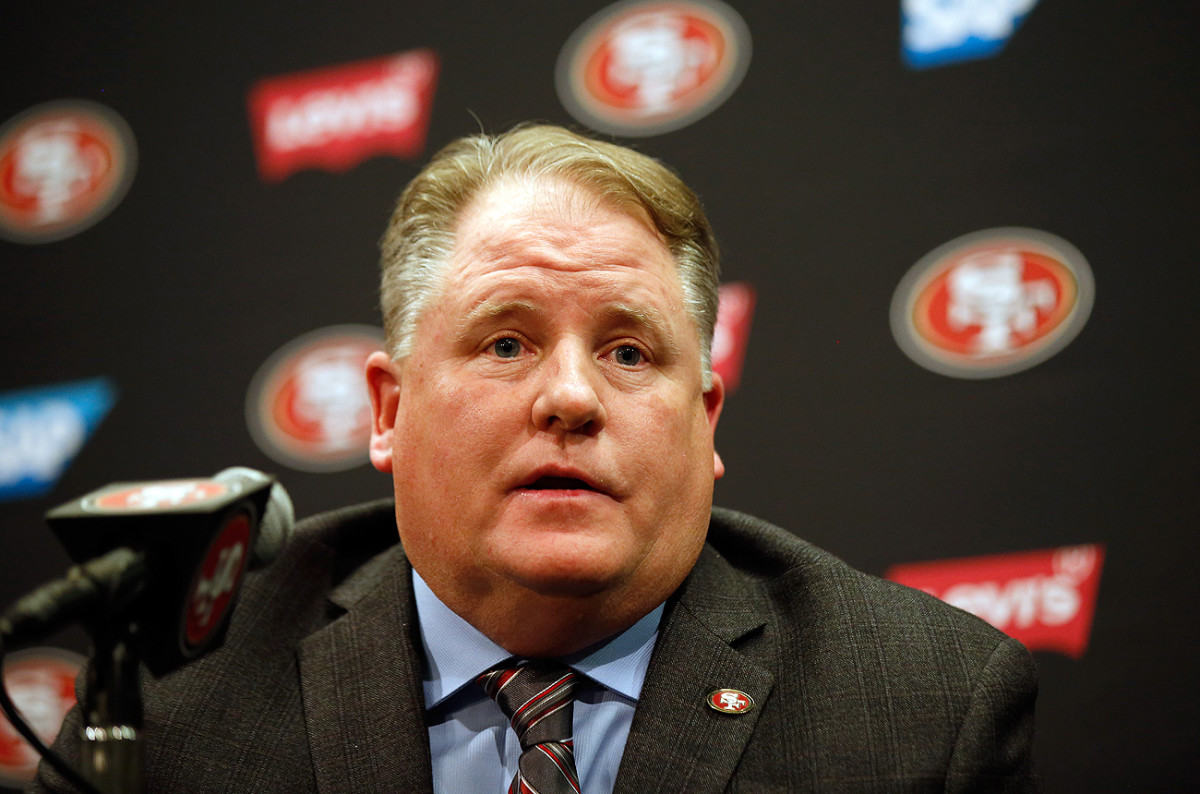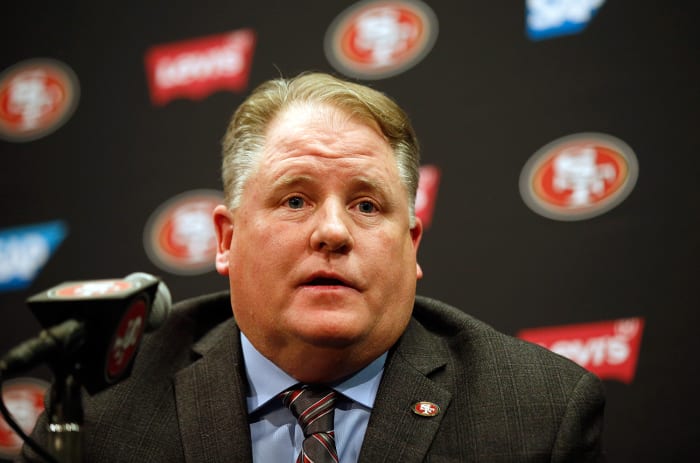 Chip Kelly has his hands full in San Francisco
The other day, NJ Advance Media reported that Eagles scouts had it up to here with Chip Kelly, beginning with his first draft in Philadelphia in 2013. It reminded me that until a coach wins, and wins big, there's going to be great skepticism, regardless of the coach's résumé. "Right before that draft, the scouts set the board," a club official was reported to have said. "Then Chip got a hold of it and totally turned it around. Scouts had no say at all in that draft. Anybody that Chip didn't want, that player's card got removed from the board and thrown in the trash. Those guys were never even in the discussion. Almost immediately, you had a lot of scouts looking around and wondering, 'Why am I even working? Why the hell are we even here?'"
I'm reminded of 2011, when the Patriots had the first pick of day two, No. 33 overall. The scouts, I'm told, were expecting the Patriots to pick one of two front-seven players, Jabaal Sheard or Brooks Reed. Instead, Belichick went with his gut, taking a tall corner with an injury history, Ras-I Dowling. He ended up being a bust. Sheard, particularly, and Reed haven't been superstars, but they've had significantly better careers. Point is, you never heard a peep out of the Patriots, mostly because Belichick earned the right to pick whoever he wanted, with at the time three Super Bowl wins to his credit. And Kelly will get the skepticism until he wins.
• CAN A CFL STAR SPARK CHIP KELLY'S NINERS? Well-traveled wideout Eric Rogers became Kelly's first signing in San Francisco
Today, Kelly begins his second try to win in the NFL, after his 26-22 run with the Eagles that ended in his unceremonious firing by Jeffrey Lurie last December. At 8 a.m. Pacific Time today he'll get to meet with his players for the first time since being named coach of the team nearly three months ago. I talked to him about the past, and his future—but before the Colin Kaepernick news broke over the weekend.
MMQB: Does part of you feel like you've got to prove yourself as an NFL head coach?
Kelly: Not coming after what I've just gone through. I don't look at it like that. I think you want to prove yourself every day. I want to prove myself after my first year, I want to prove myself after my second year, after my third year … I look at it that I landed in heaven, and I am really excited to be in San Francisco. The organization is first-class, and it is about excellence. We've won 20 division titles since 1970, six NFC championships, five Super Bowls. You walk down the Bill Walsh Way on the way into the building and you'll see five Super Bowl trophies in the lobby. It's an unbelievable organization. How it is set up, the York family, what they do, how they treat people, I was blown away to be able to be part of that.
MMQB: Do you feel battered after the Philadelphia experience?
Kelly: No, not at all. I coach football in the NFL. I have one of the greatest jobs in the world. I don't think I would ever feel battered.
This team three years ago was on the 5-yard line going in at the end of the Super Bowl. I'm the third coach they've had since. You can win the NFC championship one year, then win four games the next year. Things change fast.
MMQB: Biggest lesson learned in the NFL so far?
Kelly: Everybody has got to be on the same page.
MMQB: Players, front office, owner?
Kelly: Everybody, really, but it's really important with the front office.
MMQB: How far away are the Niners from being really good again?
Kelly: I don't know. The unique thing about the CBA is I feel like I have been there for a while, but I don't know our players. [The 2011 Collective Bargaining Agreement mandates that new coaches are not allowed to have significant contact with their players until April, and the NFL's new coaches have their first contact with players today.] All you are allowed to do is introductory superficial conversations, Hey, how are you doing? So we really don't know what exactly we have. I mean, I know we have a lot of talented players, but until you work with them …
And I think the landscape changes even in the division, who is adding and subtracting players. You look at the Rams. James Laurinaitis isn't there anymore, Chris Long isn't there anymore. But Aaron Donald still is there though. So when you go through it, it will be interesting because in this league so much changes on a yearly basis that looking at film from a year ago and looking at it moving forward, you just go, Wow, it's changed. And it happens fast. This team three years ago was on the 5-yard line going in at the end of the Super Bowl, that close to winning it all. Three years later, I'm the third coach they've had since. You can win the NFC championship one year, then win four games the next year. Things change fast.
MMQB: Cliché question, but I wonder when you look back at what you did at Oregon, and how the pro game is different from the college game, what's the biggest difference?
Kelly: In the first game of our 2010 season we beat New Mexico 72-0. No one beats anyone in the NFL 72-0. I think 55 percent of the games last year were decided by seven points or less, 24 percent by three points or less. It's really intriguing, to be honest. Smaller rosters, obviously. We'd dress 100 guys for home games at Oregon. A lot of that was we used dressing for games as kind of a reward for guys who worked hard in the program. But now, with 53-man rosters, and you're not even dressing all of those, you've got to use key starters on special teams. And when you eliminate eight offensive linemen and two quarterbacks and most of your defensive linemen, that means you have a pretty small pool to choose from for all of your special teams. That's very big.
Then I'd say the talent is the biggest factor after that. It's so close. You look at college football. There's a saying that the top teams in the country—Alabama, Michigan, Michigan State, Ohio State, Wisconsin—they win nine games in February [through recruiting]. They pick the players they want. Here, of course, you can't do that. So you have to find other ways to win. You've got to be smart about who you draft, who you develop and how you coach them. That's the great challenge. I love the challenge of it.
* * *
The Dr. Z Section
So a group of friends had lunch in New Jersey the other day with former Sports Illustratedstar scribe Paul Zimmerman. Since his series of strokes in November 2008, Zim has been unable to read and write, and unable to speak intelligibly. Sad to say, nothing has changed recently, and it remains unlikely he'll ever make a recovery to the football/wine/life authority he was for so many years. What a bummer all of that is.
But I've got a couple of things to tell you that will address your Dr. Z needs. So many of you over the years have told me how much you miss him, and how much you miss reading him—as we all do. And so:
• Dr. Z Week. The MMQB is going to present a "Dr. Z Week" sometime in June or July. The week will be devoted to some of his best writing, and to the influence he has had on so many people in the football and media business. Part of that week will be some original writing you have never seen before, which leads me to …
• Paul Zimmerman's Memoir. When he was struck down by the strokes, Zim was in the process of completing his memoir. It is not finished, but it is really good; I've read it. And we're going to take a couple excerpts from his life and times as a sportswriter and post them on The MMQBas a part of this special week. I am hopeful of two things—that young people who may not know very much about Paul Zimmerman will read and enjoy his work, and learn why he was so influential as a writer and a football authority, and that a publisher in this crazy time of the book business might see the excerpts and want to publish the memoir. Zim had tried to get the thing published not long before the strokes, and he didn't have success. So maybe reading some of the stuff about his unique life will make the lightbulb go off at a publishing house and we could get his last words published.
I have a lot of ideas about how to finish the memoir, such as using his own words from over the years from the parts of his life and writing eras that he didn't cover in the book. But we'll see. For now I wanted to share the news that you'll be able to read some Zim in the coming months, and we'll be able to keep his memory and his words alive.
By the way, for those asking how Paul is doing … He's fit for an 83-year-old man who uses a wheelchair, and he has full understanding of what you say to him; he simply cannot say anything intelligible back. His appetite is terrific. He still loves his wine—he favored his glass of The Prisoner Zinfandel the other day over his glass of Frog's Leap cabernet—and loves to be regaled by great stories. Most of them at this lunch were told by Arthur Frank, a friend of his from his Columbia University days. It was the kind of lunch no one wanted to end. But I've found that's the way it usually is being around Paul over the years: You never know what is going to be memorable about your day—some lunch or a pregame joust in a press box or just hanging around and talking. But something always is. I just would like his work and his life to live on.
* * *
Another important study about the long-term impact of football
We're getting weary, understandably, of the flood of information about the potential dangers of football, particularly at a young age, as it relates to brain maladies later in life. But I want to call your attention to a study published Thursday in the Journal of Neurotrauma that I find particularly important. A group at Boston University, led by MD/PhD candidate Philip Montenigro, studied 93 men who played youth, high school and college football but who did not play pro football. The study found that in the 93 players, the impact of cumulative head trauma led to later-life depression, cognitive impairment and apathy.
Montenigro assigned a value of cumulative head impact for each season each player played, based on the position played and number of games played per season, and totaled up the number. The higher the value, the more likely a player would be to have problems later in life. The "cumulative head impact index" was calculated through a combination of the football history reported by each player, along with the impact frequency recorded by the fairly new study of "accelerometers," helmet sensors that have recently begun to record the number and intensity of subconcussive hits to players at different levels of football. This study focused more on the subconcussive hits (those that result in significant contact to the helmet but not a concussion-causing blow) than on concussions. Recent accelerometer studies, according to Montenigro's research, estimated that high school players average 600 subconcussive hits to the head per season, while college players average 1,000. Then, the 93 players were polled to see about their current mental health. The more subconscussive blows, the study found, the higher the chance of a brain-related malady later in life.
• JOHN HARBAUGH'S DEFENSE OF FOOTBALL: The Ravens coach makes an impassioned defense of the national pastime
That's not a surprise, and it's not conclusive, either; 93 players is not an exhaustive study that proves anything beyond a doubt. But it is encouraging that Montenigro and his mentor in the survey, BU's Robert Stern, were able to quantify that players who took more blows seem more likely to have mental issues down the road.
I spoke with Stern on Saturday, and he left me with the idea that parents and coaches and even the NFL should be using this study as another brick in the wall, and a cautionary look at cumulative head trauma. "We're learning just enough now that we're in the toddlerhood of studying the long-term effect of subconcussive blows," Stern said. "A good analogy is this: I used to be a Little League coach. It's been mandated for a while now that kids can't pitch more than a certain number of pitches per game, per week. The goal was to prevent that kid from an overuse injury, and everyone agrees that it's a good idea to try to prevent these overuse injuries. Yet we don't do anything about the number of times a head gets hit in football, with the most important part of your body getting jostled or taking a big blow. You drop Johnny off at youth football practice, and you don't ever think, 'I want to know how many times he gets hit in the head.'"
"That is absolutely what this study should be doing—getting people to start thinking about the cumulative effect of these repetitive blows to the head," said Montenigro. "This research can't say anything definitive, but it should give parents an idea that repeated blows at an early age, and not just concussions, should be monitored. What's apparent is that concussions suffered did not predict cognitive impairment. But subconcussive hits did predict cognitive impairment, depression and apathy."
* * *
Quotes of the Week
I
"We will be able to accurately diagnose CTE during a person's life, perhaps in the next five to 10 years."
—Dr. Robert Stern, professor of neurology at the Boston University School of Medicine, and the clinical core director of BU's Alzheimer's and CTE Center in Boston, to me on Saturday.
This is not just a Quote of the Week. It doubles as Headline of the Week.
Stern has been working diligently on this, and if he does find a way to diagnose CTE in living people, it would be one of the great breakthroughs for former athletes, ever.
II
"When Robert got hurt against Seattle [in the 2012 playoffs], he lost his LCL and his ACL. None of that had to do with the read-option. I think the read-option is what kept him healthy. He had faked the read-option where people were playing the run, and he was just outstanding with his play-action passes. He got better with the dropback passing game, because the secondary coverages we saw were fairly simple. And everybody said, you know, we can't run the read-option anymore because they've it taken it away. The only guy that's really run it consistently is Russell Wilson, and he's had more success the last two years than even the first two years. Wilson doesn't care how many yards he gets. He gets as many yards as he can, and then he falls to the ground. You will never see him get hit running the read-option, or very seldom, because he knows when to give it, when to keep it, when to slide, and that's what quarterbacks who run the read-option have to do. He knows there is nothing more important than him staying healthy. For all these analysts that say, 'Oh, you can't run it because you take too many hits,' well, that was true about Robert. Robert did take too many hits. One thing I didn't do a very good job of is trying to emphasize to him that you can't take a hit; you've got to slide, you are too valuable. He was very competitive, and he didn't want to do that."
—Former Washington coach Mike Shanahan, about his former quarterback, Robert Griffin III, who has signed with Cleveland and will have a golden chance to be the Browns' opening day starter, to Jenny Vrentas of The MMQB in an insightful interview.
III
"Robert is going to have to be all-in, and he should be right now, given the fact that his options are limited."
—Shanahan, in the same interview with Vrentas.
IV
"Another knee surgery yesterday. This game gives and takes. This surgery will take me out of next season, and probably keep me from playing again."
—Tight end Scott Chandler, recently released by the Patriots, on Facebook on Friday. If this is it for Chandler, 30, he exits with 205 career catches and 21 touchdown passes—four last season from Tom Brady.
V
"My 50 year internship in the NFL League office ended March 31. I no longer will have easy access to NFL Draft guest-passes, Super Bowl tickets or Joe Willie autographs. If you still want to contact me in NYC … ''
—Longtime NFL executive Joe Browne's away message on his email at the league office, preceding his new email contact.
• INSIDE THE RAMS' MOVE: The MMQB went behind-the-scenes to look at the logistical complexity of the Rams' nomadic season to come
VI
"I just do what I do, and don't worry about being famous. Being famous, in itself, means nothing."
—Bruce Springsteen, 40 years ago Friday (April 1, 1976), to The Post, the student newspaper at Ohio University, on the occasion of his concert stop at the school's campus in Athens, Ohio. He made the comment while touring the uptown bars on his trip, Heineken in hand.
That was my first Springsteen show, out of about 23. I was a freshman at Ohio U. The ticket was $6. It was general admission seating in the on-campus Memorial Auditorium, and we got a taste of why general admission seating at a concert was a dumb idea. I got in line for the show at about 4:30 (for an 8 p.m. show), and when doors opened just after 7 p.m., there was a surge to the front, and we were carried along, like it or not, with this tightly packed crowd of people. One of the heavy wooden doors got ripped from the hinges. Once inside, I ran down the left aisle and got the aisle seat in the third row—I'd say about 20 feet, as it turned out, from Clarence Clemons. A fun night. I remember "Backstreets" most of all, and returning to my dorm on the West Green afterward and annoying the crap out of my roommate by immediately playing both sides of "Born to Run" on the turntable in our room.
* * *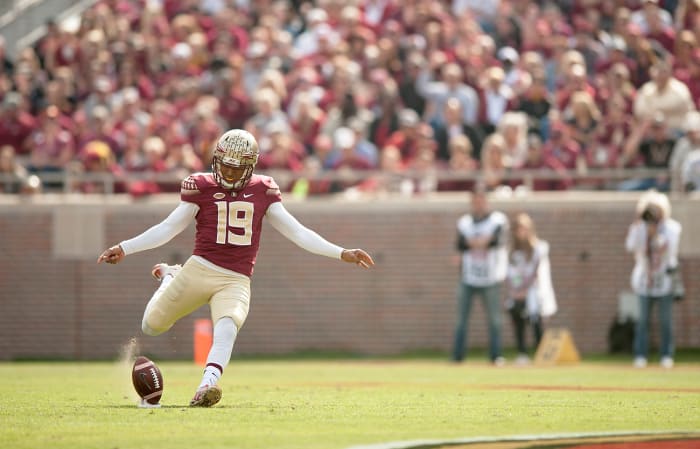 Factoids of the Week That May Interest Only Me
I
Aaron Rodgers and President Obama played a round of golf together Saturday.
II
Florida State kicker Roberto Aguayo, the most accurate kicker in NCAA history, is bidding to become the first kicker selected as high as the second round since the Jets picked Mike Nugent in round two in 2005. The MMQB'sJenny Vrentas is working on a story on Aguayo—who has a very good one to tell—which you'll read in the coming days on our site. Nugent is the only kicker in the past 15 drafts to be taken that high, and kickers and punters, generally, have been consigned to the later rounds of the draft. In fact, the only punters to be taken in the first three rounds of the past 15 drafts are Dustin Colquitt and Bryan Anger, each of whom was a third-round pick.
It's probably wise, history says, to take kickers and punters later rather than earlier. Nugent, the 47th overall pick in 2005, is on his fourth team (Cincinnati) and is just 11 of 25 from 50+ yards in his career. Dustin Colquitt is the 16th-leading active punter in yards per boot (44.8), while the Jaguars let Anger go in free agency to Tampa Bay this season. Anger boomed the ball well, but his 39.8-yard net average last season was 22nd in the NFL.
The top three punters in the league last year were undrafted (Johnnie Hekker), a seventh-round pick (Pat McAfee) and undrafted (Matt Darr), respectively. The greatest placekicker of this era, Adam Vinatieri, went undrafted out of South Dakota State.
So Aguayo, obviously, is battling history, and the following painful list of players, to try to get picked high in April. This is not meant to pile on Anger, or to overly diss the Jags for making Anger such a high pick. But here are the five teams picking early in the third round of the 2012 draft that needed a long-term quarterback, and here is what they did:
| | | | |
| --- | --- | --- | --- |
| Overall Pick | Team | Choice | Where Is He Now? |
| 66 | Minnesota | CB Josh Robinson | Tampa Bay |
| 68 | Houston | WR DeVier Posey | Denver |
| 69 | Buffalo | WR T.J. Graham | Out of football |
| 70 | Jacksonville | P Bryan Anger | Tampa Bay |
| 75 | Seattle | QB Russell Wilson | Seattle |
Five picks. Four no longer with their teams. And Russell Wilson, Seattle's quarterback for the next decade.  
III
The I'm Just Saying NBA note of the week, with the scores of the Boston-Golden State games in the last two NBA seasons:
2015-16
at Boston: Warriors 124, Celtics 119 (2OT)
at Oakland: Celtics 109, Warriors 106
2014-15
at Oakland: Warriors 114, Celtics 111
at Boston: Warriors 106, Celtics 101
Warrior victory margins over Boston in the last two years: 5, 3 and 5 points.  The Warriors own victories of 6, 34, 8, 21, 13, 8 and 18 points over Cleveland in the past two years.
* * *
Tweets of the Week
I
The New England defensive tackle tweeted this after Russell secretly taped Lakers teammate Nick Young talking about women other than his girlfriend—and the contents of the tape somehow went public.
II
III
* * *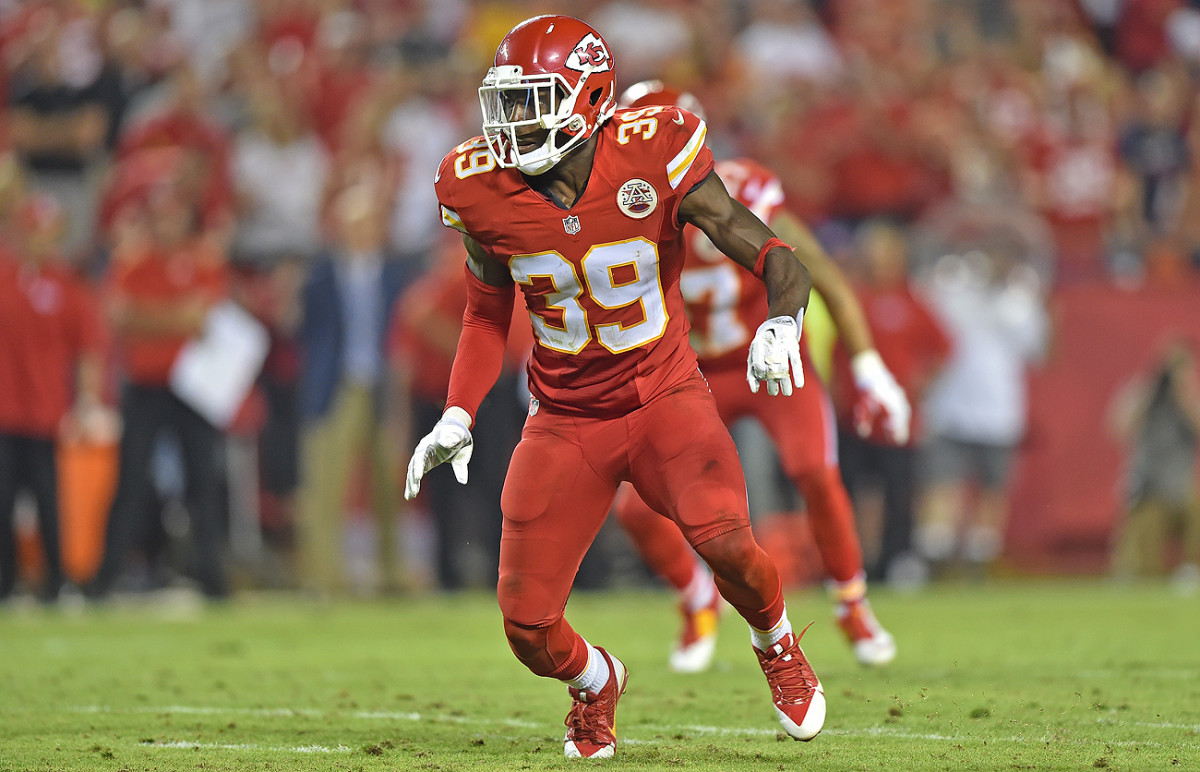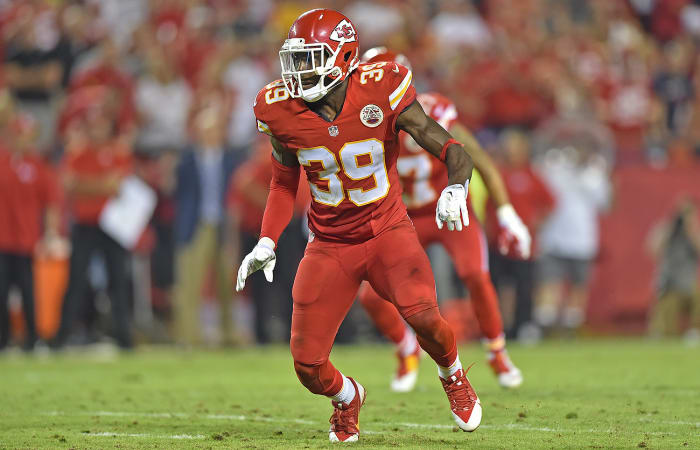 Ten Things I Think I Think
1. I think the best thing I read from a player in the past week was from retiring Kansas City safety Husain Abdullah—a better player than he got credit for—who told Tom Pelissero of USA Today: "I don't want to be that boxer that just stayed around for too long." Abdullah, 30, had five concussions in a seven-year span, and players with a history of concussions are apt to suffer them more readily. Good for him that he's getting out now, just after the birth of his fourth child. Abdullah is one of the most thoughtful players in the league. I look forward to his next chapter.
• TRYING TO MAKE THE ARENA LEAGUE: The latest installment in actor Neal Bledsoe's quest to play pro football
2. I think longtime NFL publicist/conscience/commissioner-advisor Joe Browne will get more than one long paragraph noting his retirement after 50 years in the NFL here at The MMQB. That'll happen later this month, when he'll share a few stories on his half-century with the league, going back to age 17, when he started as a mailroom clerk on Feb. 15, 1965. Browne officially retired last Thursday. But let me give you one story he shared recently to detail how intimately he was involved in the behind-the-scenes operations of the NFL, this one during the Paul Tagliabue regime:
"Two of the few things I was jealous of in my career when it came to baseball was the so-called Hot Stove League and the ceremonial first pitch on opening day by the sitting president. However, when I approached commissioner Tagliabue in 2001 with my idea on how we could get President Bush 43 involved in our opening day that September, Paul told me to do it, and not screw it up. Like many things in life, It turned out to be easier said than done.
"We wanted the president to flip a coin in the Rose Garden or wherever he would be that particular September weekend in order to kick-start our season-opening 1 p.m. ET games. We would have all the team captains and the referee in the middle of the field at the stadiums. The visiting team would call heads or tails. However, instead of the ref tossing the coin, we would have President Bush toss a coin and then let all the players, in-stadium fans and TV viewers know the result. I was in charge of our Congressional and Federal Agencies relations in those days. I sent a letter to Karl Rove, who was the president's go-to guy in those days and someone I knew on casual basis.
"After a series of calls to his office, Karl finally got back to me in early August. 'Joe, I have your original letter sitting on my desk,' he said. 'Let me say one thing: The president was a baseball owner, not a football owner. I don't think we can handle your request.'
"I was disappointed but recovered by telling Rove I had one other idea to get it done. Alex Spanos, the owner of the Chargers, was a tough real estate developer, self-made billionaire and owner of the Chargers. He was a top Republican and one of the biggest contributors to the president's successful election campaign. When I asked Spanos a couple of days later, he told me he would see what he could do.
"Time went by.and each night I was sleeping less and less, because not only had I promised Tagliabue but the clubs as well I would get it done. I took my younger son Randy out fishing for a couple of hours of relaxation on an August Friday. When we returned home and I checked in with the office, my assistant told me that Mr. Spanos had called three times and that he sounded upset. I was to call him at home. When I called his house in Stockton, Calif., the housekeeper told me he was resting but that if Joe Browne calls she should get him up.
"Spanos said, 'Geez, son, where have you been. I had the president here in my house for a reception and I wanted HIM to tell you himself that he would do that coin toss. God, you can't just disappear like that.'
"It was the one phone call I regret not taking during my 50 years at the league. The plan worked to perfection. The president tossed the coin on Sept. 9 in the Rose Garden in front of a national TV audience and with several Pop Warner players in uniform surrounding him. It was a great scene.
"Two days later, on Sept. 11, 2001, the entire world changed for the rest of our lives."
3. I think Joe Browne had one way to begin a thought, which he used about 10 times in a conversation. "Me to you," he'd say, and follow with some story or tip that most of the time didn't sound all that private or newsy. But it's how he began many pieces of information he thought valuable. And I always wondered how many got that "me to you" treatment. Last week, one of the longtime operatives put it this way: "When Joe would say, 'Me to you,' I figure he'd already shared it with about 50 other people."
• JIHAD WARD'S GRUELING JOURNEY TO THE DRAFT: Robert Mays on the Illinois star who emerged from a tiny junior college in a Manhattan office building
4. I think if the Raiders are going to move—and I am on record as fervently believing they belong forever in northern California—Las Vegas would be somewhere between fun and tolerable.
5. I think for those who didn't know Eugene Parker, the super-agent who died Friday of cancer at age 60, this is how I described him: He was an honorable type who looked out for his clients well (as all agents do), but who always wanted the players to be in the right place for them, not just in the place they could earn the richest deal. I remember dealing with him last fall when I was trying to do a story on the recovery of Jason Pierre-Paul (a Parker client) after his fireworks accident. Parker engaged former NFL defensive line coach John Blake (who is now back in the league, with Buffalo) to help Pierre-Paul. Not just in playing, Blake told me, but also with Pierre-Paul the person. Blake told me Parker was worried about Pierre-Paul, and he wanted to make sure he didn't just do drills and train him and then leave for the day. "Eugene said, 'Jason needs you now,'" Blake told me, and added that he needed him to work on his confidence as well as his pass-rush moves. And Parker would call to check in with Blake, always asking how Pierre-Paul the person was doing. So many of his clients—Larry Fitzgerald, Devin Hester, Deion Sanders, Emmitt Smith—stressed Parker the person in their remarks after he died. The man will be missed, and not just by his clients.
• JARED GOFF COULD BE THE NEXT TIM COUCH… IN A GOOD WAY! The links between the (unjustly maligned) quarterback who relaunched the Browns in '99 and the Cal product who could be Cleveland's next presumptive franchise QB
6. I think if you want Muhammad Wilkerson of the Jets, you'd better offer more than a low first-round pick. This is one of the five best defensive linemen in football, by any measure. He's 26. Other than the fluky broken leg suffered at the end of last season, his health is fine. That injury is the only argument any team could make that Wilkerson is not worth, say, picks in the first and third or fourth round.
7. I think the team that ought to go after Wilkerson is Indianapolis. No question. The Colts have a mediocre lot (Kendall Langford and Arthur Jones) with strong prospect Henry Anderson in their 3-4 defensive end scheme now. If I were GM Ryan Grigson, I'd offer the Jets my first-round and fourth-round picks this year (Nos. 18 and 116 overall) for Wilkerson. The Colts, with $19 million under the cap, have been saving cap room for the Andrew Luck contract. Wilkerson is the kind of special player for whom it's worth performing major salary-cap surgery.
8. I think, scanning the seven-round draft order that the league released last week, this was the strangest note I could find: The Patriots have the 96th overall pick, and then don't pick again for 100 selections, until the 196th pick … and then have seven of the next 54 picks—numbers 196, 204, 208, 214, 221, 243 and 250. As Mike Reiss of ESPN Boston points out, New England has a heavy roster now and will use those late picks the way many teams use post-draft free agency, as a substitute for being very active with undrafted free agents. New England also has no problem waiting until the crop thins, the way the Patriots did when cornerback Malcolm Butler was still on the street nine days after the 2014 draft.   
9. I think, three weeks out, the only thing I believe about the 2016 draft is that the Browns are taking Carson Wentz at number two.​
10. I think these are my non-football thoughts of the week:
a. Good for the U.S. Women's National Team, fighting for equitable pay with the men, particularly now that—according to their complaint filed Thursday with the Equal Employment Opportunity Commission—the women are projected to produce higher revenue than the men over the next two years. Great example of the disparity pointed out by Five Thirty-Eight: Men's star Clint Dempsey earned $428,022 in the 12 months that ended March 31, 2015, a time period that includes the U.S. men's team losing in the World Cup round of 16. Women's star Carli Lloyd earned $240,019 in calendar year 2015, during which time the U.S. women won the World Cup and Lloyd was voted the player of the tournament (she was also named FIFA women's player of the year for 2015). Plus: Maybe it's me, but the women winning the World Cup last year, at least in my New York neighborhood, generated as much excitement in the local places as the men advancing in the World Cup the previous year. They deserve the equal pay. 
b. Enjoyed this video of Olympian Ryan Lochte teaching USA Today'sNicole Auerbach how to swim—in part because she has so much fun with it.
c. Just a terrific job by SI'sAlan Shipnuck on whatever happened to Tiger Woods. The info is so good on the man who will miss his second Masters in the last three years.
d. Woods: "There's really nothing I can look forward to."
e. He is the world's 472nd-ranked player.
f. Shipnuck: "He kills much of the day playing video games … His isolation is profound."
g. Woods' ex-coach Hank Haney told Shipnuck that as far back as 2006, "He was just tired of being Tiger Woods."
h. Great work, Alan Shipnuck.
i. Much admiration for NFL Network's Rand Getlin. Watch this video to see why.
j. My sympathy to football writer Aaron Wilson of the Houston Chronicle on the death of his wife, Samantha Wilson. A great guy, backed by a wonderful woman.
k. Beernerdness: Tried the Motorworks Brewing (Bradenton, Fla.) V-Twin Vienna Lager. I'm generally a lager fan, but this was a little bitter. Not much taste to it. Sorry. I try tons of new stuff annually. This one just didn't fit me.
l. I agree with Dan Shaughnessy. It is not UConn's fault, but women's basketball (and it may change once UConn's three great players leave after this season) has done an awful job keeping up with UConn and has made the game at the highest level a lot less fun to watch than it was when UConn had some real rivals. When Geno Auriemma used Tiger Woods as an example of people loving consistent greatness, it was a poor example. In a 12-year span from 1997 to 2008, Woods won 14 of 48 major tournaments. If UConn won the national title every third year, that would mean other teams were either on or close to the same level. They're not. UConn has won 121 of 122 games, all by double digits. They have made the Final Four nine years in a row. They have won it all the past three years. In this tournament, they led one team 46-4 and another team 65-12. As Shaughnessy said, it's not their fault. But sports has to be about competition. A game has to have drama to be fun to watch. And to the arguments about this being a sexist thing, and no one said the same thing when UCLA was winning all the men's championships under John Wooden … well, they're probably right. But that was a time when there was a fraction of the volume of the media there is today, and I'm not sure if some in the press were saying that then, or simply glorifying the UCLA team. I feel for the UConn players, that the rest of the women's game hasn't been able to catch up, and most of the games are over by the end of the first quarter. I certainly don't blame them, or Auriemma.
m. Fantastic idea by the New York Times, finding the anguished fans in this iconic Mets-Royals World Series photo, the Eric Hosmer mad dash to home plate, to talk about their misery.
n. My MLB playoff picks. American League: Toronto, Cleveland, Texas, with Tampa Bay and Los Angeles the wild-cards. National League: Washington, Chicago, San Francisco, with St. Louis and Miami the wild-cards. World Series: Toronto over San Francisco.
o. The Red Sox? Not enough pitching.
p. Speaking of no pitching … For those of you keeping score at home (and so many of you most certainly are), my Rotisserie team, the Montclair Pedroias, with bench players in parentheses: Hitting: McCann, Pujols, Cano (Pedroia), Tulowitzki (Corey Seager, Trevor Story), Machado, A-Rod, Betts, Bradley Jr., Braun (Villar, Gattis) … Pitching: Price, McHugh, Carlos Martinez, Ventura, McCullers. Relievers: Robertson, Grilli.
q. Someone explain this to me, about the first two Cincinnati series of the season at Wrigley Field. The Cubs open at home against the Reds (April 11, 13 and 14) with three straight 7:05 p.m. weeknight games, then play the Reds on three straight weekday home games in July (July 4, 5, 6) at 1:20 p.m. I understand the Fourth of July in the afternoon, and I love it. I do not understand three early-to-mid-April games at night, a few blocks from Lake Michigan.
r. I saw "Hamilton." Very cool play, obviously. I'm not a big musicals guy, but the genius in this play is the historical rap. Now, in some cases, it's so Macklemorish-fast that you miss entire lines. But it tells a historical story in a way anyone can watch in rapt attention, including so many Americans who wouldn't sit through a play about Alexander Hamilton's life. Now the ticket prices … that's another matter.
s. The Villanova-North Carolina NCAA final tonight looks like it'll be a great game. If I knew anything about basketball, I'd have an opinion about the winner. But if I had $5 and was at a sports book in Vegas, give me the Heels.
* * *
The Adieu Haiku
Colin Kaepernick:
I'd take the major pay cut.
I would trust Elway.
• Question or comment? Email us at talkback@themmqb.com.