With draft bust label behind him, Mike Williams embraces life as a HS coach
After missteps and lost opportunities as an NFL player, Mike Williams is embracing his new life as a high school coach. 
Mike Williams is just getting off a practice field in early June, still settling in as head coach of the Van Nuys High School football team in suburban Los Angeles and preparing for his first season, but he's high on his new team.
"It's the best group I've coached overall," Williams says. "I've been at schools where we've had talent and speed and 300-pound-plus linemen, but the kids were ... you had to chase them to get them to practice or go get them from the park. The commitment wasn't quite there. Where I'm at now, I've got a bunch of kids who show up early, and they stay late."
It's classic coachspeak, but if you know anything about Williams's NFL career, the image of him as a head coach at any level, saying all the right things, may elicit a double-take.
Wait—Mike Williams, former first-round pick known best for temporarily eating himself out of the league, is a head coach at any level?!  Yes, the receiver whose late-career resurgence with the Seahawks could only partially salvage his reputation has become an interesting example of just how far a football life can come, 10 years after his fate was sealed as a high-profile draft bust.
• SI's Where Are They Now issue: This year's stories, all in one place
Williams was a legitimate star at USC, amassing 176 catches for 2,579 yards and 30 touchdowns over two seasons, but he was ruled ineligible for his junior season after declaring for the 2004 NFL draft as a true sophomore in an attempt to follow the lead of Ohio State running back Maurice Clarett. After sitting out a year and being selected by the Lions with the 10th pick in the '05 draft, he came into the NFL unprepared for the rigors of the pro game, and it didn't help that Detroit was in complete organizational disarray at the time.
In two years with the Lions, Williams started a grand total of six games, catching 37 passes for 479 yards and two touchdowns for three different head coaches, three different offensive coordinators and four different quarterbacks. He was traded to the Raiders on the first day of the 2007 draft, but he was cut seven games into that season after a crucial drop cost Oakland a game against the Titans. Those same Titans signed Williams a month later, but by that time he had gained too much weight to overlook, and he was released the next summer, before the 2008 season.
That was the last anyone in the NFL saw of Mike Williams for two years.
"It was a bunch of bad factors all working together," he says. "It was a recipe for disaster. I spent a year sitting out, losing the structure of football. And I wasn't the best about being a pro. I was learning how to be a pro, but I wasn't being taught how to be a pro."
• The Fridge is happy at age 53, but he's not necessarily in a stable place
It took Pete Carroll, his head coach at USC, to give him a shot at redemption. Carroll took the Seahawks job in 2010 and needed a veteran who understood his motivational tactics and could explain them to what was going to be a very young team. Moreover, since the Seattle team Carroll inherited was almost completely bereft of high-caliber talent, Williams might just have a shot to make it back the right way and rebuild some goodwill with the game in the process.
"I'm not trying to point the finger or place the blame, but I remember what I was like in Seattle," he says. "I remember how important it was to help show other guys the ropes. And I just think that was the element of my experience in the beginning that I had to learn the hard way. Before, I felt that people were out to get me. So, there was backlash and resistance when that set in, and I felt like I was under fire."
He had slimmed down to 230 pounds from as high as 286 and was ready for the challenge, but in truth, it was Carroll's pitch that sealed the deal. Carroll and Williams had a few testy back-and-forths when Williams first declared for the draft (Carroll's staff reportedly told NFL teams that Williams slacked off with the Trojans; Williams responded by claiming Carroll ran an 'undisciplined' program), but Carroll knew what Williams had put himself through in the ensuing years, and he was stinging from his own USC scandal.
Maybe they could turn things around together in a new city.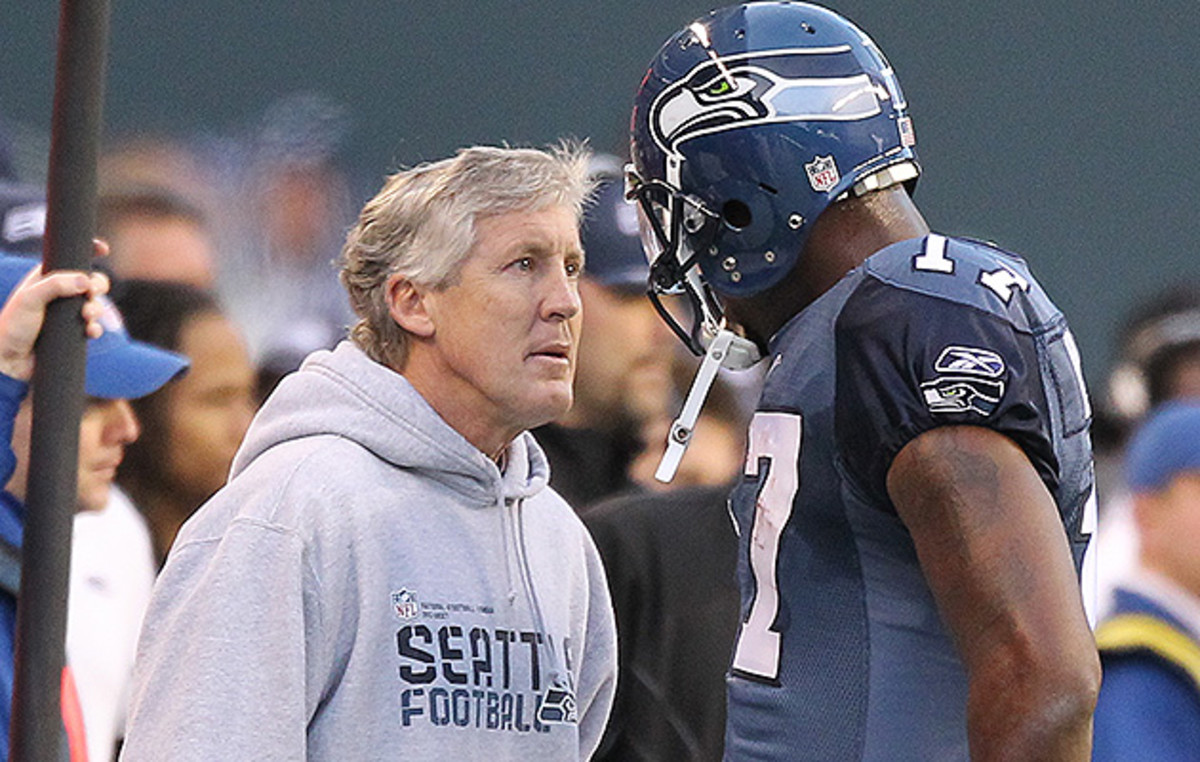 When Williams arrived in Seattle in 2010, he wasn't assured a chance to stick around just because he had a history of working with Carroll.
"That's standard Pete—he didn't promise me anything. And I was like, do I want to go somewhere else and try something with a new group of people, or try it with someone who's familiar with me? So I hit the ground, and everything started happening."
Williams made the team and was a Week 1 starter for the first time in his NFL career. Thinner, in better shape and more focused than he'd been at any point since his USC days, he caught 65 passes for 751 yards and two touchdowns in 2010—by far his best professional season. Moreover, and more importantly to his future, he became a valued mentor to younger receivers like Golden Tate and Doug Baldwin, the kind of mentor he never had as a young pro. In a game against the Rams, Baldwin was having serious trouble with the St. Louis defense, and it was Williams, not receivers coach Kippy Brown, who set him straight at halftime. After just one catch for four yards in the first half, Baldwin had four catches for 67 yards and a touchdown in the second half.
• The Ryan Family Defense; How Buddy Ryan invented the 46
Williams helped his younger teammates even as age and injury started to catch up with him. Too soon, he was on the wrong side of the age curve, and he retired from the game after catching just 18 passes for 236 yards and a touchdown in 2011. It wasn't the career he had envisioned, but he was able to prove a few things to himself on the way out.
"For me, it was a big deal in Seattle, because I was only out to prove I was worthy to be an NFL player," Williams says. "There were so many questions—so many what-ifs and why-nots—and when I was named a starter, that was the first step to answering those questions."
Biggest NFL draft busts of the modern era
Biggest NFL Draft Busts of the Modern Era
Robert Griffin III — 2012 1st round (2nd overall)
The 2012 Offensive Rookie of the Year led the Washington Redskins to a 10–6 record in his rookie season, throwing for 20 touchdowns, posting a 102.4 passer rating and running for seven more scores. However, Griffin played in just 22 games combined the next two seasons, hampered by knee and ankle injuries. He was a healthy scratch for all of 2015 and later released by Washington. Ironically, the Redskins went with their 2012 4th round pick (102nd overall), Kirk Cousins, as their starting quarterback over RGIII, who they traded three 1st round picks along with a second rounder to acquire.
Trent Richardson, RB — 2012 1st round (3rd overall)
Richardson has been anything but the explosive playmaker the previous Cleveland regime was hoping for when it dealt four draft picks to move up one spot and take him at No. 3 in 2012. Just two games into his second season, the Browns traded Richardson to the Colts for their 2014 1st round pick (26th overall) — a pick they later traded with a 3rd rounder to move up four spots to draft Johnny Manziel. Richardson's sluggish style was an eyesore in Indianapolis, where he barely averaged more than 3.0 yards per carry in 29 games.
Justin Blackmon, WR — 2012 1st round (5th overall)
After a mediocre rookie season, Blackmon failed an offseason drug test in 2013 and was subsequently suspended for the first four games of the season. He returned to the Jaguars for Weeks 5-8 until the NFL suspended him indefinitely for his third violation of the league's substance-abuse policy. Blackmon, who has yet to be reinstated, was arrested for possession of marijuana in July 2014 and for DUI in Dec. 2015.
Jake Locker, QB — 2011 1st round (8th overall)
Locker is among the most disappointing draft picks in recent memory. The oft-injured quarterback never played more than 11 games during any one of his four NFL seasons, and Tennessee's fortunes tumbled along with him—from nine wins during his rookie year (when they still had Matt Hasselbeck under center) to six the following and eventually to 2014's 2–14 meltdown. Locker announced his retirement in 2015, saying he no longer had the "burning desire necessary to play the game for a living."
Blaine Gabbert, QB — 2011 1st round (10th overall)
Gabbert compiled a 5-22 record and a quarterback rating of 66.4 in three underwhelming seasons with the Jacksonville Jaguars. He was traded in March 2014 to the San Francisco 49ers for a 6th round pick. Although Gabbert replaced Colin Kaepernick as the Niners starting quarterback for the second half of the 2015 season, he still has a ways to go to beat the bust label for good.
Christian Ponder, QB — 2011 1st round (12th overall)
Ponder never quite lived up to his billing. Though he helped lead the Minnesota Vikings to the playoffs in 2012, Ponder was outplayed by and lost his job to Matt Cassel the following season and spent 2014 behind both Cassel and Teddy Bridgewater. In 2015, Ponder was signed and released by the Oakland Raiders and Denver Broncos without ever taking a snap.
Rolando McClain, LB — 2010 1st round (8th overall)
The linebacker out of Alabama registered just a half-sack in his rookie season. Two more subpar years in black and silver (and off-field issues) led the Raiders to release him. In need of some linebacker help, the Ravens picked McClain up in the 2013 offseason. He responded to that reprieve by getting arrested in April, his third run-in with the law in less than a year. Although he found new life in Dallas in 2014, McClain is still a bust as far as Oakland is concerned.
Jason Smith, OT — 2009 1st round (2nd overall)
Second only to Matthew Stafford in the 2009 draft, Smith nabbed a contract that guaranteed him $33 million. That bought the Rams 26 games started before they traded him to the Jets in August 2012. He was released three times in 2013 (Jets, Saints, and Jets again) and hasn't been played since.
Aaron Curry — 2009 1st round (4th overall)
Taken in the top 10 and given $34 million guaranteed money, the most for a non-quarterback rookie in NFL history, Curry arrived in Seattle with great expectations. Two years later the Seahawks traded him to the Raiders for a seventh-round pick in the 2012 draft. Talk about a poor return on investment. In 2013, Curry retired from the NFL.
Vernon Gholston, DE — 2008 1st round (6th overall)
In his last two seasons at Ohio State, Gholston averaged just over 11 sacks a season. A step up to the NFL didn't really suit him, though: he failed to record a single sack for the Jets, becoming the only defensive end drafted in the top 10 to do so since the league began counting them in 1982.
Derrick Harvey, DE — 2008 1st round (8th overall)
Having averaged more than 10 sacks in his last two years at Florida, Harvey topped out in his first season as an NFL player at 3.5. Jacksonville let him go in 2010, after which he had one underwhelming season with the Broncos and was eventually dumped by the Bengals.
JaMarcus Russell, QB — 2007 1st round (1st overall)
The Raiders took Russell No. 1 in the 2007 draft and ponied up $39 million. In return they got seven wins, 18 TD passes and a quarterback who weighed in at as much as 300 pounds. That Oakland passed up the chance to take Calvin Johnson, Joe Thomas, Adrian Peterson, Patrick Willis or Darrelle Revis just pours salt into the wound.
Vince Young, QB — 2006 1st round (3rd overall)
For a guy who won Offensive Rookie of the Year in 2006 and was named to two Pro Bowls, Vince Young sure did fade quickly. His tumultuous final years in Tennessee and inability to overcome attitude problems are part of the reasons he's on the list.
Matt Leinart, QB — 2006 1st round (10th overall)
His Heisman trophy and national championship ring might as well have been glorified paperweights when Leinart stepped up to the next level. He threw more interceptions than TD passes his first season with the Cardinals then proceeded to languish on the bench before being cut in 2010. Stints with Houston and Oakland in 2011 and '12, respectively, resulted in only four games of action.
Mike Williams, WR — 2005 1st round (10th overall)
Williams hauled in 95 passes for 1,314 yards and 16 touchdowns in 2003, his sophomore season at USC. With Ohio State running back Maurice Clarett challenging the NFL's age limit in court, Williams seized the opportunity and declared for the draft and hired an agent, despite only being two years removed from high school. The courts ruled against Clarett, rendering he and Williams ineligible for the 2004 draft. Williams, considered a first-round pick, sat out all of 2004, and re-entered the draft in 2005. The Lions made Williams their third straight receiver drafted in the first round. But Williams succumbed to injury and was a disappointment in Detroit. The Lions gave up, and the once-highly touted wideout played just eight more games with the Raiders and Titans in 2007.
Charles Rogers, WR — 2003 1st round (2nd overall)
Rogers was drawing comparisons to Randy Moss when he came out of Michigan State in 2003. The enormously talented receiver once notched 270 receiving yards in a game, and won the 2002 Biletnikoff award as the nation's best wideout. Rogers went to the Lions second overall in 2003, but over the next two years played in only six games due to broken collarbones. In 2005, he was suspended four games for a third violation of the NFL's drug policy. A year later he was released by the Lions at the beginning of the season. In March 2009, he was jailed for violating probation.
David Carr, QB — 2002 1st round (1st overall)
The 6-foot-3, 215 pound, laser-armed prodigy out of Fresno State was all set to lead the Texans as the first draft pick in franchise history. In his rookie season, he started all 16 games and posted a miserable 62.8 quarterback rating while being sacked an NFL record 76 times. He spent much of the next four seasons on his back, and eventually was released in 2006 because no team would trade for him. He signed with Carolina in 2007 and started six games after Jake Delhomme was injured. He was a backup with the Giants and Niners from 2008 to 2010.
Tim Couch, QB — 1999 1st round (1st overall)
With the number one pick, the Browns had their choice of two of what would become the biggest quarterback busts of all time, Tim Couch and Akili Smith, and eventually took the Heisman trophy finalist Couch. While Couch made 62 starts with the Browns in comparison to Smith's 17 with the Bengals, his numbers were entirely mediocre. Couch threw for a miserable 11,571 yards, 64 touchdowns, and 67 interceptions in five injury-plagued seasons. After being released at the end of the 2003 season, he attempted several comebacks but failed in each of them. His decline culminated when he tested positive for steroids and HGH in August 2007.
Akili Smith, QB — 1999 1st round (3rd overall)
Smith emerged after one good season at Oregon and almost went No. 1 over Tim Couch and Donovan McNabb. But Smith was destined to be a bust from the beginning. Not only was he selected by the Bengals -- a reliable indicator of future flops -- but also he was coached by QB guru Jeff Tedford in college. Tedford-coached quarterbacks -- Trent Dilfer, Joey Harrington and Kyle Boller -- haven't had much NFL success.
Cade McNown, QB — 1999 1st round (12th overall)
This southpaw posted huge numbers at UCLA and was supposed to be the Bears' answer at QB. But in two years he started 15 games, throwing 16 TDs and 19 interceptions. His lack of accuracy, poor decision-making and an attitude that reminded many of Ryan Leaf limited his career in Chicago.
Ryan Leaf, QB — 1998 1st round (2nd overall)
The one-time Washington State star redefined the term "bust" in his brief NFL career. He wasn't a No. 1 overall -- the Colts chose Peyton Manning -- but his spectacular decline destroyed the Chargers, who traded up with Arizona to select Leaf. In 18 starts, Leaf finished 4-14 with a 48.8 passer rating. His misadventures on the field were relatively pleasant compared to his locker-room tirades. Leaf alienated the media, teammates, water boys ... anyone unlucky enough to get in his path before he retired in 2002.
Curtis Enis, RB — 1998 1st round (5th overall)