Kirk Cousins Is Ready for His Prove-It Season ... Again
Washington wants to see its QB play for the prize—a big, long-term deal—and Cousins previously has come through in similar circumstances. Plus more on Blaine Gabbert, Trevor Siemian and the Eagles' dart theory
Kirk Cousins swears he's been here before, and he's got stories to back it up.
There was the broken ankle his junior year in high school, which prevented him from getting a scholarship offer until after his senior season. There were the offers that came that Christmas—from Western Michigan and Toledo—and the decision to hold out for something better, which came a month later from Michigan State.
Then there was the pressure on him to preform as a college senior in East Lansing, knowing he hadn't done enough as a junior to entertain coming out early. Or last season in Washington, as Cousins played out the final year of his rookie deal having finally wrested the starting job from presumed franchise-savior Robert Griffin III.
• WASHINGTON CAMP REPORT: Kirk Cousins has places to be
Yes, the Redskins' fifth-year quarterback is just fine betting on himself this year, while collecting his $19.9 million franchise tender. Makes sense too, since having a shot at an even bigger opportunity has meant good things for him in the past.
"Here I am again," Cousins said, with a smile. "The team says they want to see another year. That's fine. I've been in this same spot twice with a lot on the line—my college decision and my career decision. I'm getting paid a good amount this year, and it's not like I'm stressing and losing sleep over it each night, over what's going to happen. I played last year making a lot less in the same situation. I had to prove it."
We'll go around the camp horn again this week with a look at the quarterback situations in San Francisco and Denver, the changes in San Diego, an examination of two rookies under the gun, and an all-in approach to collecting quarterbacks in Philly.
We'll start where the on-field monetary stakes are the highest in the NFL—the middle of a quarterback contract negotiation.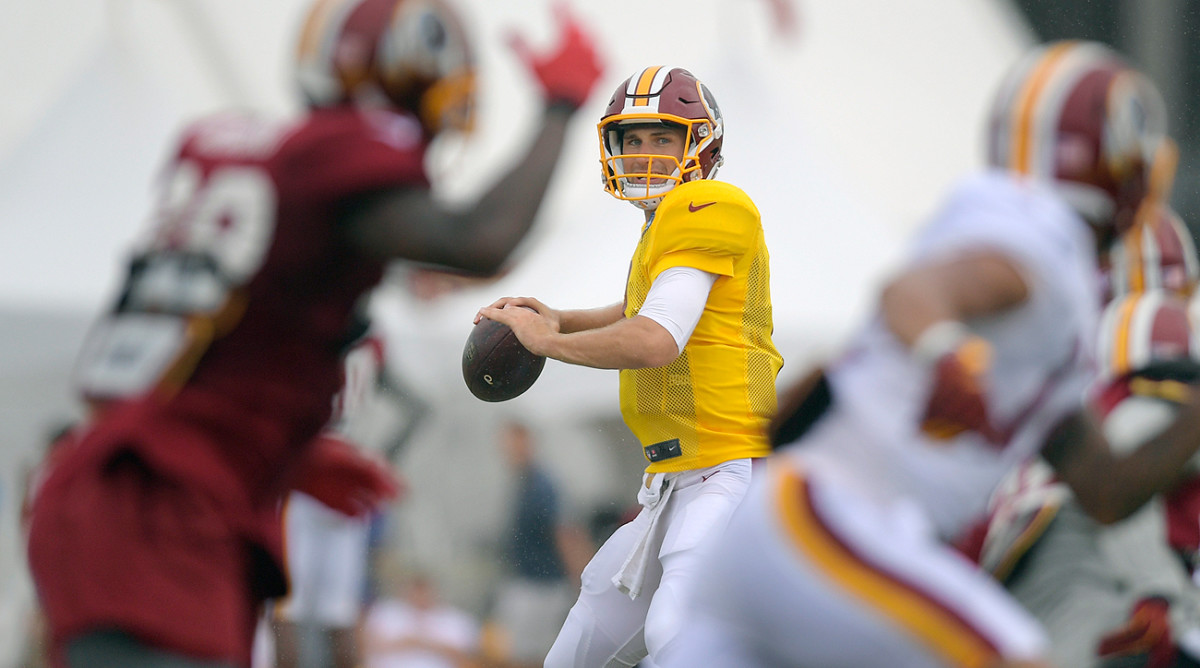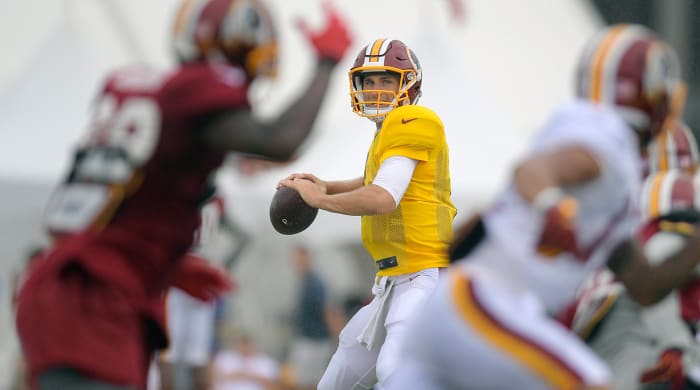 The way the position works these days, it's almost like the guys taking snaps are playing a different sport. As colleague Robert Klemko laid out a few months back, they're raised differently. They're recruited to college differently. They're developed differently. They're drafted differently. And then, if all that works out, they're paid differently in the prime of their athletic existence.
There are 31 players in the NFL on contracts with an average per year north of $16 million. Twenty-three of them are quarterbacks. The NFL's 14 highest paid players (by APY) are quarterbacks, as are 21 of the top 23.
With strong seasons, Derek Carr, Blake Bortles and Teddy Bridgewater could join the club in 2017, when they'll be eligible to hit that contractual stratosphere for the first time, while Drew Brees and Cousins are playing the next few months to extend their membership in it.
Fact is, when you have just a good—forget great—QB on your roster, the decision that follows is usually yes or no. There is no maybe.  And that's where the divide on Cousins has been. The Redskins wanted to do a "maybe" deal, that wouldn't require going all-in. Cousins' camp wanted a "yes" contract, with record-breaking guarantees and the equivalent of two tags ($44 million in the first two years).
• THE NFL'S BEST HEAD COACHING CANDIDATE IS 30: Andy Benoit profiles Washington offensive coordinator Sean McVay
So when I asked Jay Gruden what Cousins has left to prove to the team, he quickly responded, "Consistency?" The Skins coach shrugged his shoulders and added, "He doesn't have to prove anything to me."
"He is a starting quarterback in the National Football League," Gruden continued. "Is he Tom Brady or Big Ben [Roethlisberger] or some of those A-plus players? Probably not yet, but I think he can get there. Being an accomplished quarterback in the National Football League is a heck of a thing, and there aren't many of them. And if you get one, you better hang on to him, because they don't grow on trees."
If this looks like a weird spot for Washington, it is one that is a consequence of the premium placed on quarterbacks in 2016—the elite guys have always gotten paid, but now it takes a major financial commitment to keep even a holdover guy around. (See: How the Jets buckled to Ryan Fitzpatrick's ask for $12 million.)
So the three possible outcomes here aren't perfect for Washington. If he plays great, the Redskins pay through the nose. If he tanks, the team has no long-term answer at the position. If he's somewhere in between, the tag for 2017 would run $23.94 million, and he'd certainly have suitors on the market if the team let him get there.
That said, as I understand it, Washington is fully prepared to pay a tax on Cousins' rate if he ascends from his already-pretty-damn-good level of play in 2016. Upper management just wants to see it again. And the fact that he's fine with that has made this about the least contentious contract dispute imaginable.
• TRAINING CAMP CONCLUSIONS: Peter King shares what he learned on the road, including picking the team that impressed him the most
"Both sides understand it's a business. I'm not going to take things personally, and I know that if I play football well, the ball's in my court," Cousins told me. "And really, in this league, that's all you can ask for. If you don't play well, you have to live with it. Then you went out and you didn't earn it. It takes patience. That's fine. I've taken the long road a few other times in my career. The long road is fine."
As his coach sees it, Cousins is set up well to find the end of that road expeditiously. For one, the talent has improved to the point where Washington is going to be cutting good players in a week. For another, this is very clearly his team now, he's had a full offseason as the No. 1, and Gruden could see the difference there manifest late last year. "You could see his play rise when he could see he was the guy," Gruden said.
And while Gruden acknowledges there is, and should be, pressure on his quarterback—"It's almost more important than anything; these guys play for their families, their careers and their life after football, it's very important,"—he feels like he saw a different version of this story a year ago. Both Gruden and GM Scot McCloughan stuck out their neck for Cousins then, and they weren't disappointed.
"When I go out on the football field on a Sunday afternoon, if I feel my quarterback gives me a chance to win, I'll take him," Gruden said. "And that's not always the case in pro football. It's a big deal, and he gives us a chance to win. He's very smart, great leader, can make all the throws. And at the end of the day, the players all like him and want to play for him. That's good enough for me."
Whether what see next is good enough for Washington to give Cousins what he wants remains an open question. But make no mistake about this: If the next few months go as the team envisions, neither Gruden nor McCloughan will have an issue sticking out their necks for the guy again.
* * *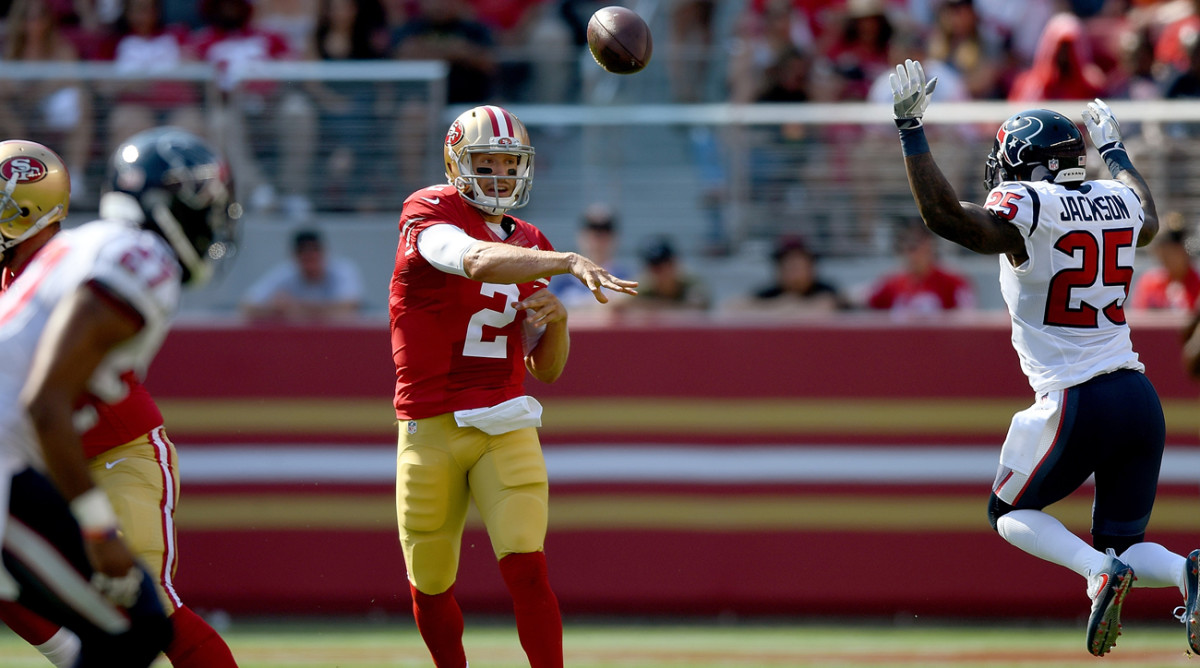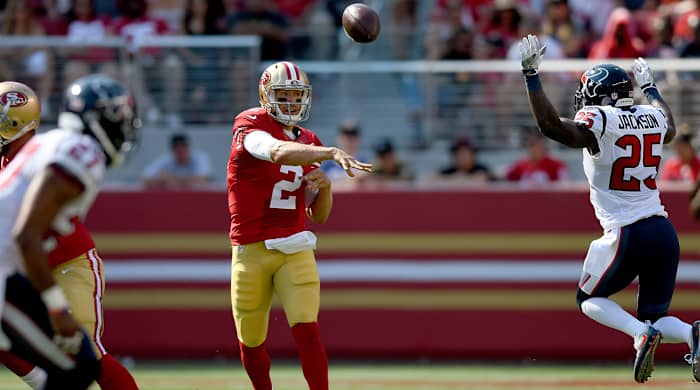 FOUR DOWNS
1. Where Gabbert got his edge on Kaepernick. It may seem sudden that Blaine Gabbert stands a better chance than Colin Kaepernick of being the Niners' quarterback for the foreseeable future. But it shouldn't. Doesn't matter if it's Chip Kelly or me calling the shots, the writing has been on the wall in Santa Clara for going on three years. Some of it is circumstantial. Some of it is not. Kaepernick's final year with Jim Harbaugh was marked by a chaotic setup that had as many as four of his offensive assistants involved in play-calling, which isn't ideal for any quarterback, let alone a young one trying to evolve from dangerous athlete to NFL passer. Last year, given all that went wrong, it was hard for any developing to take place. But if you push that aside, and go back through it all, you'll see this: The coaches who were there in 2014 got behind Gabbert because he'd simply outworked Kaepernick, and in '15, the Niners elevated Geep Chryst (despite reservations from other coaches) largely because of Kaepernick's strong relationship with him. Both quarterbacks got eight starts last season, and Gabbert outplayed Kaepernick when he got his shot. Of course, this year Kaepernick's been hurt, and the 2017 injury guarantee in his contract complicates things for the team. But Kaepernick excelled in 2012 and was good in '13 with a great defense, a great running game, and schemes that blended in concepts he was familiar with from his college days that the league needed to catch up to. Meanwhile, Gabbert fell flat on his face in Jacksonville and had to earn his way back into this position. Really, it's not all that complicated how we got here.
• THE MMQB AT TRAINING CAMP: Our reports on location at all 32 camps
2. Chargers' focus on getting physical. Last December, the Chargers were putting the finishing touches on an injury-marred disaster of a season, and there were questions about everything regarding the franchise, including which part of California they'd be spending this season in. So it was easy to forget that they were, in fact, coming off back-to-back 9-7 seasons in Mike McCoy's first two years. How do they get back on the right side of .500? Well, the idea to this point has to been to knock the crap out of each other. Last year the Chargers ranked 27th in run defense and allowed 4.8 yards per rush (31st in the league); and they were 31st in rush offense while averaging a league-worst 3.5 yards per carry. To fix that, McCoy and his staff signed old warhorses Brandon Mebane and Matt Slauson to ratchet things up on each side of the ball, and built a training camp schedule aimed at being more physical and competitive. Because of the Titans' decision to play their preseason opener on a Saturday, logistics dictated that San Diego would get 28 practices instead of the maximum 33, so the Chargers were a little handcuffed from that standpoint. But the coaches like what they've seen in trying to make the team tougher. And to add a competitive edge, they set up joint practices for the first time in McCoy's four seasons, inviting one of the best teams in the league, the Cardinals, to Southern California. Will all this work? Hard to say. But we should get a pretty good litmus test right away. San Diego's first opponent is a Kansas City team that ranked in the top quarter of the league last year in running the ball and stopping the run.
3. Siemian's big shot. Given that Trevor Siemian now seems to be riding the inside track to Denver's starting quarterback assignment for Sept. 8, I figured it'd be good to check back on what other teams saw in him two springs ago, after the boss looked back on Monday at how Denver unearthed him. Here's what I got back: Nothing. A number of teams that I spoke with didn't have him as a draftable prospect, which means, in some cases, his name didn't even get fed up the food chain to the primary decision-makers. A source with one of those clubs said their Midwest area scout said in a draft meeting that there was something about Siemian—an intangible quality—that merited a deeper look. And there was evidence that he had a little something about him. He was the player largely credited with pulling Northwestern's team together when the effort to unionize college athletes led by Kain Colter (who split time at QB with Siemian during Siemian's sophomore and junior years) threatened to create a rift in the ranks. But as for Siemian's ability as a player? One GM's only recollection was that when Colter—who was his focus, as a receiver prospect—went to the slot, "You remember Trevor being really efficient." All of this is more common than you think. In the end, there are two things to take away from Siemian's rise. One, connections are incredibly important. People at Northwestern did vouch for the kid, and that counted more in some places than others. Two, instincts count. Gary Kubiak just having a feeling about the guy led to closer evaluation by Greg Knapp, which led to the 250th pick being spent on Siemian. Now, it's important to remember that if Paxton Lynch doesn't win the job, whoever does is just a short-term placeholder for him. But the fact that Siemian made it this far is still pretty impressive. One thing to leave you with: Only two teams have gone into a Super Bowl title defense without their primary starter from the year before. Both started guys (Brian Griese for the 1999 Broncos and Elvis Grbac for the 2001 Ravens) who wound up failing as long-term answers for those clubs, which goes to show you that even for the best teams, finding a quarterback is really hard.
• MONDAY MORNING QB: Peter King on Denver, L.A. and Arizona's regret
4. Assessing the Josh Brown situation. I had the same reaction to the one-game suspension to Giants kicker Josh Brown as everyone else, which was roughly … Huh? The NFL's both-barrels response to its botching of the domestic-violence disaster of '14 was built to come across as an implicit pledge to never come up short on punishment again. So the six-game baseline was set. Greg Hardy, Adrian Peterson and Ray Rice were taken off the field for the rest of that season. Hardy was given a 10-game suspension (reduced to four on appeal) to start the next season, up from the standard six due to aggravating factors. And the message was clear: Assault on a woman or child would be met with no tolerance. So how in the name of Roger Goodell are we back here?
This is how, as I understand it: A year-long investigation came up relatively dry, beyond what was in the prepared statement 345 Park issued on Aug. 19. The digging was done by the NFL's lead investigator, Lisa Friehl, the league's security office and outside investigators hired by the NFL to handle the case. From there the information gathered was handed over to advisors whom the league works with on domestic violence, and then to chief disciplinary officer Todd Jones, the former ATF director. Now, the NFL knew, as the general public now does, that Josh Brown's wife told police that Brown assaulted her on more than 20 occasions. Brown was arrested in May 2015, but the state decided, five days later, not to press charges. Brown's wife declined to participate in the league investigation, as did the police. Brown, on the other hand, cooperated fully. And the only piece of hard evidence the NFL had, according to a league source, was a picture of faint bruises on the wrists of Brown's wife, which they were told were a result of him having to restrain her. So the same way the egregious missteps of Hardy pushed the six-game standard to 10, the trouble the NFL had getting information—and the lack of charges—mitigated this to a single game.
So many things are problematic here, starting with the fact that the abused often keep quiet in these situations. And the league will get blown apart if additional evidence later goes public here, the way it did in Rice's case. It was absolutely correct for the NFL to take a strong stand against domestic violence in 2014. That's obvious. But by taking the messaging to the level that it did, the NFL gave itself very little wiggle room. If you read the policy, it says plainly that six games is the baseline and that "aggravating" or "mitigating" factors can cause adjustment in sanctions. No one was talking about that, much less trumpeting it, a couple years ago, though. And that's why, in this particular case, the league just has to take its medicine in the corner it painted itself into.
* * *
THREE CHECKDOWNS
• "Culture" is a big buzzword with new regimes, but you can actually see change playing out in Nashville, and I'm going past just last week's trade of Dorial Green-Beckham. In fact, we can look at one guy who gave the Titans flexibility to deal DGB: fifth-round pick Tajae Sharpe. Above all else, Sharpe has shown that he can play, flashing route-running ability, hands and an ability to get open. But he also carries himself in a way that fits with what new GM Jon Robinson and coach Mike Mularkey are trying to build, with a quiet swagger and confidence that doesn't spill over. For the same reasons these guys decided that Jack Conklin (rather than Laremy Tunsil) was the right first pick to set a tone, Sharpe is someone they can see becoming a cornerstone in his position room.
• The return of Breshad Perriman this week means the Ravens should be debuting two first-round picks in September, and it also points to the need in Baltimore for more rising young players. So we've got two under-the-radar names to watch out of their camp. On offense, fourth-round pick Kenneth Dixon looks like he's going to be a piece of the puzzle at tailback; and on defense, 2014 undrafted free agent Zach Orr (who's made it largely as a special teamer to this point) has a good shot to be lining up next to C.J. Mosley on opening day.
• What's with Joey Bosa? Most times, in these situations, teams can tell players that squabbling over bonus-payment deferment or offset language isn't worth missing practice time over, especially since it can cost them playing time down the line. Bosa is different. He's the son of a former first-round pick, and from a very financially stable family. That makes this one different, and less predictable, than other rookie/team battles that are often driven by an agent advising the player not to allow the team to do X, Y or Z to him.
• COUNTING THE DAYS WHILE MY MIND SLIPS AWAY: Suffering from memory loss, ex-tight end Ben Utecht writes book framed as love letter to family
* * *
TWO UNDER-PRESSURE ROOKIES TO WATCH
Cowboys RB Ezekiel Elliott (at Seahawks, Thursday, 10 p.m. ET): Only the third back to go in the Top 5 picks over the past 10 years, Elliott is expected to be a panacea for the Cowboys, helping to protect both Tony Romo and a suspension-ridden defense by juicing a run game that was dominant two seasons ago. So there was some concern when Elliott reported to camp a month ago at 231 pounds. Elliott worked off some of that weight before tweaking his hamstring, and Dallas was careful in bringing him back. But to those who evaluated him, both as a player and a person, coming out of Ohio State, the biggest key for Elliott in transitioning to being a pro won't come on the field, but in how he disciplines himself under the spotlight of being a high-profile part of America's Team. "As a player, I loved him to death," said one area scout assigned to the Buckeyes. "He's the highest graded back I've ever done. He does everything well—running, catching, pass pro. But as far as going to Dallas, the bright lights, big city, I've always thought it could be tough for him. … He likes football. He also likes everything that goes along with being a star." Elliott is 21, and the NFL is chock full of 20-somethings who play hard and, well, play hard. Some can balance it, some can't. Elliott did it in Columbus, a stage as big as any in college football, so it's not as if he hasn't been in this spot before. So maybe all this won't amount to much of anything in the long run. But there are people keeping an eye on it.
Ravens LT Ronnie Stanley (vs. Lions, Saturday, 7 p.m. ET): One reason Baltimore tabbed Stanley with the sixth pick in April was that John Harbaugh championed his cause. And Harbaugh's conviction was based, in part, in his trust in the word of good friend Harry Hiestand, who was Stanley's position coach at Notre Dame. Looks like Hiestand wasn't BSing. Stanley has been outstanding in his early preseason work, and he should get a good test with Lions star Ziggy Ansah coming to town this weekend. As it is, the rookie's rapid assimilation to the pros is a godsend for a team that needed better play out of the left tackle spot, even before Eugene Monroe was gone, and especially with Joe Flacco coming back off a knee reconstruction. And it comes as little surprise to those who evaluated him coming out of South Bend. "He always had good effort and toughness, and very good range and production in both phases of the game," said a rival AFC personnel exec. "He's athletic, strong, an easy and explosive athlete who plays smart and confident. Natural movement in pass pro, can handle power or speed, uses his hands well and works hard as a run blocker." Another AFC exec agreed that Stanley was ready-made coming out, though his feeling was he needed to get a little stronger. Either way, it looks like Baltimore has the upgrade it was looking for.
• FOOTBALL LIFESTYLE: Dominic Bonvissuto takes early look at NFL's 2016 apparel collection. Plus throwback football gear, Roger Goodell socks and more
* * *
EXTRA POINT
The Seahawks landed Russell Wilson in the third year of the Pete Carroll/John Schneider Era as a result of a keep-throwing-darts-at-the-board approach. Seattle went through Matt Hasselbeck, Tarvaris Jackson, Charlie Whitehurst and Matt Flynn before landing their franchise cornerstone in the third round of the 2012 draft.
I raised that method to Eagles coach Doug Pederson the other day, and it jogged some memories of that draft for him. It was Andy Reid's final one in Philly, and Pederson was his quarterbacks coach.
"If we'd have drafted Russell Wilson in 2012, we'd still be here as coaches," Pederson said with a smile.
The Eagles loved Wilson but decided to wait until the third round to take their shot at him. Seattle got him 75th overall, 13 picks ahead of Philly in the round. The Eagles wound up getting Nick Foles instead, with the 88th pick, and the rest is history. But the lesson Pederson takes lives on.
• THE MMQB 2016 SCOUTING REPORTS: Andy Benoit's team-by-team analysis
Simply enough, if you like a quarterback, Pederson says, "Take him. Take him. Take the best available one. If you're not planning for the quarterback position, you're probably not going to win many games."
OK, so this does actually apply to the Eagles of this year as well. In a way, what Philly did this offseason was take the darts approach to a new level, investing a record single-year cash payout of approximately $40 million in Sam Bradford, Chase Daniel and Carson Wentz, which isn't even to mention the bushel of picks it took to go get Wentz with the second pick.
Add it up, and you can argue that no team in NFL history has sunk as much into getting it right at a single position—even the most important position in team sports—as the Eagles did at quarterback this year. And while Pederson did admit that if you'd told him in January it'd play out this way, he'd have said (his word) "Whoa!", this is all in line with how he thinks the position he once played should be handled.
"I just think of what Indianapolis went thru with Peyton at the end," Pederson said. "He got hurt, and there was nobody. They had guys on the roster, but there was nobody. And they went thru a year there where it was not as good. I don't ever want to be in that position, and just rely on, 'You'll be OK for X amount of years.' I just don't want to be in that position."
Indications thus far are that they won't be. Save for a messy two-week period with Bradford after the trade for the second pick, the Eagles have been thrilled with what they've gotten from their starter. Daniel has been what Pederson expected when he brought him along from Kansas City. And while Wentz needed to be sped up in different ways coming from an FCS program, his progress is right where it should be.
 Just as important, it has worked in the room between the three guys.
"That dialogue has incrementally increased through the camp from back in the spring," Pederson said. "The tension, there was all the stuff you were reading, seeing and hearing, all that stuff has gone away now.  … I can say this until I'm blue in the face—there has not been a challenge with these three guys. Sam has embraced it. Chase has embraced it. Carson's embraced his role. The room's a dynamic room."
And so that old Ron Wolf, you-can-never-have-too-many-QBs blueprint that Pederson saw as a player in Green Bay, that Reid brought to Philly, and that helped Schneider (another ex-Packer employee) find Wilson is serving Pederson well early in his time as a head coach.
"There's a lesson there. Seattle, they felt like we did with Russell Wilson," Pederson said. "We got Nick Foles right after that, and I love Nick Foles and think he's gonna be a good quarterback in this league and do well for Kansas City. But if you're not planning for that position …"
Pederson trailed off there, choosing not to illustrate the alternative. He doesn't want to think about it. Good thing for him, he really doesn't have to.
• Question or comment? Email us at talkback@themmqb.com.