Memo to QBs: Stop Challenging Marcus Peters
The Chiefs cornerback has become the NFL's most dangerous cover artist just 19 games into his career
Megastar cornerbacks haven't been making the right kind of news this season. In New York, Darrelle Revis appears to have lost his catch-up speed and has been vulnerable over the top. His days as a traveling No. 1 corner might be over. They certainly were in Week 3, when the 31-year-old played only the left side of the field against the Chiefs. In Washington, Josh Norman should be in his prime as a traveling No. 1 corner, but the 28-year-old wasn't given that freedom until facing Odell Beckham Jr. last Sunday. The jury is very much out on Washington's $75 million experiment.
But meanwhile in Kansas City, just 19 games into his career, Marcus Peters has quietly blossomed into the NFL's most dangerous cover artist. The Chiefs' 2015 first-round pick has a league-high 12 interceptions since entering the NFL (and another in the playoff last season). Each of his four picks this year illustrates the 23-year-old's remarkable skill set.
From off-coverage ("man" with a cushion) against the Jets in Week 3, Peters read a Jalin Marshall hook route and understood how the pass rush on third down would impact Ryan Fitzpatrick's timing. He jumped the route and easily made the pick. Later on, Fitzpatrick made one of his Wild Fitzpatrickian plays in the red zone, rifling a ball to Quincy Enunwa in traffic while being pulled to the ground. Enunwa could only deflect it. Peters caught the ricochet and wisely took a knee for a touchback after no return lane opened.
In Week 2 against the Texans, Peters had a much more impressive red-zone pick, smothering wideout Braxton Miller on an underneath whip route (the rookie wideout is still raw). When DeAndre Hopkins committed one of the sloppy route-running mistakes he's still prone to, Peters capitalized and picked off Brock Osweiler along the sideline. Prior to that, Peters broke on another Hopkins route and nearly had another interception.
And so through all the interceptions and near-interceptions, Peters can safely be called the NFL's most dangerous cornerback. But it's too soon to declare him the best corner. Interceptions, especially the route-jumping picks, require a certain amount of aggression. And sometimes there's a price to pay for it.
We saw this early in the Houston game. Speedy rookie Will Fuller burned Peters with a stutter-go (the perfect route to run against an antsy off-coverage defender) for 53 yards. Shortly after that, the Texans called a play specifically to attack Peters this way again, and it worked: Hopkins scored a 27-yard touchdown after breaking down Peters's sideline press-coverage technique. No receiver in football is more adept at making contested catches than Hopkins. If ever there were a receiver to test a top corner, he's it.
Then again, Antonio Brown is about as tough as they come—and he'll be lining up against Peters this week in Pittsburgh. But if you're expecting a wire-to-wire showdown between these two on Sunday night, don't hold your breath. Peters only plays left corner; Brown has predominantly aligned on the opposite side of the formation this season. That was especially true when the Steelers faced another elite left corner, Norman, in Week 1.
Kansas City's outside corners opposite Peters have been up-and-down, particularly in nickel when Phillip Gaines comes in and base starter Steven Nelson slides to the slot. It would be an uncharacteristic blunder if the Steelers didn't go after these guys (repeatedly) with Brown.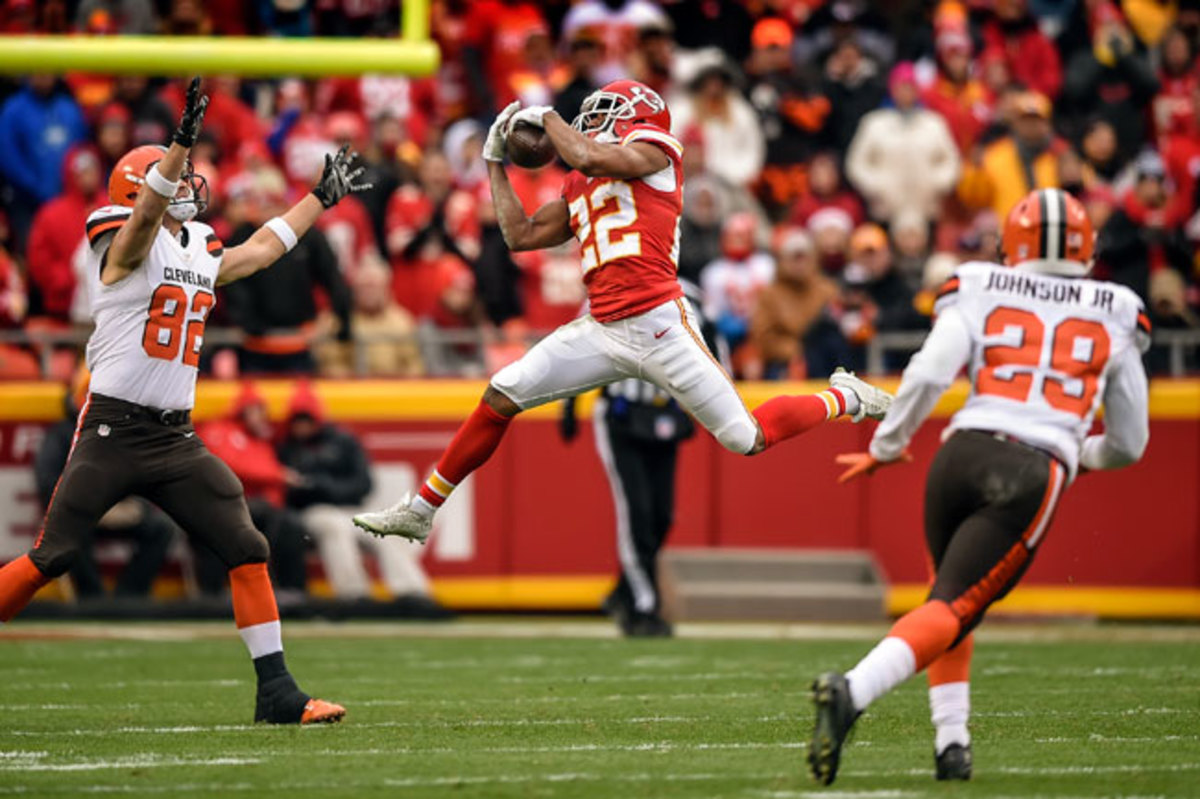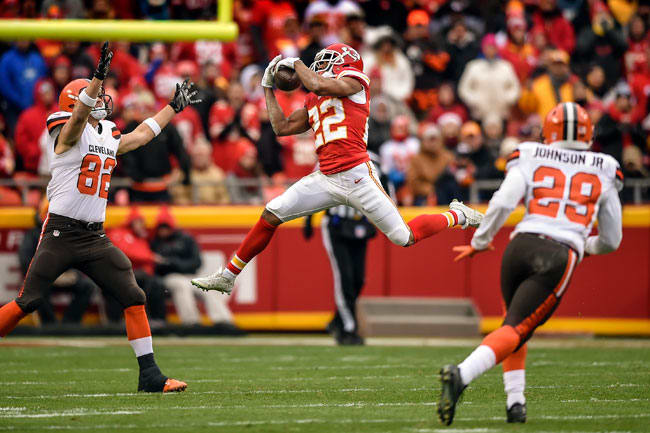 Other corners aside, Chiefs fans might soon be making noise to have Peters travel with No. 1 receivers. When Norman was locked into only the left corner spot, there was at least a reasonable if not a good explanation: he's a zone corner in a zone scheme, which is less conducive to individual matchups. The Chiefs technically have a zone-structured D, but they also have so many matchup principles within their zones that, for all intents and purposes, it's man coverage.
The benefit of having a matchup-zone D is that defenders can begin plays with their eyes on the quarterback and their man. You're not locked solely onto the guy you're guarding. This is less true for perimeter cornerbacks than linebackers and safeties. Perimeter corners, because of how little field there is around them, typically have their matchup assignment clearly defined from the snap. But those initial zone defenders in the middle of the field can still serve as help-defenders, which gives a perimeter corner more freedom to play off-coverage technique rather than press.
This is an important distinction with Peters, who is most dangerous in off-coverage technique. Peters is phenomenal at what's called "reading the triangle." With a cushion in front of him, a corner reads through the receiver and into the backfield. Doing this means he can anticipate routes better by identifying the depth of the quarterback's dropback. (No one actually knows why this makes for any sort of "triangle," but that's what's it called in the football lexicon.)
Peters has already shown a greater grasp of nuance this season. A year ago, he was prone to making mental mistakes when his man was involved with other receivers in a combination route, which can present new reads for an off-coverage corner to make on the fly. Overall, he was a very streaky player as a rookie. We still see hints of this—the double-moves by Houston's receivers, for example—but there's no question he's in the top echelon of cornerbacks, joining the likes of the Cardinals' Patrick Peterson, the Seahawks' Richard Sherman, the Broncos' Chris Harris, the Chargers' Jason Verrett, the Falcons' Desmond Trufant, Washington's Josh Norman, and (possibly still?) the Jets' Darrelle Revis.
• 10 THINGS PODCAST: Andy Benoit and Gary Gramling break down the most important NFL stories every Monday morning. Subscribe now!
After Sunday's 24-3 win in which the Chiefs' D came up with eight turnovers, teammate Eric Berry paid Peters one of the higher compliments an All-Pro safety can give a young corner. "He's focused and locked in to his technique, more so than he is to the picks," Berry said. "He understands that when he does the little things right, the picks are going to come. We'll hear about the picks…but he's quick to point out where he messed up too."
There might still be a few too many chances for Peters to "point out where he messed up," but his instincts, competitiveness and football IQ place him among the NFL's best. In terms of skill, he's more than capable of one day manning up against opposing No. 1 receivers anywhere on the field. In addition to his agility in off-coverage, Peters can be very physical in bump-and-run. Still, it might be a year before we see this, given the questions at Kansas City's other corner spot. Either way, opposing quarterbacks would be wise to stop testing Peters.
• Question? Comment? Story idea? Let us know at talkback@themmqb.com