The Decision and the Doink
The Chiefs-Broncos game had it all Sunday, from a coach's impossible dilemma to a kicker's 'prettiest goal.' A breakdown of the OT thriller plus the rest of Week 12, including Marcus Mariota, Jameis Winston and more
It's a fascinating decision to face, one that every sports talk-show host in America will discuss for the next few days. Analytic equations will be proffered. A former player on ESPN will adamantly say Denver coach Gary Kubiak made the right call as the clock ticked past midnight on the East Coast. A former player on ESPN will adamantly say Kubiak made the wrong call. Kubiak will be a dunce, or he will be a Seal Team 6 officer.
Sunday night, Kansas City at Denver. Overtime, 68 seconds to play, Broncos' ball, fourth-and-10, K.C. 44-yard line. The game is already 3 hours, 46 minutes old. Players are dragging. America's on the edge of its seat. If it's not the game of the year, this AFC West duel to the end is its first cousin.
Kubiak, the Denver coach, has one timeout left. He uses it. He needs to think.
* * *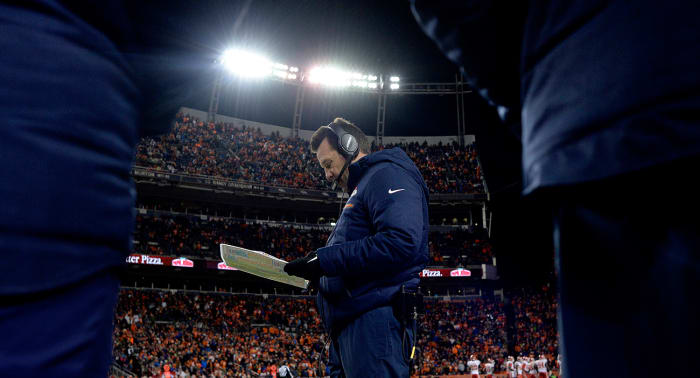 There's plenty to write about today, but there's one thing to write about today: Kubiak's call. Across the field, Andy Reid talked to his coaches about it.
"I said to our guys, 'Gary's got a big decision to make,'" Reid said from the Chiefs locker room early this morning. "If they punt, they'll punt it out of bounds so [dangerous Tyreek Hill] can't return it. If he goes for it and doesn't make it, he's got a problem with field position. If he goes for the field goal, it's a long kick, and they risk giving us the ball in good field position. Then he kept his offensive line out there, so I'm thinking, 'What is he going to do?'"
Timeout. I didn't talk to Kubiak after the game, but in cases like this he always asks his trusted special-teams coach, Joe DeCamillis, if kicker Brandon McManus has the range for a kick this far. Kubiak and DeCamillis certainly would know that McManus hadn't attempted a 62-yard field goal in his pro career. His long: 57, which he made last year. They would also know that 62 yards is within his range; he'd made a 70-yard kick when he was competing for the job in training camp in 2015; but kicking in temperate Denver is different from kicking the harder football in 38-degree Denver, which is what Sunday evening was. Kubiak and DeCamillis knew that too.
The other issue, frankly, was Denver's position in this weird AFC West pennant race. As Kubiak pondered the decision, Oakland (9-2) was 1.5 games up on Denver and Kansas City (both 7-3), and the Broncos had the worst division tiebreaker situation, at just 1-2 in the division. Among the three teams, a tie between the Chiefs and Broncos would help Oakland the most and hurt Denver the most. A loss, obviously, would hurt more than a tie.
Denver could go for the first down, but it seemed a long shot to make 10 yards against this ferocious pass rush, though the Broncos had much better luck moving the ball after halftime. Making the field goal seemed more likely than making 10 yards, Kubiak thought. Punting the ball would increase the odds for a tie, but it would guarantee nothing. It would put the ball, perhaps, around the Kansas City 15-yard line. The Chiefs would have one timeout and maybe 62 seconds to drive 50 yards for a potential winning field goal by Cairo Santos.
McManus bombed balls in practice and before games, even in cold weather. "Brandon played with my son at Temple," said Reid, whose son Britt was on the Temple staff in 2012. "He's got a huge leg. No question in my mind he'd be capable of a kick that long."
Reid thought for a minute. "Tough call," he said. "There really is no right answer."
Easy to say: Play it safe. What, exactly, would "safe" be? Punting, with a 70 percent chance (just a guess by me) of a tie? Going for it? Attempting the field goal, knowing that a miss sets up a short field for Santos?
Kubiak sent McManus on the field. The snap was good. The hold was good. It looked like McManus, in trying to get a little extra on the kick, hit the ground first, and the resulting line drive hooked left, long enough but nowhere near splitting the uprights.
As McManus told reporters after the game: "I kicked the ground. From that distance, if you kick the ground you probably have a five percent chance to make it."
In the locker room, when Kubiak gathered his team, he said, "That's my decision. I'm always going to coach aggressively with this team. I've got faith in this team. We're always gonna try to win."
Von Miller told reporters after the game: "What are we playing [for]? Are we going to play for a tie or are we trying to win the game? I'm 100-percent behind Kube right there. We have one of the best defenses in the National Football League. I wouldn't just play for the tie, either. If we had to do it all over again, I would do it again."
It's not a crazy decision—at all. A tie would have left Denver 1-2-1 in the division with a Christmas night game at Kansas City and a Week 17 home game with Oakland remaining—and two wins to make up if the Broncos were to have a shot to win the division. A tie, likely, would make Denver's best playoff chance a sixth and final seed in the AFC—though it's silly to project so far into the future; so many things can happen in December. If a tie was close to a lock, that's one thing … but it wasn't. Kansas City had driven 41 and 60 yards, respectively, on its previous two possessions. The risk was trusting a kicker in cold weather who hadn't attempted one of these kicks, and it was a big risk. But as Reid said, there was no right answer here—just some options that weren't as dangerous as others.
* * *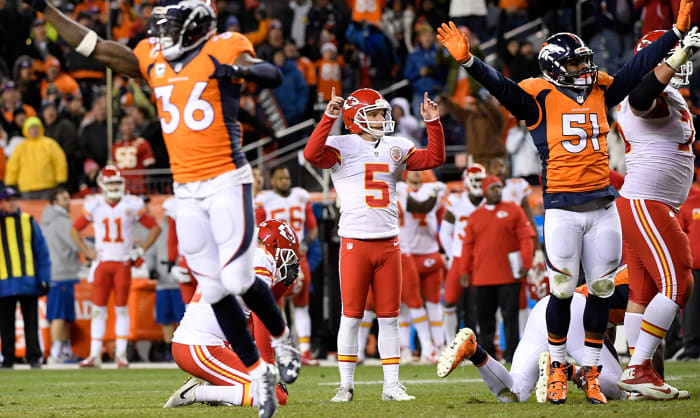 Great game. The Chiefs led 9-0. The Broncos led 10-9. The Chiefs led 16-10. The Broncos led 17-16. The Broncos led 24-16, with 15 seconds left in the fourth quarter, and Kansas City had the ball at the Denver three with no timeouts left, knowing this might be the last play of the game. Reid called the best two-point-conversion play on his call sheet—a short incut from the left to rookie wideout Tyreek Hill—and Alex Smith fired a low strike that Hill caught. But the line judge ruled him down just shy of the goal line, and the clock ticked down toward zero. On NBC, Mike Tirico said what America was thinking: "They're not gonna get a play off and Denver is gonna get the win!" But with a second left, referee Peter Morelli announced the play was under review. As Tirico deftly pointed out, it appeared Hill was bobbling the ball as he fell into the end zone, and if he didn't have complete control and if the ball never hit the ground, then it was to his advantage to not have control until he hit the ground in the end zone—and that's exactly what Morelli ruled. The two-point conversion sent it to overtime. McManus field goal, Santos field goal; 27-all. And then the drama with Kubiak's decision, and then the drama with Chiefs driving to try to win.
With two seconds left and the ball on the Denver 16, Santos trotted onto the field.
How ironic. An extra point.
Not really, but Santos' job would be to make the kind of kick almost every kicker has been struggling with all season. Placekickers missed 12 PATs in Week 11, a kick that in effect is a 33-yard field goal. This would be from 34. That's it. Santos is 21 of 22 in the PAT business this season. But they were hardly gimmes. Bengals kicker Mike Nugent extended his streak of PAT misses to three straight on Sunday in Baltimore.
On the phone from the locker room afterward, Santos said, "I was probably too juiced up."
Uh-oh. The ball was spotted at the 16, on the left hash. Snapper James Winchester (amazing this man is playing, two weeks after his father was murdered in Oklahoma) fired a perfect spiral to holder Dustin Colquitt, who made a perfect spot and hold.
"I hit the ball so clean off my foot, just right," Santos said. "So I was shocked with what happened."
The kick hooked and hooked and it was going straight for the left upright, and …
"My heart stopped a little bit," Santos said.
"I wasn't watching the kick," said Reid. "I always watch the kicker. And I'm watching, and listening, and I think, 'Something crazy just happened.' I thought he missed. He missed."
To the TV.
"OFF THE UPRIGHT! AND IN! AND IN! UNBELIEVABLE GAME-WINNER, KANSAS CITY!" Tirico pronounced. "You gotta be kidding me!"
NBC color analyst Cris Collinsworth: "The only way the game could end. Holy smokes! … That thing hit that post hard! How did it go through?!"
Fairly inconceivable, even in slo-mo. The ball caromed hard off the front inside of the left upright and shot to the right on a line, so quickly that you couldn't tell right away whether it actually went behind the right upright. But a second camera view saw it go barely behind the right upright.
The only player in NFL born in Brazil knew the perfect way to put this strike of great good fortune.
"Where I come from," said Cairo Fernandes Santos, "those are the prettiest goals."
Santos was an exchange student in a Florida high school and knew nothing about American football eight years ago. But he started kicking a football and got good at it. He played soccer too. "I had a goal like this kick tonight," Santos said. "In high school, I had a free kick that bent to the left and kept bending, and it hit the left post and just bounced in—like this kick. Those are the prettiest ones, like I said." Then he went to Tulane on scholarship and landed with the Chiefs, undrafted, in 2014. He made the team.
Back to this kick. "I didn't see it go through," Santos said. "I was looking at the refs, and I didn't see a signal. I knew it went in when the guys started saying to me, 'You made it! You made it!'"
"Luck of the Irish," said Reid. "Even though I'm Scottish, I'll take it."
Kansas City, 8-3, welcomes 9-2 Oakland to Arrowhead, on a short-week Thursday, in 10 days. The Chiefs have 7-4 Denver on Christmas night at Arrowhead. You make your own luck in this game, and on Sunday night and this season, the Chiefs are making a lot of it.
• HOLIDAY GIFT GUIDE—APPAREL: Dominic Bonvissuto shares picks on everything from hoodies and hats to jackets and jerseys, for men, women and kids
* * *
More Week 12 highlights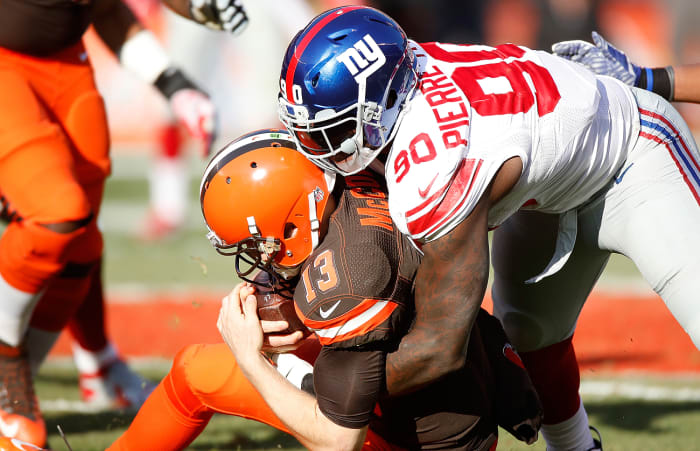 Let me apologize in advance to the other 11 games on Sunday, for what I could have covered were it not for the Sunday-nighter that sucked so much of the attention out of the weekend. I owe:
• The Giants, who won their sixth in a row (27-13 over Cleveland) to move two wins ahead of Washington and stay two games behind Dallas. Now here comes the eight-day test everyone in Giantland's been awaiting: at Pittsburgh next Sunday, home with Dallas the Sunday after that. New York's six-game streak has come, in order, over Baltimore, the Rams, Philly, Cincinnati, Chicago and Cleveland. The Bengals, Bears and Browns are a combined 5-28-1.
• The Saints (5-6) may not make it to the playoffs, and in fact would have to run the table in the final five weeks, including games at Tampa Bay and Atlanta. But you knew how much putting up 49 points on ex-defensive coordinator Gregg Williams' vaunted Ram defense meant to Sean Payton; Williams confirmed much of the information the league used to whack the Saints hard after the Bountygate investigation. Saints 49, Rams 21, including a wide receiver option TD pass from Willie Snead to rub it in when the outcome was long past decided.
• Arizona (4-6-1) and Carolina (4-7), last year's NFC Championship Game foes, lost on the road Sunday, all but eliminating them from playoff contention. It's amazing, really, how tenuous a hold even a good team has on success. But these two will have work to do—especially on the offensive line—to contend again in 2017.
• Another loss for the 1-10 Niners on Sunday (31-24 at Miami), but Colin Kaepernick was terrific in defeat, amassing his first 400-total-yard game in three seasons. Chip Kelly had to watch this game and think, "Maybe this guy can win again, and maybe we'll be a match." Kaepernick threw for 296 yards, ran for 134, accounted for three touchdowns and generally looked like the kind of threat that made Ron Jaworski say three years ago he could be an all-timer. Kaepernick will need to be consistent in the last month, but suddenly his Niners future is a story instead of a fait accompli.
• I'll have some stuff in my Wednesday column on the Raiders and Ravens, items I won't get to today. Come back and see my column then for some things the Sunday night game elbowed out and I didn't want to minimize.
• A THANKFUL HEART: Peter King tells the story of Sam Wyche, the former NFL coach and recent recipient of a new heart
* * *
Now about the two QBs who got singed in 2015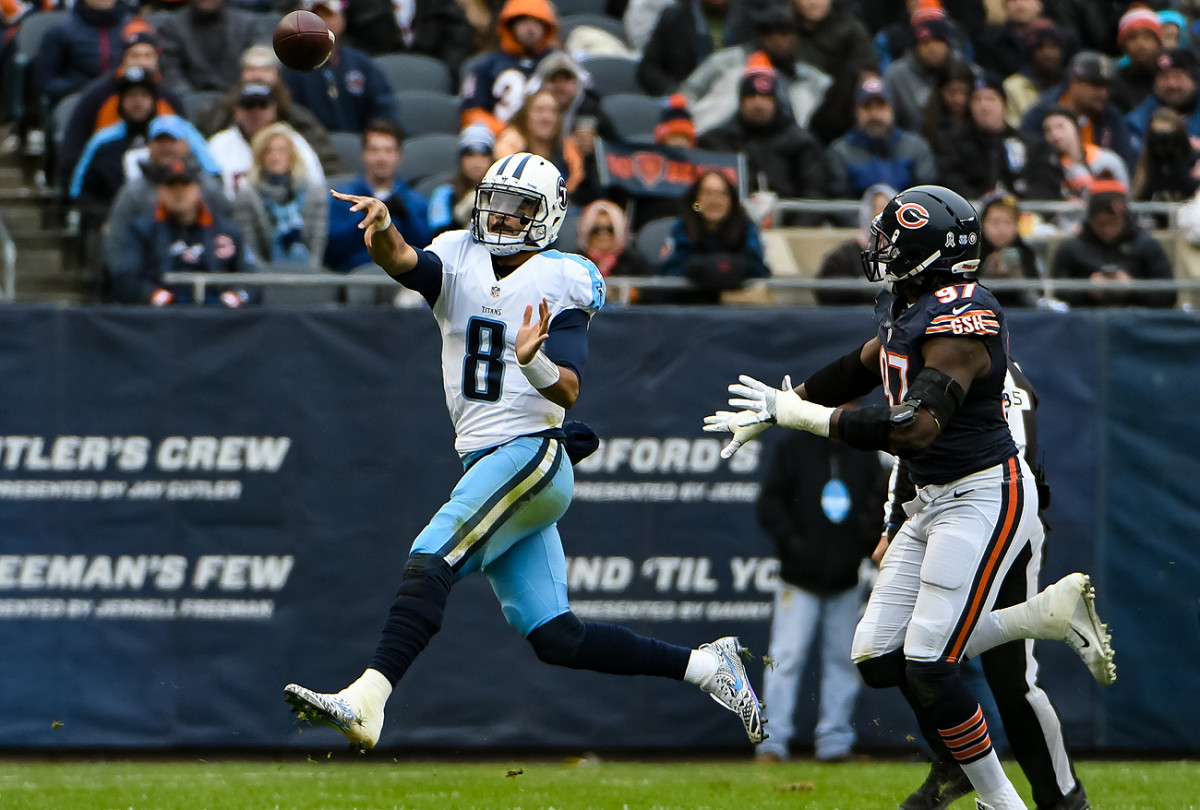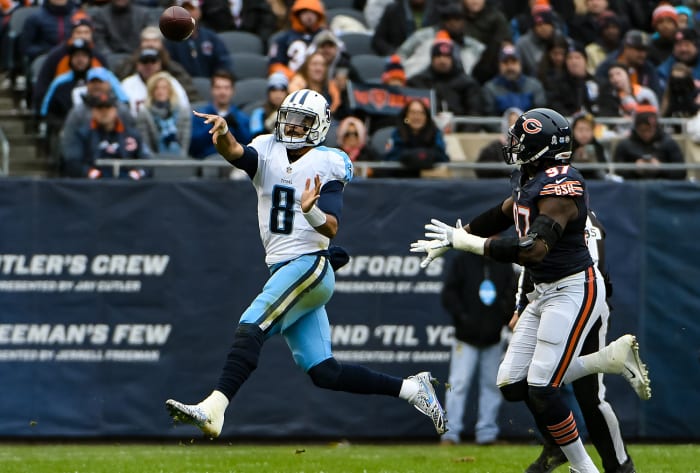 Remember the skepticism surrounding both Jameis Winston and Marcus Mariota before the 2015 draft? Winston was careless with the football and in his personal life. Mariota was a product of a system in which the quarterback didn't think much, but rather simply followed orders—and ran a lot. One NFL scout told the Milwaukee Journal Sentinelthat a team "is going to make a horrible mistake" drafting Winston. And CBS' Pete Prisco tweeted: "People think Winston is getting killed by scouts? Some personnel people I talked with think Mariota will be a flat out bust."
So they went 1-2, Winston to Tampa Bay and Mariota to Tennessee, and long slogs to respectability were forecast—if the two quarterbacks ever reached it. Head coaches were fired in both places after their rookie seasons, setting back the timetables.
Let's see where each is today.
Winston has the Bucs at 6-5 entering December; they're a game in back of first-place Atlanta in the NFC South. He's 10th in the league with 2,900 passing yards after Tampa's 14-5 upset of NFC West-leading Seattle on Sunday, the second straight takedown of a playoff team (Bucs 19, Chiefs 17, in Week 11).
Winston, after Sunday's game: "We were just talking about this game in the shower. We wish we could play it again right now. Just run it back, play it again. We played very tough. What I like about our team is we attack people. We respect Seattle a lot, but all week we were going to attack them. We came in expecting to make plays, not hoping to make plays.''
"Russell Wilson, I've got such great admiration for him. He's a true inspiration for what he has done for African-American quarterbacks and how he conducts himself."
I asked Winston if he felt the Bucs were solid playoff contenders. "We're just trying to be 1-0 every week. It's so easy to think about the future, but it doesn't help you. I am just trying to get better every single week, just like our team. The hardest thing about this league is, week after week, you've got to go out and start over and prove yourself. The best teams do that."
Mariota and the Titans are 6-6 entering their late bye week. After a slow start, Mariota is 5-3 and one of the hottest quarterbacks in football over the last half-season. His rating in the past eight games is 117.7; his touchdown-to-interception differential is 21-3. In Chicago on Sunday he continued his marvelous run of red zone play. In his year-and-two-thirds, he's thrown 32 red zone touchdowns with zero interceptions.
He's a quieter leader than Winston. Both are poised, but Winston will take charge on the field more. The Titans don't mind; they knew Mariota was a leader by example, and that's just what he's been.
Mariota, after Sunday's win in Chicago: "Throughout the offseason, our guys believed in what we were doing. I'm not necessarily surprised by where we are. Our coaches, to me, have done a great job of teaching us situational football. I'm confident in whatever comes up. [In the red zone] the message is, 'No sacks, no turnovers, just make it to the next play. Don't do too much.'"
He said he likes the run-based offense—Tennessee has been 47 percent run in the first two-thirds of the season. "All I want to do is win games," he said. "I don't care what they call, or what they ask me to do." Mariota has made improvements in synthesizing plays and options quickly, seeing that at Oregon he didn't have the kind of freedom an NFL quarterback has.
Brian Billick says the odds are about 50-50 for first-round quarterback success, and the stats bear him out. For every passer who makes it big, or fairly big, there's a Johnny Manziel who doesn't last. Maybe the 2015 crop will be the exception to the rule. Too early to tell, but Tampa Bay and Tennessee contending for the playoffs entering the last month of their young QBs' second season is a sign the teams chose wisely—then coached their investments well.
• HOW THE BUCS GOT GOING: Andy Benoit looks at how Tampa's reworked offense and thriving defensive backfield have led to a win streak
* * *
Quotes of the Week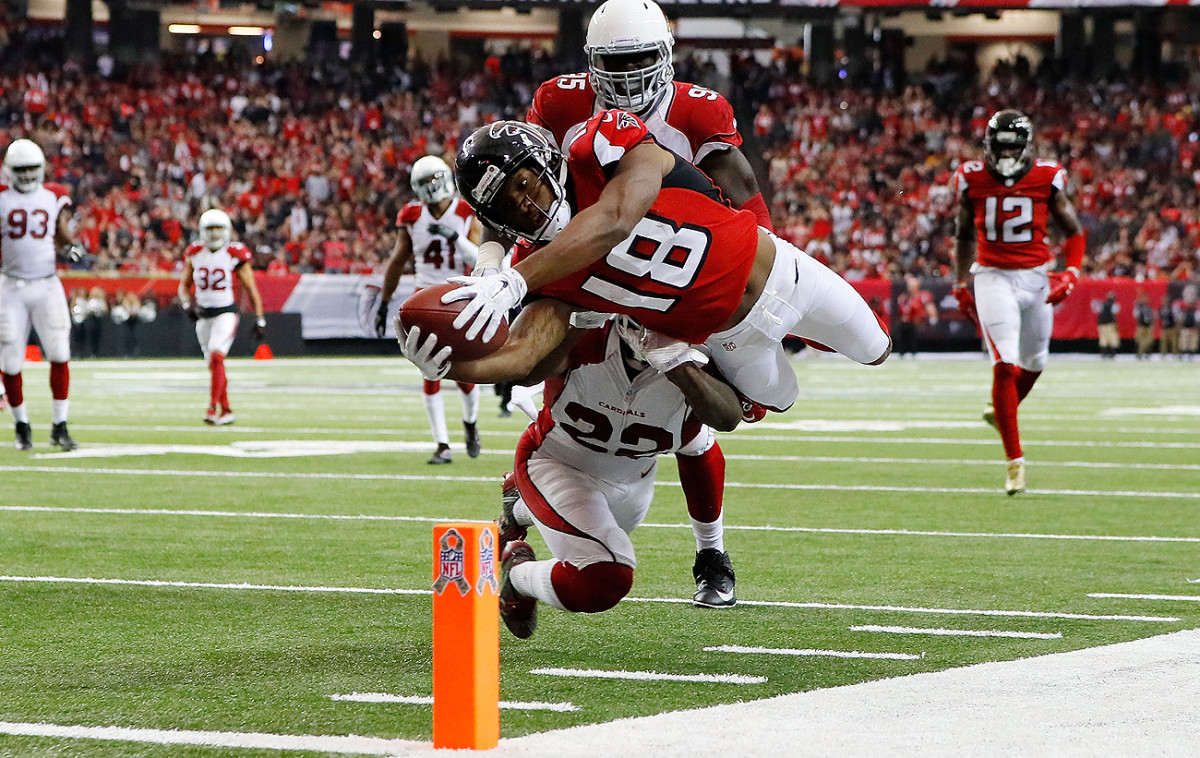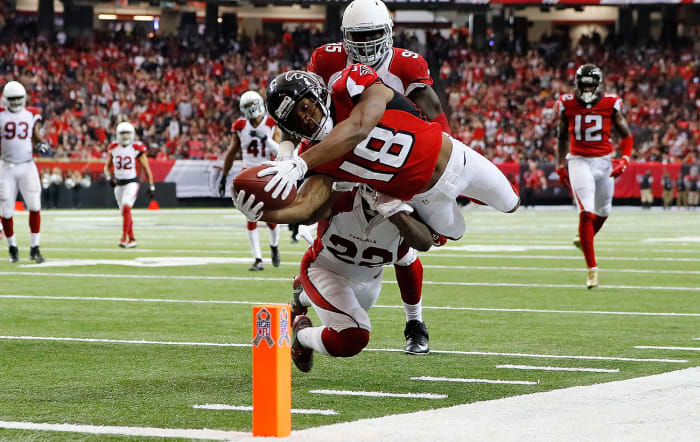 I
"I'm sorry if you live in Cleveland, but your team, which has not won this year, let that guy go. He's a difference-maker. He has speed. He has quickness … He is running circles around the Arizona Cardinals defense."
—John Lynch, FOX color man, on Atlanta wide receiver/special-teamer Taylor Gabriel, who made two catch-and-run touchdowns for the NFC South-leading Falcons in their 38-19 win over the Cardinals. Gabriel was cut loose by the now 0-12 Browns before the season.
II
"I feared the hell out of him. Like him? No, I didn't like him. I couldn't stand him, he couldn't stand me, and I wish the hell he'd-a traded me … There's such a large part of me that just wished he'd just reached out and hugged me one time. Maybe … I'm one of those kids that wanted his daddy to say I love you. I never got that. So I'm pissed."
—Terry Bradshaw, the Hall of Fame quarterback who's never gotten over his relationship with Hall of Fame head coach Chuck Noll of the Steelers, on the terrific NFL Films/NFL Network "Chuck Noll: A Football Life," which debuted Friday night.
III
"There's no end in sight, so far."
—Bruce Springsteen, 67, asked about his future as a songwriter and performer on "The New Yorker Radio Hour" by host David Remnick on Friday.
Hallelujah.
IV
"Oh my gosh NOOOOOO! Are you sure? I'm just an old baseball announcer!"
—Vin Scully, when the White House called to inform him he would be receiving the Presidential Medal of Freedom. Scully and a cadre of other great Americans received their medals last week at the White House.
V
"I'm bitterly disappointed in the officiating. I can't make that any more clear."
—Michigan coach Jim Harbaugh, after the 30-27 double-overtime loss at Ohio State.
I have no interest in this fight, as a graduate of THE Ohio University who was not a fan of the other major institute of higher learning in the state. But Harbaugh's biggest problem, from his comments, was the ruling when officials said OSU quarterback J.T. Barrett made a fourth-down rushing conversion on the game-winning drive. Barrett, it looked to me, got to the first-down line, then was driven back and landed a yard short of the first-down line. But forward progress got him the first down, it appeared to me.
* * *
The Award Section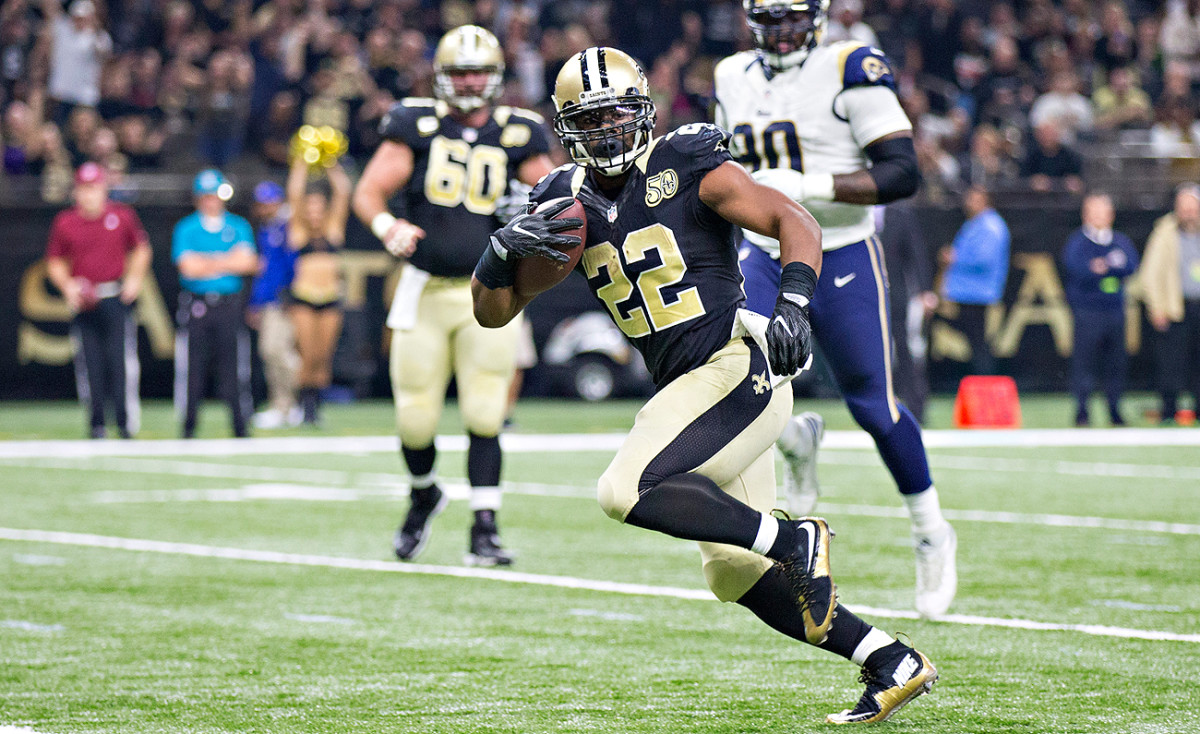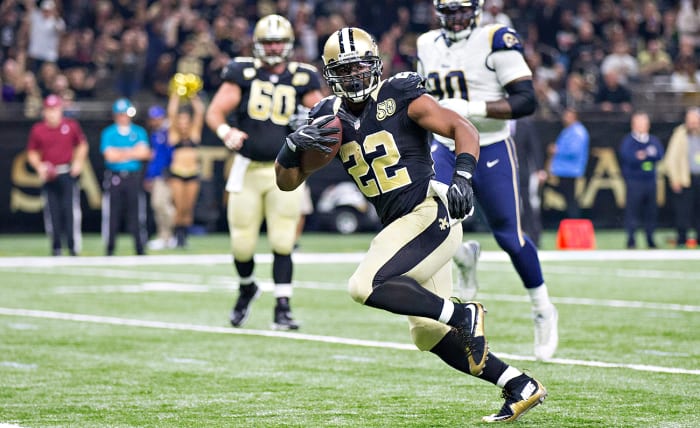 OFFENSIVE PLAYER OF THE WEEK
Mark Ingram, running back, New Orleans. With apologies to the peerless Drew Brees (four touchdown passes, no picks) in the stunningly easy 49-21 rout of the Rams, Ingram came out of concussion protocol during the week to have the best Sunday of any back in football: 14 carries for 146 yards and a touchdown, and one reception for 21 yards and a TD. Running hard and making Rams miss, Ingram had 167 total yards, the best one by a back against a very good defense this year.
Taylor Gabriel, wide receiver/special-teamer, Atlanta.Offensive coordinator Kyle Shanahan twice dialed up the same play with the lightning-quick Gabriel: the step-back from the left flank, the immediate dart of a throw from Matt Ryan, and off to the races for the slippery Gabriel—35 yards for a touchdown the first time, and 25 yards for a touchdown the second time. Gabriel (who is as big a danger in the open field as Darren Sproles, which is saying something) has become the kind of threat to free up the other Falcons playmakers, because when he's on the field, the defense will pay respect. In the past three games Gabriel, picked up off the waiver wire when Cleveland cut him before the season, has 13 touches for 254 yards and four touchdowns. It is positively amazing that the Browns could not find a spot on their roster for a talent like Gabriel.
DEFENSIVE PLAYER OF THE WEEK
Fitting. Three best edge players sharing the best defensive player award in a crucial week.
Von Miller, linebacker, Denver.Ten tackles, three sacks and two more significant pressures, and a tackle of Tyreek Hill behind the line, a tipped pass on the last-gasp Kansas City drive in the final minute of regulation … in a game in which the Broncos needed Miller desperately. Denver was in this thanks in large part to one of the best games Miller has played for them.
Justin Houston, linebacker, Kansas City. Entering Sunday night in Denver, Houston had played 12 mostly ineffective games (due to a knee injury) since his monster 22.5-sack season of 2014. Finally, for the first time since a four-sack finale against San Diego 23 months ago, Houston was the feared defensive force he hasn't been in so long. With three first-half sacks and a continued fearsome presence in the second half and overtime despite leaving for a few plays with a banged shoulder, Houston was a vital factor in the Chiefs' win in Denver.
Khalil Mack, linebacker, Oakland. So Houston, if he can stay healthy, may be a factor in the conversation of the best edge player in football. But for now, based on what we've seen over the past couple of years, Von Miller and this man, third-year rusher Mack, are the most dangerous edge players in the NFL. Mack was masterful against the Panthers in Oakland's 35-32 win, picking a pass out of the sky against Cam Newton late in the first half and running it in for a touchdown (complete with a Lambeau Leap into the Black Hole). On the Panthers' last gasp to make this a game—and to make this a season, quite frankly—Mack strip-sacked Newton on fourth down in the last minute to clinch a 35-32 win. What a fearsome player.
SPECIAL TEAMS PLAYER OF THE WEEK
Justin Tucker, kicker, Baltimore. It's notable that the snapper (Morgan Cox) and holder (Sam Koch) are fabulous and really consistent. Tucker won this before halftime, with field goals from 52, 57 and 54 yards in the first half against Cincinnati. So he had the wind with him. From what I could tell watching this game, the kick from 57 would have been good from 65, easy, and the kick from 54, would have been good from 70, easy. Tucker is the best kicker in football right now (18 for 18 beyond 40 yards), perfect on 42 PATs and field goals. It's not up for debate.
Tyreek Hill, punt returner/wide receiver, Kansas City. Hill became the first player with a rushing TD, receiving TD and kick return TD in a single game since Gale Sayers (1965 Bears against Vikings). The fifth-round rookie from that football power West Alabama (don't tell Malcolm Butler) returned a free kick after a safety 86 yards for a second-quarter touchdown in Denver; had a three-yard TD run with 30 seconds left in the third quarter to give the Chiefs the lead; and caught a touchdown pass at the goal-line to help push the game to overtime. Hill is a dangerous Chief, with a speed and shiftiness reminiscent of Dante Hall.
COACH OF THE WEEK
Mike Mularkey, head coach, Tennessee. Mularkey was roundly second-guessed (that's putting it nicely) for his 1993 approach to offensive football before the season—namely, for deciding the Titans would be a running team more than a passing team. He built up the offensive line and drafted a running back high, planning to plow the ball and keep it out of the hands of the opposing offense. Hey, whatever works. The Titans struggled to a 1-3 start but have won five of eight to move to a half-game out of first in the weak AFC South. It helps that Mularkey has a precocious quarterback who doesn't make many mistakes. But it also helps, as in games such as Tennessee's 27-21 win at Chicago on Sunday, that he sticks to the plan he made for this team when the Titans gave him the full-time gig.
GOAT OF THE WEEK
Mike Nugent, kicker, Cincinnati.In a 16-12 loss to Buffalo last week, Nugent missed his only two extra-point tries. On the Bengals' first touchdown of the day at Baltimore on Sunday, with Baltimore up 16-9, Nugent went wide right. Three extra-point misses in a row. Three 33-yard kicks in a row, missed. It's not about the fact that Nugent missed a game-winner or game-decider either week. It's just missing three straight PATs. Inexcusable.
* * *
Right Combination of the Week
Tom Brady, quarterback, and Josh McDaniels, offensive coordinator, New England. As TV cameras at NFL games often do, CBS cameras caught Brady and McDaniels in an earnest discussion during the tighter-than-expected 22-17 Patriots victory over the Jets in the Meadowlands. Who knows what they were discussing, but what I've learned in the 13 years they've worked together on the Patriots' offense is they're one of the best quarterback/coach combinations I've seen in my 32 years covering pro football. The preternatural calm between them translates to success on the field; players don't tighten up when the quarterback and the play-caller don't tighten up. In the last 10 minutes of a game the Patriots slogged through, McDaniels called and Brady executed drives of 53 yards (to a field goal) and 83 yards (to a touchdown), and the Patriots had another victory in the Meadowlands. It was the 200th win of Brady's regular- and post-season career, tying him with Peyton Manning for the most by a quarterback in NFL history, and 13 of those wins have been in New Jersey, against the Jets (11) and Giants (two).
And it's worth noting the great combination too, in part, because you don't know how much longer it'll last. There was a report by NBC colleague Mike Florio that McDaniels was not among the assistant coaches listed as prime candidates for 2017 head-coaching openings by an influential NFL committee, perhaps because of the impression that McDaniels wants to stay as the eventual successor to Bill Belichick. I have no doubt Florio's report is correct—that this committee feels McDaniels is tied to Belichick. He is not, however. I firmly believe McDaniels, who coached the Broncos for 28 games before being fired midway through 2010, would be interested in a job in the right circumstances—a strong organization with a quarterback who gives the team a chance to win. Who knows if that will come along, but I think McDaniels is ready, and would go under the right circumstances. He said as much to the New England press last week. For now, appreciate the Brady-McDaniels combination while you can.
* * *
Stats of the Week
I
Darrelle Revis, 31, is seven months older than Aqib Talib, 30. The way they're playing, the age gap might as well be seven years. Or more. The Pro Football Focus ratings of cornerbacks heading into the home stretch of the season (not including Sunday's games) show Revis' stark dive and that the other former Patriot has been the best corner in the league by PFFmetrics through 11 weeks.
| | | | | | | |
| --- | --- | --- | --- | --- | --- | --- |
| Overall CB Rank | CB | Targets Comp-Att., Pct. | TDs Allowed | INT | Passes Defensed | QB Rating Allowed |
| 1 | Talib | 22-41, .537 | 0 | 3 | 6 | 37.0 |
| 76 | Revis | 37-55, .673 | 1 | 0 | 2 | 101.6 |
Not to harp on Revis or anything, but the trailing cornerback on the Patriots' only touchdown of the first half Sunday, a pass from Tom Brady to rookie Malcolm Mitchell? Revis.
II
In the span of 12 days, Kirk Cousins has ensured that he's going to get paid. That's how long it took (against Minnesota on Nov. 13; Green Bay on Nov. 20; and Dallas on Nov. 24) against three teams in the NFC playoff race to show he really should be liked now. The numbers over the three-games-in-12-days span:
| | | | |
| --- | --- | --- | --- |
| Comp. Pct. | Yards/Game | TD-INT | Rating |
| .724 | 362.0 | 8-0 | 124.4 |
"I can't say enough about how good he has played," said Washington coach Jay Gruden. "On Sunday night to put up the performance that he did [21 of 30, 375 yards, three touchdowns, no interceptions in the win over Green Bay], and then not really getting any practice reps against the Cowboys defense throughout the week and go out and do that [41 of 53, 449 yards, three touchdowns, no interceptions], that's really unheard of in a short week against a good team on the road."
So where will Cousins end up on the spectrum when he's paid in 2017? Andrew Luck's ($24.6 million) and Drew Brees's ($24.3 million) average deals are at the top, followed in a cluster by Joe Flacco, Aaron Rodgers, Russell Wilson and Ben Roethlisberger, all between $21.8 million and $22.2 million. Then come six veterans between $20 million and $21 million annually, and then Cousins' one-year deal at $19.95 million. Cousins' average is 13th now. It won't be lower than third whenever he signs for the long-term in 2017.
III
Since he won the Washington starting job to open the 2015 season, Cousins is second among all NFL quarterbacks in accuracy (69.18 percent passing), fourth in passing yards (7,706) and fourth in passer rating (101.5).
* * *
Factoids That May Interest Only Me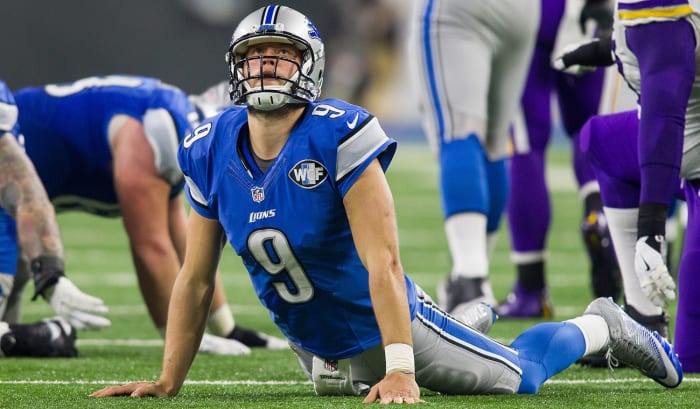 I
The first-place team in the NFC North, Detroit, has played 11 games. In those 11 games, Detroit has, in order:
• Trailed by one with 10 seconds left in the fourth quarter.
• Trailed by one with 10 seconds left in the fourth quarter.
• Trailed by 14 with 4:00 left in the fourth quarter.
• Trailed by 11 with 2:00 left in the fourth quarter.
• Trailed by two with 1:30 left in the fourth quarter.
• Trailed by seven with 6:30 left in the fourth quarter.
• Trailed by four with 30 seconds left in the fourth quarter.
• Trailed by 10 with 3:00 left in the fourth quarter.
• Trailed by three with 20 seconds left in the fourth quarter.
• Trailed by three with 10:10 left in the fourth quarter.
• Trailed by three with 1:50 left in the fourth quarter.
In each of its 11 games, Detroit has trailed at some point in the final 11 minutes. Detroit won the first, fifth, sixth, seventh, ninth, 10th and 11th of those games.
All 11 games have been decided by seven points or fewer.
* * *
II
The director of sports performance for the Miami Dolphins, who reportedly has a lot of get-up and go, is named Wayne Diesel.
III
This is Justin Tucker singing "Ave Maria." Rather amazing.
* * *
Mr. Starwood Preferred Member Travel Note
I went nowhere this week. Two peers did. Some travel notes from them:
Albert Breer, The MMQB, busman's holiday, Michigan-Ohio State game, Columbus
Breer's an OSU grad (you don't say!) who just had to go to this year's edition of The Game. A few thoughts from him:
"I spent 33 hours—wheels down to wheels up—in Columbus. We probably stayed out at Too's too late on Friday night (1 a.m.), and started drinking at my buddy's house three blocks north of campus too early on Saturday morning (7 a.m.). I'm drained, but that was totally worth it. That was the best sporting event I've ever been to. The coaches are the reason why. It's not just that Urban Meyer is 61-5 in his five years in Columbus or has the No. 2 team in the country. And it's not that Jim Harbaugh is off to a 20-5 start in Ann Arbor or that he brought the third-ranked team in America here. It's the intensity with which they coached this game, which was absolutely spectacular—the kind that made you think about grainy old video of Bo and Woody losing their minds in the throes of this game. Our seats were in the corner of the closed end of the Horseshoe, which meant both teams were coming our way in double overtime, and it was down there when the headset-breaking Harbaugh and crowd-provoking Meyer really lost it. There's nothing like the intensity of a rivalry game in big-time college football, and even having seen that first-hand (this rivalry goes back generations in my family, with everyone else being on the Michigan side of it), this was different. You could tell how much it meant to everyone in the building and the players, of course. But the coaches are what separated it. The two were born in the same Toledo hospital, raised on opposite sides of the Ten Year War, and each leads like his school's most legendary coaches did. So I can't really do justice to what it felt like to be in that building for four hours Saturday. But it was pretty clear why it felt that way: because of Meyer and Harbaugh."
Ross Tucker, Westwood One radio/NBC Sports Network
A weekend of football commenced with a flight from Harrisburg (near his Pennsylvania home) to Detroit on Wednesday afternoon … Lions-Vikings on the radio Thursday … Thanksgiving dinner with partner Tom McCarthy, son Tommy and producer Mike Eaby at Granite City Brewing Company … Fly to New Orleans on Friday morning. Meet with Grambling and Southern football players and coaches in advance of Saturday's Bayou Classic on NBCSN … Eat a Po Boy … Do the four-hour marathon game Saturday … Hustle to the airport to make a 9:35 p.m. flight to Houston. Connect with a United flight in Houston for San Francisco, arriving at 2:15 a.m. PT (5:15 a.m. on the Tucker East Coast body clock) … Do Panthers-Raiders in Oakland for Westwood One … Meet friends for dinner post-game, then head to San Francisco airport for a redeye to Chicago, connecting with a morning flight to Harrisburg … This morning Tucker was slated to land in Harrisburg at 9:45 a.m. "I'll be hugging my daughters by 10:15," he said.
* * *
On My Night Table
I've got no book recommendation from an NFL person this week to push. (There are plenty, however, in our comprehensive holiday gift guide for books.) But I do have one to emphasize. It is the outstanding book by Michael MacCambridge, "Chuck Noll: His Life's Work." (University of Pittsburgh Press). The reason I love the book is because I believe Chuck Noll was the single most important figure in the last 50 years of the NFL whom we knew the least about. And then MacCambridge did his thesis on all things Noll, conducting more than 300 interviews for this book, and laid out the football and the life in 385 tight, cogent, entertaining pages.
• HOLIDAY GIFT GUIDE—BOOKS: Recommendations from NFL players and coaches on topics from football to life to leadership
For you fans of football history, here's an example of the insight that drips from every page. The Steelers' draft in 1974 was one of the best of all time by any team, and MacCambridge details the second-round debate centering on two linebackers—a statuesque one from Iowa, 230-pound Matt Blair, and a waif-thin instinctive playmaker from Kent State, 217-pound Jack Lambert. With less than a minute left to decide, Chuck turned to second-year linebackers coach Woody Widenhofer, and asked, "Woody, how do you feel about this?"
"I want Lambert."
"Lambert it is."
Multiply that times 900, and you'll have the insight about Noll and his life and the life of one of the great teams in modern sports history. Buy the book. I strongly recommend.
* * *
Tweets of the Week
I
II
III
IV
* * *
Photo Op
This is former coach Sam Wyche, with a pillow signed by the nurses and other care-givers at Carolinas Medical Center. They gave it to him on his release from the hospital Sept. 22 after his heart transplant. Photo taken outside Wyche's so-called man cave next to his home in Pickens, S.C. The 18-by-18 mini-house, with a bed and bathroom, allows Wyche, 71, to be mostly isolated while his heart takes hold in his body. He also has a notebook with detailed instructions on staying as germ-free as possible. "The chance of rejection exists for the rest of a patient's life," said one of his doctors, cardiologist Sanjeev Gulati.
* * *
Pod People
From "The MMQB Podcast With Peter King," available where you download podcasts.
This week's guest: former NFL coach and heart-transplant recipient Sam Wyche, in a special holiday podcast. Half of this podcast was about his heart transplant. Half was stories from an incredible football life, stretching from being Joe Montana's first NFL position coach to a slew of coaching stories that I lived. (My rookie year covering the NFL was 1984, in Cincinnati, where Wyche was a rookie head coach.)
• Wyche, the 49ers quarterback coach the year San Francisco drafted Joe Montana, on the fact that the Niners had planned to take Morehead State quarterback Phil Simms if he was available when they picked: "That was our plan, but we also liked the quarterback from Stanford, Steve Dils. And so we were kind of talking about them. And Joe Montana really wasn't on the radar until maybe a week or two before the draft. Bill [Walsh] said, 'Go work this guy named James Owens out.' [Owens was] from UCLA, a wide receiver/running back kind of a guy … And I went down, and [Bill] said, 'Find a quarterback to throw to him, so you can watch and everything.' Joe was living at the time with his future wife in Manhattan Beach. I said [to Montana], 'Can you come over to UCLA and meet me there at 3:30?' Cass [Montana's first wife] was there with her camera, like a mom would take a picture of her young child working out for the first time, and all excited about this. And Joe was terrific. I mean he had a great day. James Owens had a good day, but not a great day. I went back to Bill and I said, before we take Dils or Simms, let's look at Montana one more time, you and I together. We went back down to UCLA and had another workout [with Walsh present]. By the way, everybody on the staff, on the coaching staff and on the scouting staff, liked Joe Montana. There wasn't any opposition to taking Joe Montana, but you can only take one. So we had to pick the one."
• Wyche on the league office—he claimed—trying to put the kibosh on the Bengals running the no-huddle offense two hours before the playing of the 1988 AFC title game: "They told us we could not run the no-huddle because the faking of injuries and the commissioner didn't want to make a farce of the game. And my response was, this is kind of like a restaurateur having the cops come in at 5:30 saying you could be robbed between 6-8:30 tonight so you are going to need to close up, and be out of business. I said this is the only way we've run our offense for five straight years, it is the only way we have run it all year long, we are the number one offense in football by the way. It is the only way we have practiced all week long, and now you are telling me an hour and 59 minutes before the game that we can't run the no huddle? Go get the commissioner on the phone, I want to remind him that he is messing with the competitive balance of the game. I think I threw out that there were a lot of bets being placed on this ball game and I don't think I would be walking around Manhattan without a bodyguard if that competitive balance is tampered with. The runner goes out and he comes back within seconds, and I don't think he really called the commissioner [Pete Rozelle]. I'm sure the commissioner said if there is any pushback from Sam just let him go and run the no huddle. So they came back in, and the commissioner said go ahead and run the no huddle, so we did and we win the ball game and we go to the Super Bowl."
* * *
Dr. Z Unsung Guys of the Week
Each week, in conjunction with Pro Football Focus, I'll point out three players who played well but were under the radar. Paul Zimmerman would have loved this section. This week's trio:​​​​
1. Bucs LB Lavonte David. The upstart Buccaneers suddenly have a winning record, and Lavonte David's performance Sunday is a big reason. David was so good on Sunday that his 93.9 overall grade was the highest of any player at any position in Week 12. In coverage, David allowed only one catch for three yards, and his 96.5 coverage grade ranked first among all defensive players in Week 12. Russell Wilson's QB rating when throwing into David's coverage was 56.3, and David also harassed Wilson with one hit and one hurry on nine pass-rush snaps.
2. Saints TE Josh Hill. Hill might not be the first Saints tight end who comes to mind, but his blocks were the key to some of New Orleans' bigger runs in the demolition of the Rams' defense. Hill's run-blocking grade of 88.8 ranked second among all offensive players in Week 12. Hill was also a productive in the pass game, with six receptions on six targets and 51 yards after the catch. Drew Brees's QB rating when throwing at Hill was 118.1.
3. Lions OT Riley Reiff. Matthew Stafford gave thanks for Reiff on Thursday. Reiff didn't allow a single sack, hit or hurry of Matthew Stafford on 45 pass-blocking snaps, and Reiff's 86.6 pass block grade ranked second among all tackles in Week 12. Reiff was also a solid contributor to the run game as well, with a 73.6 run-block grade in a big NFC North divisional win.
Go here to access PFF's grades on every NFL player.
* * *
Ten Things I Think I Think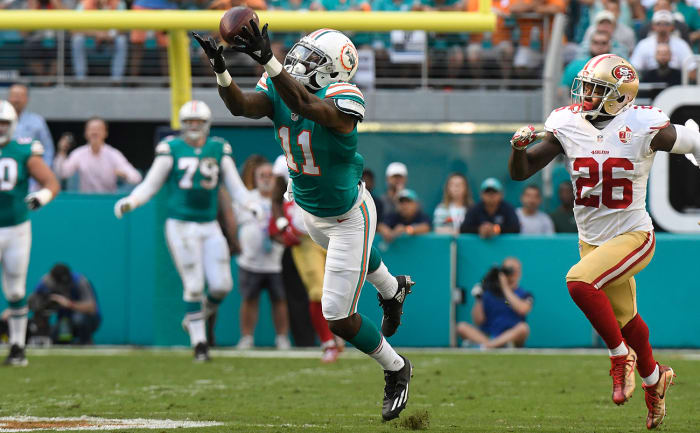 1. I think these are my quick notes of analysis of Week 12:
a. Dallas is the best team in the NFC, but the potential five or six seed with the best shot of running the table in the postseason looks like explosive Washington.
b. No player in the past three weeks has burst onto the scene as impressively as Miami wideout DeVante Parker. And I doubt any team has a better under-25 1-2-3 at the receiver position right now than the Dolphins: Jarvis Landry is 24, Kenny Stills is 24 and Parker is 23.
c. I don't have any solid evidence to suggest this will happen, but I'm just making a preemptive statement: If Washington GM Scot McCloughan is thinking of playing hardball with Kirk Cousins in 2017 negotiations, and not paying him market value for a top-10 quarterback, I think he is making a serious error.
d. Perfect example of the wrong call of unnecessary roughness in Cincinnati-Baltimore. Steve Smith Sr. was in a small row with Vontaze Burfict (imagine that!). Smith bumped him, and Burfict flopped like he'd been shot by firing squad. And the officials flagged Smith, not the diving Burfict.
e. I loved Atlanta offensive coordinator Kyle Shanahan's wrinkles against Arizona, which included a direct snap to Mohamed Sanu and the Sanu keeper on an option route.
f. There's a reason Houston cornerback A.J. Bouye will be a very rich free agent in March 2017, and it's more than just his clinging coverage ability. He continued to show against San Diego that he's an excellent physical open-field tackler.
g. The exclamation point on Houston being officially worried about Brock Osweiler came Sunday. He finished with zero touchdowns and three picks against San Diego, and now has 12 TDs and 13 interceptions on the season.
h. When I see Marcell Dareus have the kind of game he had Sunday—two sacks, eight tackles in the 28-21 must-win over Jacksonville for the 6-5 Bills—I think: How great would he have been for his first five seasons if he hadn't had his myriad off-field problems?
i. Sometimes, I bet Sam Bradford wishes this NFL season lasted five games.
2. I think, after 12 weeks, my MVP ballot, one through five, would go this way: 1. Ezekiel Elliott; 2, Derek Carr; 3, Russell Wilson; 4, Dak Prescott; 5, Matthew Stafford. Any ordering of the top four right now wouldn't get much of an argument from me, even after Wilson got pillaged by the marauding Buccaneers. It's about a season, not a Sunday.
3. I think I'm respectful of the Dallas-offensive-line-as-collective-MVP candidate, and it's not a thoughtless alternative. But while tackle Tyron Smith, center Travis Frederick and guard Zack Martin are deserving All-Pro candidates, the other two starters—guard Ronald Leary and tackle Doug Free—are not. In the same way you honor the best line in football by naming them co-MVPs (or however you'd word it), you'd also dilute the award by including two men who, while good players, are not on the level of their All-Pro peers.
4. I think the most amazing inactive of this season came on Sunday in New Orleans: The Rams benched and made inactive the second pick in the 2014 draft, left tackle Greg Robinson. He was awful against the Dolphins last week, and he's been a prime culprit in the poor season of franchise back Todd Gurley. Stunning stat from Pro Football Focus: Of the 77 tackles who have played enough to earn grades this season, Robinson's run-blocking grade is dead last.
5. I think, for those who pooh-poohed the election's effect on NFL TV ratings, this is either a big coincidence or dumb scheduling luck, or the reality of the fact that the strangest, most intense presidential election of our time was this fall. But three of the highest-rated games this year have been played since the election: 16 days after it (Dallas-Washington, 35.1 million viewers; and Detroit-Minnesota, 27.6 million), and five days after it (Dallas-Pittsburgh, 28 million viewers). There's still no disguising the fact that ratings were down 12 percent across the board, with prime time down more than Sunday afternoon. And it's unlikely the number will be sliced significantly from here on out, barring a tightening of the races involving two of the biggest teams in TV games; Dallas and New England both enter the final six weeks with two-game leads in their divisions and looking like playoff locks. But we'll see.
6. I think, watching 90 percent of the Carolina-Oakland game Sunday, it stuns me that the Panthers have lost seven games. That is one scary team, with weapons on both sides of the ball.
7. I think I have no use for these NFL Next Gen Stats. What good does it do to tell me LeSean McCoy was the fastest player in football Sunday, at 21.87 mph? What does it mean? On NFL RedZone, Scott Hanson told us that McCoy was the only player to run over 20 mph Sunday, and the fastest guy this season was Xavier Rhodes, at 22.40 on an interception return last week. I am all for progress, and all for new and illuminating statistics. But telling me someone runs 21 mph, or 19 mph, or 22.40 mph, adds nothing to my knowledge of football or my enjoyment of the game.
8. I think you have to wonder if Michael Oher's future is in question in Charlotte. He's 30. He played but three games all season before being placed on IR with concussion symptoms Friday … and is owed $13 million over the next three years. He was the league's 24th-rated left tackle last season, per Pro Football Focus. He wants to continue playing, but the Panthers may decide to look elsewhere unless he comes back strong early in the offseason.
9. I think this is not a stat anyone who loves the Browns will like reading: Cleveland used three draft choices while passing on Russell Wilson (75th pick overall) in 2012, three draft choices while passing on Derek Carr (36th) in 2014, and eight draft choices while passing on Dak Prescott in 2016. The Browns weren't alone. The Bears passed on Prescott six times, the Jets four times (while picking Christian Hackenberg, who has been inactive all season), and the 49ers four times.
10. I think these are my non-football thoughts of the week:
a. Story of the Week, from Armando Salguero of the Miami Herald, about his three-minute confrontation with Colin Kaepernick over the Niners QB wearing a T-shirt with the image of Fidel Castro on it.
b. I am glad Kaepernick is willing to stick up for causes when he feels strongly. But there is also a point at which a smart person talks to a victim of family oppression and should say, "Let me hear you out. You may be right, and I may be wrong."
c. One of the great things you can do as a thinking adult is to say: "I was wrong." It's not going to demean you; it's actually going to raise your stature.
d. It just so happened that Castro died Friday, at 90. Early in his reign, he had more than 500 foes of his autocratic government executed by firing squad, confiscated hundreds of acres of privately held agricultural land, held more than 15,000 opponents of the government as political prisoners, treated tourists to Cuba far better than Cuban citizens, and, as Salguero writes, had no use for Cuban families trying to flee their native land. Time stopped for many in Cuba. So many others just wanted to flee, feeling either oppressed or dirt poor.
e. I love the fact that the New York Timeshad English and Spanish versions of the Castro obit. How apt.
f. I'm not one to know much about the afterlife, but that Castro-JFK meeting would be really be something.
g. Broke away on Saturday for a bit to see "Allied." I thought it was great. There are some apt and well-publicized comparisons to "Casablanca," including the fact that much of the early film is based in Casablanca, and the fact that later in the movie—I cannot say what, or else you would kill me for being the spoiler of spoilers—there is another "Casablanca" thing. And no, the movie is no "Casablanca," but it's also not what "The Longest Yard" (two) was to "The Longest Yard" (one). And I was in "The Longest Yard" (two), so I'm allowed to needle it. My point is, the suspense in "Allied" is real and it's spectacular, to paraphrase Teri Hatcher to Jerry Seinfeld once.
h. Marion Cotillard was terrific. The co-star, Brad Pitt, was good—a little wooden at times. But a man who can kill another man with his bare hands is allowed to be wooden.
i. Coffeenerdness: Coffee-lover Drew Brees on not drinking coffee every day: "I alternate. I try not to do the same thing every day because I would drink coffee every day. But it's part of my diet thing. I just think the common-sense diet is everything in moderation, so I never do the same thing every day … I'll have a vitamin drink like an amino acid drink that I'll drink that gives me a little pep. It doesn't have any caffeine in it. And then when I get into meetings I'll drink some Spark [an energy drink with 20 vitamins and minerals], which has a little caffeine in it, but that's more for getting me locked in and focused to sit through three or four hours of meetings."
j. Beernerdness: I hit a home run for my Thanksgiving beer. A grand slam. On a recent walk through the Charlotte airport (I love that airport and a couple of the restaurants), I found a checkout at one of the restaurants that allows you to buy Carolina beers. Well, hello. So there was a tall boy in the case from Appalachian Mountain Brewery in Boone, N.C., a beer called Boone Creek Blonde. And was that one great beer. Not good. Great. The can said it hints of honey and orange zest, which was true, and both contributed to a superb clean taste. Really good. This is good too, on the side of the can: "Proceeds from every can support the revitalization of our mountains and rivers." Glad to help. Please keep making that Blonde. I'll be back for more when I'm through the Carolinas.
k. Well, one Ohio university will be playing for a conference championship this week.
l. Let's go, you underdog Bobcats! Friday, Ford Field, 7 p.m.: Ohio (8-4) versus Western Michigan (12-0).
m. The Fighting Soliches (whoever so christened them thusly is a genius) will be angling for their first Mid-American Conference title since I was 11. In 1968, in other words.
n. The New York Post's story about the shooting death of a man at a south Jersey mall on Black Friday had this sentence: "Mall-goers lamented the man's death—but said the shopping must go on."
o. Now there's a great 2016 America sentence for you.
p. Apparently Donald Trump and Charles Blow will not be exchanging holiday cards this season.
q. I felt privileged and incredibly fortunate to have dined at "Fare Share Friday" at St. Bartholomew's Church in midtown Manhattan Friday, as Crossroad Community Services and six superb hotel chefs and staff prepared a Thanksgiving Dinner for hundreds of needy people. The St. Bart's community is so terrific and giving.
r. Finally, I have to share a story with you that got me really choked up Saturday. It's by Sam Mellinger, the talented Kansas City Starcolumnist, who wrote a Thanksgiving story on the Schwab family's late-season visit to a Royals game. Ten-year-old Caleb Schwab was killed Aug. 7 in a horrible water-slide accident at a local amusement park, and life had barely been livable for mom and dad and three siblings since. Mellinger told me Saturday: "I wanted to write something for Thanksgiving, highlighting the power of sports, and the idea was to call all the pro teams and colleges we cover here to get one story from each and hopefully put it together for something bigger." The local teams did get back to him, but the story of Scott and Michelle Schwab and their kids at a Royals' game was as heartwarming a tale as you'll read this year. The players, more than 10 of them, spent time pregame with the family—some more than 40 minutes. One excerpt includes family favorite Alex Gordon, who, wrote Mellinger, "asked where the boys would be sitting during the game. Look for me in the on-deck circle, he told them. 'Why are these people being so nice to us?' Michelle asked Scott. They were sitting in the owner's suite, invited guests of David Glass. That was part of the privacy they'd been promised, and the boys appreciated the free food. The way Scott tells the story, the Schwabs caught Gordon's eye in the on-deck circle. [Son] Alex had been screaming his name. Gordon looked back, pointed up, and then hit a home run. The Schwabs went crazy up there in the suite, and Gordon pointed again as he crossed the plate."
s. And there's more. Much more. Highly recommend the story.
t. Really good job by Sam Mellinger. Man, there's some great sportswriting talent in our business right now.
* * *
Who I Like Tonight
Philadelphia 32, Green Bay 26. Aaron Rodgers on the 4-6 Packers' chance to go 6-0 down the stretch: "I feel like we can run the table. I really do. The offense is starting to click a little bit more; we've just got to put together a game where we're more consistent from the first snap to the last. We've been, I think, getting closer to that." Uh, in the last eight quarters, Green Bay's allowed 89 points and 961 yards and been routed twice. So the Packers can click all they want, but unless they score 58 a game down the stretch, I doubt clicking on offense is going to be the difference-maker in playing January games.
But there is one thing the Packers have going for them. Green Bay started 6-0 last season, and went 4-6 down the stretch. Green Bay started 4-6 this year, so maybe, in true stereo fashion, the Pack will go 6-0 the rest of the way.
* * *
The Adieu Haiku
Whoa, Justin Houston.
Almost forgot your greatness.
Quite Von Miller-ish.
• Question or comment? Email us at talkback@themmqb.com.